These crispy roasted chickpeas make for a healthy, high protein vegan snack. Perfect on their own, or as a crispy crunchy treat with your favourite dishes. Simple to make and irresistibly tasty. Why wouldn't you opt for these when it's snack time!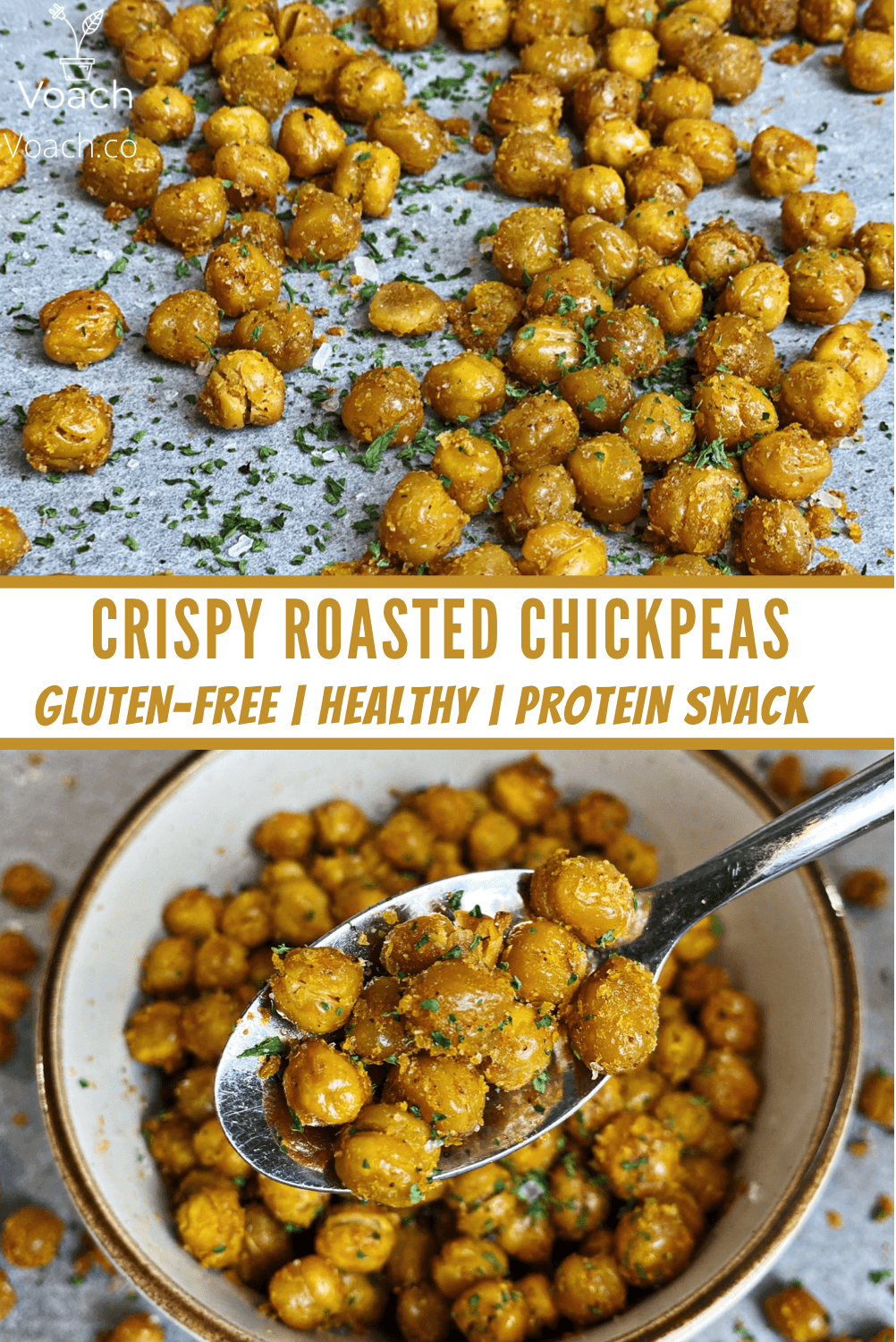 How do you eat canned chickpeas?
You've probably got some cans of chickpeas gathering dust in the cupboard and wondering what to do with them other than simply making hummus (although there is nothing wrong with that!).
There is a secret contained within that can of chickpeas that you may not have discovered before. Crispy. Roasted. Chickpeas.
Simple to make, addictively crunchy and irresistibly delicious. You'll be mad that you haven't made these before!
They are a perfect option for when you feel like a crispy, salty snack, but don't want to have some unhealthy packet of chips, beer nuts, nachos or french fries. There's no shame, we've all been there (multiple times).
Healthy Vegan Snack
Don't be fooled by their alluring crispy appearance. This is indeed a healthy vegan snack. Chickpeas offer a variety of health benefits and are a rich source of certain vitamins and minerals. Additionally, the "cheesy" flavour of these roasted chickpeas comes from nutritional yeast, which is a rich source of protein and Vitamin B12!
If you're struggling to find a high protein vegan snack that's perfect for post-workouts, or simply an tantalizingly tasty vegan snack idea, you've just found it. They are also a fantastic gluten free and dairy free snack that everyone can enjoy.
So keep reading to find out how to make the best crispy roasted chickpeas for yourself today!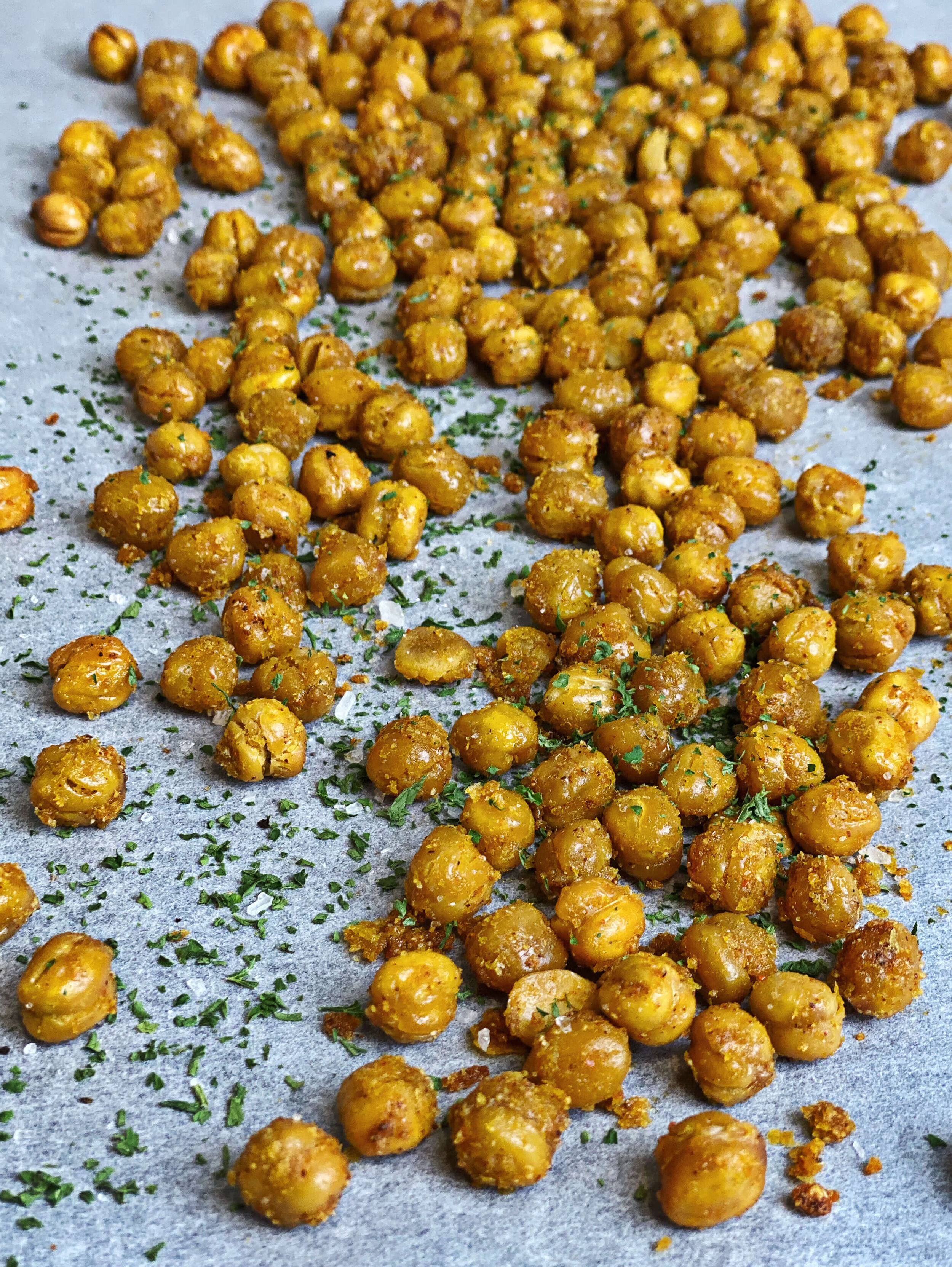 Crispy Roasted Chickpeas Recipe Ingredients
This recipe for roasted chickpeas does not require many ingredients. Another reason why this vegan snack is so appealing to make! Low effort and minimal ingredients 🙂
To make these crispy chickpeas, you'll need:
Chickpeas: I've found that this recipe for roasted chickpeas works much better with canned chickpeas rather than dried chickpeas that you soak at home. Using canned chickpeas also makes this an easy vegan snack to prepare.
Extra virgin olive oil: The superior quality of extra virgin olive oil will really improve the crispiness of these chickpeas when roasted. You can use less olive oil if you want to make this chickpea snack even healthier and lower in fat. However, this will make the roasted chickpeas less crispy.
Nutritional yeast: Provides a unique cheesy, nutty and savoury "umami" flavour to the roasted chickpeas. It is one of the best sources of plant protein, making this an easy high protein snack for vegans. It's also a terrific source of Vitamin B12!
Cayenne pepper: Who doesn't love spicy roasted chickpeas? Just a little cayenne provides just the right amount of spicy kick to these roasted chickpeas without being too overwhelming.
Garlic powder: Blends together perfectly with the nutritional yeast to give these crispy roasted chickpeas an insatiable burst of flavour with each bite.
Kosher salt: I prefer to use kosher salt in this recipe as it has a pure salty taste without being too overwhelming. However it's not a deal breaker if you don't have any. Regular sea salt or table salt work great as well.
Dried parsley: Provides a natural aromatic earthiness and serves as a contrast to emphasize the other flavors in this roasted chickpea recipe. The green colour also looks so appealing against the golden brown colour of the crunchy chickpeas.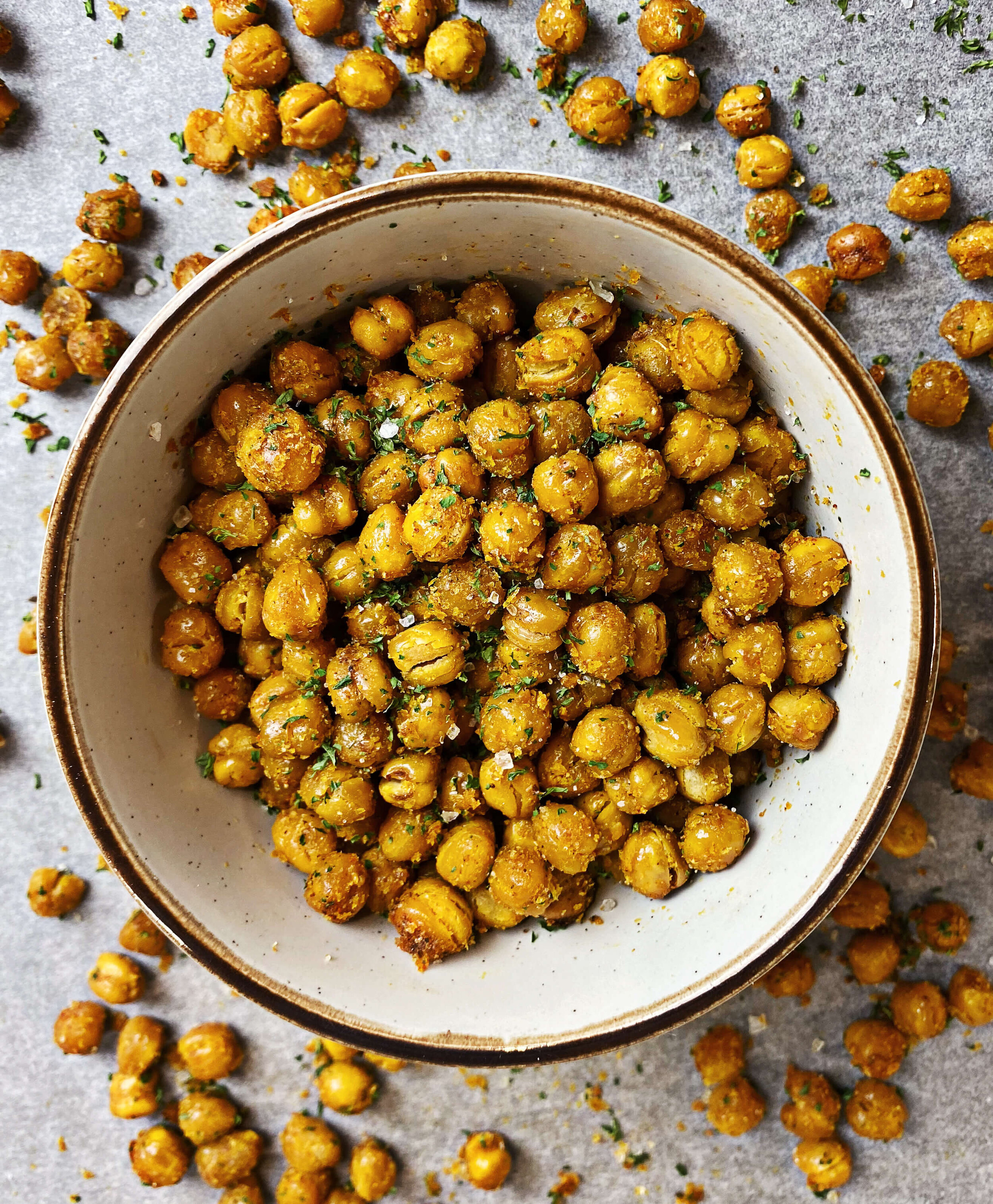 How to make crispy roasted chickpeas
Many people have asked "why are my roasted chickpeas not crunchy" after following an online recipe for roasted chickpeas. It isn't just the ingredients you use, or the brands you use. The secret to making crunchy roasted chickpeas lies in the method!
First step is to preheat the oven and to drain and rinse the chickpeas.
Then you will need to dry the chickpeas thoroughly. This is a key step in the process. You want to remove as much moisture from the chickpeas to get them nice and crispy. This includes removing the skins if they start to fall off when drying (as they do retain a lot of moisture). No need to remove all skins though – as this would take a very long time and isn't necessary for crispy chickpeas!
Once the chickpeas are nice and dry, it's time to put them in the oven for 30 minutes. You don't need to add any oil or seasonings at this stage.
After the chickpeas have undertaken their initial roasting, it's now time to take them out the oven and coat them with the extra virgin olive oil and seasonings.
Pop the roasted chickpeas back into the oven and let them roast for another 5 minutes to develop that crispy outer shell whilst protecting the chewy texture beneath.
Last step is the biggest step in the process. Change the oven setting to grill on the highest setting and leave it on for 1 minute so they become crispy brown (before they become dark and hard). This mini-blast is what will give your chickpeas that fantastic crispy coating whilst maintaining its chewy texture.
Pro tips for crispy roasted chickpeas
Roasted chickpeas can be quite a simple snack to make. All you really need is an oven, the chickpeas, oil and seasonings and you're done. However these tips really do make a difference in having "ok" roasted chickpeas to amazing crispy crunchy roasted chickpeas:
Be gentle when drying: Otherwise, you'll have many squished chickpeas on your hands. You'll want to eat every tiny crunchy chickpea once it's all done, so don't waste any during this step of the process!
Removing the skins: As you dry the chickpeas, you'll notice that the skins will start to come off some of them. It is important to remove as many of these that naturally come off when drying before you pop them into the oven as the skin retains a lot of moisture. However, there is no need to remove all skin, as this would take a very long time and isn't necessary for crispy chickpeas!
Don't be scanty with the oil: If you prefer a healthy chickpea snack, then you can use less olive oil. However as a consequence, they will not be as crispy (but still deliciously chewy!).
Only add oil and seasonings near the end: I've found that adding oil and seasonings at the start of the process really does affect the quality of the roasted chickpeas. Seasonings are very light in density and texture, and so they will burn and lose their flavour if they're roasted for too long.
Pay attention at the end: The last part of swiftly grilling the chickpeas is important for obtaining ultimate crispiness. But they can go from perfect crispiness to charcoal pretty quickly. So keep an eye on your chickpeas to see how their colour is developing and take out once they've obtained that golden crispy brown shell.
Trial and error with different chickpea brands: May sound strange, but the brand of canned chickpeas can make a difference in this recipe. If the chickpeas are large in size, or are quite dense, they'll need to be roasted for longer (I find 5-10 minutes longer suffices). So play around with the timing a little to find the chickpeas' sweet spot for roasting time in the oven.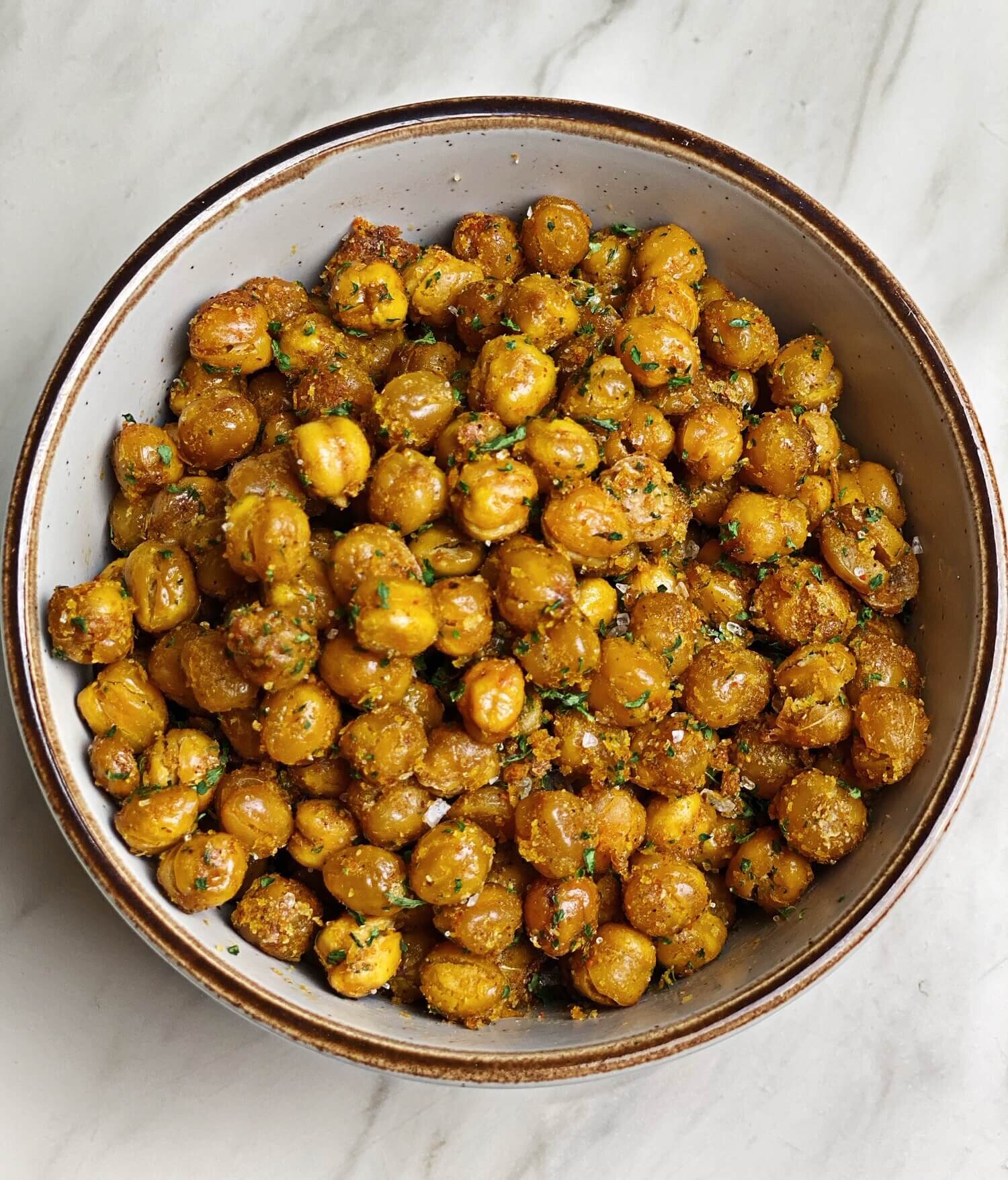 Best ways to use crispy roasted chickpeas
Of course these roasted chickpeas are a great vegan snack idea – especially when paired with a nice cold beer. However, don't be fooled into thinking this recipe for roasted chickpeas is just as a healthy vegan snack. There are so many ways to use crispy roasted chickpeas that you'll find yourself making this healthy vegan recipe multiple times per week!
Some of my favourite ways to use crispy roasted chickpeas are with:
These are just a few ways in which I've used them in the past. But don't be afraid to get creative in the kitchen and use these crispy roasted chickpeas when you feel a recipe is missing that crunchy edge to it.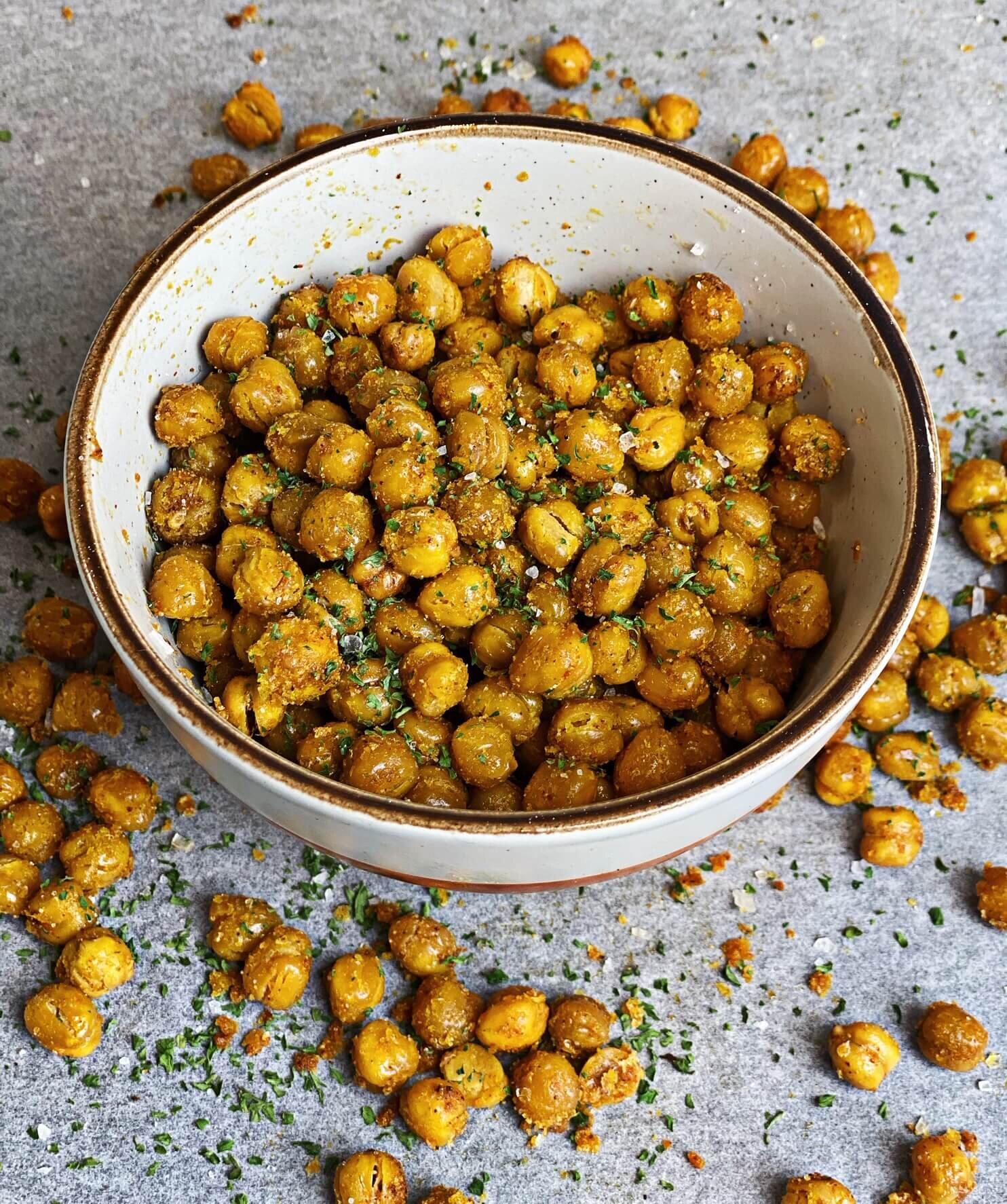 How long can I store roasted chickpeas?
These roasted chickpeas can be stored for up to 1 week. They should be stored in an airtight container and kept in a cool, dry place (the cupboard is where I keep mine).
As these chickpeas are oven roasted, their crispiness will dissipate over time. But don't be alarmed. Once they've cooled off, the distinctive, tasty and nutty flavour of chickpeas really comes alive whilst developing an insatiable chewy texture.
So, really, these snacks are a 2-for-1. Crispy roasted chickpeas out the oven and chewy nutty chickpeas later. How good does that sound!
More healthy vegan snacks & sides to try
If you like this crispy roasted chickpeas recipe, you might also like:
Please feel free to check out all my vegan recipes here for more inspiration in the kitchen!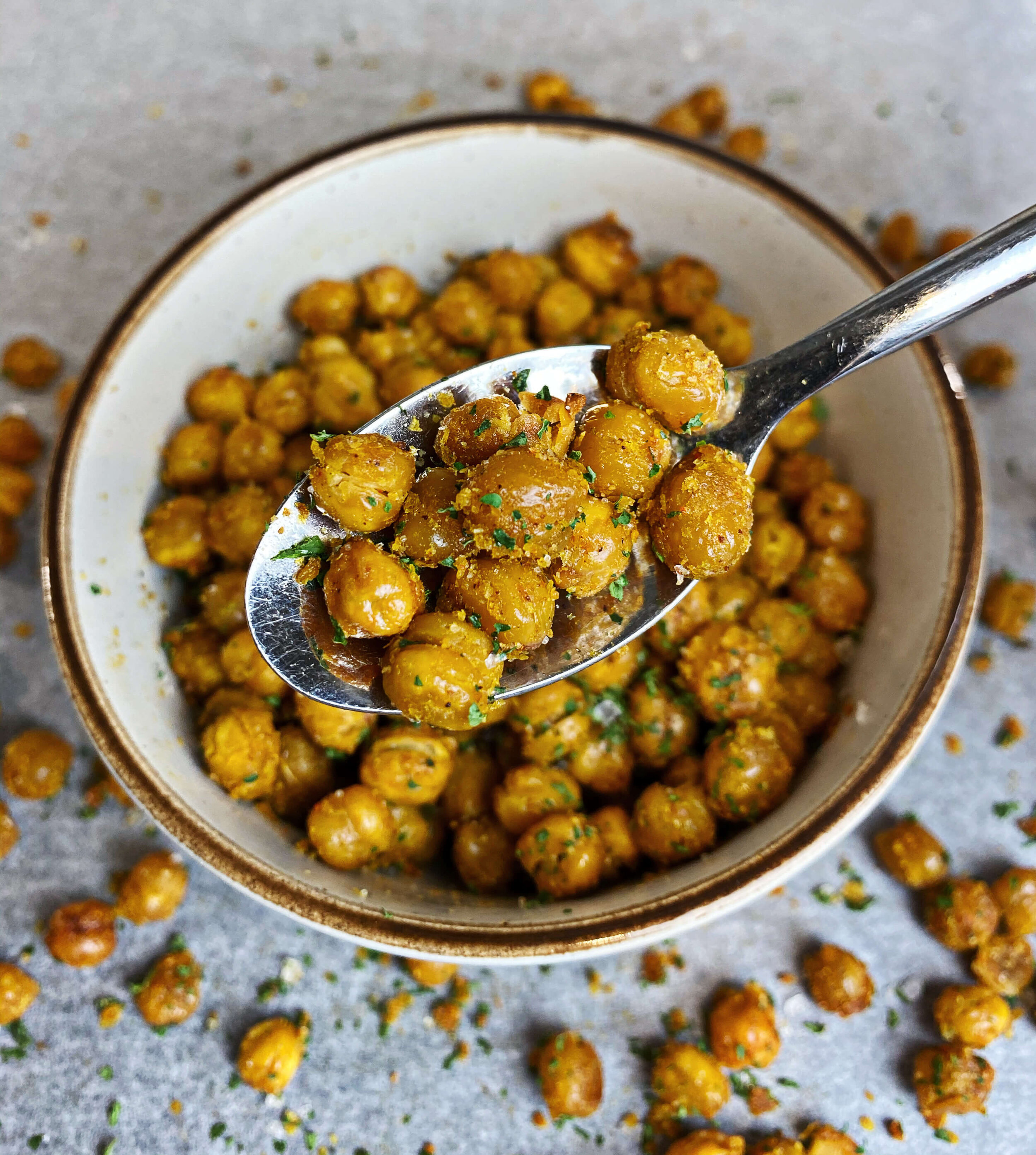 If you tried this vegan crispy roasted chickpeas recipe and loved it as much as I did, please feel free to let me know by leaving a comment and a rating below. I also love seeing remakes of these recipes, so be sure to tag me @voach_thevegancoach and use the hashtag #voachrecipes if you post your creation on Instagram!
Never want to miss out on new amazing vegan recipes? Then be sure to follow me on Facebook, Instagram and Pinterest and sign up to my Newsletter so you are notified when the next delicious and nutritious vegan recipe is up!
@Voach. All images and content are protected by copyright law. Please do not use any images without prior permission. For any republishing of this recipe, please kindly link back to this post.
*This post may contain affiliate links that earn me a small commission, at no cost to you. You can find out more information here
---