The most realistic vegan scrambled eggs you'll ever try at home using tofu! This easy vegan scrambled eggs recipe will only take you 15 minutes to prepare and give you a healthier, more nutritious alternative to the traditional version. Vegan, gluten free, nut free, low carb and high protein!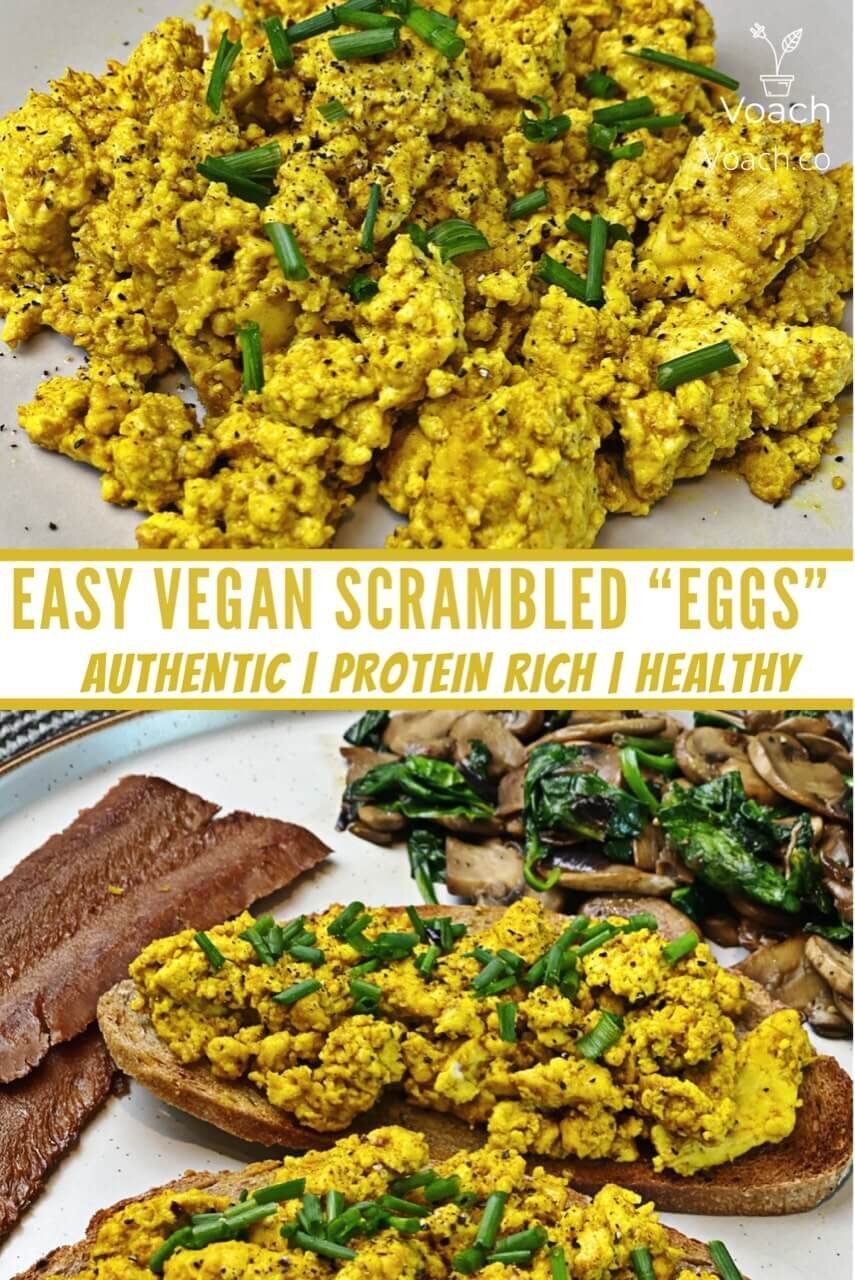 The journey to discovering vegan scrambled eggs
To say I was obsessed with scrambled eggs when I was growing up would've been an understatement. I may have even had it every morning for 2 years straight!
So when I went vegan, I would constantly make my vegan tofu scramble recipe. And I loved it for it's own unique taste. I wasn't trying to have such a strong resemblance to traditional scrambled eggs when cooking it.
Although over time, I did want to find a good substitute for scrambled eggs. More importantly, a tofu scramble that tasted like eggs.
Not so much for myself, but more so for non-vegans who would want to enjoy the taste of traditional scrambled eggs but eat a vegan version instead. Whether it was to not support the cruel egg industry, or simply cut down on the saturated fat and cholesterol to which eggs are extremely high in.
To make veganism more accessible, it is important to recreate the comfort foods people love so no one feels like they're missing out.
So I went on my journey to find out what are vegan scrambled eggs made out of. I felt I found all the other ingredients from my other tofu scramble recipe, but I needed to do more research and experimentation to find out what was truly missing.
I've now discovered what those missing pieces to the puzzle are, and I'm so excited to share this with you now with this vegan tofu scramble recipe!
So let's get into the ingredients you need for these vegan scrambled eggs…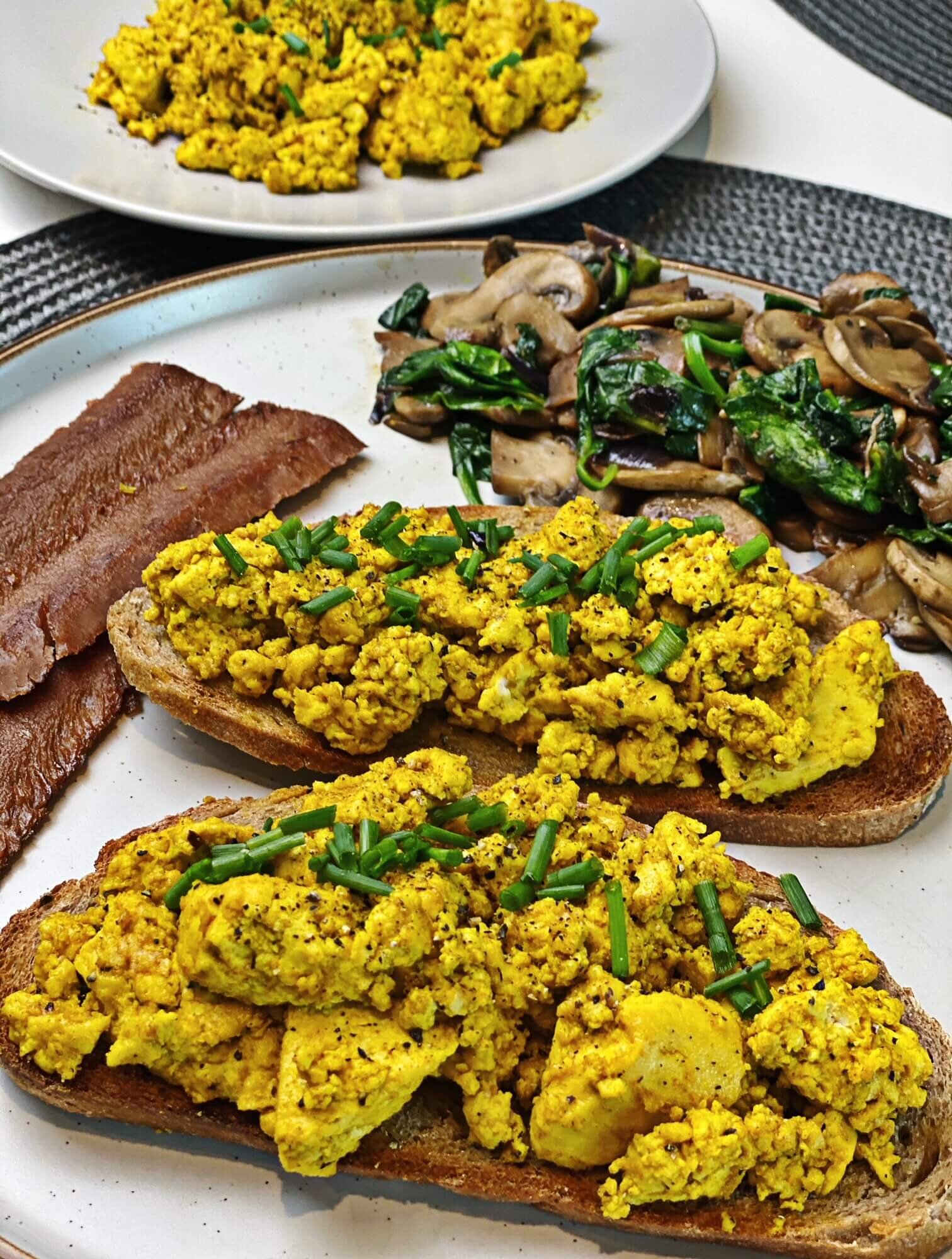 Vegan scrambled eggs recipe ingredients
From the outset, I can tell you that you need one special ingredient to really make this taste like traditional scrambled eggs. Other than this one ingredient, this recipe only needs basic ingredients which you probably already have in your house.
To make this vegan scrambled egg recipe, you'll need:
Black salt (kala namak): The secret ingredient! Originating from South East Asia, it is a hard rock salt that is quite high in sulfur. It is this high sulfuric content that gives the black salt its umami flavor that replicates the yolk in eggs. It is hard to find in stores, so I grab mine either from local Indian/South East Asian supermarkets or online here.
Block of extra firm tofu: You can also use firm tofu if you have some on hand. However don't use soft or silken tofu unless you want vegan mushy eggs!
Vegan butter/margarine: It really enhances the flavour of the dish when paired with the other ingredients and provides a smooth, creamy texture to the tofu when cooked. If you don't have any dairy free butter, you can substitute this with olive oil.
Nutritional yeast: It provides a lovely cheesy nutty flavour that really pops in this dish. It also has a bright yellow colour which helps replicate the look of traditional scrambled eggs.
Turmeric: It also boosts the yellow colour of the dish and gives the vegan scrambled eggs a rich and deep aroma.
Ground black pepper: Wouldn't be vegan scrambled eggs without it, right?
Plant based milk: This is essential for achieving that moist, creamy, soft texture like traditional scrambled eggs. It also helps balance out the richer flavours of the other ingredients.
Vegan dijon mustard: This ingredient is optional as not all dijon mustards are vegan (either due to the use of non-vegan wines or the verjuice used in the mustard being filtered with animal by-products) and the vegan versions may be inaccessible for some. However if you find some at your supermarket (like Sainsbury's home brand) or online (such as this one), then you'll definitely want to use it. It's tangy and sharp flavour really enhances these vegan scrambled eggs!
In terms of equipment, all you'll need is a mixing bowl, spatula and a decent-quality non stick pan (nothing too fancy!).
Now that you know what you need, let's find out how to make this easy vegan breakfast!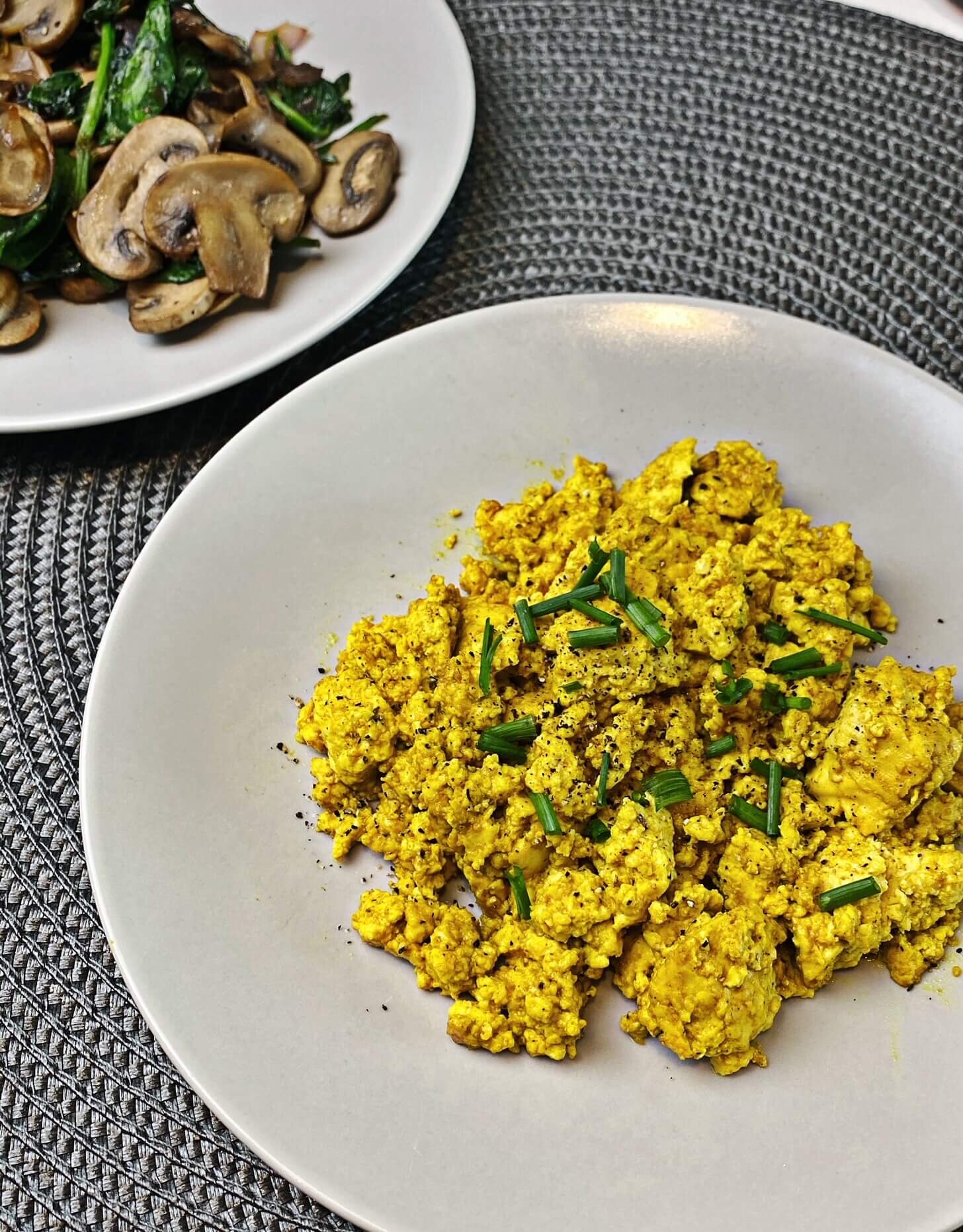 How to make vegan scrambled eggs
It may shock you, but this recipe really is so easy to make. As long as you've got a good pan and the ingredients above, you'll have delicious, authentic vegan substitute for scrambled eggs in just 15 minutes!
To make the best vegan scrambled eggs:
First step is to crumble the tofu into a bowl with your hands. For best results, the tofu should be crumbled into small, fine pieces as well as large bite-sized pieces.
Then you will need to add the nutritional yeast, black salt, turmeric, ground black pepper, dijon mustard and plant based milk into the bowl and mix together well until the tofu is coated evenly.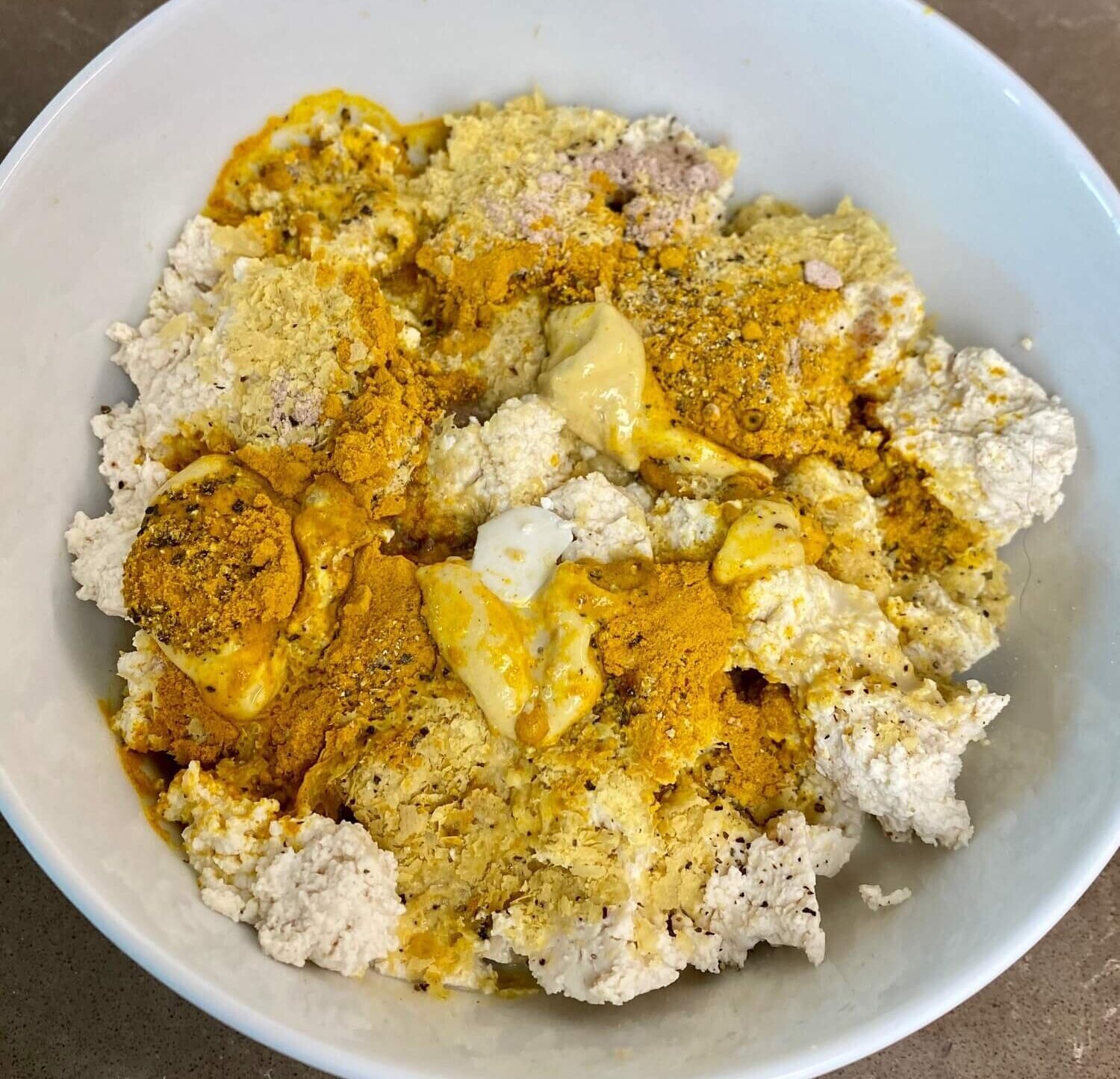 Next step is to get that pan ready! Whilst the vegan scrambled eggs are marinating, heat a tablespoon of dairy free butter (or olive oil) in a pan on medium high heat.
Once the butter had melted evenly across the pan, add the vegan scrambled egg mixture into the pan and cook for 8-10 minutes (making sure the tofu has soaked up all the liquid as shown below). Remember to stir occasionally so you cook the tofu evenly.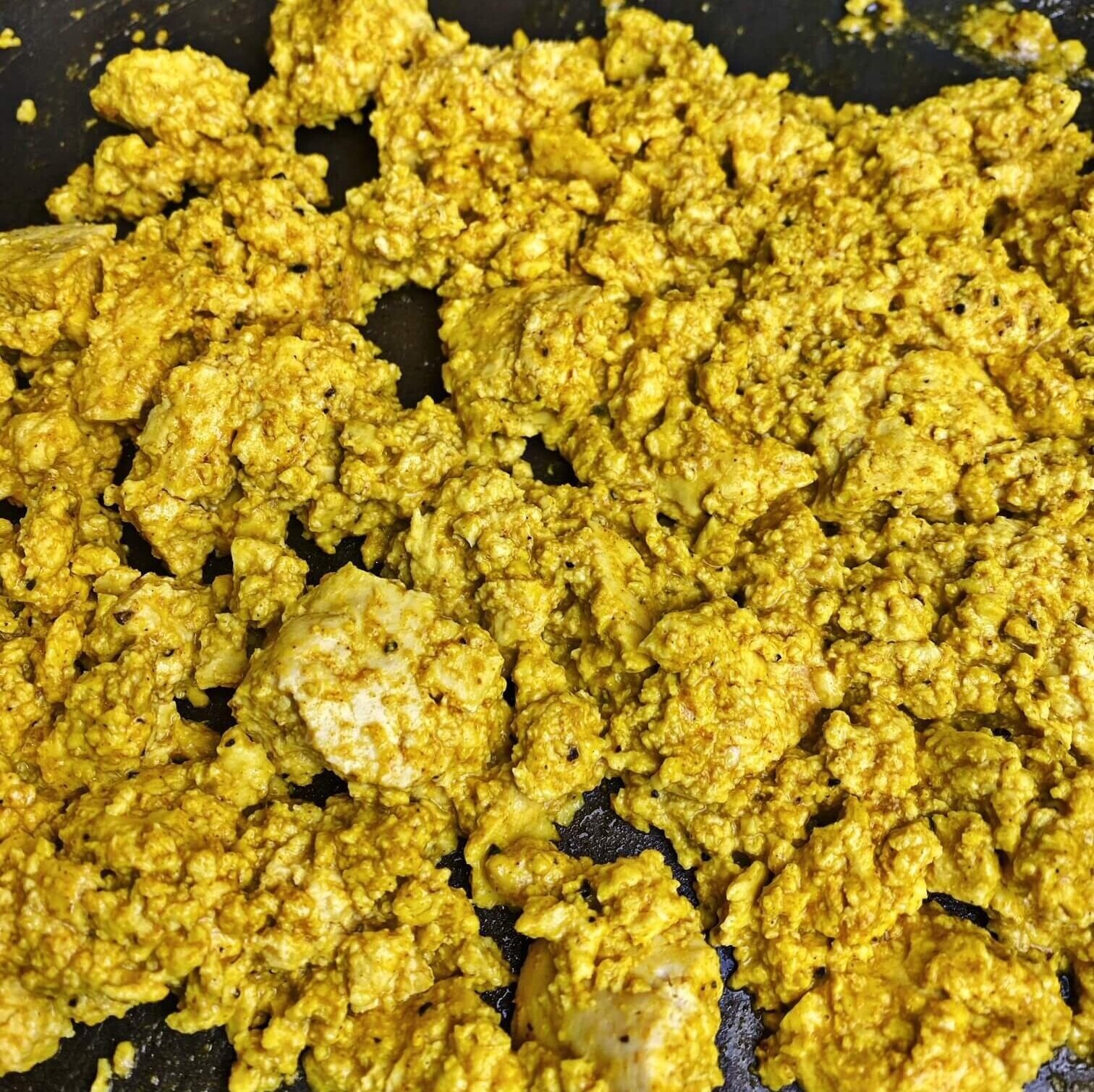 Last step is to serve it up fresh from the pan with some fresh chives or spring onions on top! There are so many possibilities for serving these vegan scrambled eggs. So keep reading to find out my favourite ways!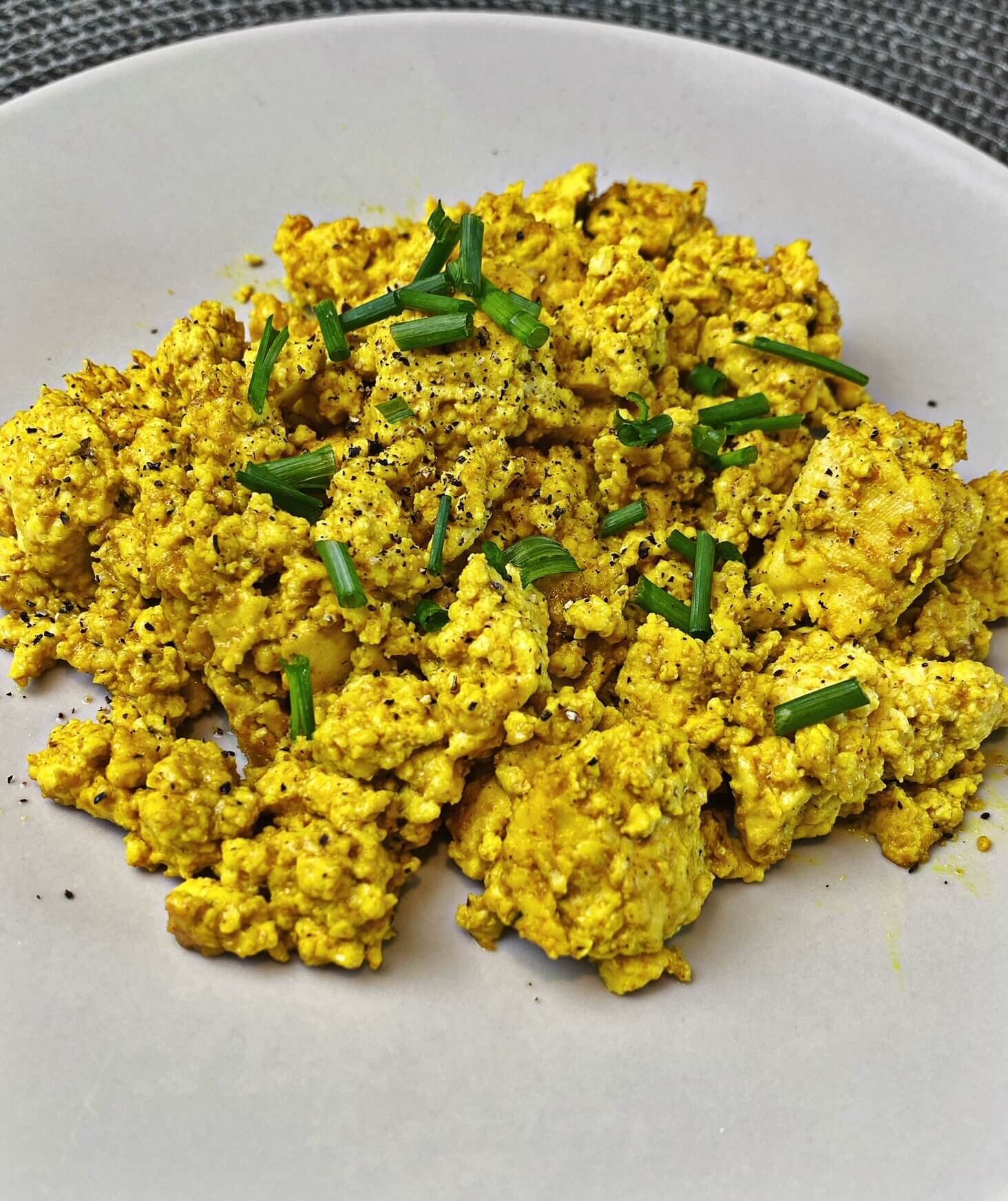 Best ways to serve vegan scrambled eggs
Just like with traditional scrambled eggs, there are so many ways to serve these vegan scrambled eggs.
Some of my favourite ways to enjoy this healthy, high protein vegan dish are:
vegan bacon, sauteed spinach & mushroom and toast (like in the photos);
vegan sausages and baked beans and toast;
vegan breakfast burritos;
breakfast tacos;
sandwich filling;
egg substitute in a salad; and
waffles.
Pro tips for making the best vegan scrambled eggs
I've made these vegan scrambled eggs so many times that I've got a few tips to take them from good to great!
Use firm or extra firm tofu: The type of tofu really does make a difference with this dish. Soft or silken tofu is simply too smooth and won't keep structural integrity when cooked. You'll end up with vegan mushy eggs, not vegan scrambled eggs. Firm and extra firm tofu will give you those nice solid pieces together with a smooth base to truly replicate scrambled eggs.
Make sure to crumble small, fine pieces and large bite sized pieces: This is probably my most important tip. By having this combination, you will truly replicate the consistency of scrambled eggs by having a mixture of large soft "curds" together with a creamy base (without being runny!).
Use your hands to crumble the tofu: This follows from the previous tip. To make sure you crumble both types of pieces, you need a utensil that gives you the greatest amount of control. For this, there's no better utensil than your own hands!
Use plant based cream rather than plant based milk: As this is an easy recipe, I recommend using plant based milk as it's more accessible and more commonly found in kitchens. However if you really want to boost the creamy smoothness of the vegan scrambled eggs, use a plant based cream!
Don't skimp on the black salt: It really does make all the difference to achieve that sulfuric eggy-like taste. If you don't have any, it will still taste great (like my other tofu scramble recipe). However, you've probably come to this recipe to get that scrambled eggs flavour – so make sure you've got some black salt at home! You can grab it either from your local Indian supermarket or online.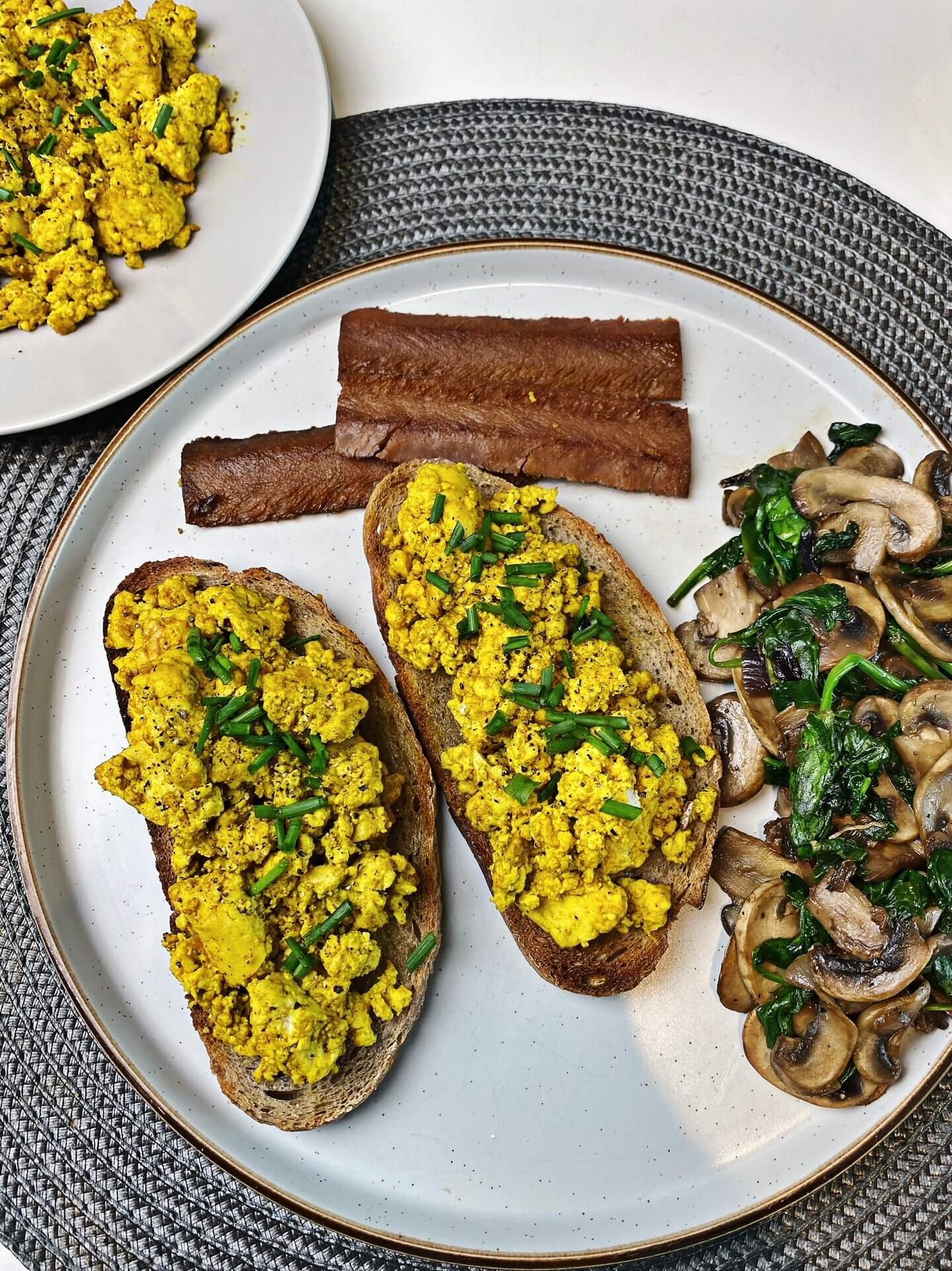 How long will vegan scrambled eggs last?
It is always important to let this dish completely cool off before storing in the fridge. Once cooled, these vegan scrambled eggs can be stored in an air tight container in the fridge for up to 3 days. To reheat, place the vegan scrambled eggs in a pan over medium heat with some dairy free butter or vegetable oil until warmed through.
Can you freeze vegan scrambled eggs?
Yes you can freeze vegan scrambled eggs, which makes it a great option to meal prep.
My preferred method is to freeze the crumbled tofu (like in Step 1) and then let it thaw for an hour before I want to make the scramble. I've found this results in the vegan scrambled eggs having a superior texture, as well as a richer and fuller eggy flavour, than freezing the cooked vegan scrambled eggs.
So it shouldn't come as a surprise to say that I'm not the biggest fan of freezing this dish once cooked. Simply because the texture becomes far too chewy for my liking.
However there is nothing stopping you from freezing tofu scramble if you want to meal prep or enjoy a chewier scramble! Simply let the scramble completely cool off, place in a freezer bag or airtight container and then store in the freezer for up to 4 months.
More vegan breakfast options to try?
If you like this vegan scrambled eggs recipe, you might also like:
Check out all my vegan recipes here for more inspiration in the kitchen!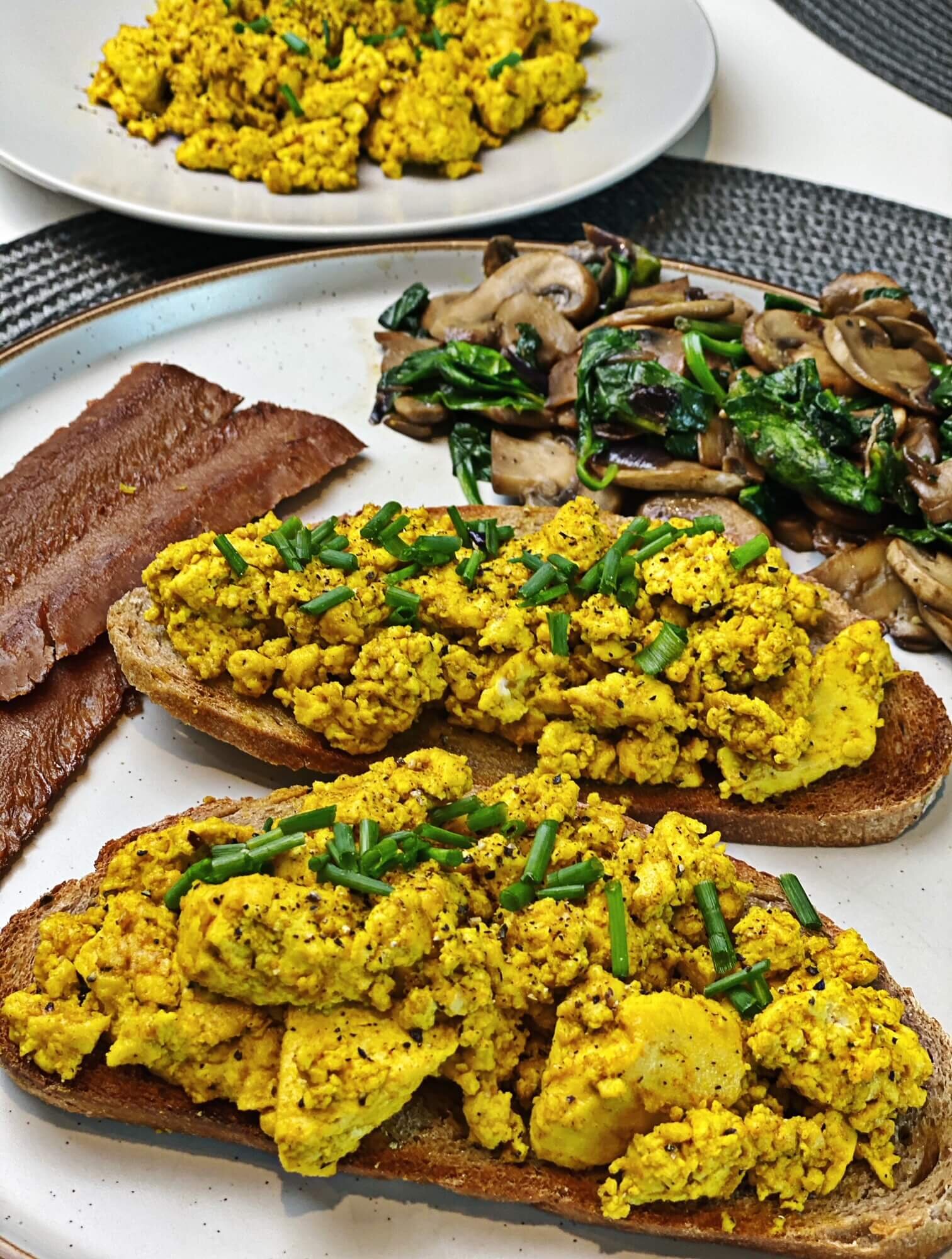 If you tried this vegan scrambled eggs recipe and loved it as much as I did, please feel free to let me know by leaving a comment and a rating below. I also love seeing remakes of these recipes, so be sure to tag me @voach_thevegancoach and use the hashtag #voachrecipes if you post your creation on Instagram!
Never want to miss out on new amazing vegan recipes? Then be sure to follow me on Facebook, Instagram and Pinterest and sign up to my Newsletter so you are notified when the next delicious and nutritious vegan recipe is up!
@Voach. All images and content are protected by copyright law. Please do not use any images without prior permission. For any republishing of this recipe, please kindly link back to this post.
*This post may contain affiliate links that earn me a small commission, at no cost to you. You can find out more information here
---
Categories: Breakfast, Brunch
Tags: easy, gluten free, healthy, high protein, kid friendly, low calories, low carb, meal prep, nut free, quick, vegan recipe, vegan scrambled eggs,