This easy black bean dip is a fantastic vegan snack idea that's perfect for any occasion. It's incredibly healthy, low calorie and high protein whilst having an insatiably unique taste and texture. It's also simple to make and will only take you 5 minutes to prepare! Vegan, gluten free, soy free and oil free!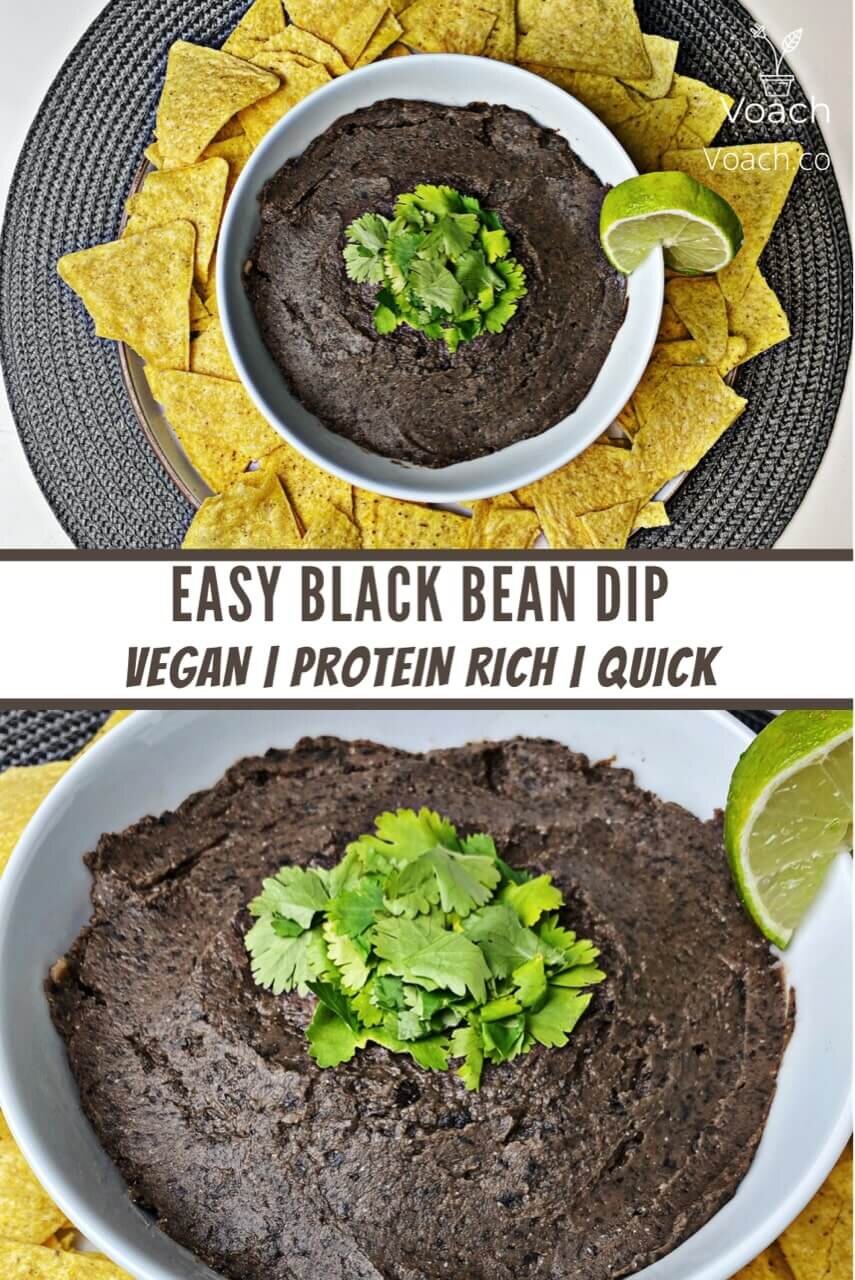 The best vegan snack for parties
As the designated vegan at every party, I always want to bring something irresistibly tasty to impress all the guests. After experimenting with a few different vegan snack ideas, I wound up mixing together some black beans I had gathering dust in the cupboard, together with some of my favourite seasonings, to make this easy black bean dip.
To my delight, it has been a hit. Every time, without fail.
Now every time I go to a party, I'm always instructed to bring this healthy black bean dip. Especially if we're watching the Superbowl, AFL Grand Final or NBA. Nothing better than enjoying a yummy vegan snack while watching the game that you know is really good for you.
So keep this black bean dip in mind next time you are planning your party snacks, or if you need a quick vegan snack at home for you or the kids!
There's also so much more you can do with this healthy black bean dip than just enjoy with tortilla chips. Keep on reading below to see the best ways to use this creamy black bean dip in other dishes to give those meals a healthy and hearty boost!
So let's get into the ingredients you need for this easy black bean dip…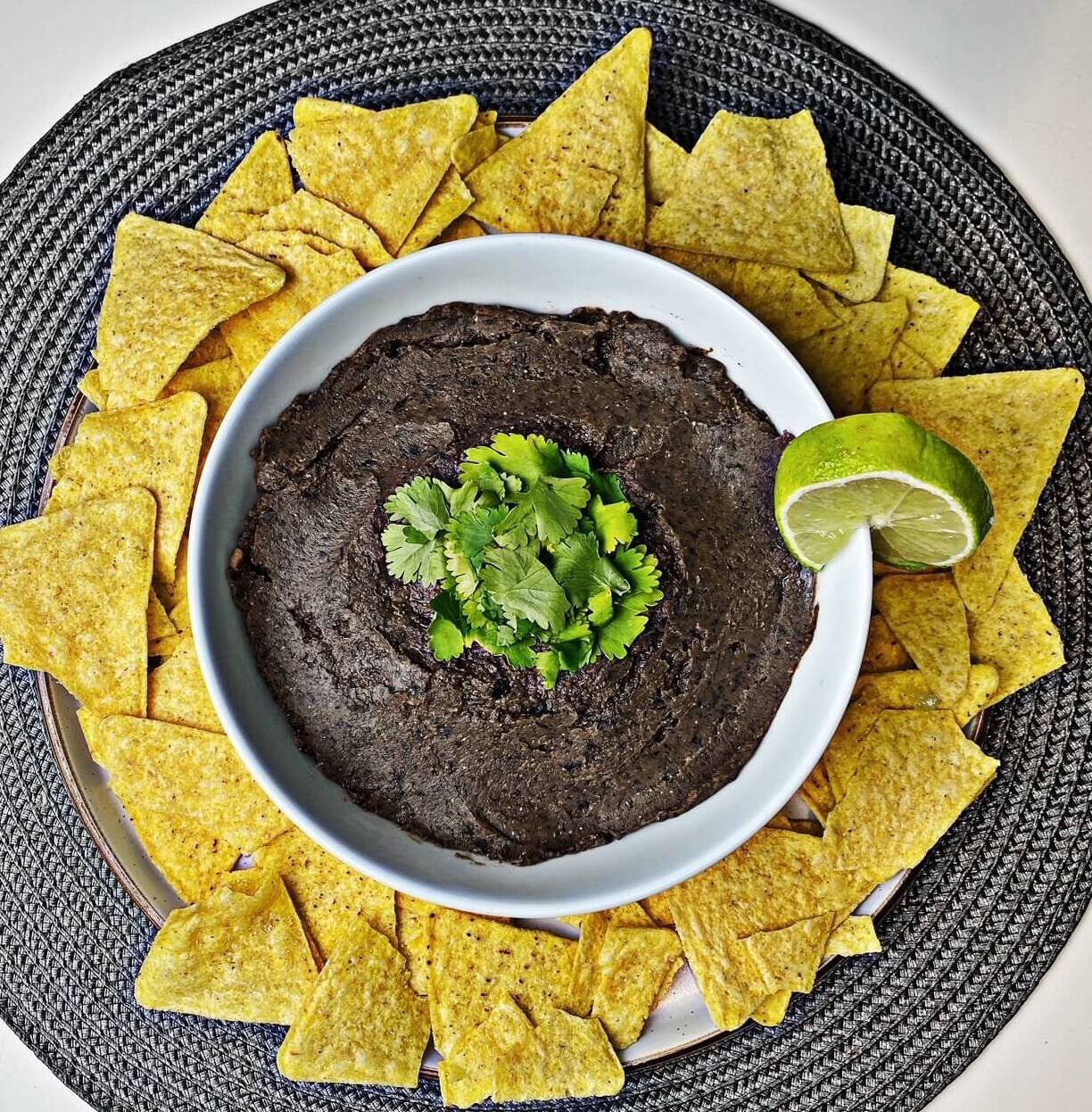 Black bean dip ingredients
What I love about this easy vegan snack is that it doesn't take much more that a can of black beans to make for yourself. Just a few extra seasonings and 5 minutes is all that you'll need to whip up this vegan snack high in protein.
To make this healthy black bean dip recipe, you'll need:
Black beans: For this recipe, you can use either canned black beans or black beans which have been pre-soaked. I tend to use canned black beans given its convenience and by virtue of the fact that I always make this dip on a whim when I'm really hangry! Makes it a great lazy vegan snack 😉
Nutritional yeast: It provides this dip with a deliciously cheesy and nutty flavour that complements the mild taste of the black beans perfectly. By including nutritional yeast, it also boosts the protein content and makes this a great post workout vegan snack!
Cayenne pepper: Gives a nice spicy kick that doesn't overtake the cheesiness of the nutritional yeast. Cayenne pepper also provides a range of health benefits from lowering blood pressure, aid digestive health and boost metabolism!
Garlic powder: A little amount goes a long way in this dip. It provides the dip with a lovely tone of garlic that, combined with the cheesiness of the nutritional yeast, creates a rich and unique flavour that I just can't get enough of.
Salt: I don't recommend using too much as, quite frankly, the dip doesn't need it. The other seasonings do the heavy lifting and bring that burst of delicious savoury flavour to this healthy black bean dip. A little salt is all that's needed to give an extra boost.
Water: You might ask yourself, why use water to make a creamy black bean dip? The reason is that the creaminess of this dip comes from the black beans itself – as they become very smooth and velvety once blended. So you don't need to add extra cream or oil into this vegan dip to get that creamy texture you're after. Just some water is sufficient to give enough liquid to combine with the black beans and create a smooth vegan dip!
Lime juice and cilantro: These ingredients are optional, depending on whether you like your dips to have a nice zesty twist or that herby taste of cilantro. Personally, I love these flavours in my black bean dip as they add another dimension that my taste buds crave. However, this healthy vegan dip will taste amazing even without them!
Now let's find out how to make this easy vegan snack!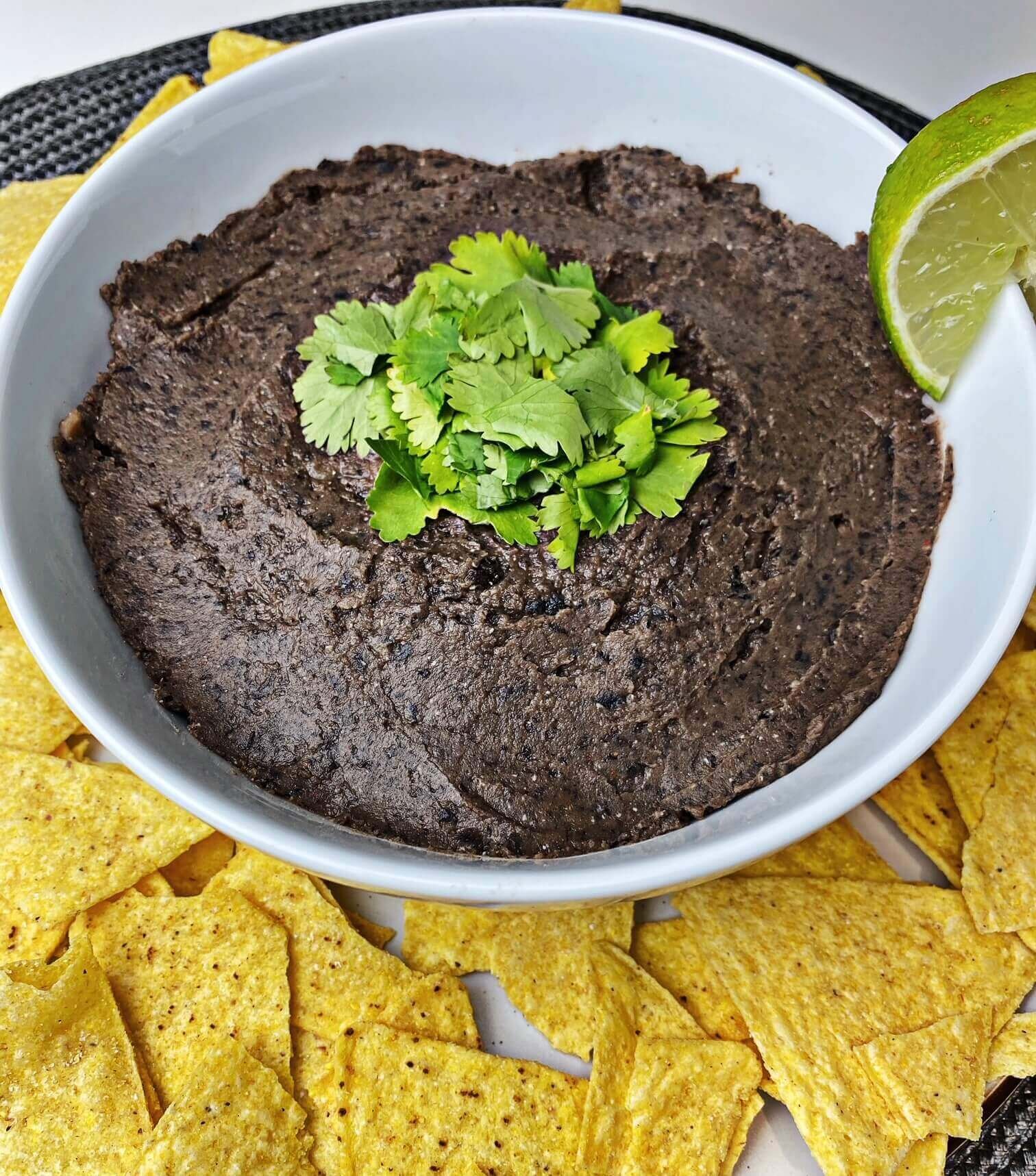 How to make black bean dip
All you need is 5 minutes and a food processor or blender to make this easy black bean dip.
It's really that simple. No complicated pre cooking of any ingredients or high-tech kitchen equipment to make this vegan snack!
To make this black bean dip:
First step is to drain and rinse your black beans. The black beans in cans are preserved in a very thick liquid, so you need to rinse it well! This will also reduce a large amount of salt and starch and improve the flavor of the black beans.
Then you'll need to put the black beans into the food processor or blender, together with all the seasonings and water. I always use a NutriBullet as it's the smallest and most convenient device to use to make this healthy black bean dip.
Last step is to blend it all up until smooth and creamy. That's it! Then simply pour the contents out into a bowl, squeeze the lime juice over the top and sprinkle some fresh cilantro as garnish! Serve with tortilla chips or, for a health and low calorie option, with veggie sticks!
That's all you need to do. An easy vegan snack that's super healthy and ready in 5 minutes! Perfect for any occasion: whether you need a vegan snack high in protein post-workout, a vegan dip for parties, or if you're just hangry before dinner!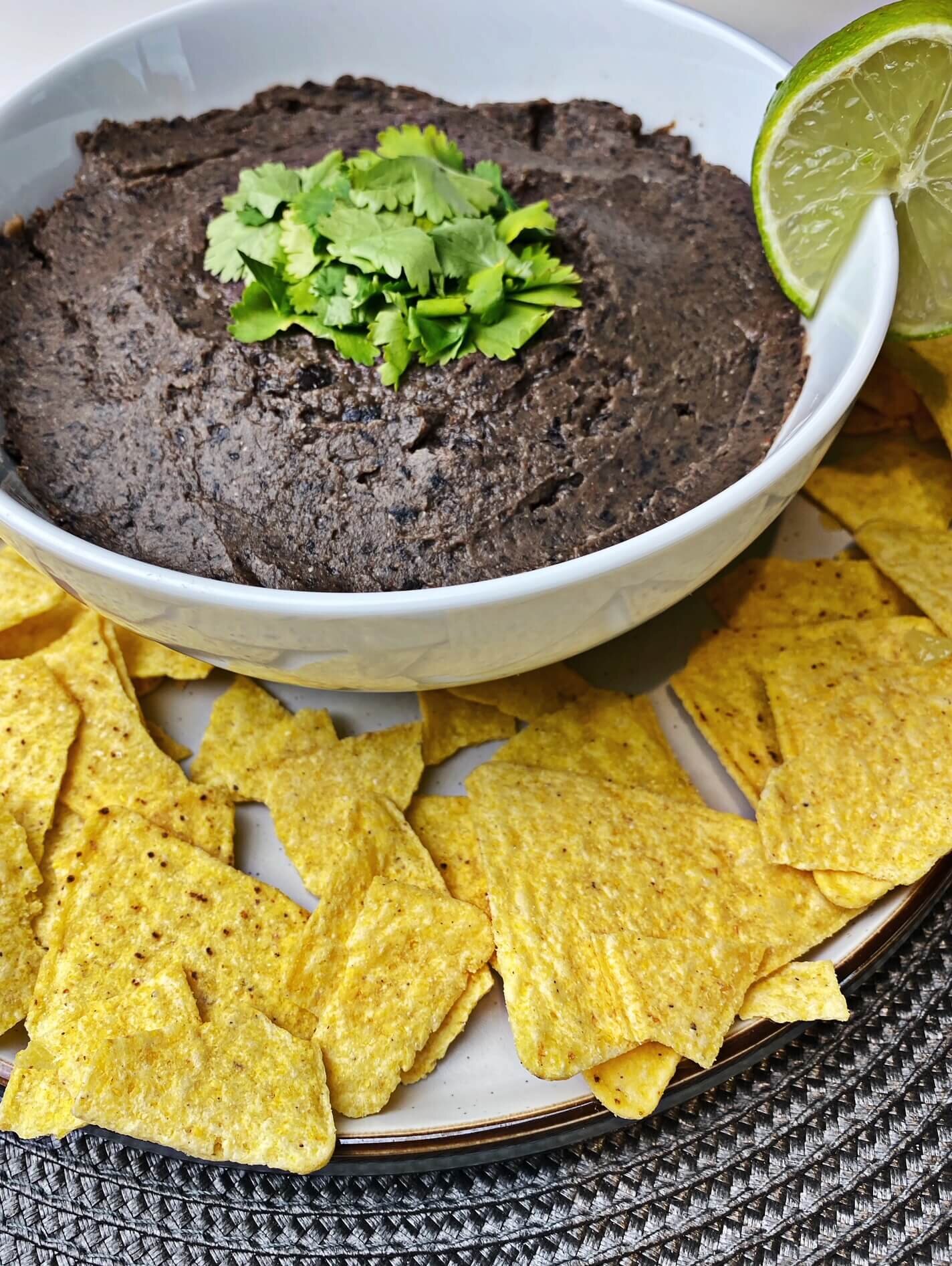 Best ways to use black bean dip
You might be surprised, but there are so many ways to use this black bean dip other than with tortilla chips (although there's nothing wrong with that!).
As it's so versatile, I find myself making this healthy vegan recipe multiple times per week. Trust me, it's a great way to boost your protein intake for the day whilst making your meals and snacks more satiating.
Some of my favourite ways to use this healthy, high protein black bean dip are:
nachos;
spread on toast;
tacos;
enchiladas;
burritos;
quesadilla;
tostadas; and
of course, nachos.
These are just a few ways in which I've diversified the way I've used this healthy black bean dip in the past. But don't be afraid to get creative in the kitchen and use this black bean dip when you feel a recipe needs a healthy and hearty boost!
How long can I store black bean dip
I'll be very impressed if you've got any leftovers to store once you've tasted this vegan dip!
If you are able to resist demolishing it in one go, then this black bean dip can be stored in an airtight container for up to 4 days in the fridge.
With its ease of storage, this easy black bean dip is a great option for parties as you can make it ahead of time and store in the fridge without affecting the taste or texture!
As this is a creamy dip, I wouldn't recommend storing in the freezer as it's texture will alter too drastically.
More healthy vegan snacks & sides to try
If you like this healthy black bean dip, you might also like:
Check out all my vegan recipes here for more inspiration in the kitchen!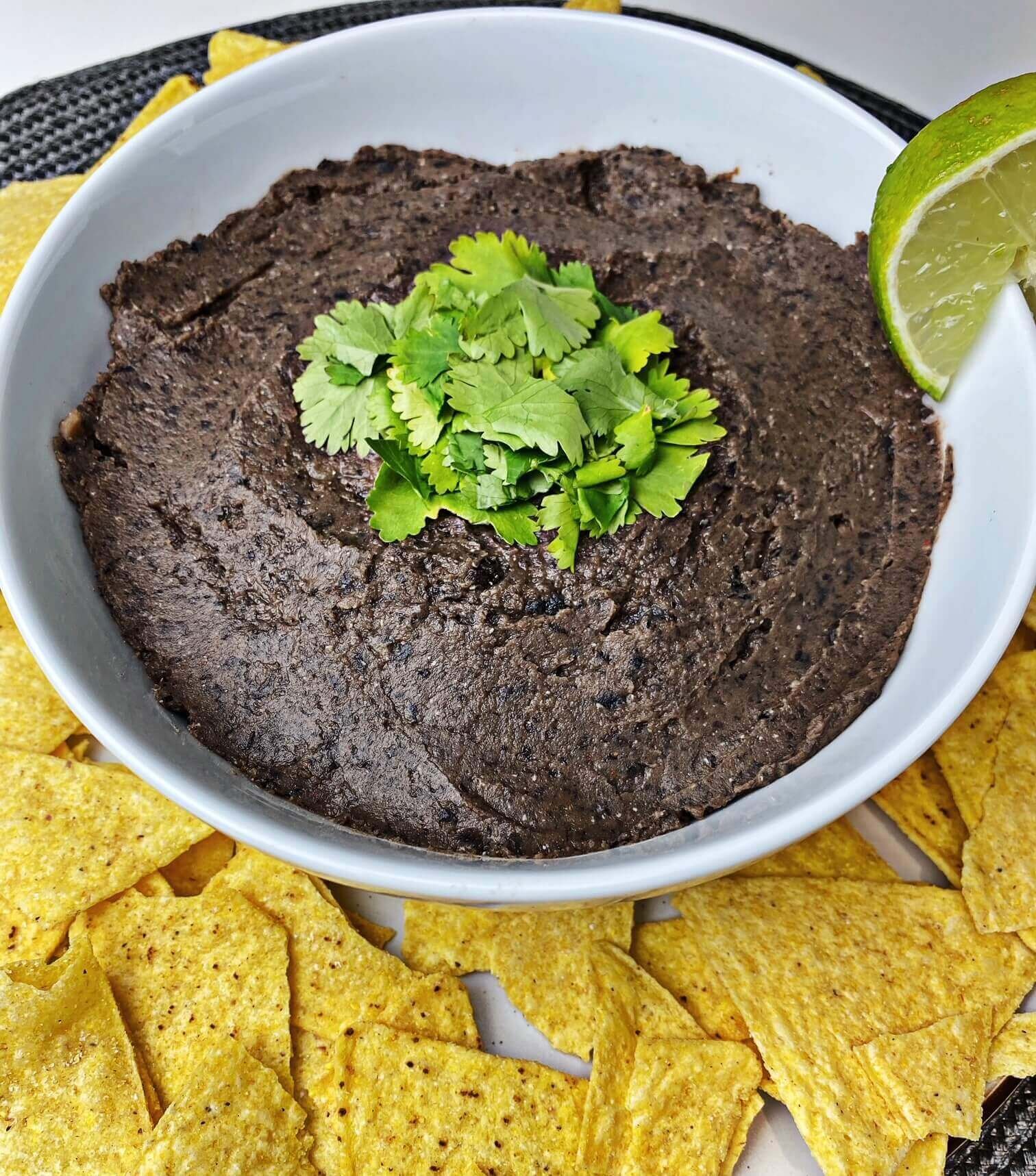 If you tried this vegan black bean dip recipe and loved it as much as I did, please feel free to let me know by leaving a comment and a rating below. I also love seeing remakes of these recipes, so be sure to tag me @voach_thevegancoach and use the hashtag #voachrecipes if you post your creation on Instagram!
Never want to miss out on new amazing vegan recipes? Then be sure to follow me on Facebook, Instagram and Pinterest and sign up to my Newsletter so you are notified when the next delicious and nutritious vegan recipe is up!
@Voach. All images and content are protected by copyright law. Please do not use any images without prior permission. For any republishing of this recipe, please kindly link back to this post.
*This post may contain affiliate links that earn me a small commission, at no cost to you. You can find out more information here