These crispy kale chips are a healthy vegan snack and packed with flavour. They're loaded with essential vitamins, minerals and antioxidants. Plus, they only take 20 minutes to prepare. You'll be shocked at just how tasty these kale chips are! Vegan, gluten free, dairy free, grain free, sugar free and soy free.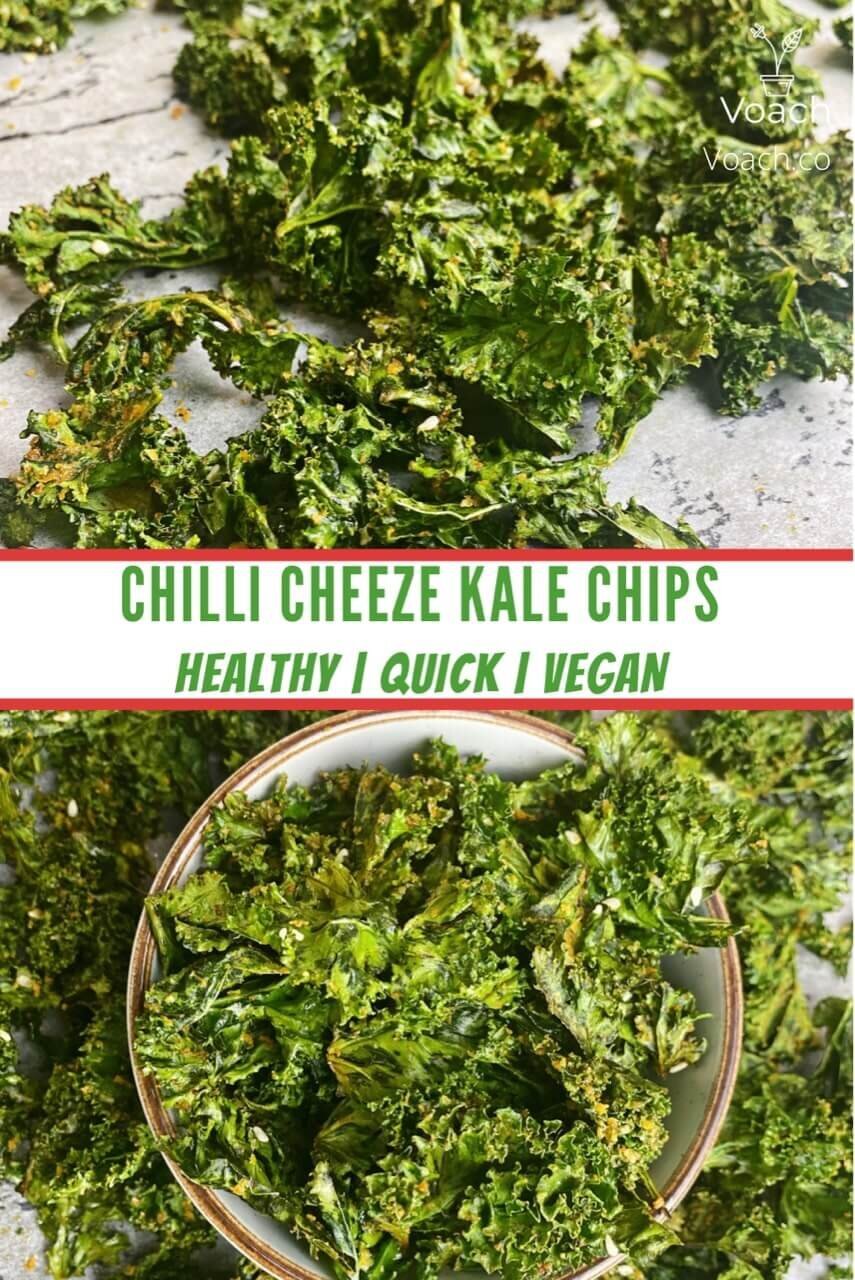 The journey to discovering the best kale chips recipe
I'm not sure about you, but I've made a lot of kale chips in my life. I experimented with a plethora of recipes to try and get that perfect blend of crispiness and tenderness that I was looking for.
Unfortunately, they would come out burnt, soggy, or a mix of both! I was almost about to give up, thinking it was just food blogger propaganda that kale could actually be a vegan snack. Maybe kale was too healthy to really be a yummy vegan snack idea?
But, alas, I didn't give up. Probably as a result of having too much time on my hands…
Nonetheless, my efforts were not in vain. It's only through many years of trial and error that I've come to this recipe and 10 tips to making the best homemade kale chips.
Kale chips: A healthy vegan snack
It's hard to come up with vegan snack ideas. Nevertheless healthy vegan snacks! Always seemed you needed to process them so much, or add a bunch of unhealthy ingredients to make yummy vegan snacks.
Not with these kale chips. Sounds too good to be true, but these really are a healthy vegan snack that doesn't compromise on taste or texture.
Even my non-vegan friends love these kale chips and ask for it as the designated vegan snack for parties! Partly because it's suitable for almost all guests as it's a gluten free vegan snack.
From the vitamin and antioxidant packed kale, to the Vitamin B12 & protein rich nutritional yeast, to the immune boosting cayenne pepper – these kale chips are a tremendously healthy and low calorie snack option to replace the greasy packs of potato chips laying around your house.
So let's get into the ingredients you need for these chilli cheeze kale chips…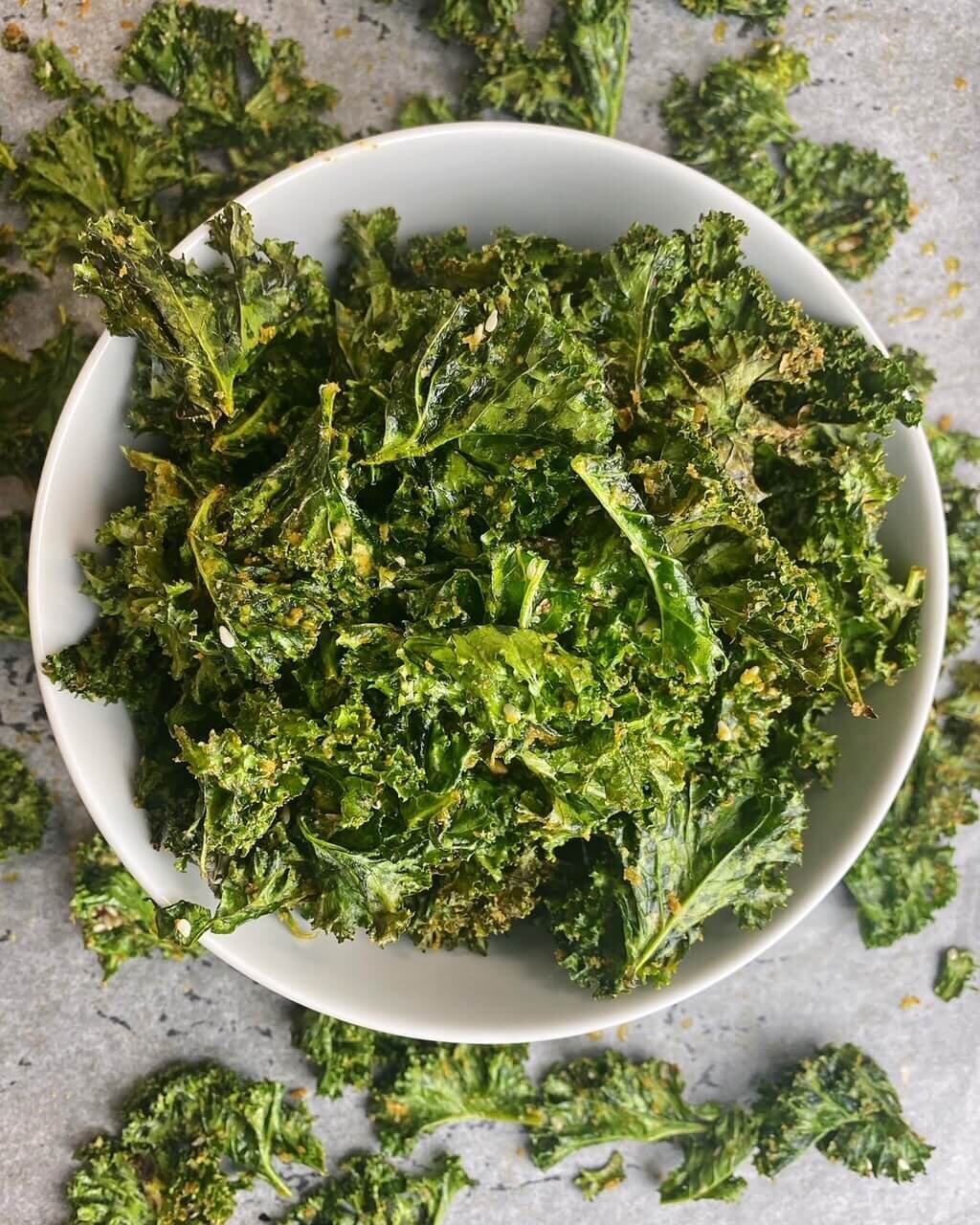 Chilli cheeze kale chips recipe ingredients
It doesn't take too many ingredients to make these chilli cheeze kale chips. With a handful of ingredients and just 20 minutes, you'll have a healthy vegan snack on your lap to enjoy at any time of day!
To make this kale chips recipe, you'll need:
Curly leaf kale: My favorite choice of kale for this recipe. The curly outer edges of the leaf is what really makes them so crispy. If you can't find any curly leaf kale, you can also use other varieties of kale such as red, lacinato or redbor kale.
Extra virgin olive oil: This is a recipe which really does call for a high quality extra virgin olive oil. It's what makes the kale chips so crispy, whilst also providing a lovely smooth texture and rich olive flavor. If you don't have any on hand, you can use any other type of plant based oils.
Nutritional yeast: This is where the cheezy part of the recipe title comes in. Nutritional yeast has a fantastically cheesy and nutty flavour that really pops out when mixed with the kale.
Cayenne pepper: Gives the kale chip that spicy kick you're looking for. I prefer using cayenne pepper as opposed to chilli powders as it has a more subtle spicy flavour that doesn't take over the cheesiness of the nutritional yeast.
Garlic powder: You don't need much for this recipe. Just a little powder will give the kale chip a nice tone of garlic flavour without being too overwhelming, as well as complement the cheesiness of the nutritional yeast perfectly.
Sesame seeds: I've always liked sprinkling some sesame seeds into the mix. Not just for the nutritional benefit of sesame seeds or eye catching colour, but for the nutty flavour and crunchiness that works perfectly with the crispiness of the kale.
Now let's find out how to make this easy vegan snack!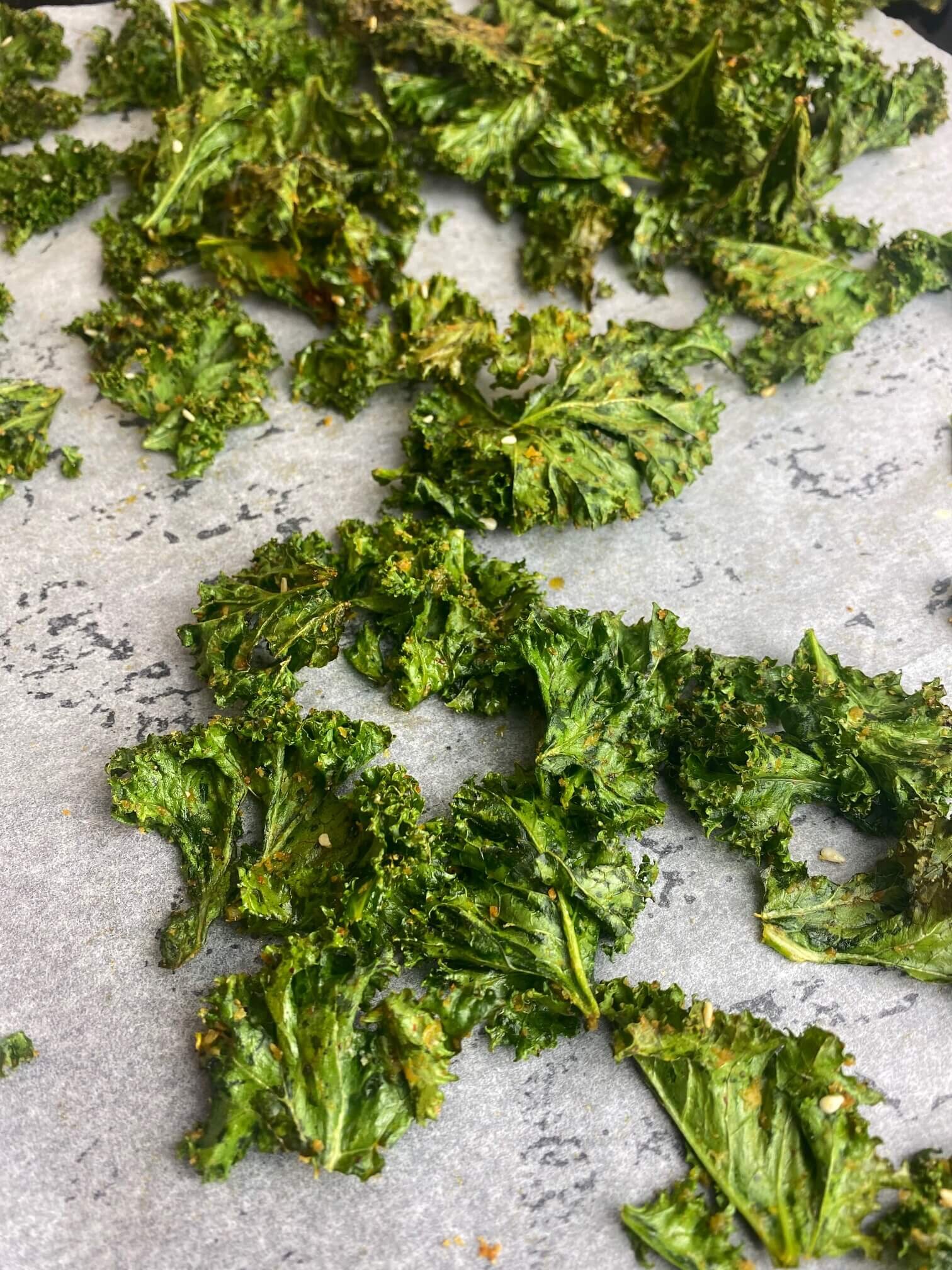 How to make kale chips
With kale being so thin and fragile, it can be tricky to prepare and bake them into perfect crispy kale chips.
However, with this recipe and my tips below, you'll find that it's much easier than you thought!
So, to make the best kale chips,
First step is to preheat the oven on convection (fan forced) setting at 300°F (150°C).
Then you'll need to wash and dry your kale thoroughly. Get rid of as much moisture as possible to ensure your kale chips bake and don't steam in the oven. Then simply tear off the kale leaves from the stem in large pieces and place into a mixing bowl.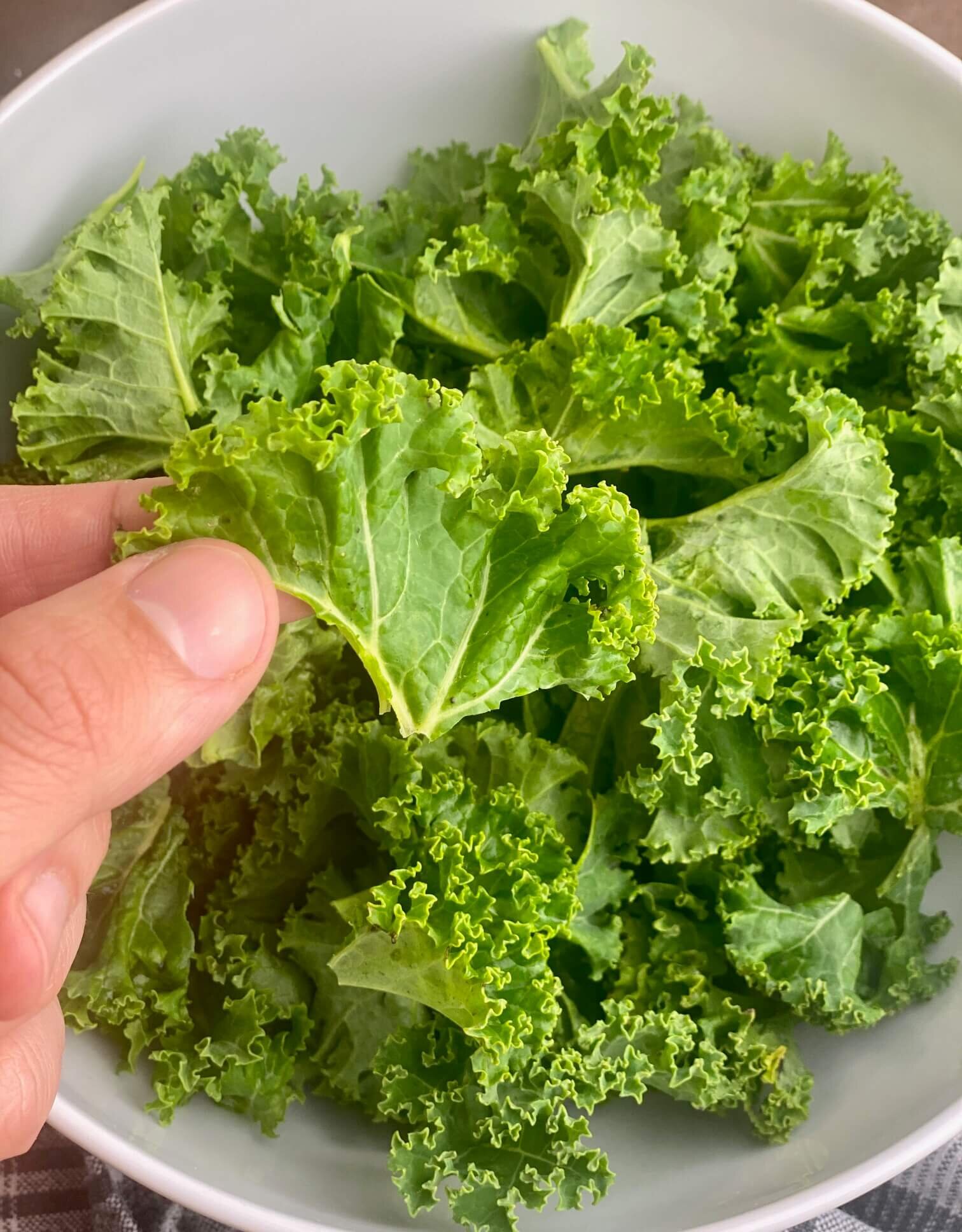 Next, add in the seasonings and olive oil and massage into the kale leaves. Make sure to use your hands to make sure you get the seasonings and olive oil into every nook and cranny of the kale.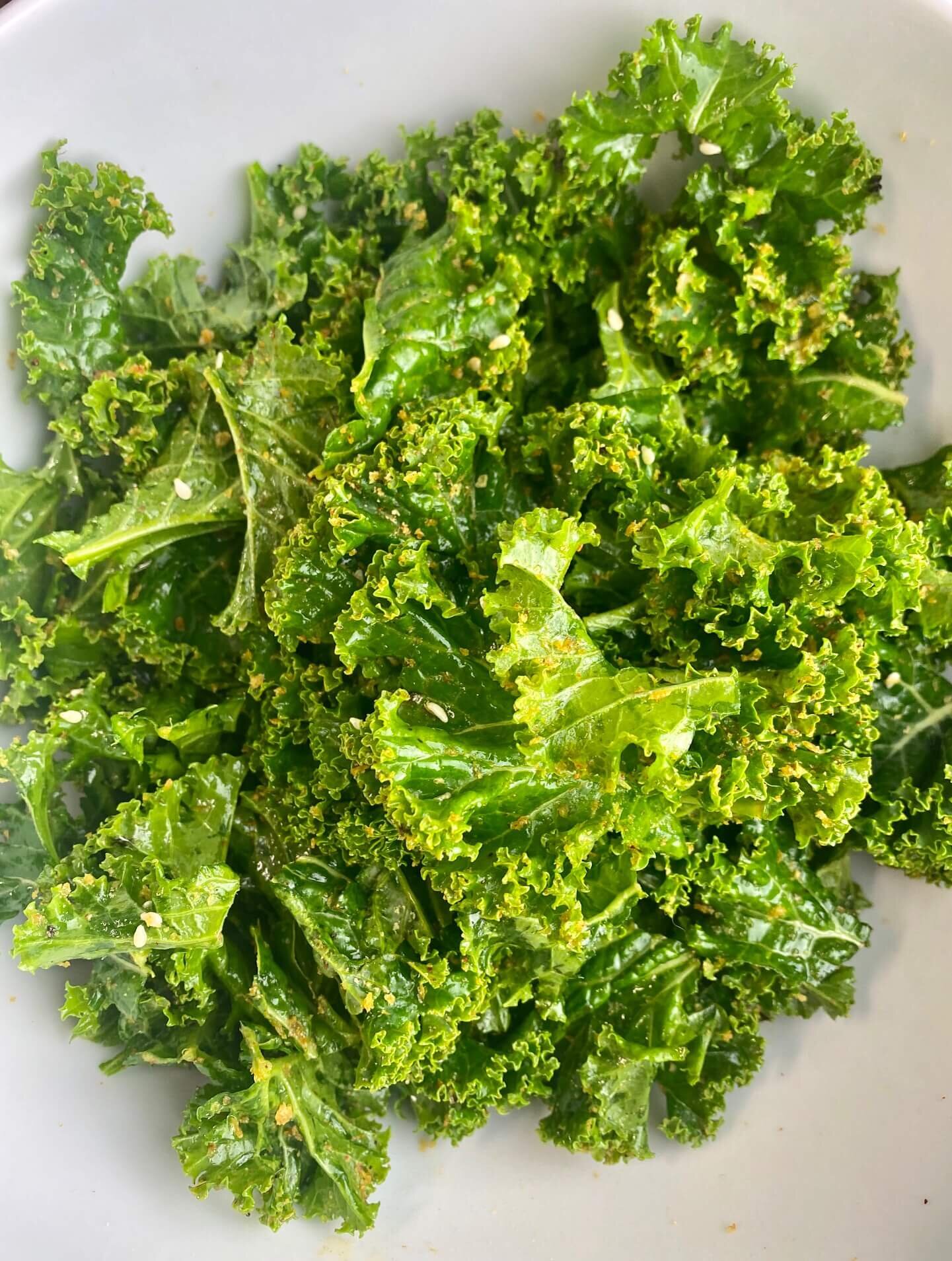 Once that's done, spread out the kale flat and evenly onto a baking sheet. The edges of the kale can touch a little, but just make sure they don't cover each other.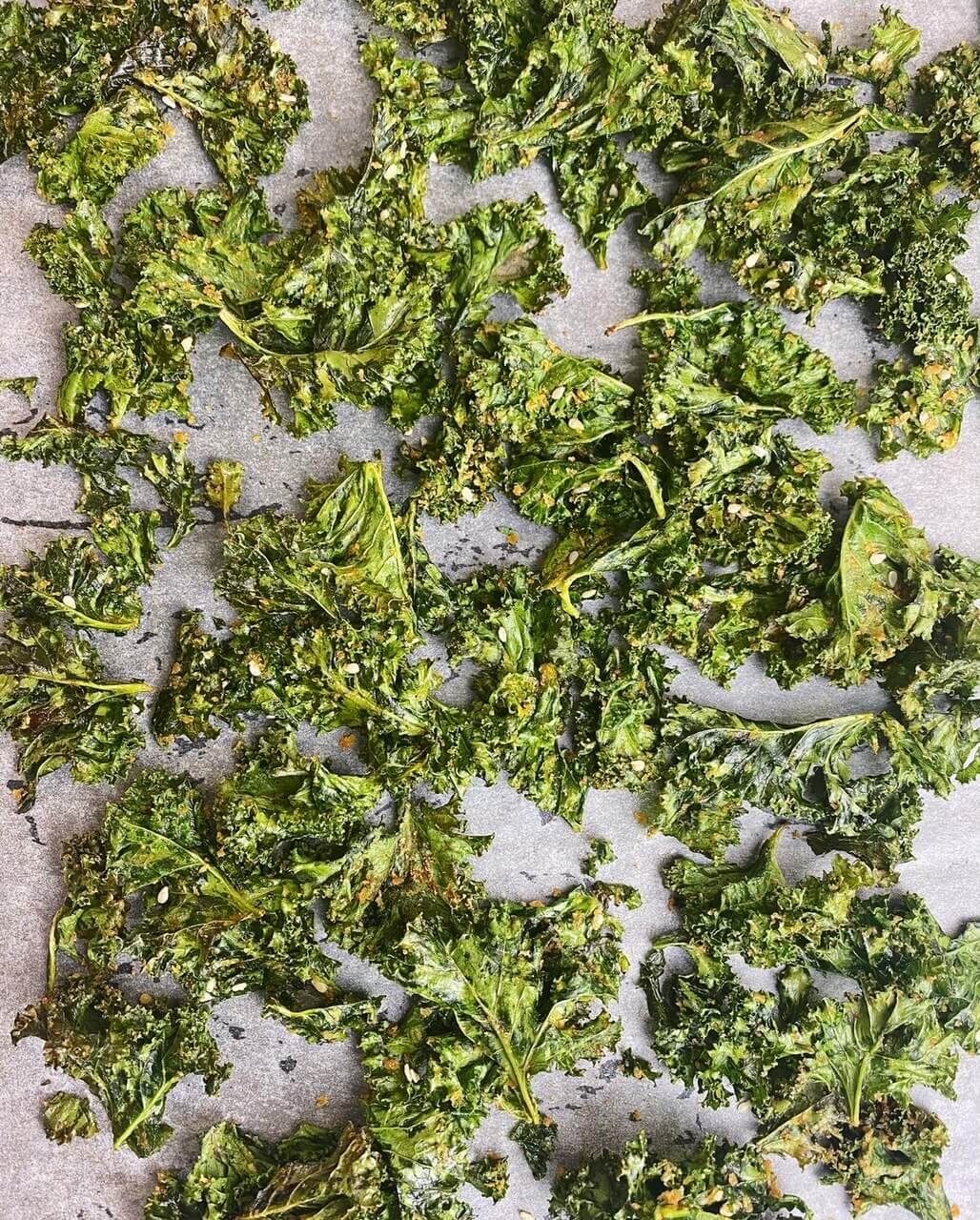 Last step is to throw the kale in the oven and let it bake for 10-12 minutes. Once they are crispy and slightly golden brown, take them out and let them cool for 1-2 minutes. Then, enjoy!
And that's it! An easy vegan snack that's really healthy and ready in just 20 minutes! The kind of homemade vegan snack I love!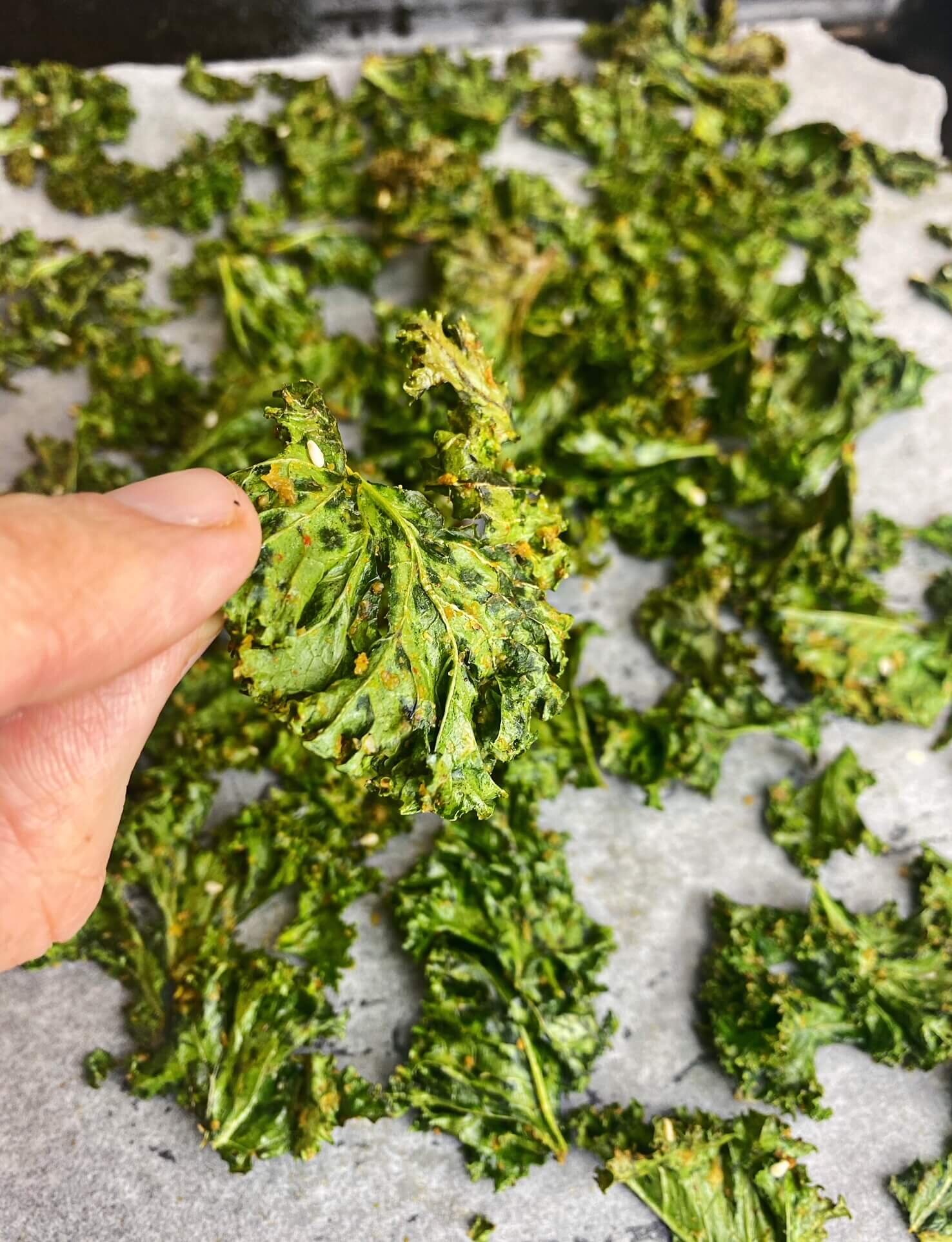 Pro tips for making kale chips
The secret to making the best kale chips isn't the ingredients. It's all the method.
So if you've tried other kale chip recipes out there and have been disappointed by the results, don't fret. With this recipe and these 10 pro tips, you'll fall in love with this healthy vegan snack and be making it time and time again!
Tear into large pieces: My rule of thumb is to tear the kale leaves 4x larger than the chip size I desire. This is because kale significantly reduces in size when baked. If you tear them into small pieces at the start, you'll have very tiny, flaky and burnt chips on your hands. See my pics above for guidance!
Make sure sizes are consistent: You'll want to tear your kale into similar sized pieces, to the extent possible. If you have different sized pieces, the quality of the kale chips will be inconsistent and you'll find some are over/under cooked.
Dry the kale thoroughly: This is a very important step. If the kale pieces aren't completely dry, the remaining water will cause the kale chips to be steamed when baking. You'll have soggy kale chips on your hands, and no one wants that! My preference is to use paper towels to really get every nook and cranny is dry before mixing with the seasonings and oil. You can also use a clean kitchen or salad spinner.
Always massage with hands: I've tried tossing the seasonings and oil together with different kitchen utensils. None are as good as using your own two hands. By using your hands, you are able to get the seasonings and oil into every nook and cranny of the kale (which can be tough with curly kale!). Additionally, massaging helps break down the tough, fibrous characteristics of kale and thereby easier to chew and digest.
Don't be skimpy with the olive oil: When it comes to making crispy kale chips in the oven, a good extra virgin olive oil is key. It's what makes the kale chip so deliciously crispy and helps the seasonings stick. You only need 1 tablespoon to achieve the desired results, so long as you properly massage the olive oil to coat every part of the kale.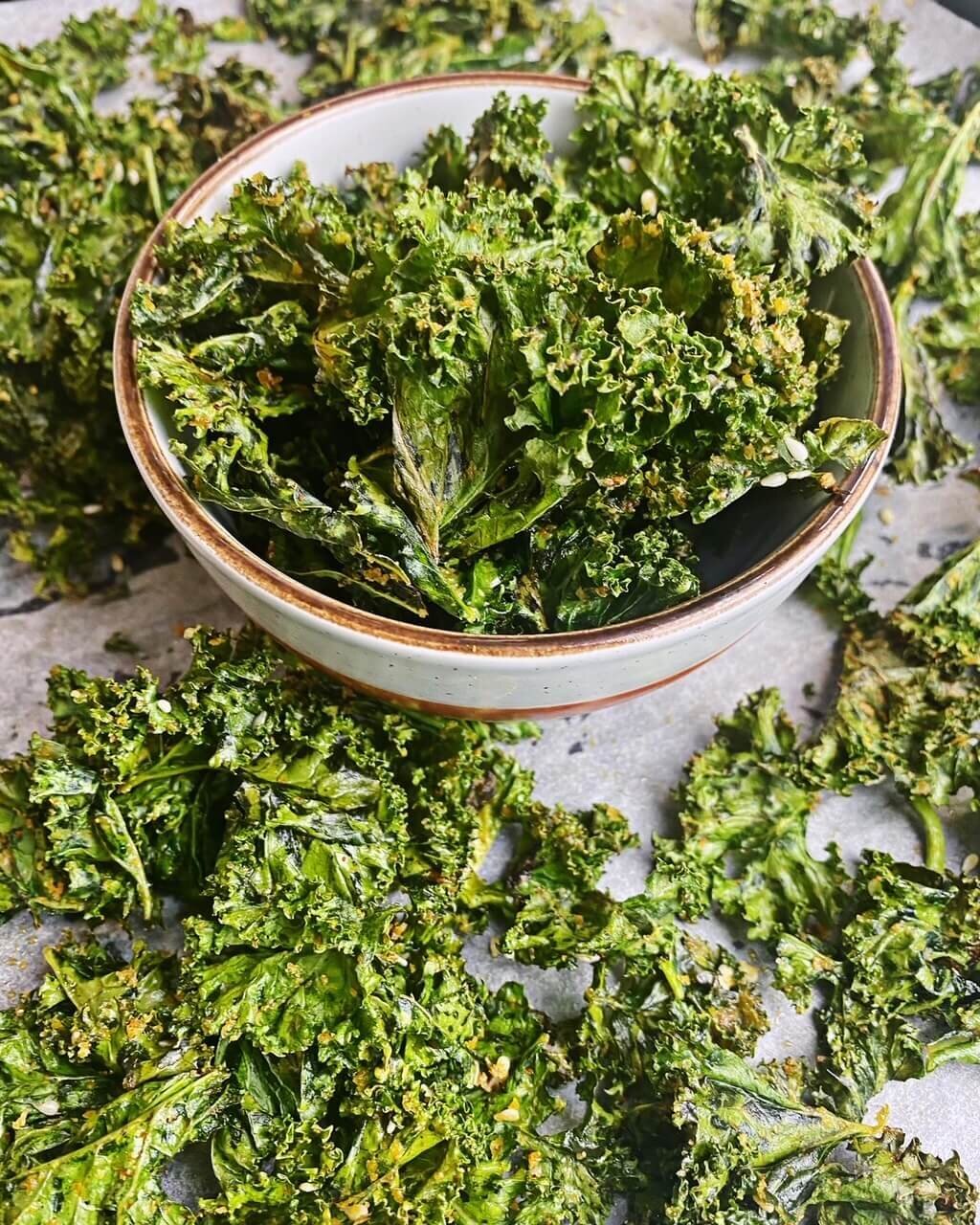 Space out flat and evenly on the baking tray: Might be tempting to make a big batch of kale chips and pile it onto the baking tray. Resist this temptation! This leads to unevenly baked and soggy kale chips. So make sure to lay the kale flat and ensure they not cover each other. It's not necessary to have them completely separated on the baking sheet – they can touch each other a little.
Use convection (fan forced) setting in the oven: This may be my most important tip. I've seen some recipes advise baking kale chips for 30+ minutes on the conventional oven setting – which is simply unnecessary. Put your oven on convection heating to hasten the process without compromising on quality. The fan will circulate the hot air inside the oven and transfer the heat to the kale chips efficiently and effectively.
Don't worry about rotating or tossing: Following my tip above, you won't need to micromanage your kale chips and keep sticking your hand into a hot oven if you use the convection heating. Let the fan do the work of baking the kale chips evenly. You'll still get that perfect crispy kale chip you're after, trust me.
Keep it on low temperature: The right temperature is vital for baking perfect kale chips. By baking at a low temperature, your kale chips will get nice and crispy whilst maintaining it's tender texture. Too high and you'll have burnt outer edges and weak insides. Plus, with the convection setting, it will still be a short baking time at just 10 minutes!
Let them cool: Just waiting a minute or two will allow the kale chips to crisp up and promote a firm and tender texture.
How long can I store kale chips
As kale chips are a nice and light snack, I'd be surprised if you had any leftovers to store!
If you are able to resist eating them all at once, these kale chips can be stored in a cool, dry place for up to 2 days. Let them cool completely before storing in an airtight container.
Be mindful that they will lose their crispiness over time. However, the kale chips do develop a nice chewy texture once stored, which is equally as enjoyable.
More healthy vegan snacks & sides to try
If you like this chilli cheeze kale chips recipe, you might also like:
Please feel free to check out all my vegan recipes here for more inspiration in the kitchen!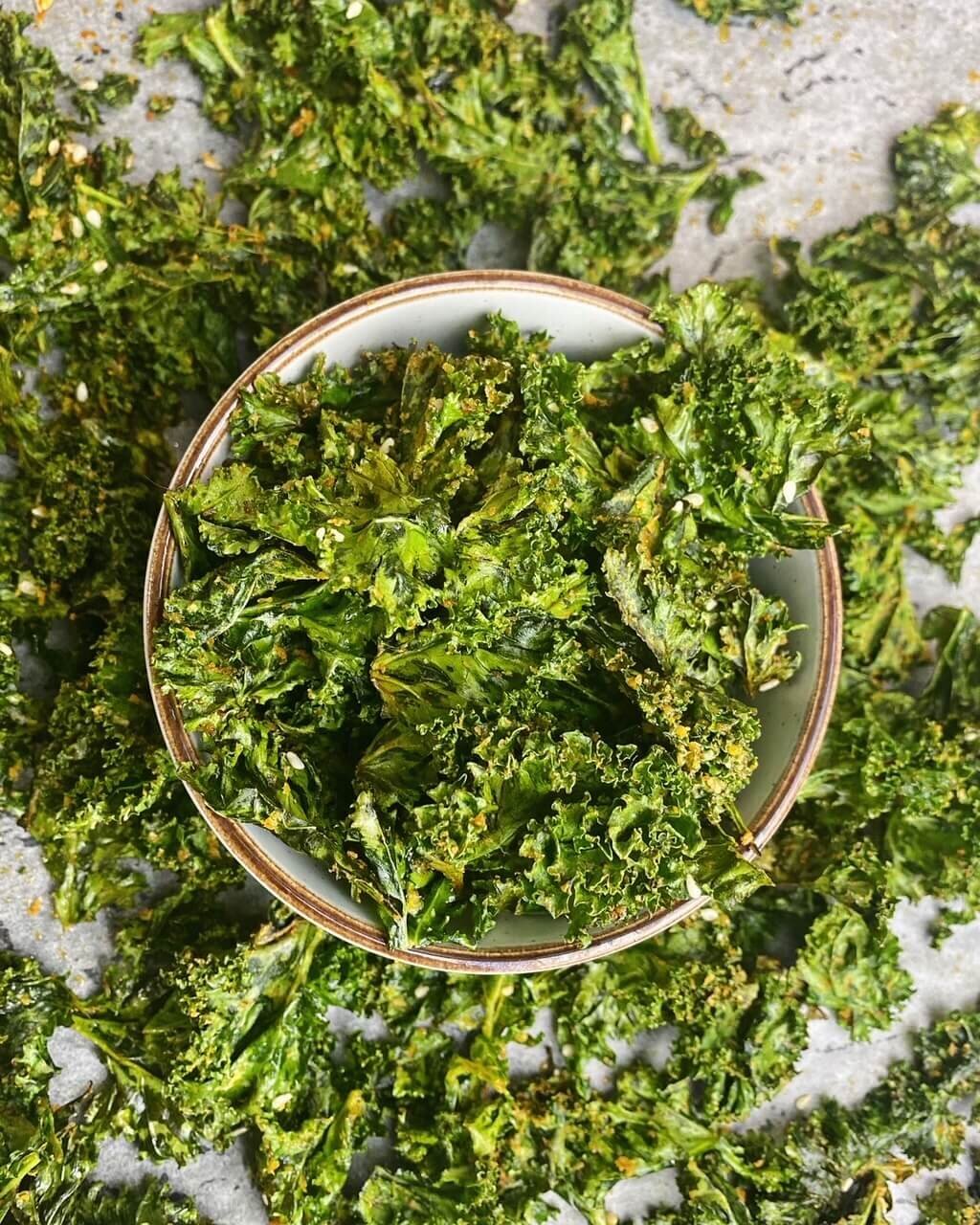 If you tried this vegan kale chips recipe and loved it as much as I did, please feel free to let me know by leaving a comment and a rating below. I also love seeing remakes of these recipes, so be sure to tag me @voach_thevegancoach and use the hashtag #voachrecipes if you post your creation on Instagram!
Never want to miss out on new amazing vegan recipes? Then be sure to follow me on Facebook, Instagram and Pinterest and sign up to my Newsletter so you are notified when the next delicious and nutritious vegan recipe is up!
@Voach. All images and content are protected by copyright law. Please do not use any images without prior permission. For any republishing of this recipe, please kindly link back to this post.
*This post may contain affiliate links that earn me a small commission, at no cost to you. You can find out more information here
---
Categories: Snacks
Tags: kale chips, healthy, gluten free, easy vegan snacks, healthy vegan snack, kale chips baked, low calorie snack, low calories, low carb, nut free, quick, soy free, vegan recipe