This easy Penne Alla Vodka recipe is so rich, creamy and decadent that you'll be surprised it's totally vegan! Perfect for any occasion as it only takes 20 minutes to make and will impress any guest with its insatiable spectrum of flavours. Vegan and nut free recipe.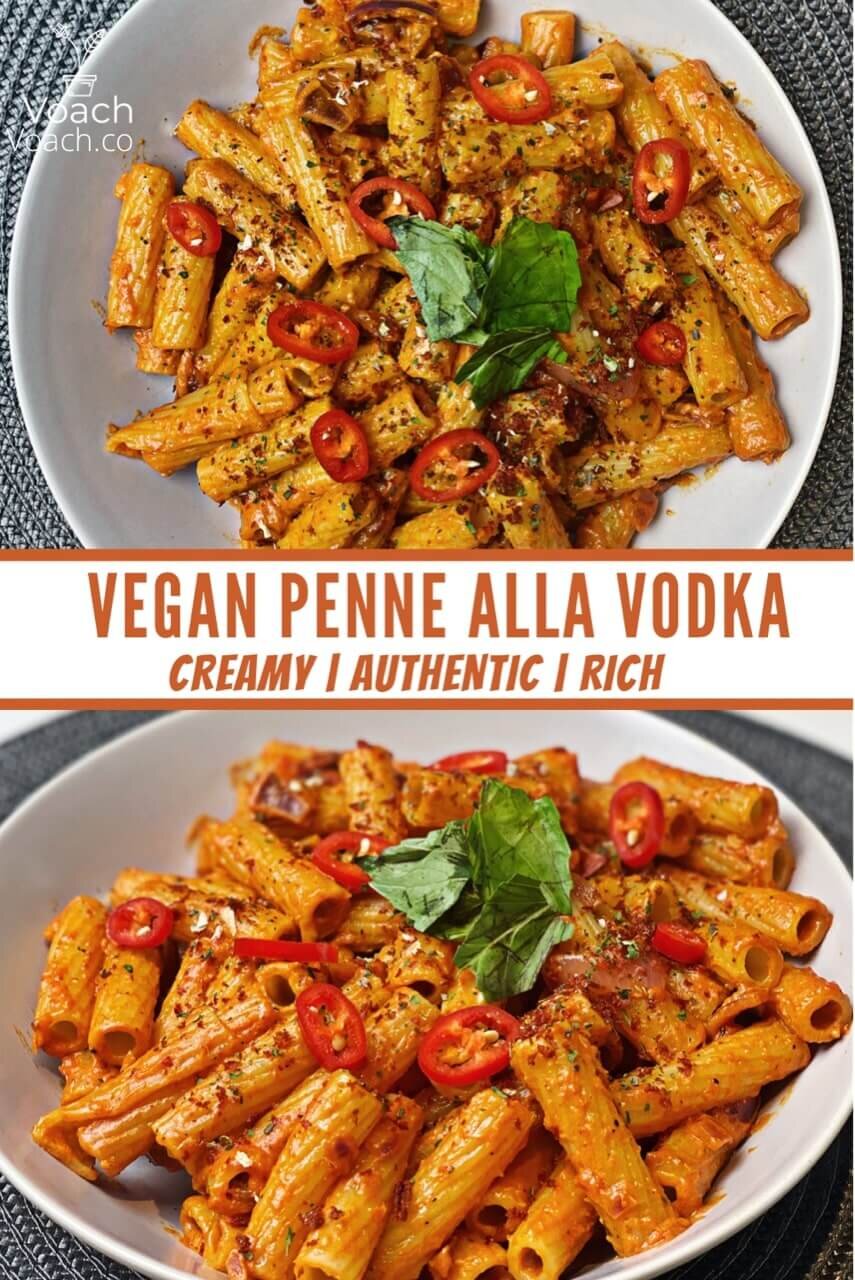 The rebirth of the Penne Alla Vodka
We have a supermodel to thank for this. Since the Gigi Hadid vodka pasta recipe blew up on TikTok, people have been making this traditional penne alla vodka time and time again.
And I can see why. The insatiable and decadent creaminess of the pasta sauce, with it's surprising kicks of spiciness and cheesiness, is enough to make anyone salivate.
Unfortunately, the Gigi Hadid vodka pasta recipe isn't vegan. However, we won't let that stop us joining in on the action!
Truth be told, it's not too difficult to veganize this creamy penne alla vodka recipe for yourself (like most dishes nowadays). With just a few substitutes for the heavy cream and parmesan, you'll have a veganized version of the authentic penne alla vodka that non-vegans will love – guaranteed!
Best of all, this is an easy penne alla vodka recipe that will be ready in just 20 minutes.
So what are you waiting for! Try this vegan pasta recipe out today!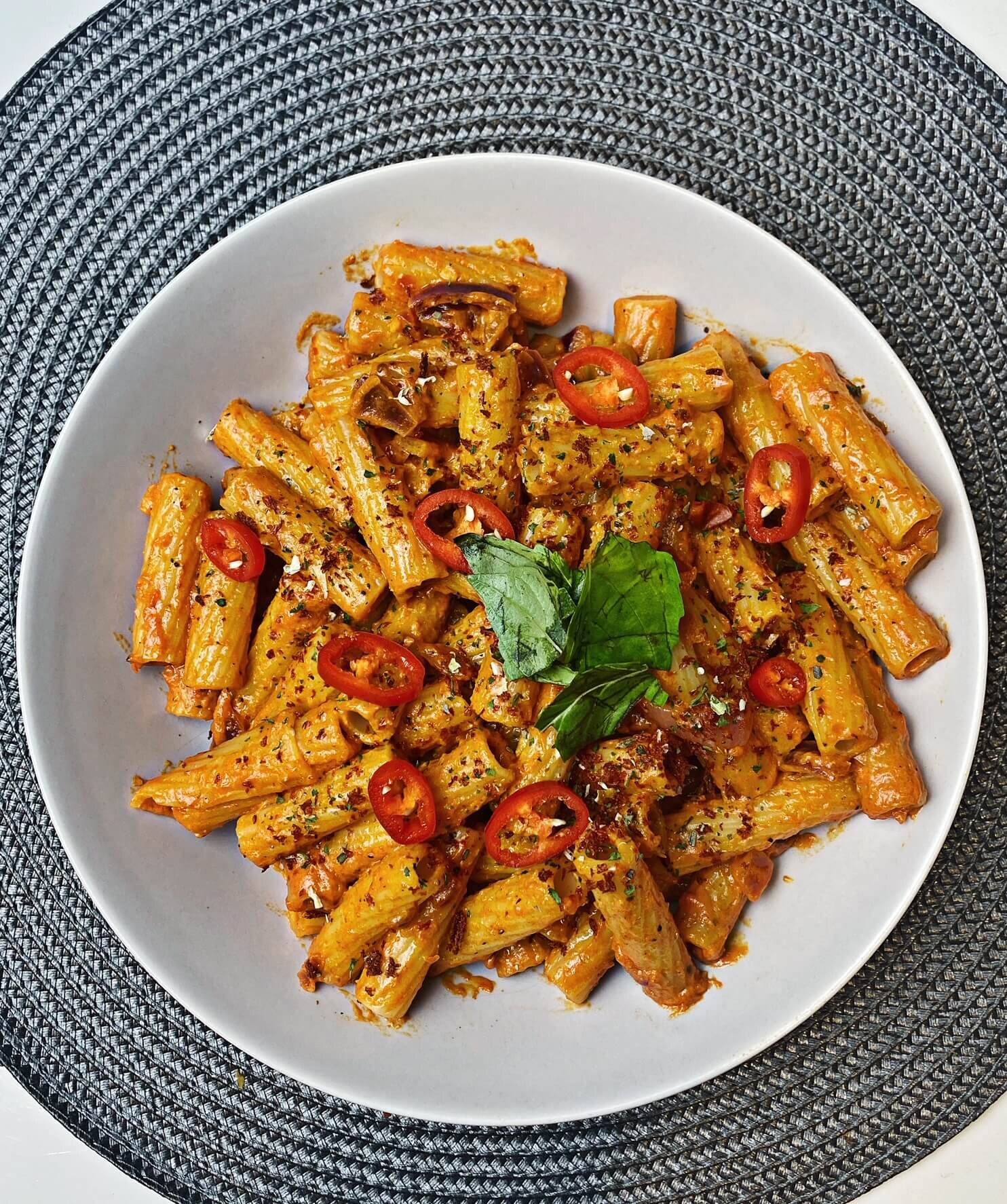 Penne Alla Vodka ingredients
The look of this creamy penne alla vodka might make you think it requires a bunch of fancy ingredients to create. However, this vegan pasta recipe really doesn't require too much to whip up.
Even if you don't have some of these ingredients, there are some handy substitutes which you may have lying around your house anyway. So there's nothing stopping you making this vegan pasta dish!
To make this easy penne alla vodka recipe, you'll need:
Penne or Rigatoni pasta: Any pasta will do. However, penne and rigatoni work best as their cylinder shape really absorbs the creamy pasta sauce and makes every bite amazing. As you can tell from the pics, I'm a fan of rigatoni – the more space to trap that lovely sauce in, the better!
Extra virgin olive oil: Just wouldn´t be pasta without it.
Red onions & garlic: The base for any good pasta, right?
Tomato puree: A key part of the tasty pasta sauce. It provides a nice body and nuance to the sauce as well as a sweet, mild and fresh tomato taste that isn't too overwhelming when mixed with the other ingredients.
Vodka: Read my comments below on this controversial part of this dish! And to quickly dispel the myth of whether penne alla vodka can get you drunk? The answer is no. The alcohol in the liquid is cooked off when cooking and only the taste will remain.
Plant-based cream: A vital part of authentic penne alla vodka is a heavy cream to make the sauce so desirable. Just like with most things nowadays, there's a fantastic vegan substitute! Either a soy based or oat based plant-based single cream will work for this dish. Can't find any at your supermarket? Either grab it online or use full-fat coconut milk instead!
Plant-based milk: A little plant-based milk works to thin out the sauce ever so slightly to prevent it from being too gluggy. Any type (other than rice milk) will do.
Nutritional yeast: A tasty and nutritious substitute for the parmesan cheese you'll see in a penne alla vodka recipe. It provides a uniquely cheesy and nutty flavour to the sauce and gives a great boost of protein and Vitamin B12 too. It you want to be really fancy, you can substitute this for vegan parmesan cheese!
Salt & ground black pepper
Red chilli flakes, red chilli pepper and fresh basil: These are some of my favourite garnishes for this dish. Gives a spicy kick and a fresh herbal tone to the penne alla vodka.
In terms of equipment, all you'll need is a pot to cook your pasta and a non stick pan to make the sauce!
Now that you know what you need, let's get into how to make penne alla vodka recipe!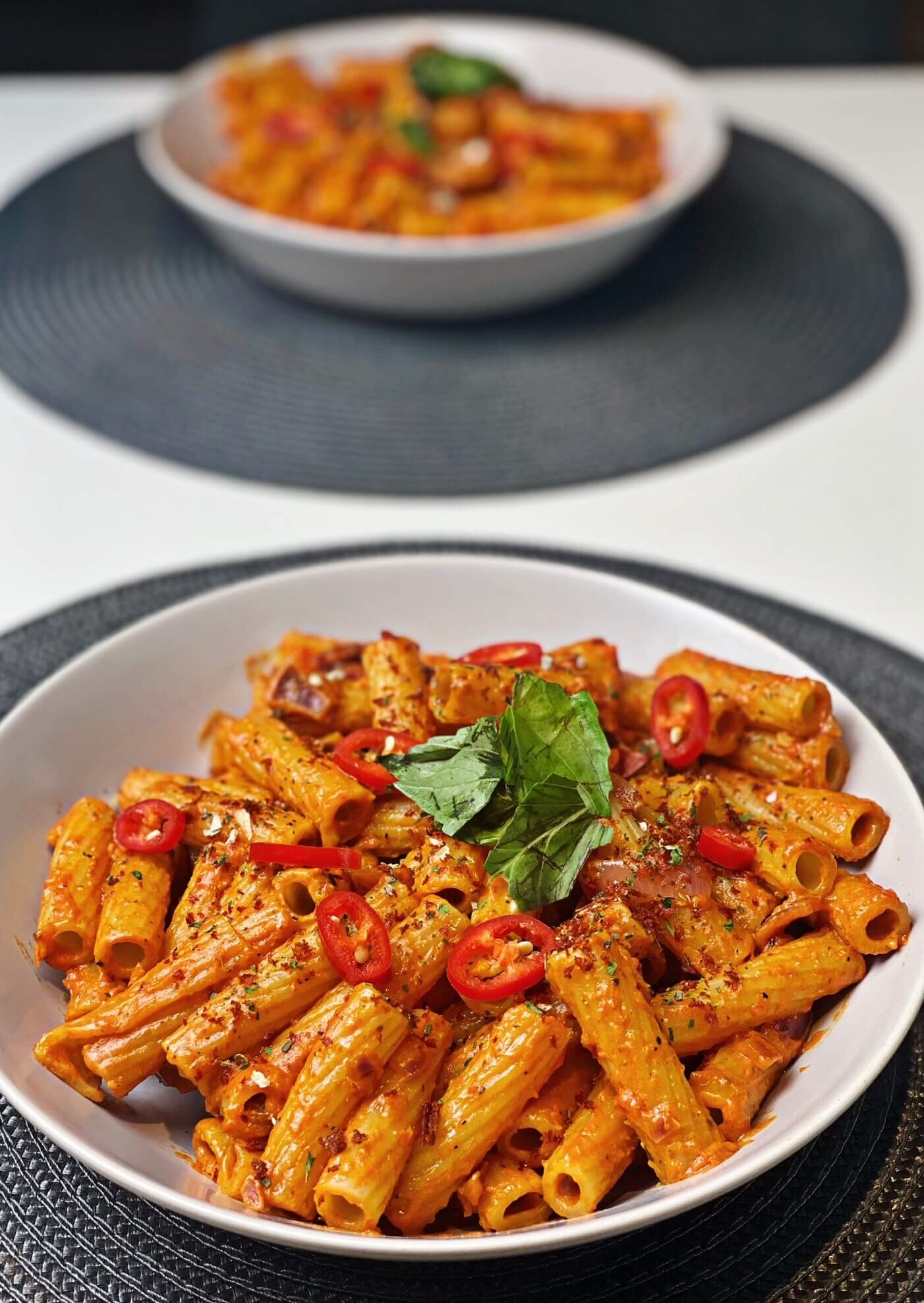 Can you make Penne Alla Vodka without vodka?
Might sound weird taking out an ingredient that's in the title of the recipe. But you can do it! You don't strictly need vodka to make vodka sauce.
For a penne alla vodka without vodka, you can add in a squeeze of lemon juice and a splash of fresh water as the substitute. Alternatively, you can simply leave it out as it won't drastically alter the flavour of this recipe.
My preference? Include the vodka. It does add a pleasing and tasty tone to the dish. A hint of heat and sharpness that pronounces the sweetness of the tomato sauce and helps balance the heaviness of the cream.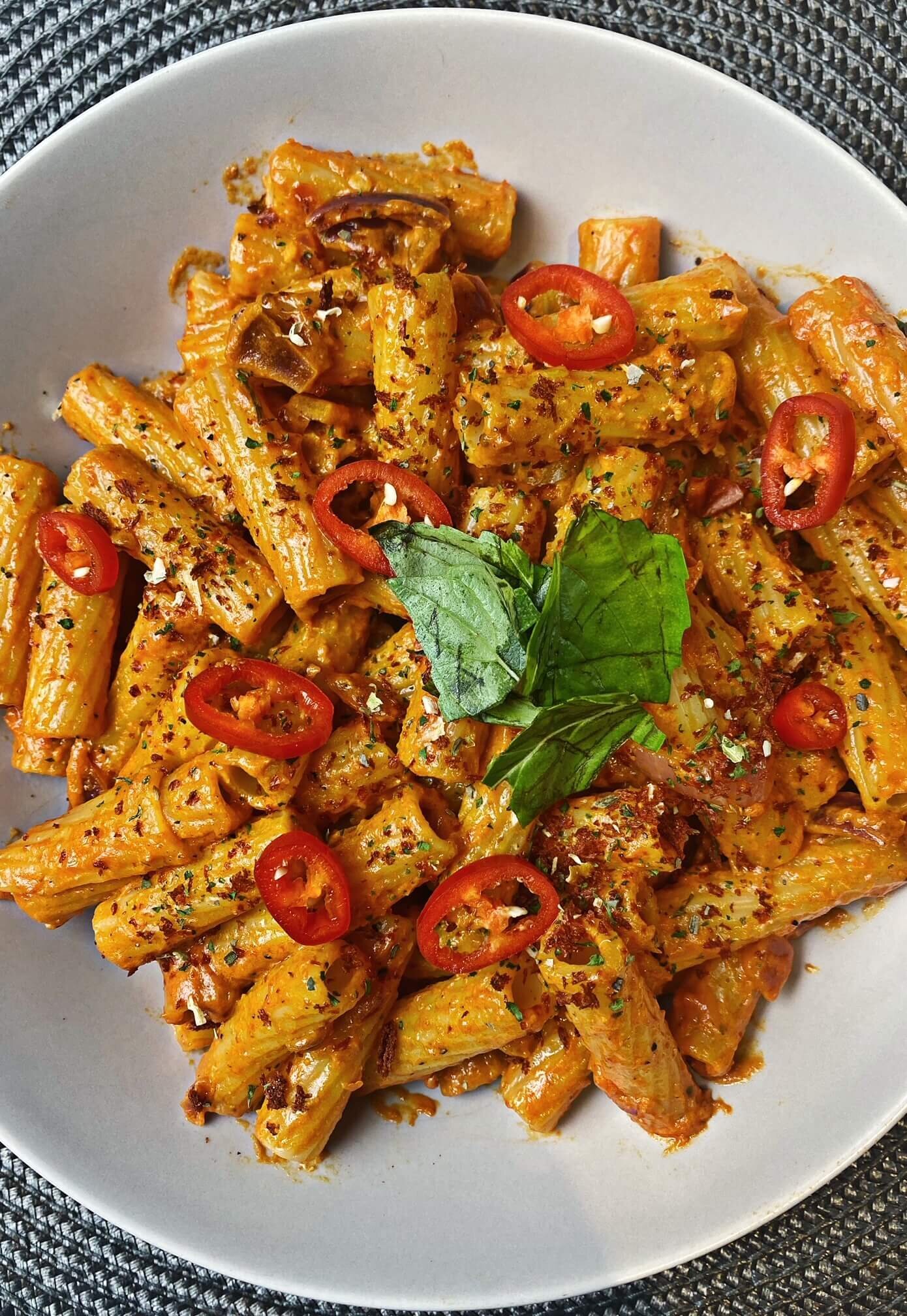 How to make Penne Alla Vodka
You may be looking at the creamy tomato sauce of this pasta and think that it may be complicated or time consuming to get right. But, thankfully, that's not the case!
This creamy penne alla vodka recipe is simple, easy and quick. Everything you're looking for in a pasta recipe.
Now you'll find out how to cook this easy penne alla vodka recipe the best way!
First step is to cook your penne or rigatoni pasta. No real shock there. Whilst you get the pasta going, heat a tablespoon of extra virgin olive oil, the onion and garlic and sauté until translucent (approx. 5 minutes).
Then you will need to add in the tomato paste, stir well into the onion and garlic and cook for 3 minutes. Make sure to stir occasionally to spread the love around.
Next, add in the vodka, plant-based cream and plant-based milk and stir together well. Continue to cook until the sauce starts to thicken (approx. 5 minutes). Don't stop stirring that sauce around during this time!
After this time, add the nutritional yeast, red chilli flakes, salt and pepper into the sauce and stir around. Let it continue to cook for an additional 2-3 minutes.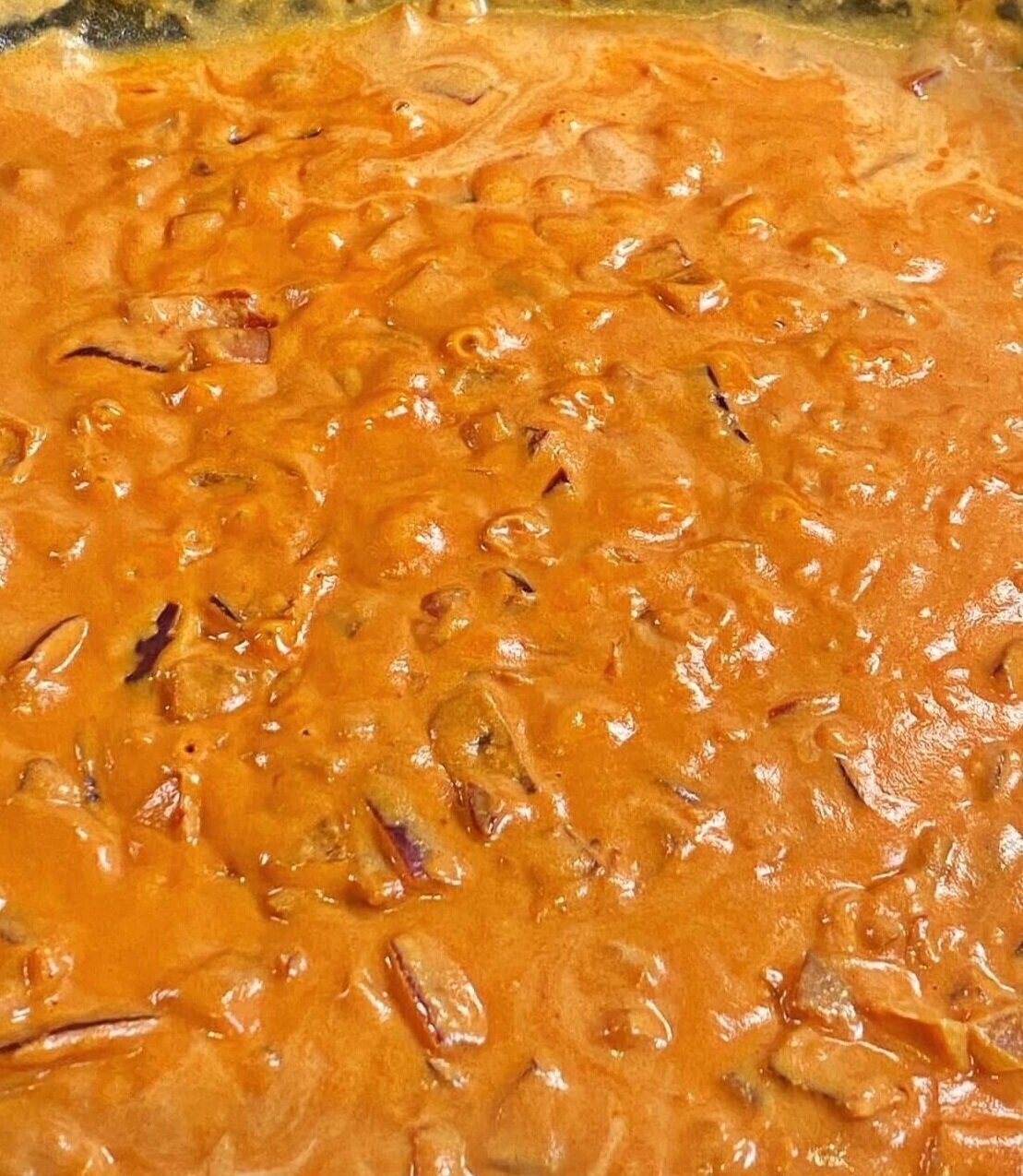 Now that the pasta will be cooked, it's time to add it into the pan and mix together until each and every single pasta is nicely coated in the velvety smooth spicy tomato vodka sauce. At this time, you can add any red chilli peppers and fresh basil that you desire: either mix it into the pasta whilst warm or garnish freshly on top for that restaurant quality look!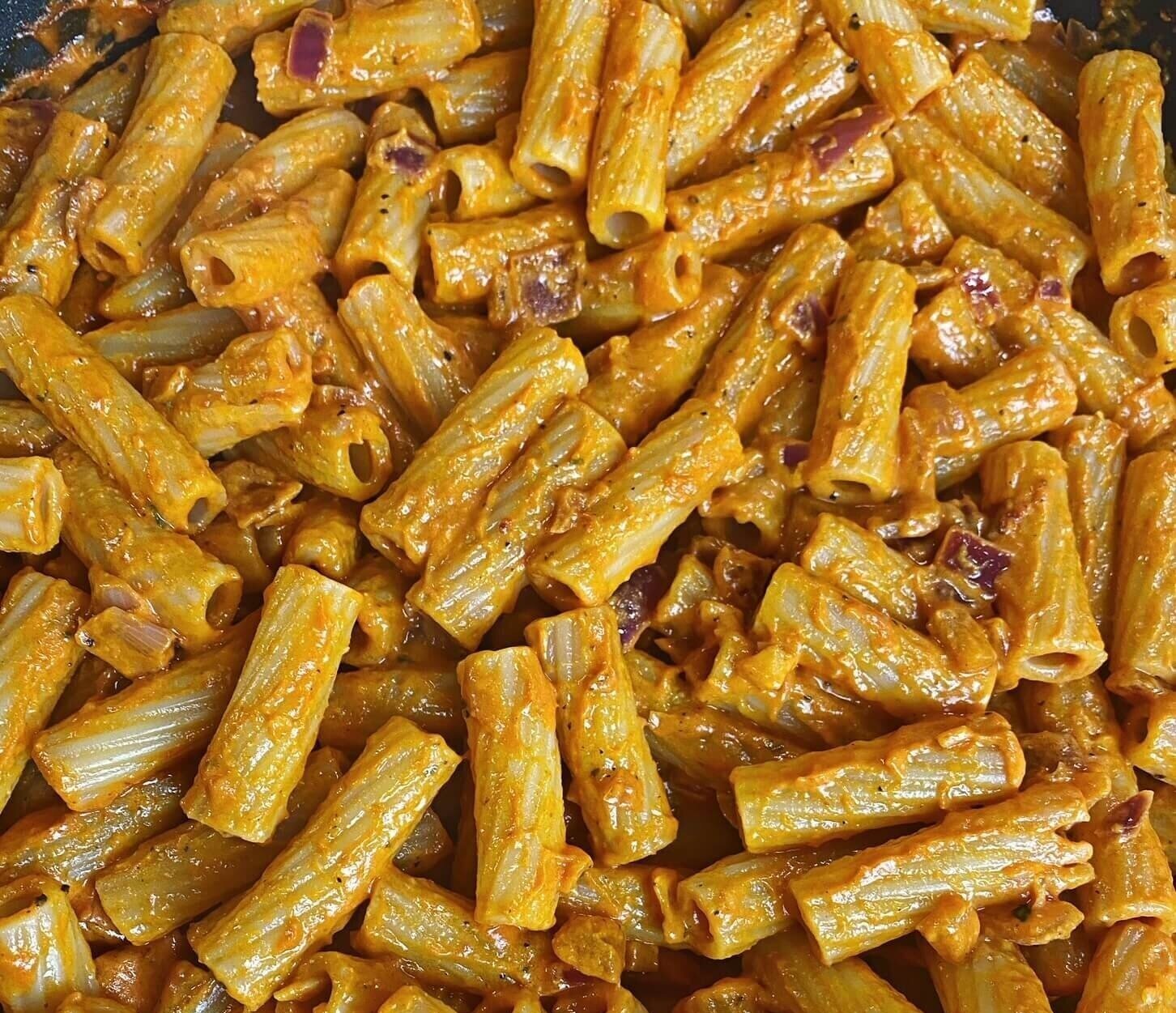 Last step is to add any red chilli peppers and fresh basil that you desire: either mix it into the pasta whilst warm or garnish freshly on top for that restaurant quality look! As you can tell, I'm a fan of the latter 🙂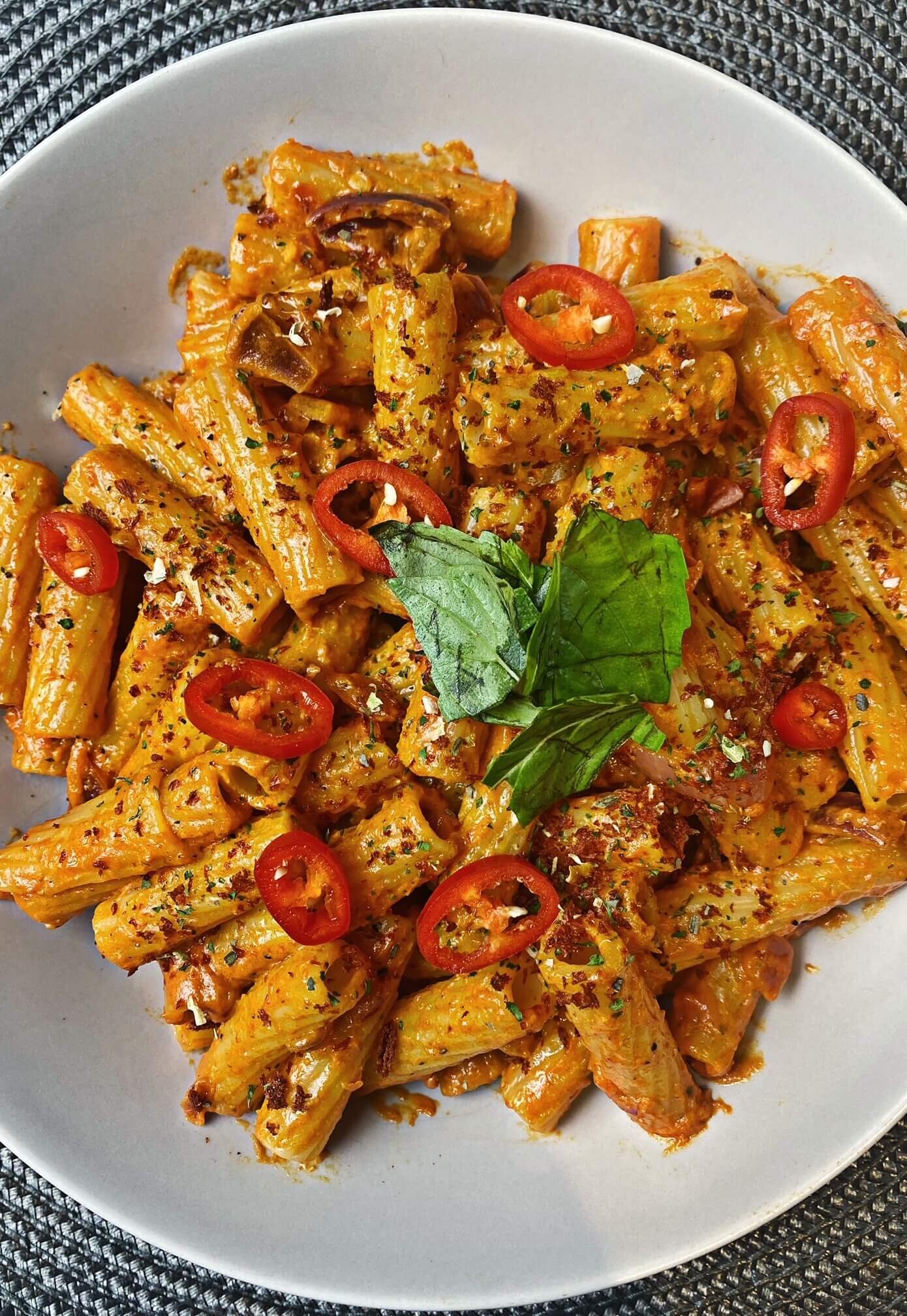 What goes well with Penne Alla Vodka?
Bread: You can't really go wrong with some fresh bread or garlic bread with pasta, right? You can find vegan garlic bread at some stores which omit butter. However, you can always make homemade vegan garlic bread with some bread, olive oil (or vegan butter) and a clove of garlic!
Salad: For those looking for a nice healthy side, a nice fresh green salad goes perfectly with a creamy penne alla vodka recipe like this. A simple Italian salad with some leafy greens, olives and balsamic always works well.
Roasted vegetables: It is quite easy to throw some broccoli, Brussels sprouts and zucchini in the oven with some oil and seasonings to make a great vegan side for this dish. I can also highly recommend my gourmet sautéed Brussels sprouts recipe as a side for this easy penne alla vodka recipe. It's a match made in heaven!
What wine goes with Penne Alla Vodka?
A very important part of this equation.
Whilst there is vodka in this pasta, you might also want a glass of wine that pairs together nicely with the richness of this dish.
As the base of this sauce is tomato and therefore partly acidic, I find a nice pairing is either a medium-bodied red wine (sorry Shiraz lovers) or a citrusy white wine. Other types of wine can taste slightly bland if they don't match the acidity of the creamy tomato sauce.
For reds, I'd recommend a Zinfandel, Primitivo or Cabernet Sauvignon.
For whites, try a dry white with such as a Sauvignon Blanc. It beautifully complements the richness of this vegan penne alla vodka.
And remember to always check the label of the wine to ensure it's vegan!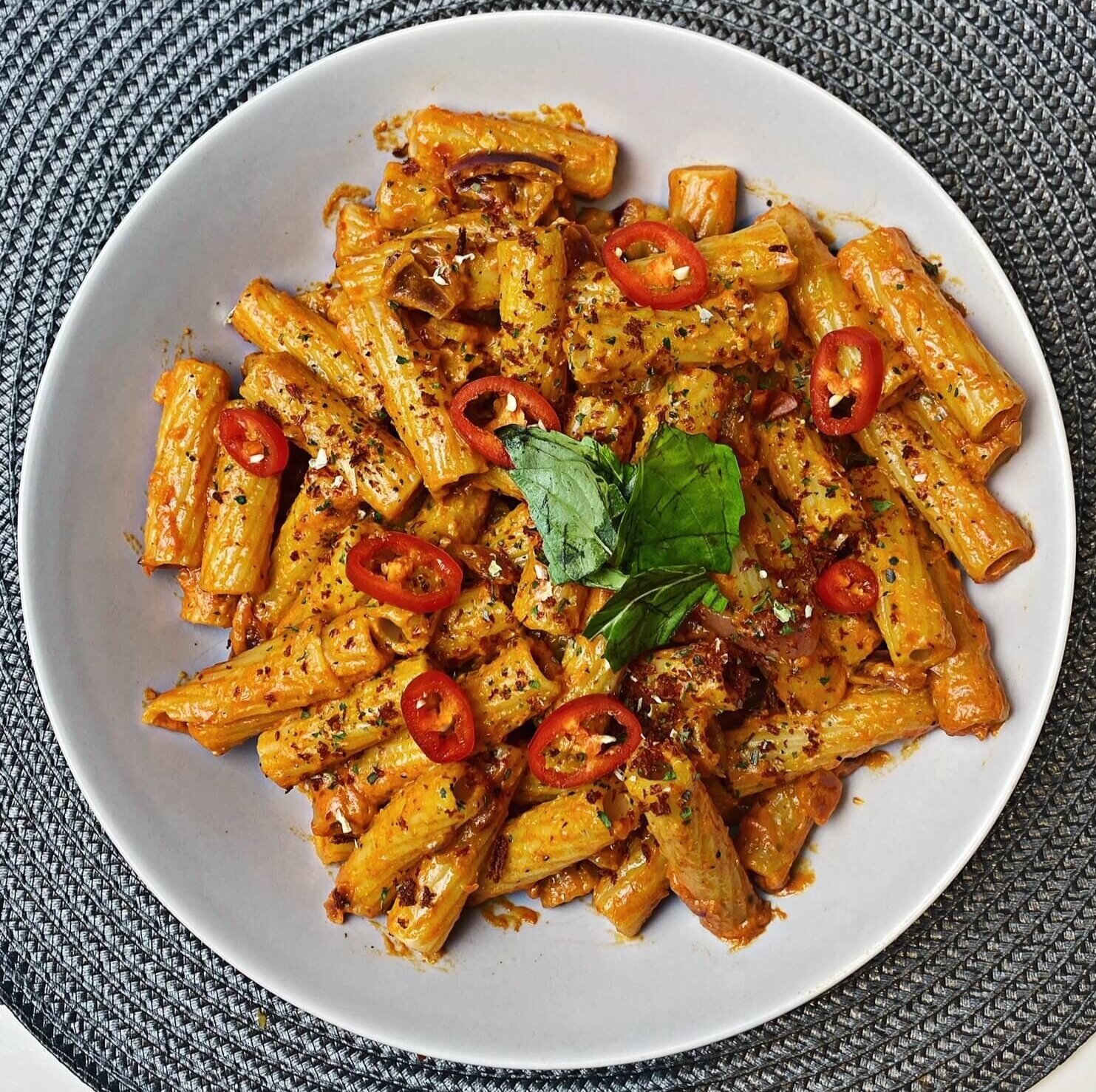 How to store Penne Alla Vodka
To store: As always, be sure to let this dish completely cool off before storing in the fridge. Once cooled, this vegan penne alla vodka can be stored in an air tight container in the fridge for up to 5 days.
To freeze: You can technically freeze cooked pasta, but I wouldn't recommend it as it alters the texture too much. However, you can certainly freeze the creamy pasta sauce! You can place it in an air tight container or freezer bag for up to 6 months. Let the sauce thaw overnight in the fridge before reheating.
To reheat: You can reheat this creamy penne alla vodka in pan over medium heat until warmed through (approx. 5 minutes). It is also easy to reheat this pasta in a microwave.
More vegan dishes to try?
If you like this easy penne alla vodka recipe, you might also like:
Check out all my vegan recipes here for more vegan inspiration in the kitchen!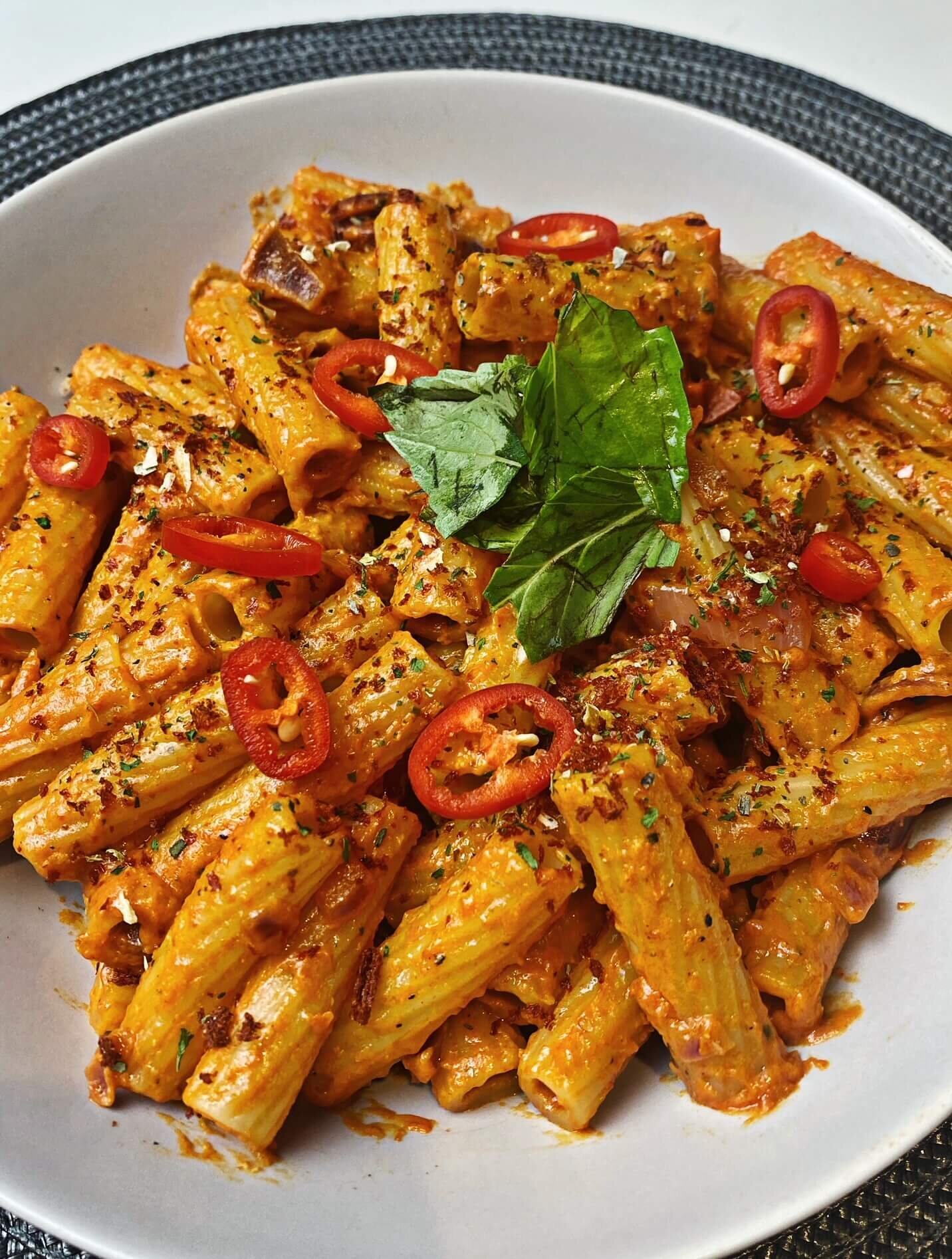 If you tried this vegan penne alla vodka recipe and loved it as much as I did, please feel free to let me know by leaving a comment and a rating below. I also love seeing remakes of these recipes, so be sure to tag me @voach_thevegancoach and use the hashtag #voachrecipes if you post your creation on Instagram!
Never want to miss out on new amazing vegan recipes? Then be sure to follow me on Facebook, Instagram and Pinterest and sign up to my Newsletter so you are notified when the next delicious and nutritious vegan recipe is up!
@Voach. All images and content are protected by copyright law. Please do not use any images without prior permission. For any republishing of this recipe, please kindly link back to this post.
*This post may contain affiliate links that earn me a small commission, at no cost to you. You can find out more information here
---
Categories: Lunch, Dinner, Italian
Tags: easy, nut free, pasta, penne alla vodka, quick,  vegan pasta recipe, vegan pasta sauce, vegan penne alla vodka, vegan recipe