The best crispy, caramelized and tender sautéed Brussels sprouts you'll every have. So easy, quick and gourmet that you'll be making Brussels sprouts time and time again! Vegan, low carbs, high in Omega 3's and essential vitamins & minerals.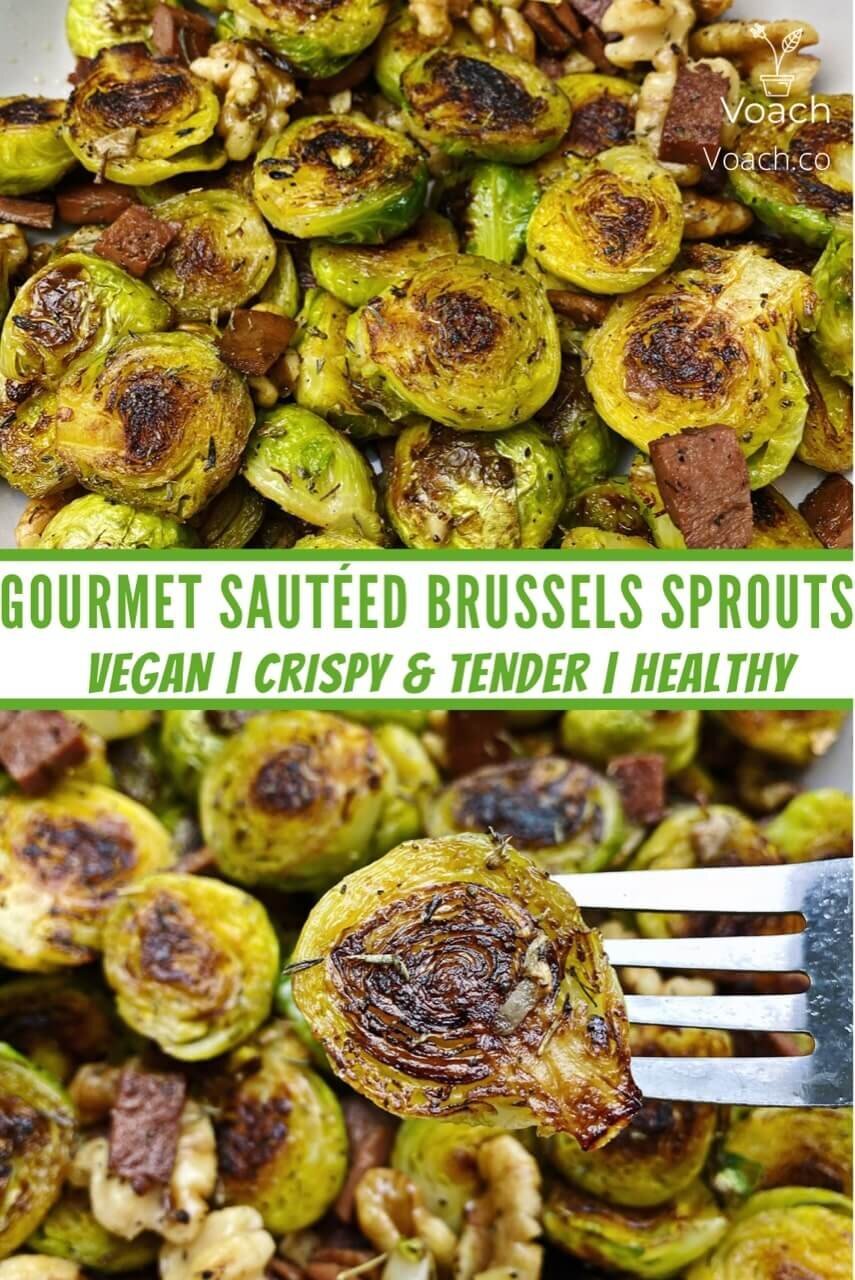 The best sautéed Brussels sprouts
The Brussels sprouts.
I, for one, love Brussels sprouts. Full of heart healthy Omega-3's, Vitamin C, K and Iron. And, with a recipe like this, you can transform them into a crispy, caramalized and tender little gem.
However, they are much maligned in the world. Some people really cannot stand them. And I can sometimes see why. As a child, you may have been served sprouts that were super mushy and had no flavour or zing. Just a soggy, listless little green ball of nothing.
This is why there needs to be a modern approach to old school vegetable. Especially for vegans looking to absolutely wow people with their creations. What better challenge than with the Brussels sprouts!
If you prepare them right, Brussels sprouts can be truly addictive. If you follow this recipe, they'll be rich and full of flavor with an insatiably tender and hearty texture. You would almost believe that the end result comes from those Brussels sprouts you've been avoiding at the Supermarket!
And don't be fooled thinking this is a complex, lengthy recipe given the 'gourmet' in the title. This sautéed Brussels sprouts recipe is actually fairly quick (quicker than roasting, in fact) and straight forward. So there's no reason not to give it a crack!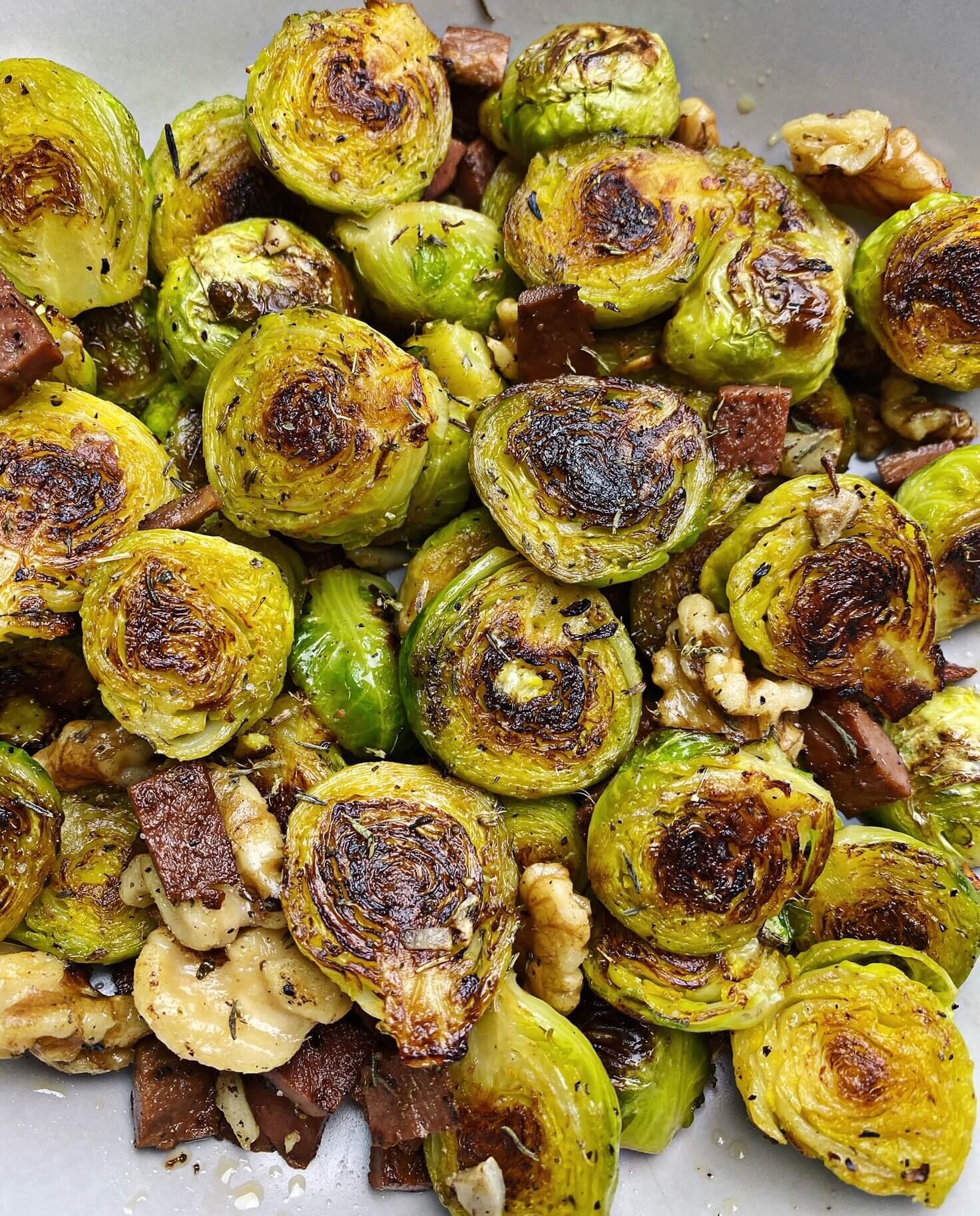 The Difference Between Sautéed Brussels Sprouts and Oven Roasted Brussels Sprouts
I had grown up thinking the only way you could have Brussels sprouts is boiled or roasted. Boiling? No thanks. Roasting? Hell yeah!
I had oven roasted Brussels sprouts (otherwise known as Brussels sprouts baked) for quite some time. However, sometimes I felt like a more crispy outer with a nice tender texture.
So I tried sautéing them, or otherwise known as pan fried Brussels sprouts, pan roasted Brussels sprouts, or pan sautéed Brussels sprouts. Pretty much all mean the same thing. Frying them in a pan.
Lo and behold, I had found out the way to get the crispy tender combo I was looking for!
Oven roasted Brussels sprouts are great. Don't get me wrong. I still enjoy them from time to time. When I'm after a softer texture that melts in the mouth, I'll go for oven roasted Brussels sprouts. But when I feel like spending less time in the kitchen and achieving a nice tender inside to go along with a crispier, caramelized outside – I opt for sautéed.
Now that I've got your mouth-watering, let's see what ingredients we need for this Brussels sprouts recipe!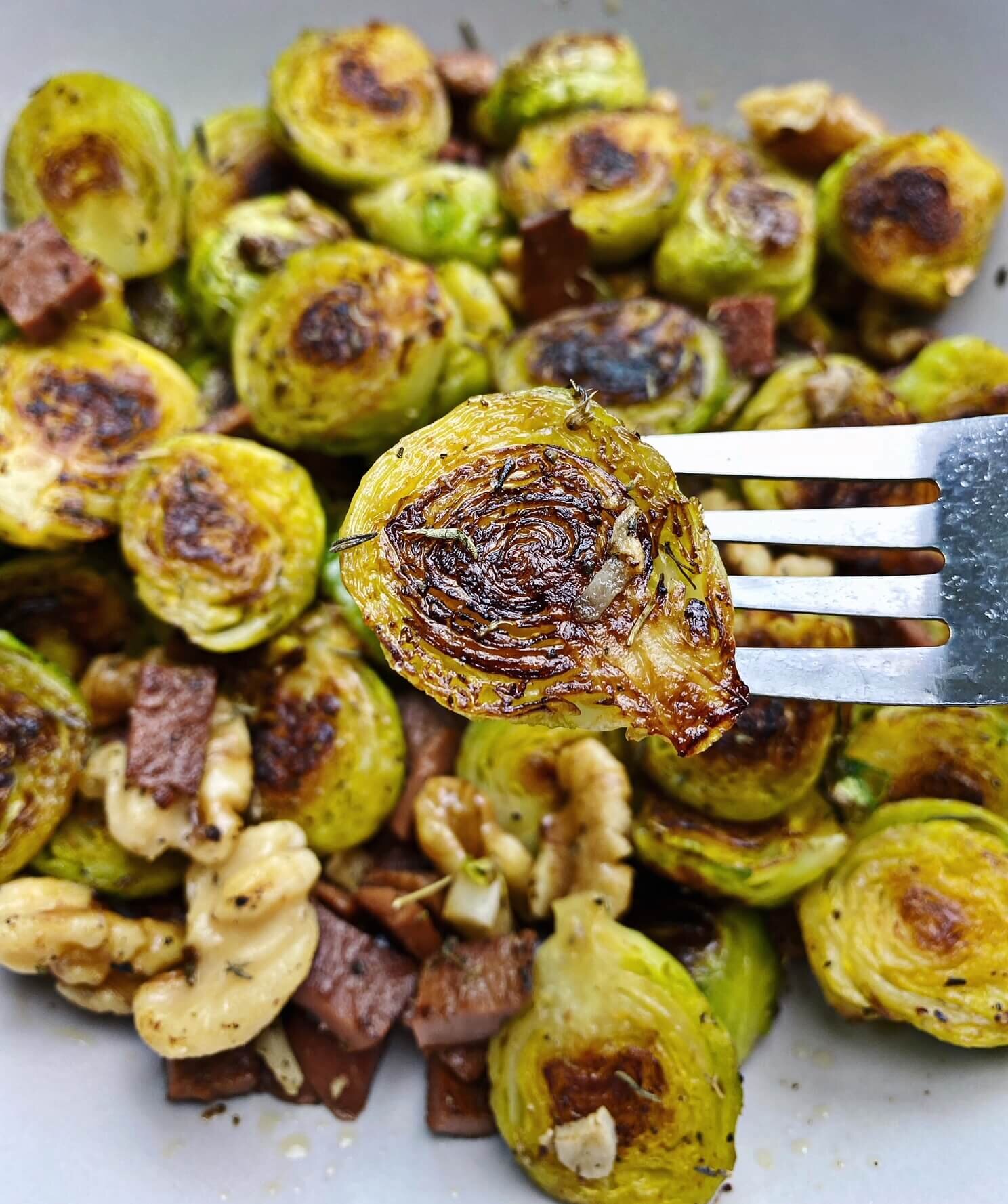 Sautéed Brussels sprouts recipe ingredients
The great part about sautéed Brussels sprouts is that you don't need too many ingredients to make them. Even with some olive oil, salt and pepper can make Brussels sprouts taste great.
However, we don't simply want great here. We want gourmet. The type you find at restaurants. So there are a few ingredients you'll see here which will really elevate the flavours of this traditional dish.
To make this sautéed Brussels sprouts recipe, you'll need:
Brussel sprouts: If you can, purchase a Brussels sprouts tree from the supermarket as they retain their nutrient value and freshness better than in packaging (yes, these trees do exist!).
Extra virgin olive oil: A high quality extra virgin olive oil give a deeper olive flavour and richer caramelization to the Brussels sprouts.
Vegan butter/margarine: It really enhances the flavour of the dish when paired with the garlic, walnuts and vegan bacon. Also provides a smooth, creamy texture which glazes over the Brussels sprouts beautifully.
Salt & pepper: It's preferable to use kosher salt as it has a purer taste than table salt. However, table salt will work great too. You can adjust the level of salt and pepper to your preferred taste.
Garlic: The aroma of the garlic together with the vegan butter and Brussels sprouts is absolutely intoxicating.
Vegan bacon: The vegan bacon will bring a robust salty flavour that perfctly complements the earthy texture of the sprout. It really does turn plain Brussels sprouts into something unique and gourmet.
Chopped raw walnuts or chestnuts: Provides a lovely crunchy texture together with the sautéed Brussels sprouts and vegan bacon. Really stands out with every bite. You can opt for chestnuts if you desire a nice sweetness to pair with the saltiness of the other ingredients.
Fresh or dried thyme: Gives a nice earthy, sharp and floral hint to the dish, as well as a nice freshy punch to bring this vegan side alive.
Lemon juice: Any citrus juice balances out the savoury flavours of this dish and adds a lovely zesty kick to make it really gourmet.
In terms of equipment, all you'll need is a decent-quality non stick pan (nothing too fancy!).
Now that you know what you need, let's get into how to prepare Brussels sprouts!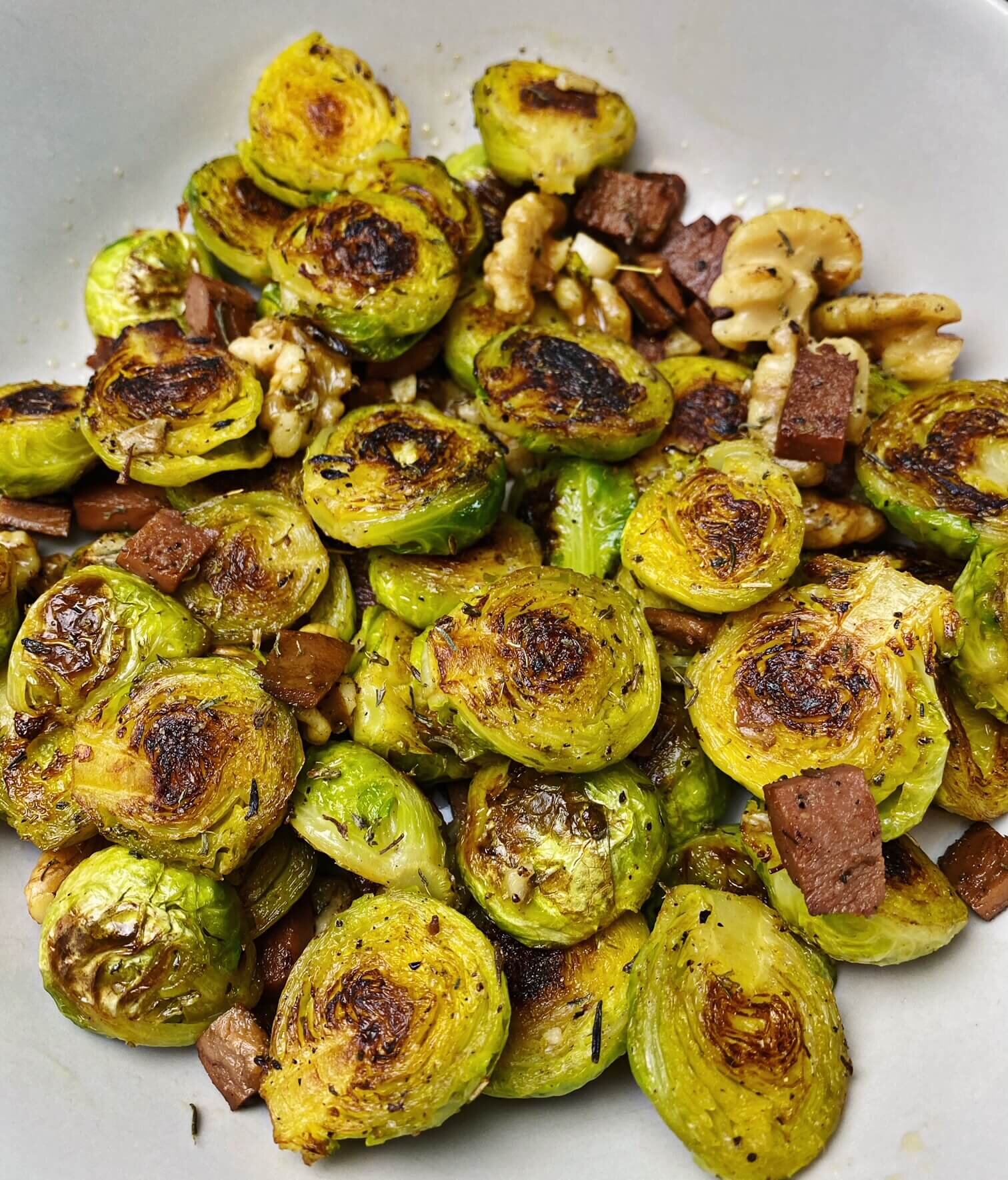 How to make Brussels sprouts
There are many ways to cook Brussels sprouts. Some are good, some are down right awful.
As you could tell from the above, I'm a big advocate for sautéing them. Quicker, fuller flavour and superior texture.
Now you'll find out how to cook Brussels sprouts the best way!
First step is to bring a pot of salted water to boil whilst you prep the Brussels sprouts. To do this, simply cut off the stem of each Brussels sprout, slice in half (lengthwise) and remove the loose outer leaves with your fingers (see picture below as a guide).
Then you will need to blanch your Brussels sprouts in boiling salt water for 2 minutes (only 2!). Then drain the Brussels sprouts in a colander and let them cool for 3-5 minutes. Whilst they're cooling, add the extra virgin olive oil and vegan butter in a frying pan over medium-high heat.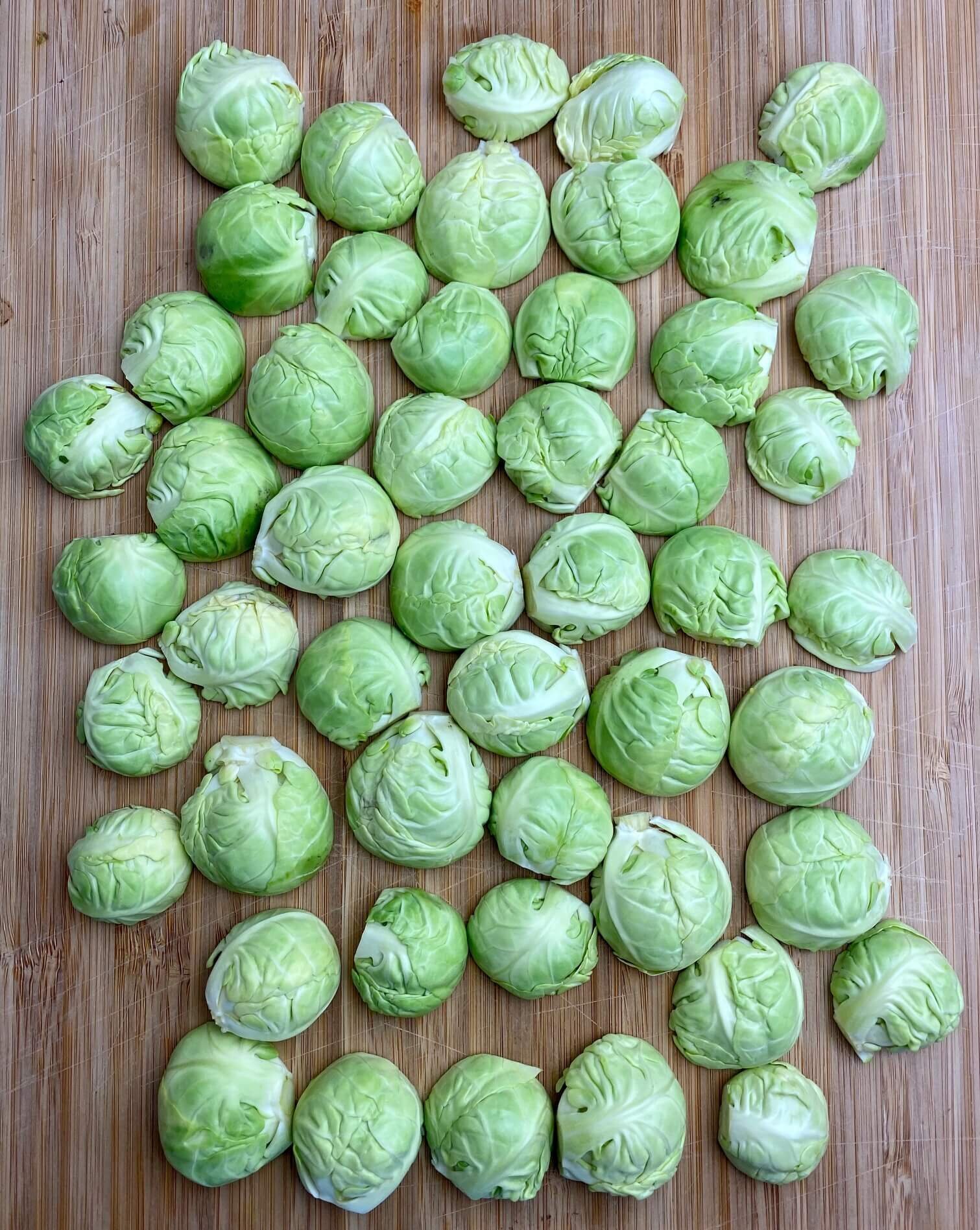 Once the vegan butter has melted into the olive oil and is slightly sizzling, add the Brussels sprouts cut-side down. Let them cook until 50-75% of its surface area has lightly charred and crisped up. Then flip the Brussels sprouts over and let them cook until the outer leaves have also charred and crisped up.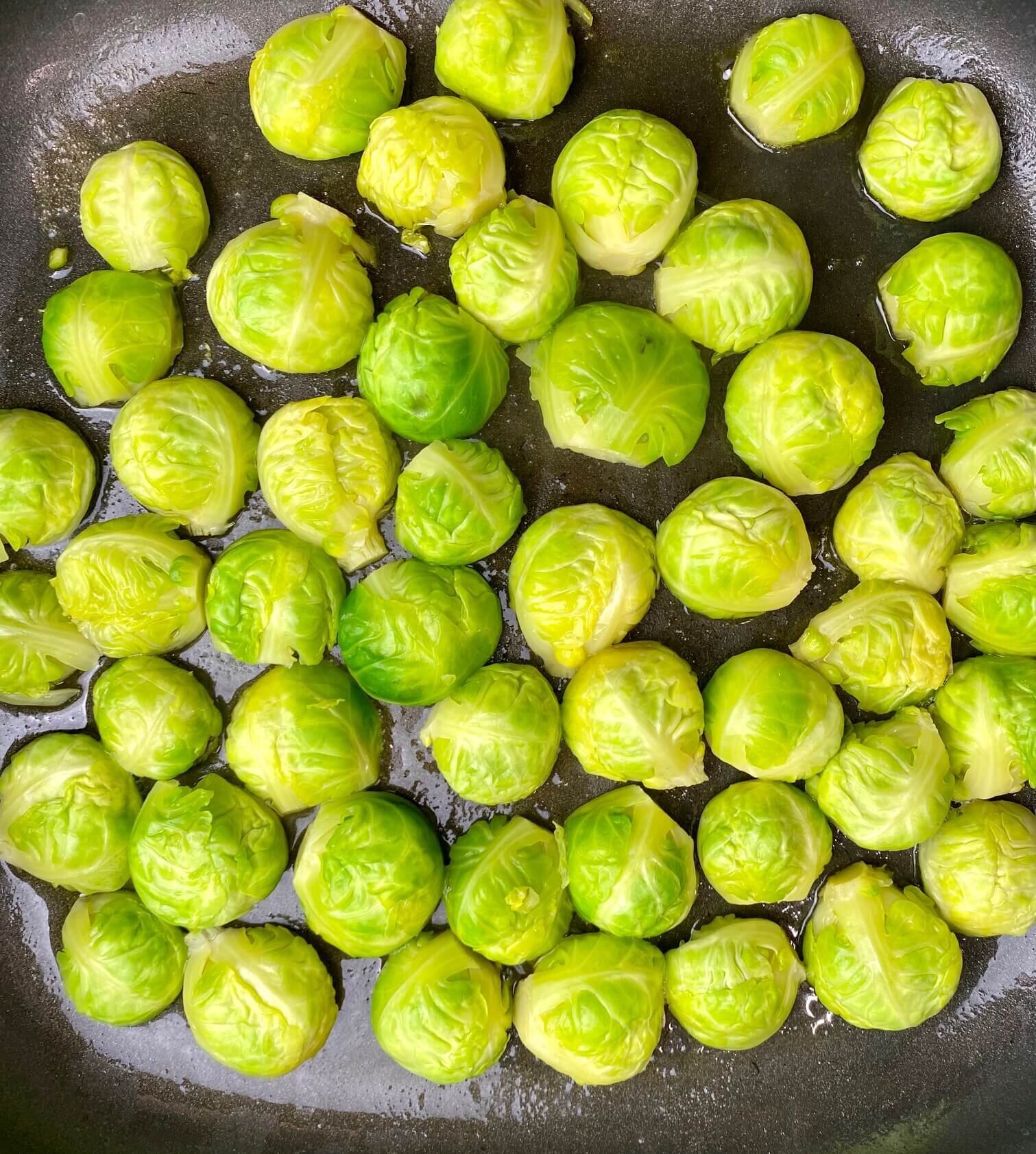 Now that the outer leaves are also crispy, it's time to add the salt, pepper, garlic, vegan bacon and walnuts into the pan, along with a drizzle of olive oil. Shake the pan and stir around so all ingredients are mixed together well and cook for another 3 minutes (or until walnuts are toasted and vegan bacon is sizzling).
Last step is to serve it up fresh from the pan with a sprinkle of thyme and a squeeze of lemon juice on top. Enjoy!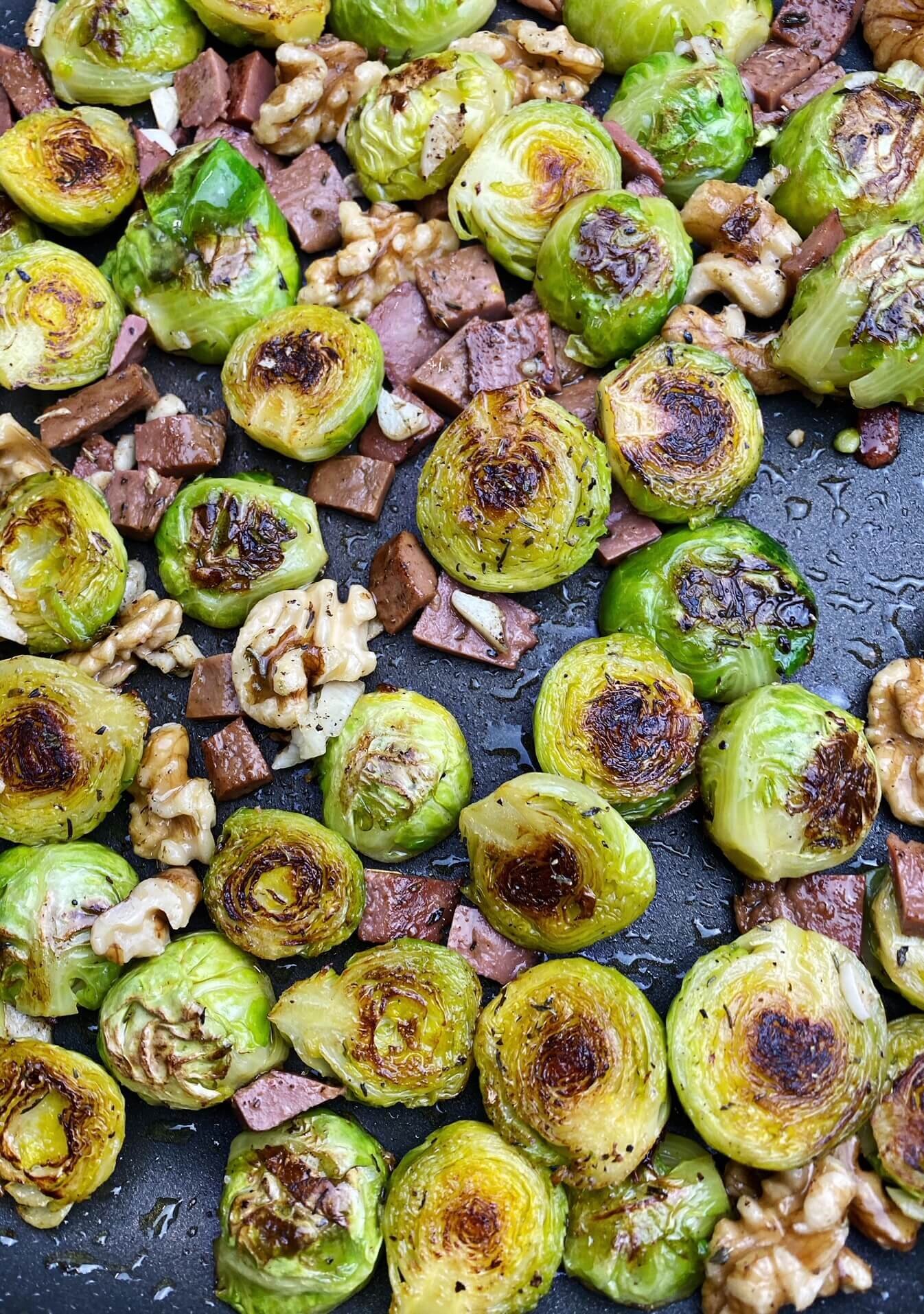 Best ways to serve Brussels sprouts
Brussels sprouts have been a long standing side to many fantastic main dishes. I always remember these being served with non-vegan mains. But worry not, because there are many vegan dishes to which these Brussels sprouts complement fantastically!
Some of my favourite are:
Pasta: Can't go wrong with pairing some fresh greens with a pasta rich in Italian flavour and spices. Try these crispy Brussels sprouts with a Spaghetti Aglio E Olio with Spicy Mushrooms. The combo is amazing!
Pizza: Actually, these sautéed Brussels sprouts work great with any Italian main. Pizza, pasta, lasagna, risotto…you name it!
Christmas spreads: These Brussels sprouts have long been a tradition at Christmas time. For something different and challenging, you can pair them with this authentic Vegan German Christmas Dinner and really impress your family and friends!
Mains with creamy sauces: Not going to lie. I love adding some of these crispy Brussels sprouts to a dish heavy with a vegan creamed sauce – like this vegan creamed spinach and mushrooms. The crispiness and the vegan bacon together with a creamy sauce is a recipe for success, trust me!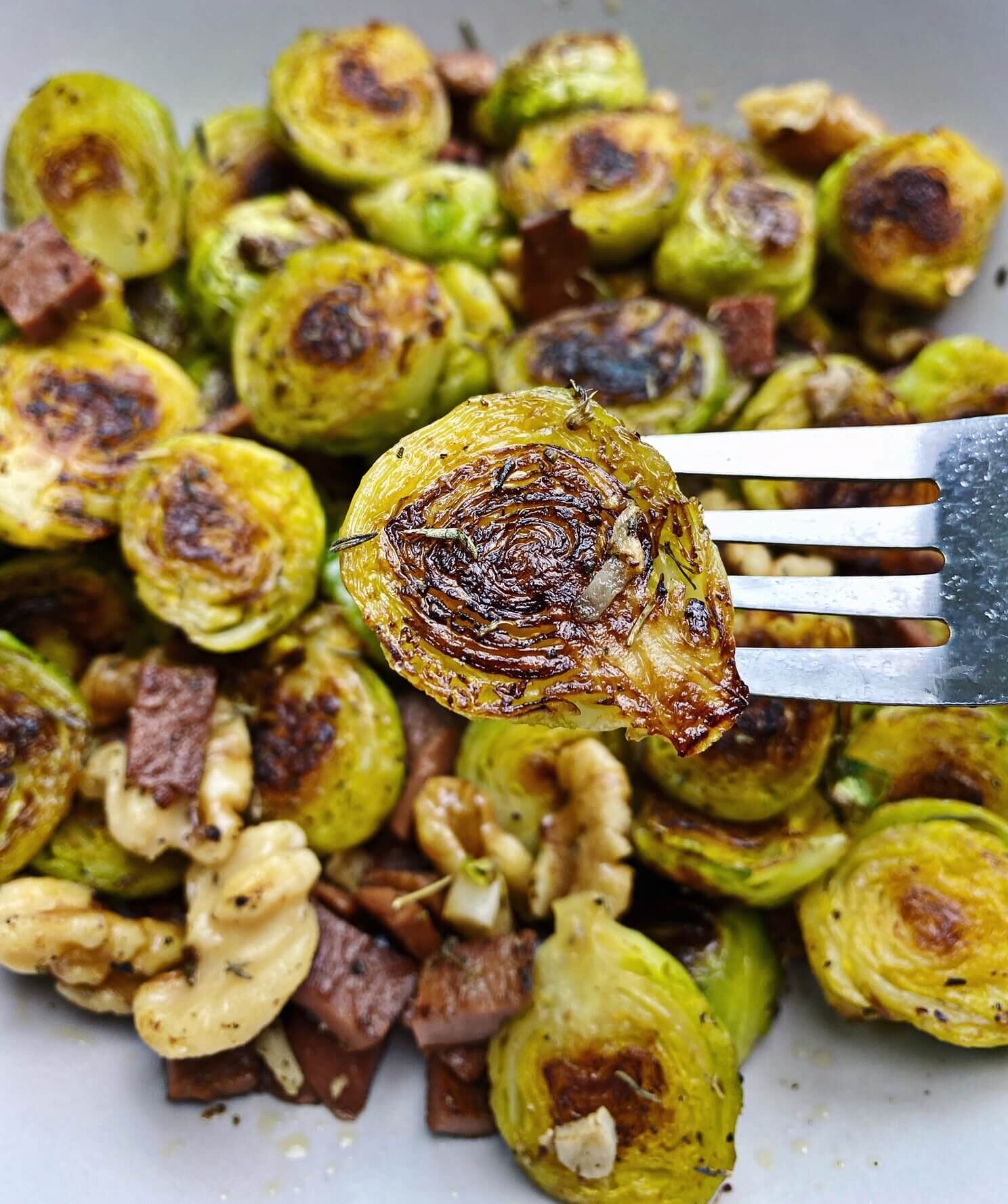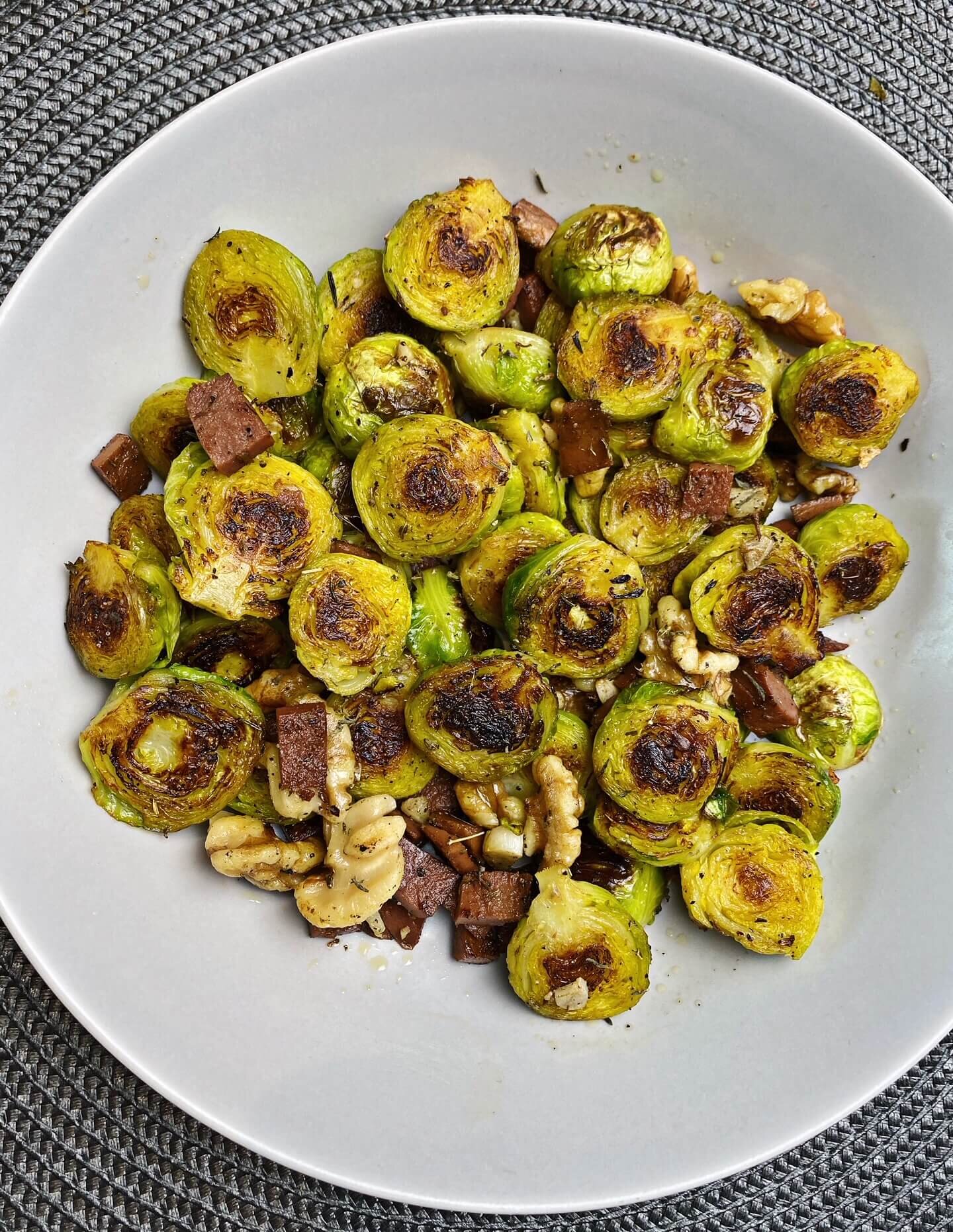 How to store sautéed Brussels sprouts
To store: It is always important to let this dish completely cool off before storing in the fridge. Once cooled, these crispy Brussels sprouts can be stored in an air tight container in the fridge for up to 4 days. I should mention that the texture will become softer the longer they're refrigerated.
To freeze: Short answer is, yes. You can also freeze them for up to 2 months in an airtight and freezer-safe container. However, this is not my preferred method as the Brussels sprouts will have a soggier, less-tender texture as compared to refrigerated. Let them thaw overnight in the fridge before reheating.
To reheat: Place the Brussels sprouts in pan over medium heat with a drizzle of olive oil until warmed through (approx. 3-5 minutes). These Brussels sprouts can also be microwaved.
More vegan appetizers & sides to try?
If you like this Brussels sprouts recipe, you might also like:
Check out all my vegan recipes here for more inspiration in the kitchen!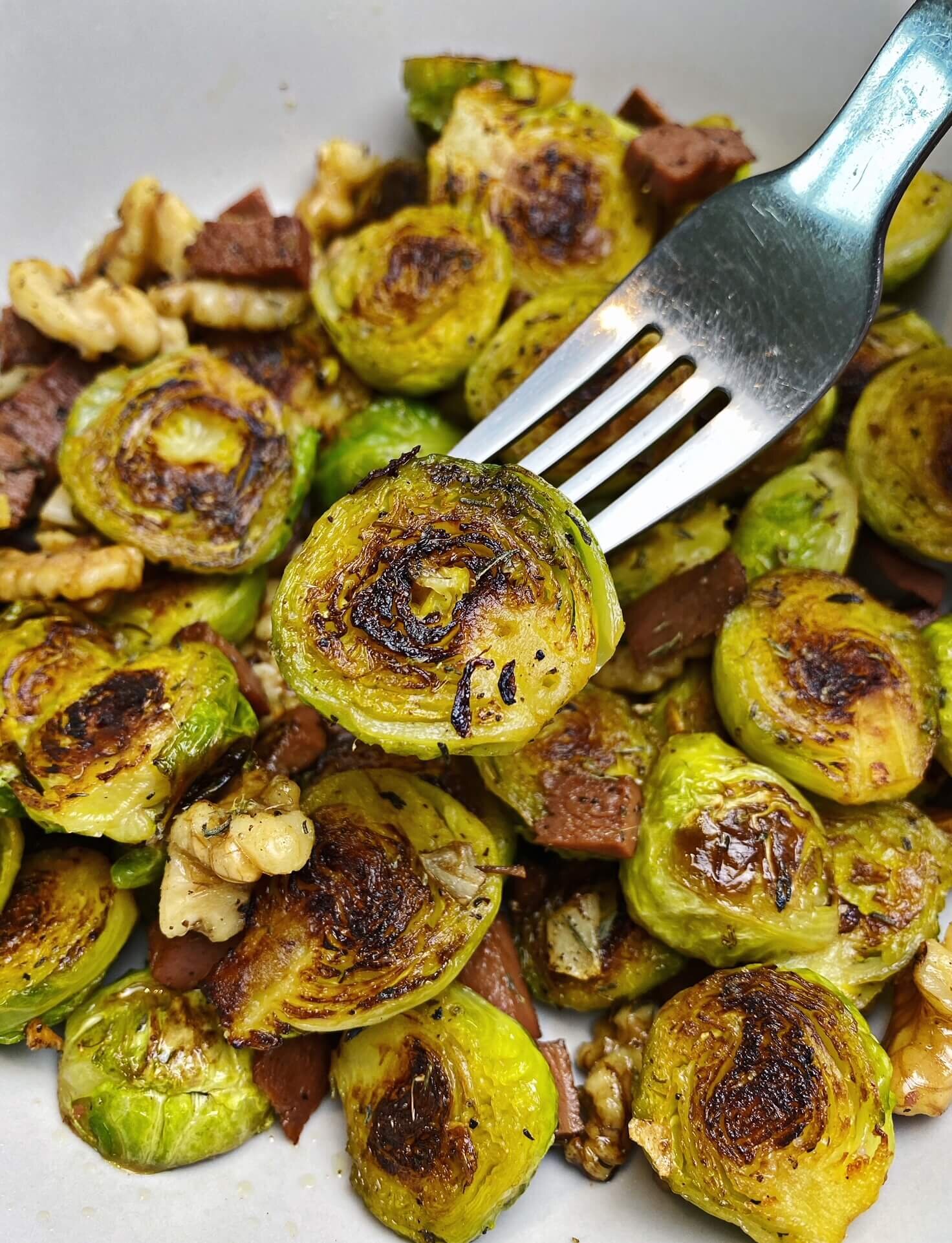 If you tried this vegan sauteed brussels sprouts recipe and loved it as much as I did, please feel free to let me know by leaving a comment and a rating below. I also love seeing remakes of these recipes, so be sure to tag me @voach_thevegancoach and use the hashtag #voachrecipes if you post your creation on Instagram!
Never want to miss out on new amazing vegan recipes? Then be sure to follow me on Facebook, Instagram and Pinterest and sign up to my Newsletter so you are notified when the next delicious and nutritious vegan recipe is up!
@Voach. All images and content are protected by copyright law. Please do not use any images without prior permission. For any republishing of this recipe, please kindly link back to this post.
*This post may contain affiliate links that earn me a small commission, at no cost to you. You can find out more information here
---
Categories: Appetizers, Sides
Tags: brussels sprouts, easy, healthy, low calories, low carb, nut free, quick, sauteed brussel sprouts recipe, vegan recipe