After an insatiably creamy and flavourful dish that will win over any vegan skeptic? Well, look no further. This creamed spinach and mushroom recipe is really easy to make, tastes amazing and takes under 30 minutes to prepare. Perfect as a main or side for any guest as its vegan and can easily be made gluten free.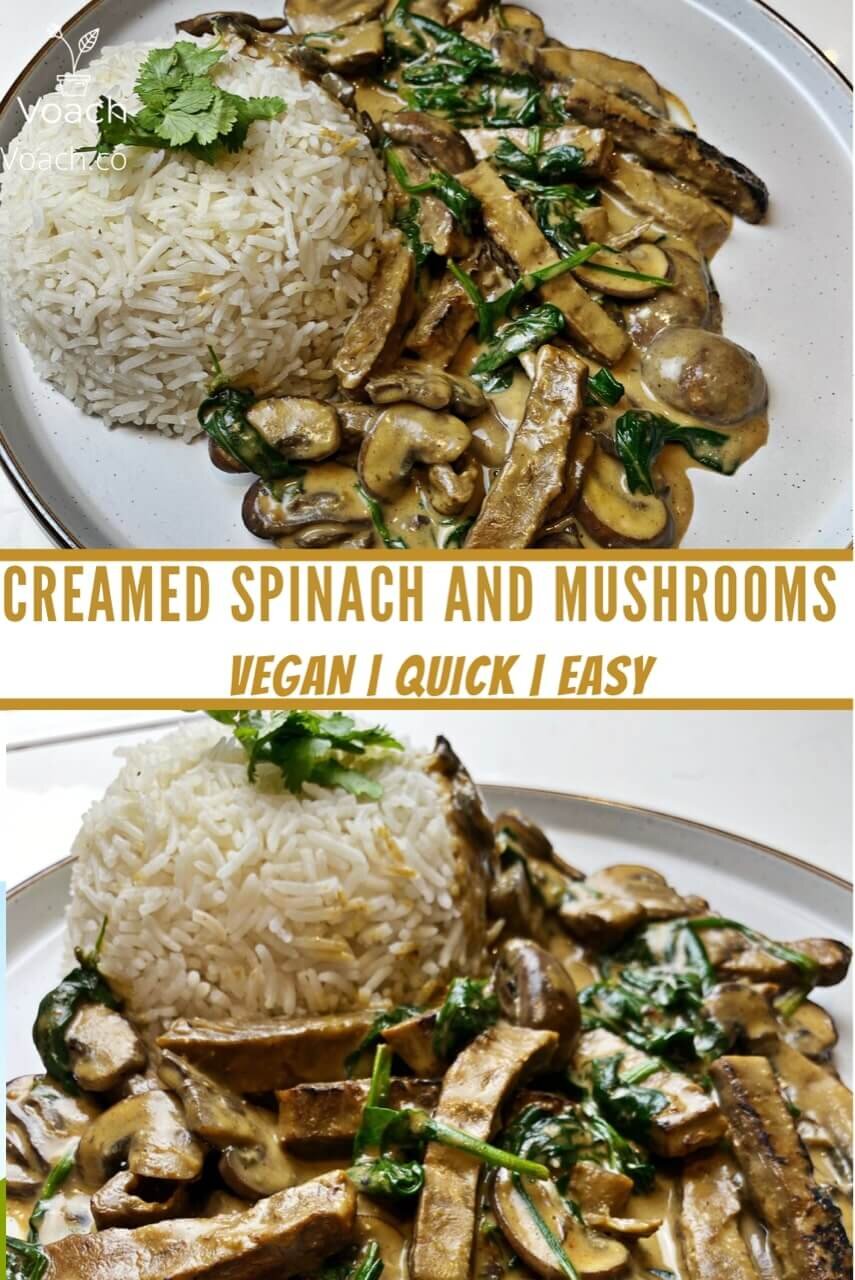 Creamy spinach and mushrooms
Creamy spinach and mushrooms is a much-beloved dish around the world. Whether as a delicious side to your main, or as a tasty dinner option together with some rice or pasta – my vegan creamed spinach and mushrooms will be sure to impress.
Better yet, its an easy vegan dinner recipe that anyone can make! It only takes 4 steps and 25 minutes to cook this from scratch.
It makes a great option for those hosting guests and wondering what to make a vegan for dinner.
So let's get into the ingredients you need for this vegan creamed spinach and mushrooms…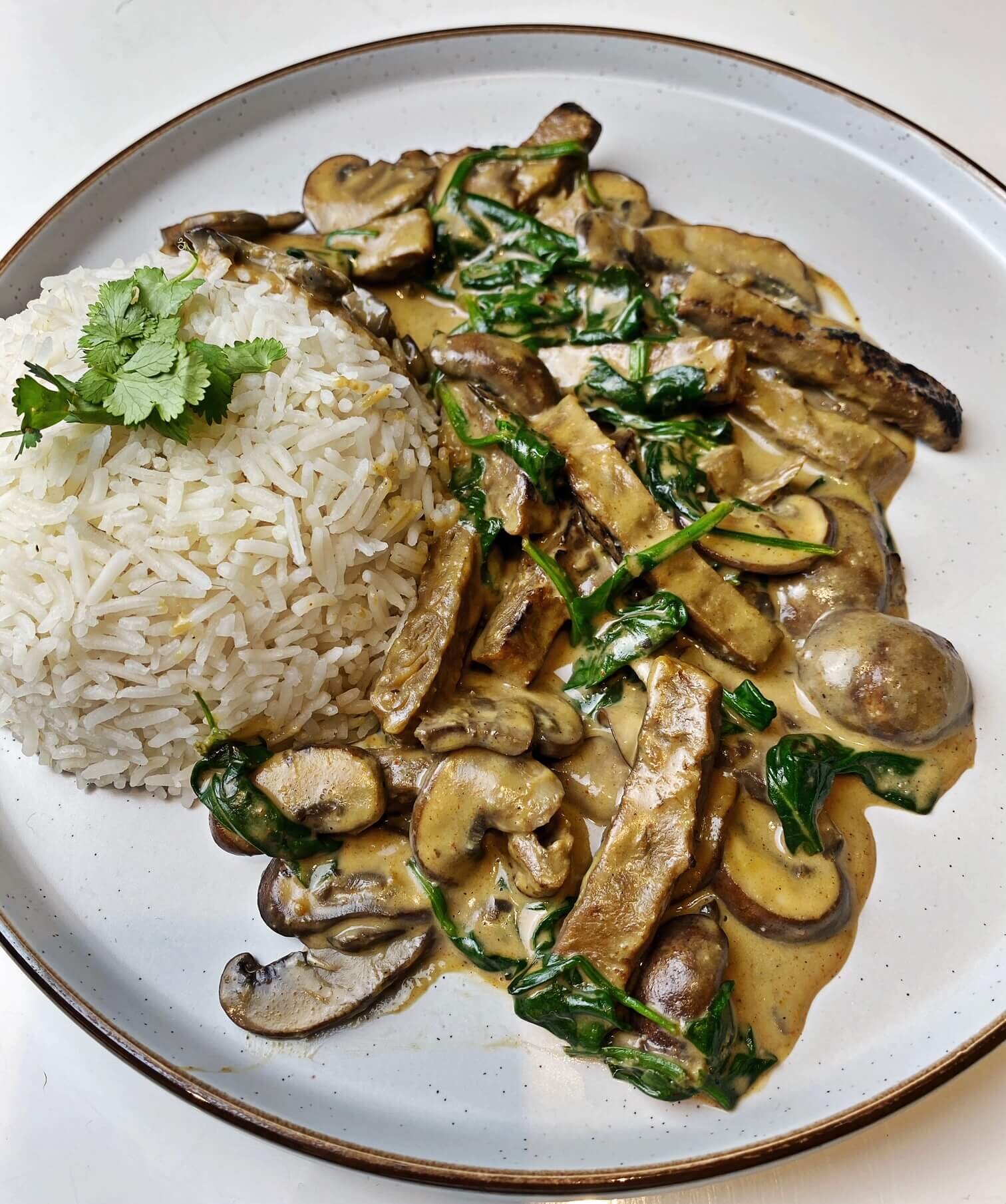 Vegan creamed spinach and mushrooms recipe ingredients
With a collection of fresh ingredients, strong seasonings and plant based dairy alternatives, you can make this easy vegan recipe for yourself.
To make this creamy spinach and mushrooms, you'll need:
Mushrooms: The backbone of this vegan dinner. Mushrooms add an insatiable umami nuance that really makes the creamy sauce stand out. I prefer using brown mushrooms for this dish as they provide a deep, hearty flavour to the sauce – such as brown (crimini), portobello or porcino mushrooms.
Baby spinach: I love enjoying cream-based dishes with some wilted baby spinach. It adds a nice texture and provides a host of health benefits that makes this a healthy vegan dinner option.
Vegan "no beef" strips: This one is optional. Personally, I enjoy this dish with these strips as it adds a lovely smoky flavour as well as a chewy texture with really complements the other ingredients. However, this tastes just as well without it – up to personal preference! If you're gluten intolerant, just be sure to check the labels to ensure there's no wheat protein.
Extra virgin olive oil: I like to use a high quality extra virgin olive oil given its deeper olive flavour and smoother texture. If you don't have any on hand, you can use any other type of plant based oil.
Plant based cream & plant based milk: To make this a gluten free vegan dinner recipe, I opt for using the soy based creams and milks rather than the oat based. If this is not a concern, then the oat based products work equally as well. I would not use other plant based alternatives as they don't quite have the consistency optimal for the sauce (such as almond, coconut or rice based alternatives.
Nutritional yeast: The cheesy and nutty flavour of nutritional yeast makes a big impact on the sauce. With just 1-2 tablespoons, you will boost the tastiness of the dish, as well as your Vitamin B12 and protein intake!
Garlic powder & cayenne pepper: Gives the sauce that extra kick it needs to really stand out. The garlic powder complements the cheesiness of the nutritional yeast, while the right amount of cayenne pepper adds a nice tone of spiciness that isn't too overwhelming.
Now let's find out how to make this vegan dinner!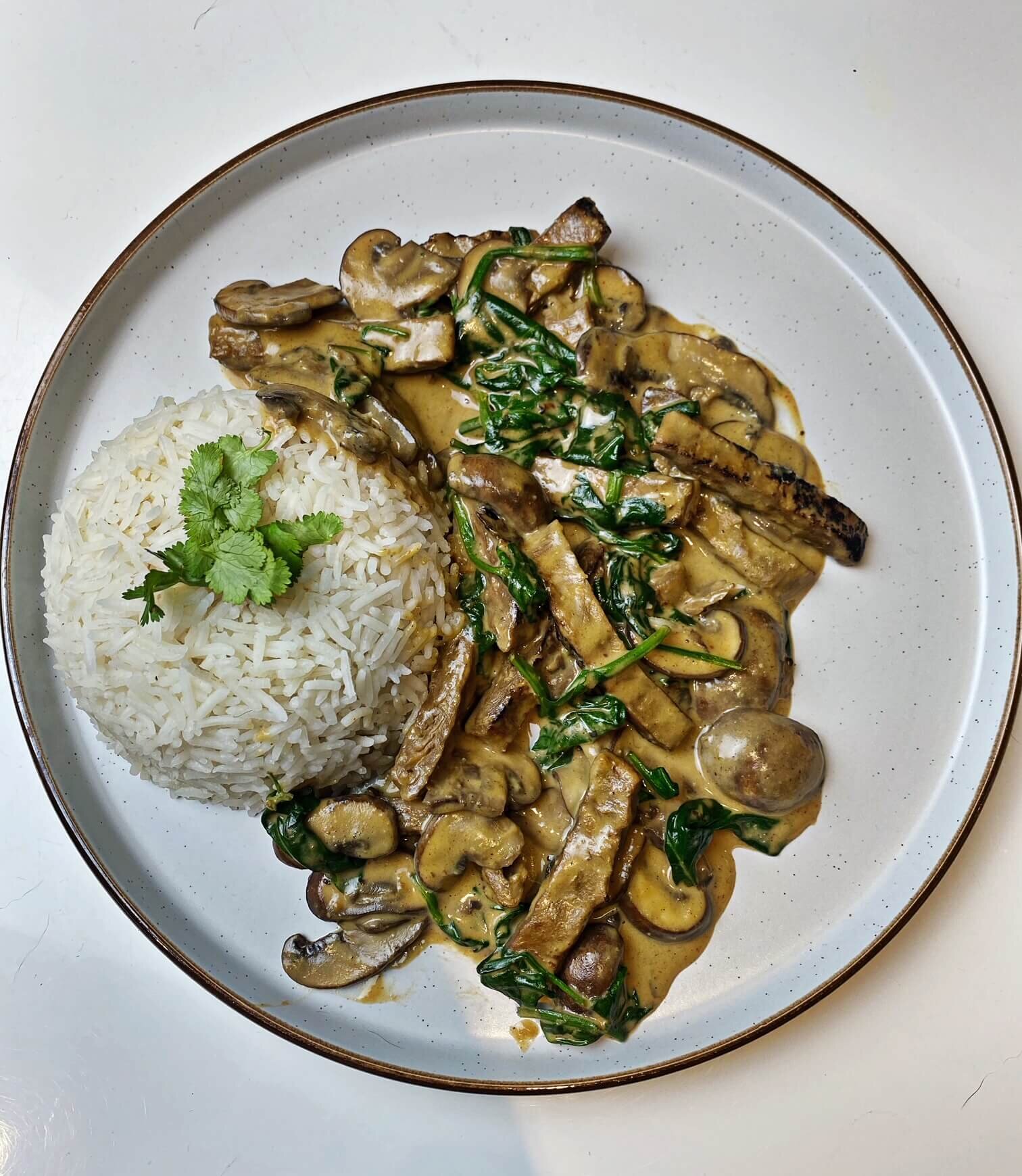 How to make vegan creamed spinach and mushrooms
This creamy spinach and mushroom dish is a staple vegan dinner recipe for me as it's packed with flavor and simple to make.
Let me show you how to make vegan creamed spinach and mushrooms for yourself!
First step is to cook the mushrooms in a pan until they turn a lovely golden brown. If you also wish to have vegan "no beef" strips to make this a high protein vegan dinner, then fry these up in a separate pan at the same time as the mushrooms are cooking.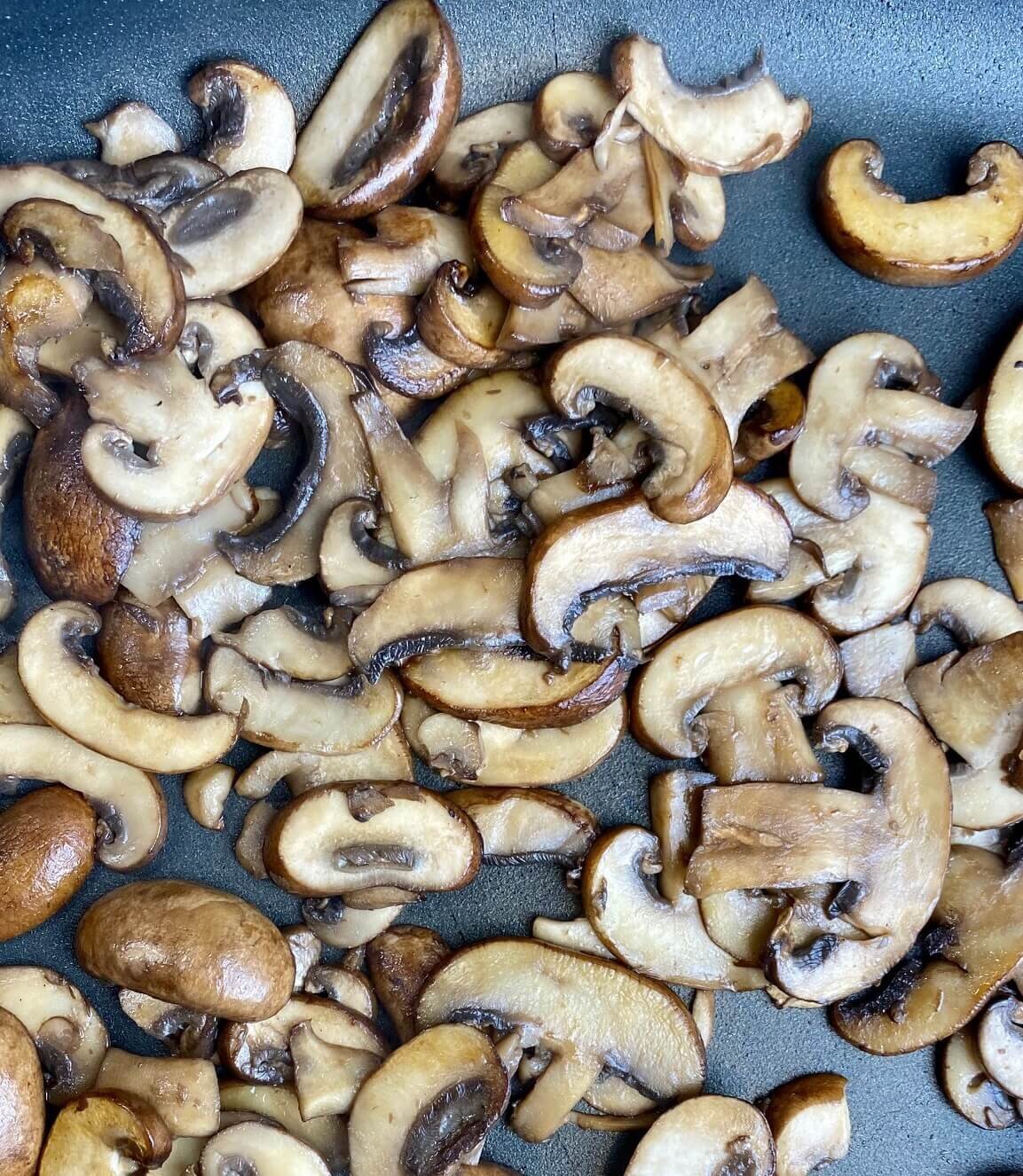 Then it's time to pour in the plant based cream and plant based milk into the pan, together with the nutritional yeast, garlic powder, salt and cayenne pepper, and stir well so all ingredients are blended together.
Next, you will need to bring the pan to a boil and then, once it's reached boiling point, turn the heat down to a simmer and let the ingredients get to know each other for 5 minutes. If you've opted for the vegan "no beef" strips, throw them in the pan at this time as well so they have ample time to soak up the flavours.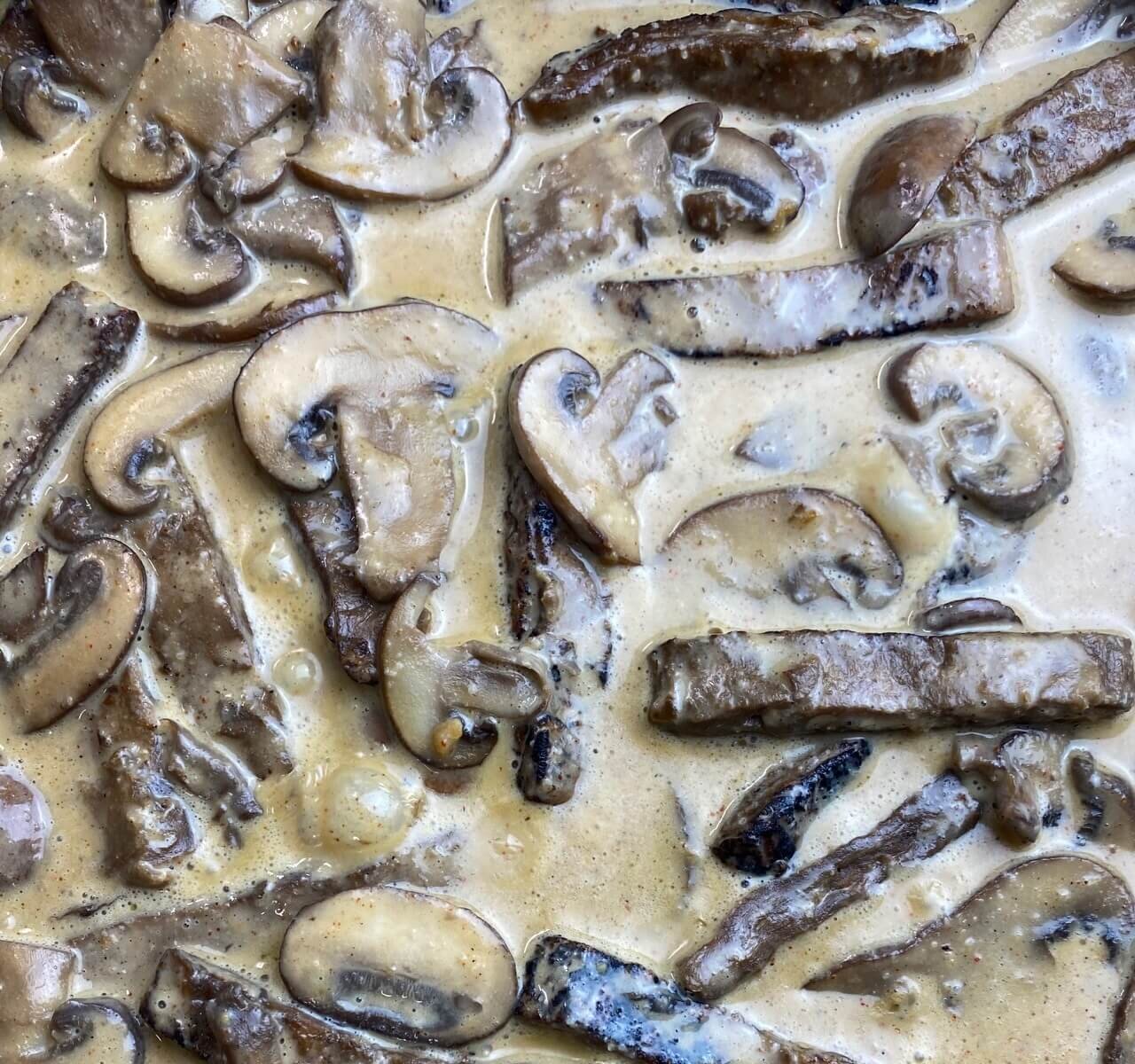 Last step is to throw a fresh batch of baby spinach into the pan and cook until the spinach has completely wilted.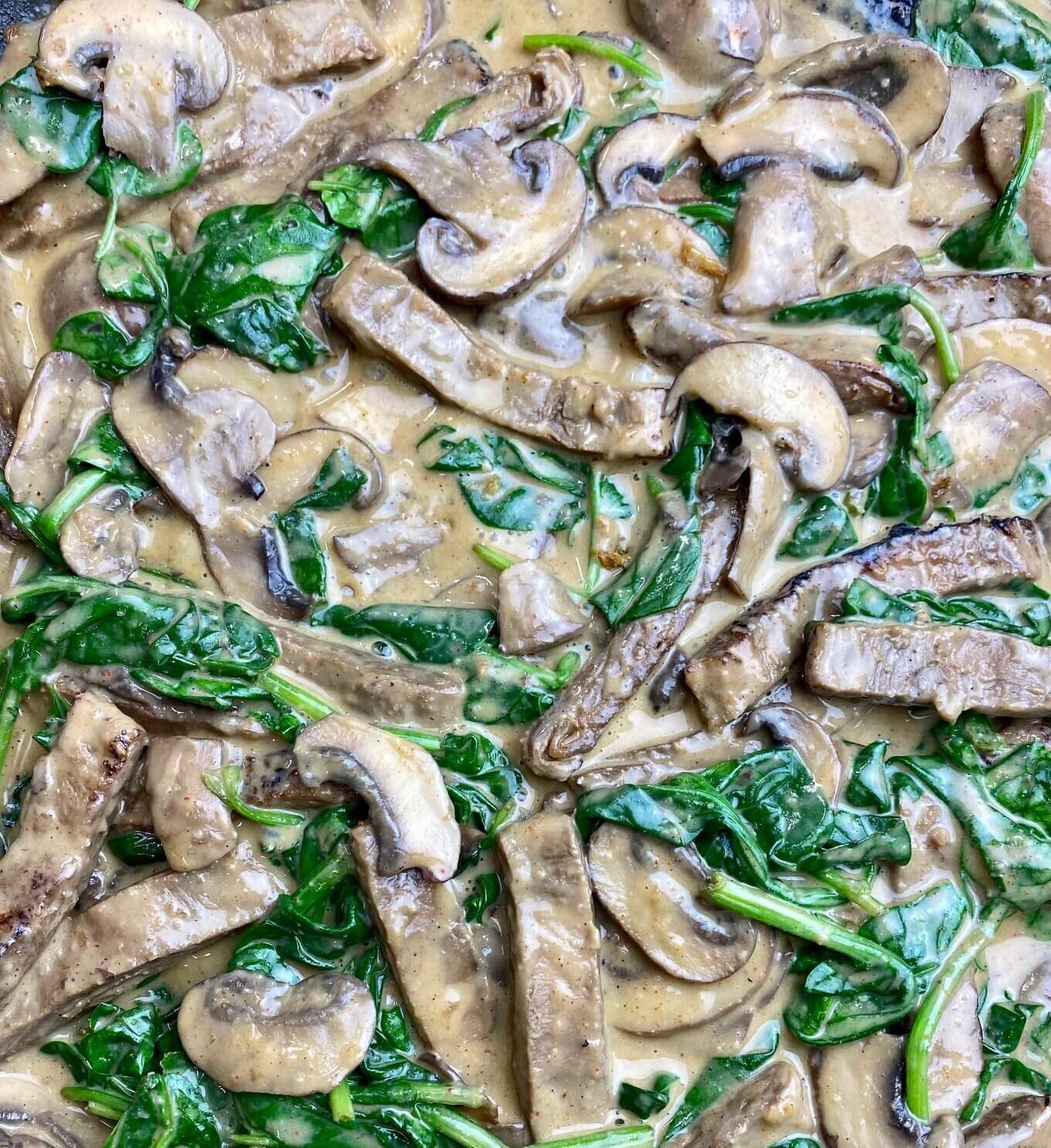 And that's it! Told you this was an easy vegan dinner recipe! What's more, there are so many possibilities with this dish that you can enjoy it with so many other foods that you love.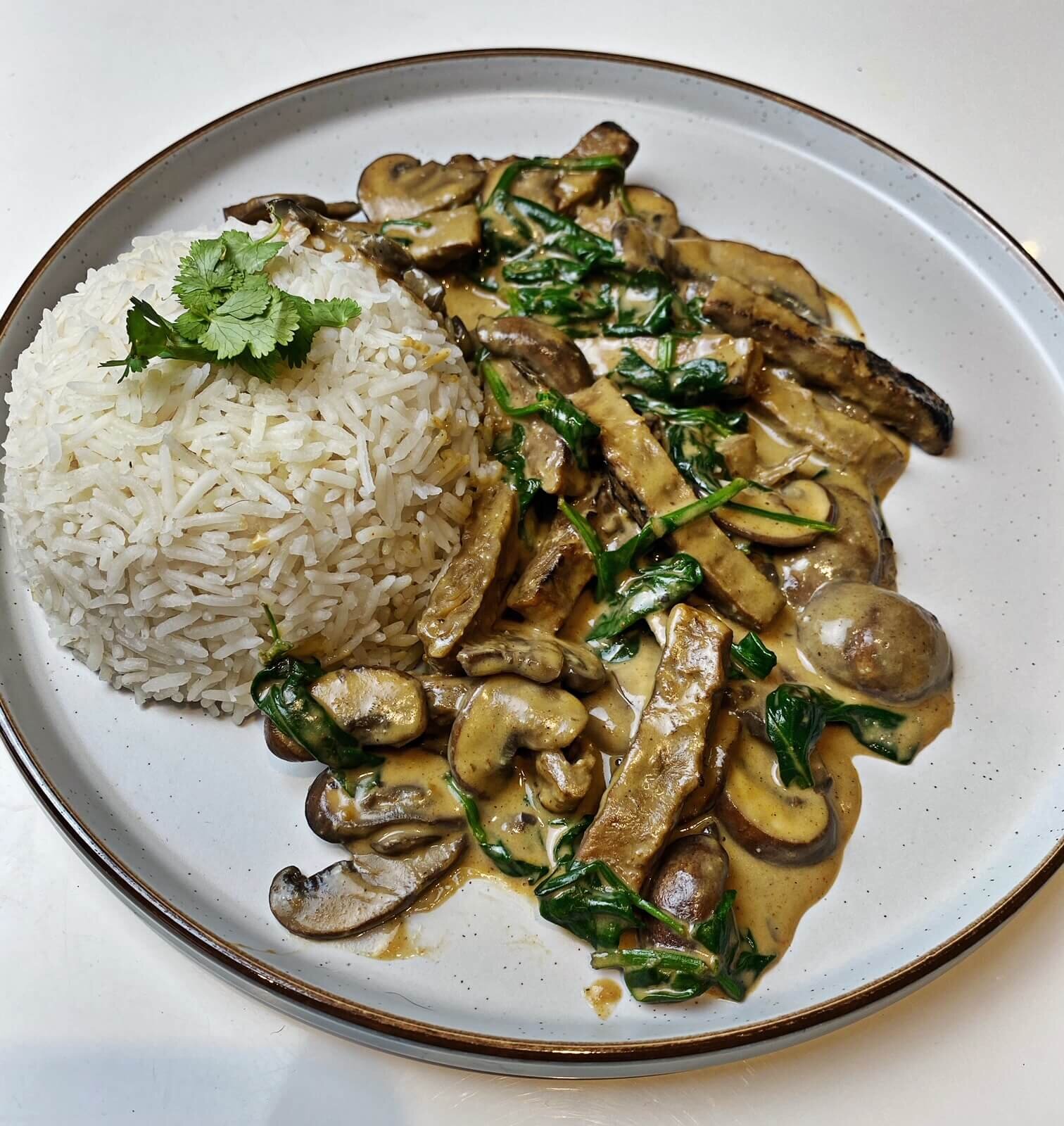 What goes well with vegan creamed spinach and mushrooms
One of the best aspects of this vegan dish is the fact it's so versatile.
Some of my favourite ways to enjoy vegan creamed spinach and mushrooms is with:
Steamed jasmine or basmati rice: This is my go-to side to have with this dish. Jasmine and basmati rice soak up the creamy mushroom sauce so perfectly that it's impossible to resist!
Pasta: Love a creamy pasta? Well, this dish can form the base of a fantastic pasta that has a beautiful blend of rich flavours and textures.
Plant-based meats: A popular way people have enjoyed a traditional creamed spinach and mushrooms is at a steakhouse paired with (of course) steak. In today's day and age, you can enjoy this dish the same way by using one of the many plant-based meat alternatives now on the market! No need to miss out anymore.
Roasted vegetables: The creamy sauce blends stunningly well with roasted vegetables, such as potatoes, broccoli, cauliflower and parsnips – just to name a few.
By itself: There's nothing wrong with eating creamy spinach and mushrooms as is. With the generous proportions of mushrooms, spinach and vegan "no beef" strips, it's surprisingly satiating enough to have for dinner by itself with no compromise on flavour.
For the wine lovers out there, don't miss out on enjoying a nice glass of chardonnay together with this simple vegan dinner.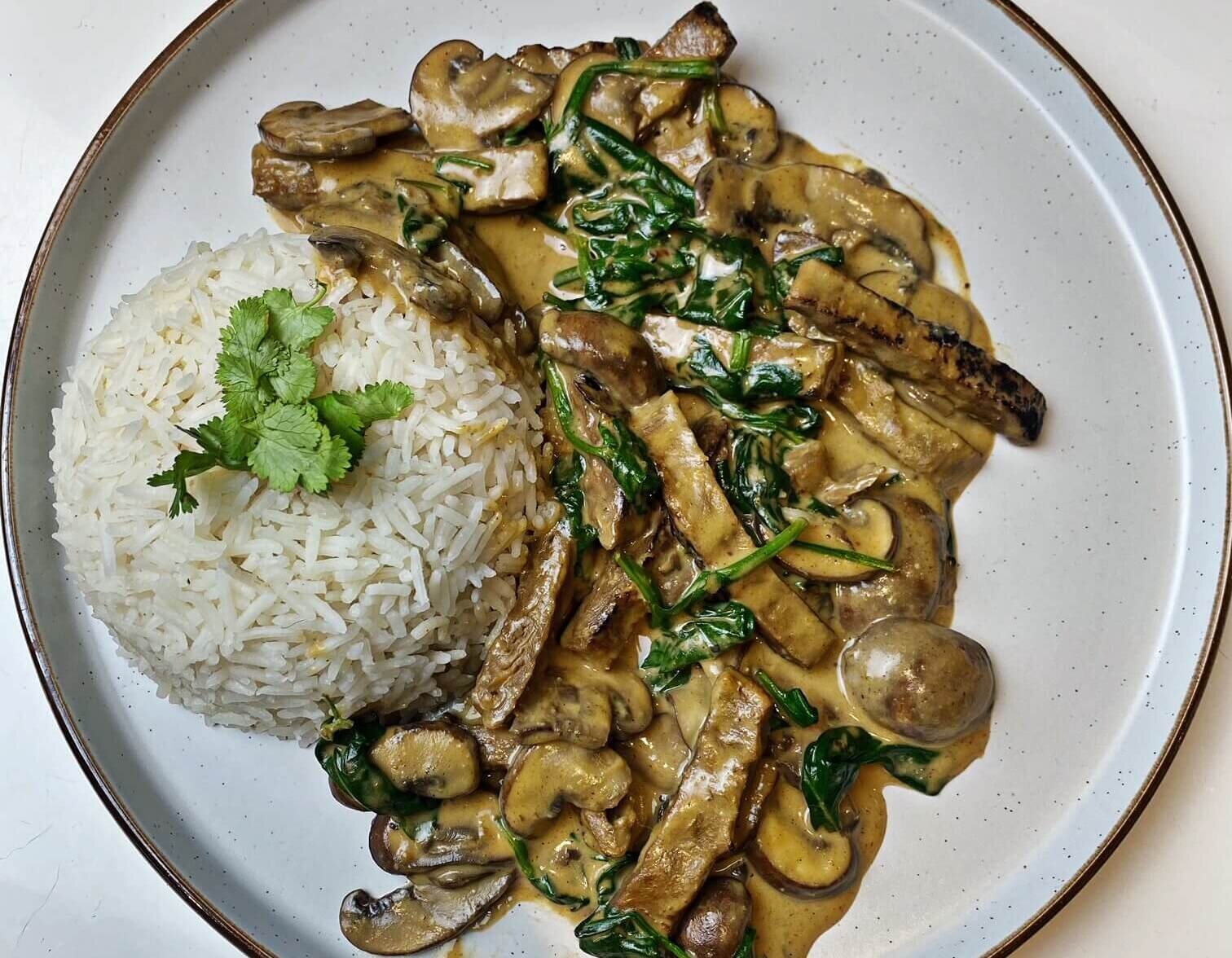 Pro tips for vegan creamed spinach and mushroom
I've made this easy vegan dinner so many times that I've got a couple of tips for your consideration:
Don't skip out on the vegan "no beef" strips if you're working out: The obvious reason to include these strips is that they taste amazing and provide a nice, chewy texture that complements the mushrooms and spinach well. However, don't forget how rich in protein these plant based meat alternatives are. They are a tremendous source of protein for vegans. If someone asks how do vegans get protein, don't hesitate to make this dish for them!
It's simple to make the sauce creamier: You can do this by reducing the amount of plant based milk and adding (in equal parts) more plant based cream. If you prefer a lighter sauce, then do the reverse: reduce the amount of plant based cream and add more plant based milk.
Try ground nutmeg next time: I can't help but make this creamy sauce with nutritional yeast and garlic powder. It gives the sauce such a nice cheesy and powerful taste, not to mention the health benefits you receive (Vitamin B12 and protein in particular). However, if you're after a different taste, try replacing these seasonings with ground nutmeg. It gives the sauce a lovely nutty aroma that tastes great when combined with mushrooms and spinach.
How long can I store vegan creamed spinach and mushroom
This vegan creamed spinach and mushroom can easily be stored in an airtight container the fridge for up to 2 days.
Whilst it is possible to store this vegan dish in the freezer, I would not recommend it. Creamy dishes typically do not taste great once thawed as a result of the water and fat in the cream separating during this process. For me, it alters the velvety smooth texture of the cream sauce too much to enjoy. Besides, this dish is too delicious to resist longer than 2 days anyway!
Just remember to always let the creamy spinach and mushrooms completely cool off before putting into an air tight container and storing in either the fridge or freezer to avoid contamination.
More healthy vegan dinner recipes to try
If you like this vegan creamed spinach and mushrooms recipe, you might also like:
Please feel free to check out all my vegan recipes here for more inspiration in the kitchen!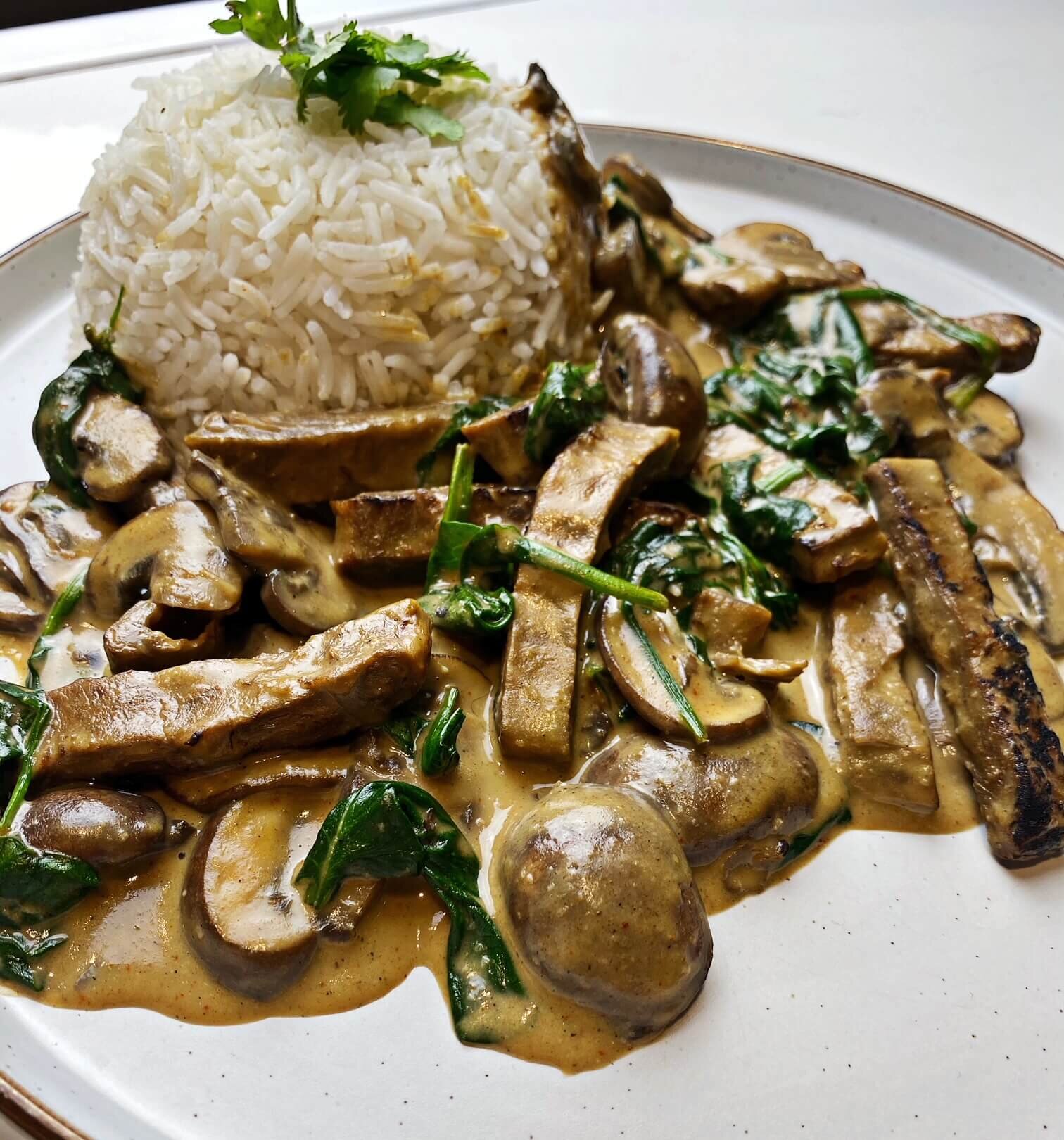 If you tried this vegan creamed spinach and mushrooms recipe and loved it as much as I did, please feel free to let me know by leaving a comment and a rating below. I also love seeing remakes of these recipes, so be sure to tag me @voach_thevegancoach and use the hashtag #voachrecipes if you post your creation on Instagram!
Never want to miss out on new amazing vegan recipes? Then be sure to follow me on Facebook, Instagram and Pinterest and sign up to my Newsletter so you are notified when the next delicious and nutritious vegan recipe is up!
@Voach. All images and content are protected by copyright law. Please do not use any images without prior permission. For any republishing of this recipe, please kindly link back to this post.
*This post may contain affiliate links that earn me a small commission, at no cost to you. You can find out more information here
---
Categories: Lunch, Dinner
Tags: dairy free, gluten free, vegan, creamed spinach and mushrooms, vegan recipe, easy, rice, spinach, mushrooms