This mushroom matar masala is an insatiably creamy, spicy and flavourful Indian curry that you'll be making time and time again. It's really simple to make and will only take you 30 minutes to prepare. Perfect for any guest as its vegan, gluten free, dairy free and soy free.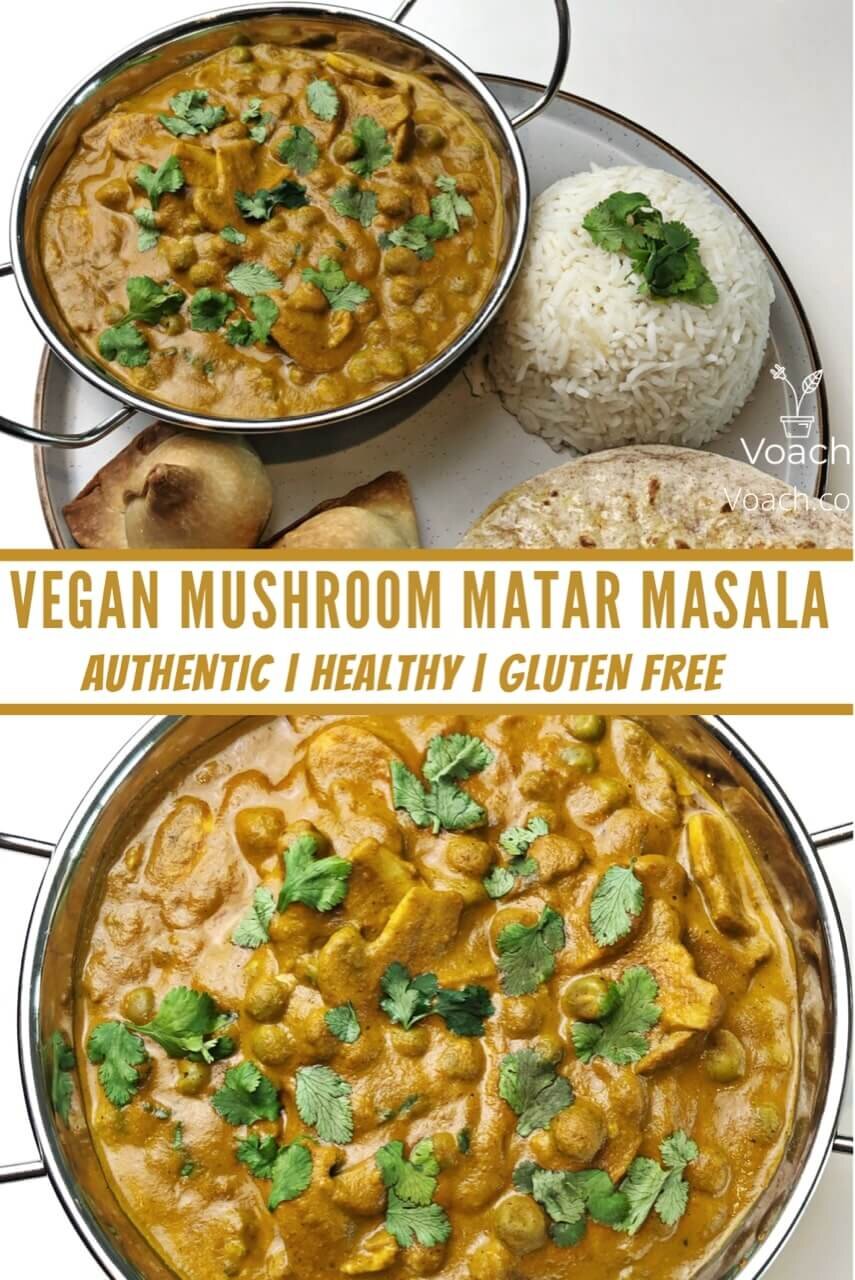 Discovering Mushroom Matar Masala
Growing up in Australia, my family and I would always go to the local Indian restaurants for dinner. I'd say at least once per week (which wasn't enough for me!).
Like most kids, I would have my 3 staple curries and that would be the end of it. Dal makhani, chana masala and mango curry. I would not even think to look at anything else on the menu.
When I went vegan, this took out most of my favourite Indian curries as there would always be some butter, yogurt or cream sneaked in. And you couldn't ask them to change it either as they always made curries in large batches, so it wasn't easy for them to simply leave the dairy out.
It wasn't until I lived in a small town in Bavaria, Germany before I discovered the amazing mushroom matar masala that was, to my surprise, vegan friendly.
At first, I thought to myself…
What is Mushroom Matar Masala?
Simply, it means mushrooms, peas (Matar) and a mixture of ground Indian spices (Masala). If I knew these words as a kid, I would've always ordered this curry!
I am a sucker for a creamy, saucy curry dish. It's why I'm also obsessed with this easy vegan mango "chick'n" curry.
So when I came across this mushroom matar masala, I was immediately hooked. The sauce is creamy and velvety smooth. The combination of Indian spices, from the garam masala, to the fenugreek, to the turmeric, creates a powerfully unique and mouth-watering flavour that's impossible to forget. Fuse this with the rich taste of tomatoes, onions, garlic and ginger, and you have a game changer.
So next time you're looking for a healthy Indian curry that's vegan and doesn't compromise on taste and texture, give this mushroom matar recipe a try!
Let's get into the ingredients you need for this vegan curry recipe…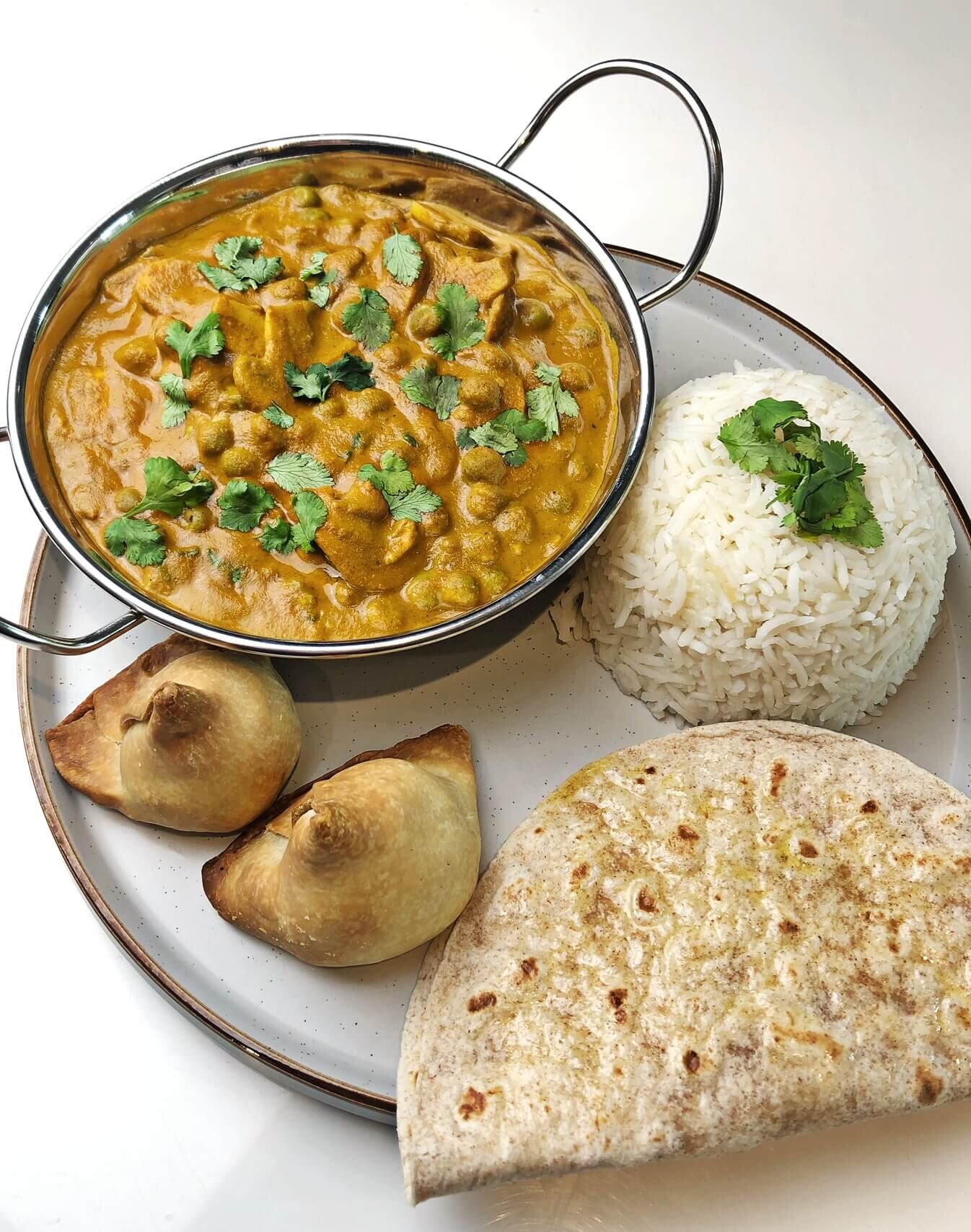 Mushroom Matar Masala Recipe Ingredients
This list of ingredients may look long, but it's largely taken up by the Indian spices.
To make this vegan mushroom matar masala, you'll need:
Onion, garlic and ginger: These ingredients are essential for providing the curry with a lovely fresh aromatic base flavour. Using all 3 also provides many health benefits such as boosting your immune system function, decreasing blood sugar levels and providing anti-inflammatory properties.
Extra virgin olive oil: I always use a high quality extra virgin olive oil for this Indian curry recipe as it provides a lovely grassy, peppery flavour that enhanced the flavours of the onion, garlic and ginger.
Tomatoes, green chilli and coconut milk: Every good curry needs a strong body. The combination of tomatoes, green chilli and coconut milk gives this vegan curry recipe an intoxicating savoury, zesty and spicy fragrance together with a smooth creamy texture. And don't be afraid of the green chilli – it's not too spicy, just enough to give this dish a nice zing!
Indian spices & herbs – garam masala, dried fenugreek leaves, mild chilli powder, ground cumin, turmeric and ground coriander: These spices and herbs create an amazingly unique flavour once combined and also improves the texture and colour to this healthy vegan curry. So be generous with the amounts you use! They also have tremendous health benefits for the human body – far too many to list here in this recipe.
Vegan brown sugar: The addition of a little brown sugar will with enhance the savoury and spicy flavors from the other ingredients. Once combined, the sweetness of sugar and the other aromatic flavours will work synergistically to create a beautifully balanced and rich taste to this Indian vegan curry recipe.
Mushrooms and green peas: An almighty combination. The mushrooms add a lovely unique umami flavour and hearty dense texture to enhance this curry. The peas pack a large flavourful punch that perfectly complements the mushrooms. It also makes this Indian curry a great meal to boost your protein intake as a vegan.
Now let's find out how to make this vegan curry!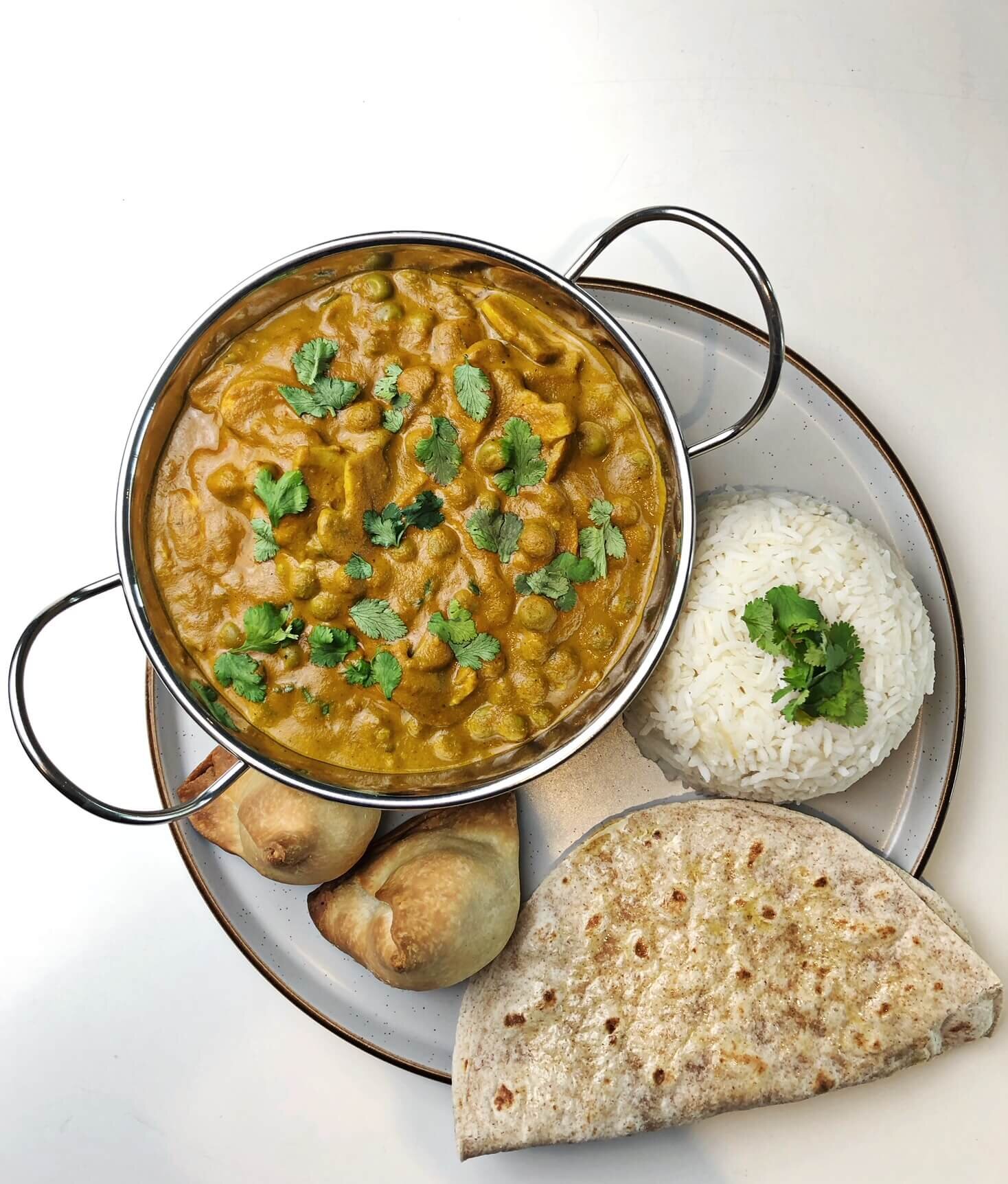 How to make Mushroom Matar Masala?
You may have asked yourself "how do I make a vegan curry" that tastes just like the restaurant versions which have dairy.
Let me show you how to do it for this mushroom matar masala! It's easier than you think 🙂
First step, as with any good vegan curry recipe, is to sauté the onions, garlic and ginger in a large pot over medium-high heat.
Then you will need to add the tomatoes and green chillis and let them cook for a few minutes.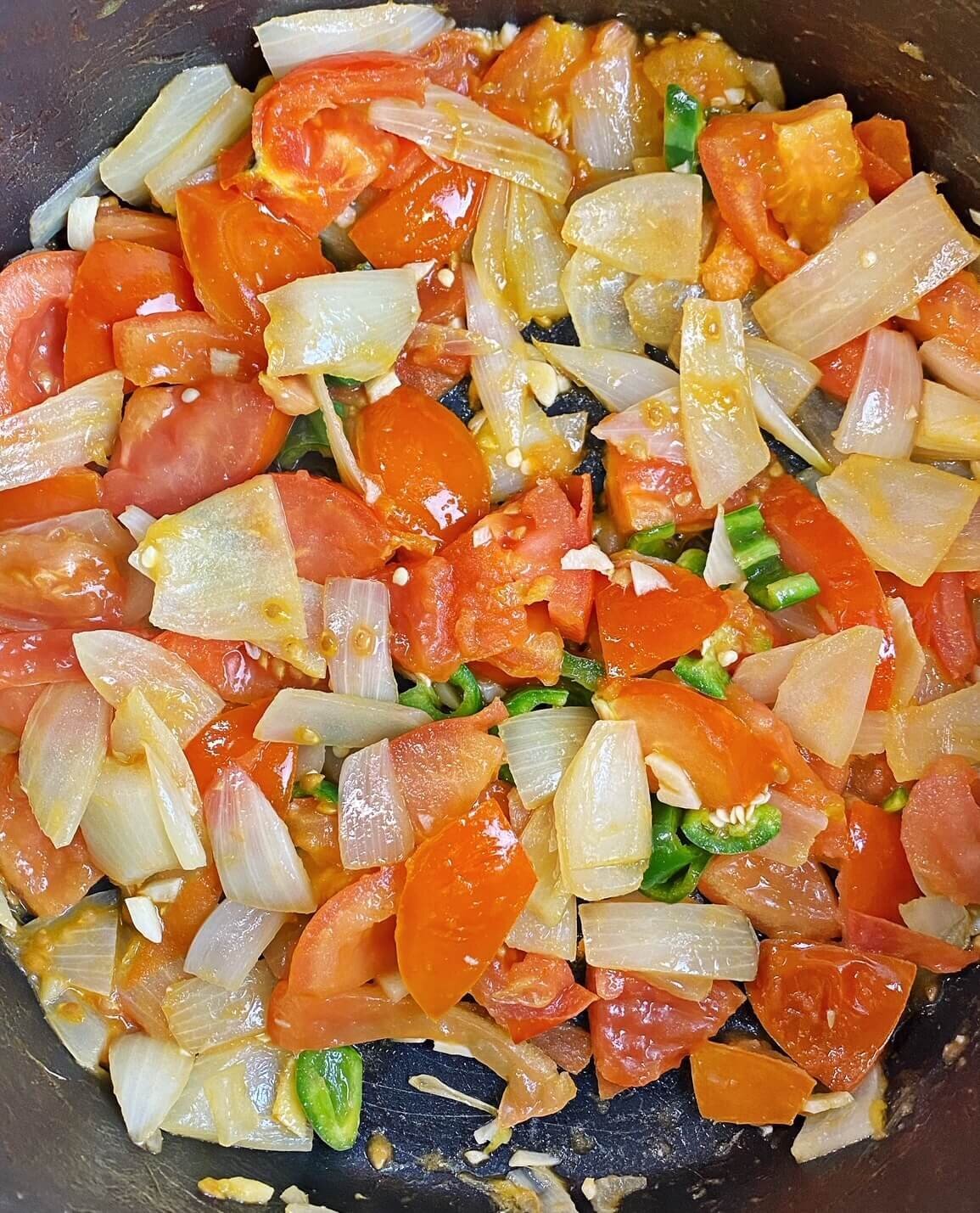 Once the tomatoes are very soft, it's time to add in all the Indian spices and herbs! Stir them in well and let them cook together with the other ingredients so they can get to know each other 🙂
Next, add in the coconut milk and stir until it has mixed in together with the other ingredients.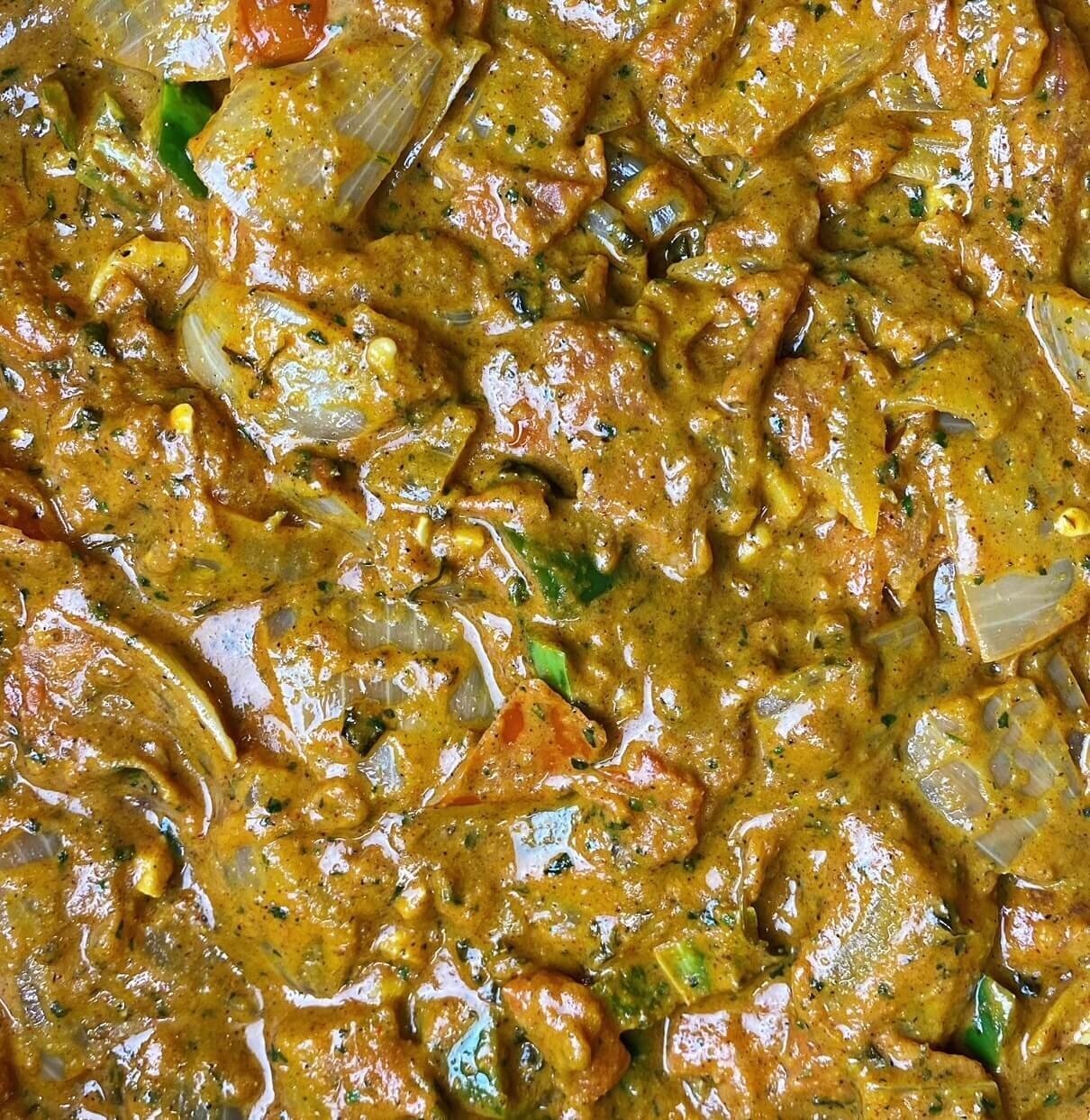 Now it's time to blend it all together to make the vegan curry sauce! You can either use an immersion blender directly in the pot, or transfer the contents of the pot into a blender. Either way, blend the ingredients together until the texture becomes very smooth and velvety.
Last step is to bring the pot to a simmering heat and add the mushrooms and peas together with the curry sauce. Let this simmer for 10-15 minutes to bring out the aromatic flavours of the ingredients and then you're done!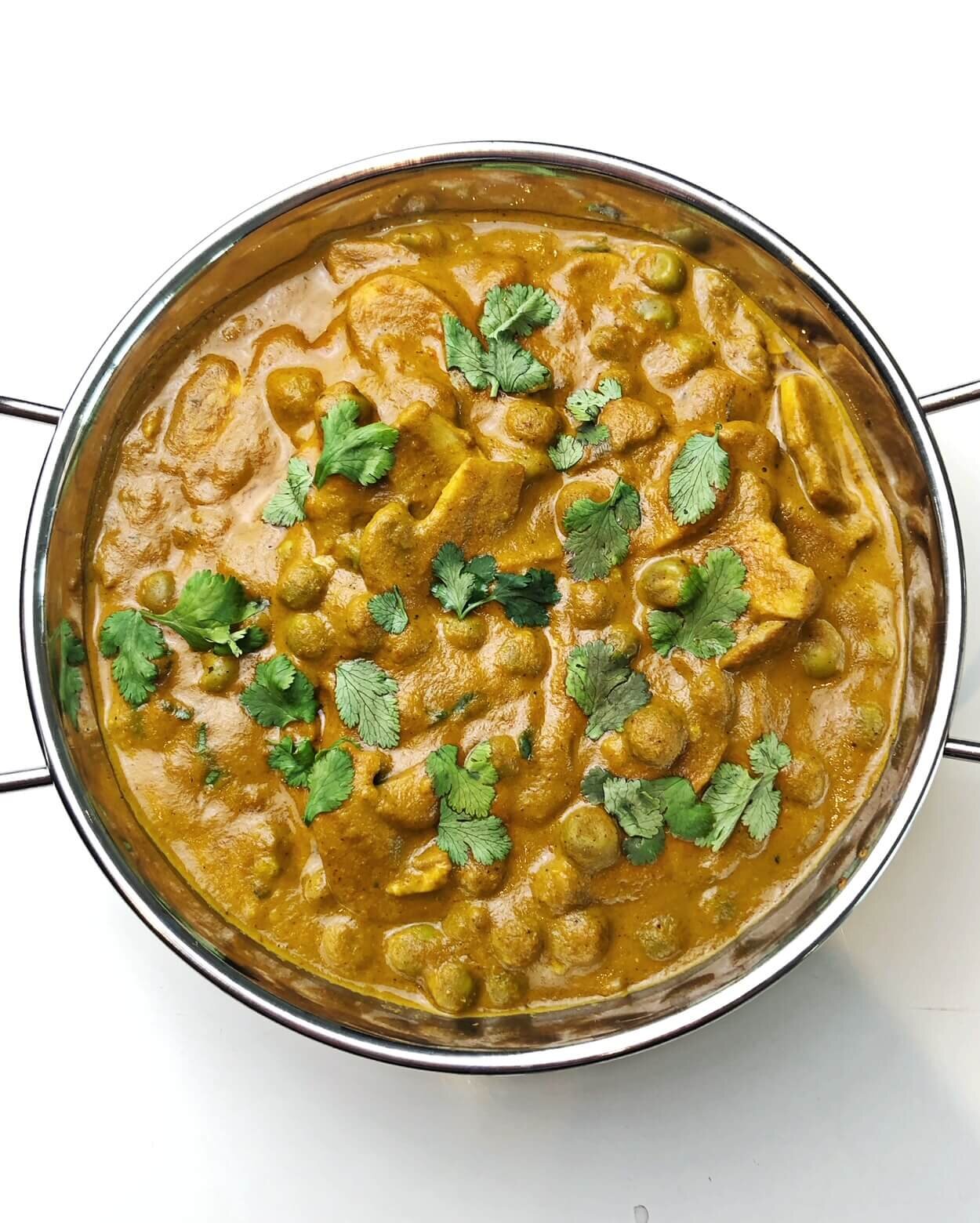 Pro tips for making Mushroom Matar Masala
This mushroom matar recipe is very simple and has that rich Indian taste you're looking for. Saying that, it is also easy to make some tweaks to this vegan recipe to accommodate your taste preferences.
Here are some of my top tips for this curry recipe:
Don't be scanty with the Indian spices and herbs: These spices may come in small containers, but don't be fooled by this. The combination of Indian spices and herbs really does have a large impact on the taste and texture of this curry. My rule of thumb is to always to put in a little more rather than less (except for salt and sugar!).
Easy to boost protein: This dish is already quite high in protein for a vegan curry at over 16 grams per serving. If you're looking to boost the protein content of this dish even more, you can easily add baked extra-firm tofu, soy curls, mock-meat/chicken pieces or legumes such as chickpeas at the same time as the mushrooms and peas go into the pot.
It's simple to make the sauce creamier and buttery: You can do this by adding in more coconut milk, but that dilutes the flavour of the masala too much for my liking. Instead, try adding a tablespoon of vegan butter to make the sauce a little more like a makhani. If you don't have any coconut milk, you can also make a lovely creamy sauce with cashews in your food processor! If you want a recipe for this, let me know in the comments 🙂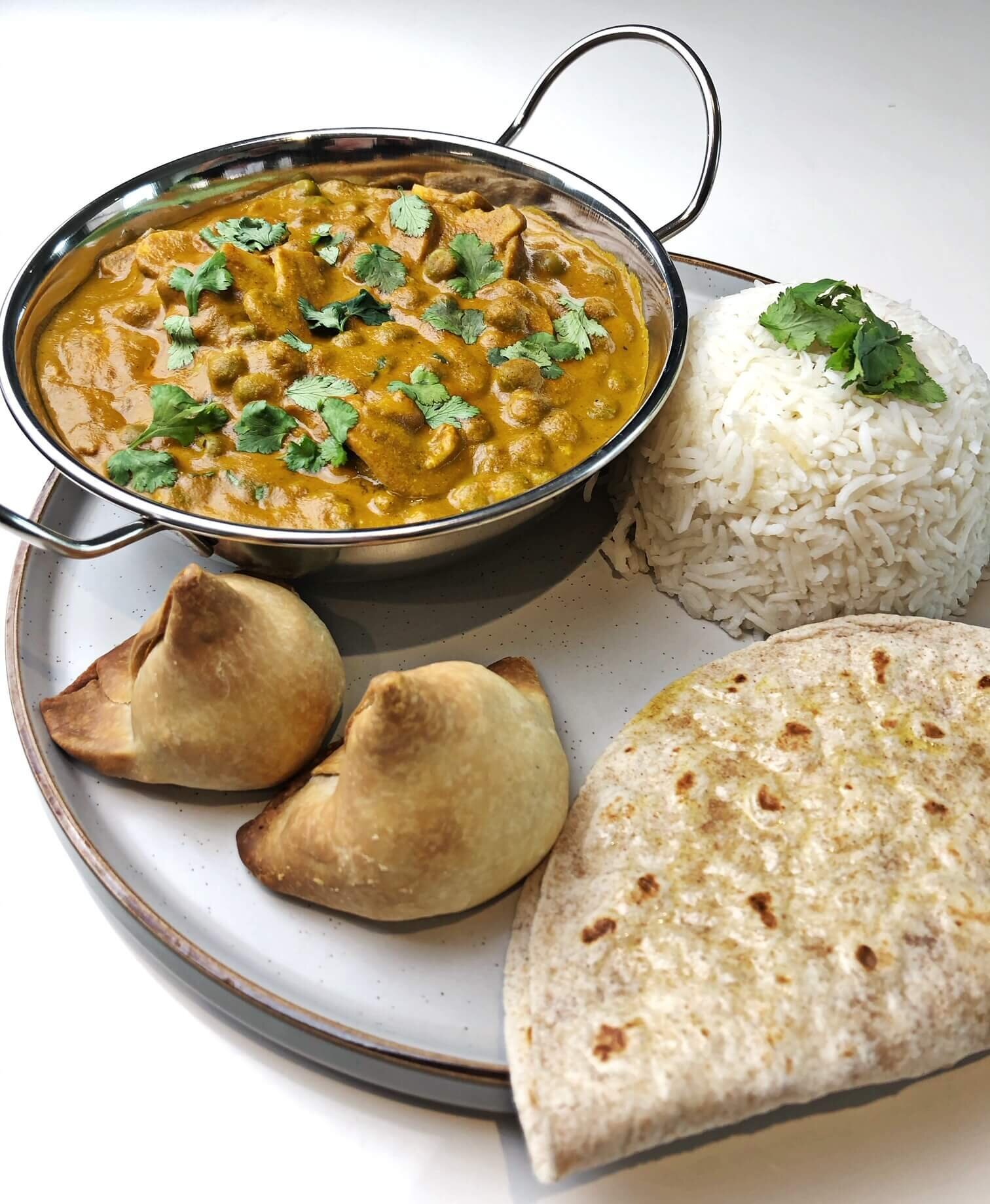 How long can I store Mushroom Matar Masala?
This mushroom matar masala can easily be stored in the fridge or freezer! It is a great option for meal prep as you can easily batch cook it on the weekend and simply reheat to have an amazingly delicious vegan curry on a weeknight, which is ready in no time.
I find this mushroom matar masala lasts in the fridge for up to 3 days.
It can also be frozen for up to 1 month. Simply leave it out overnight to thaw and reheat the next day in a pot or microwave!
Just remember to always let the the mushroom matar masala completely cool off before putting into an air tight container and storing in either the fridge or freezer. Not only to preserve the lovely taste and texture of this vegan curry, but also to avoid contamination.
More healthy vegan dinner recipes to try
If you like this vegan mushroom matar masala recipe, you might also like:
Please feel free to check out all my vegan recipes here for more inspiration in the kitchen!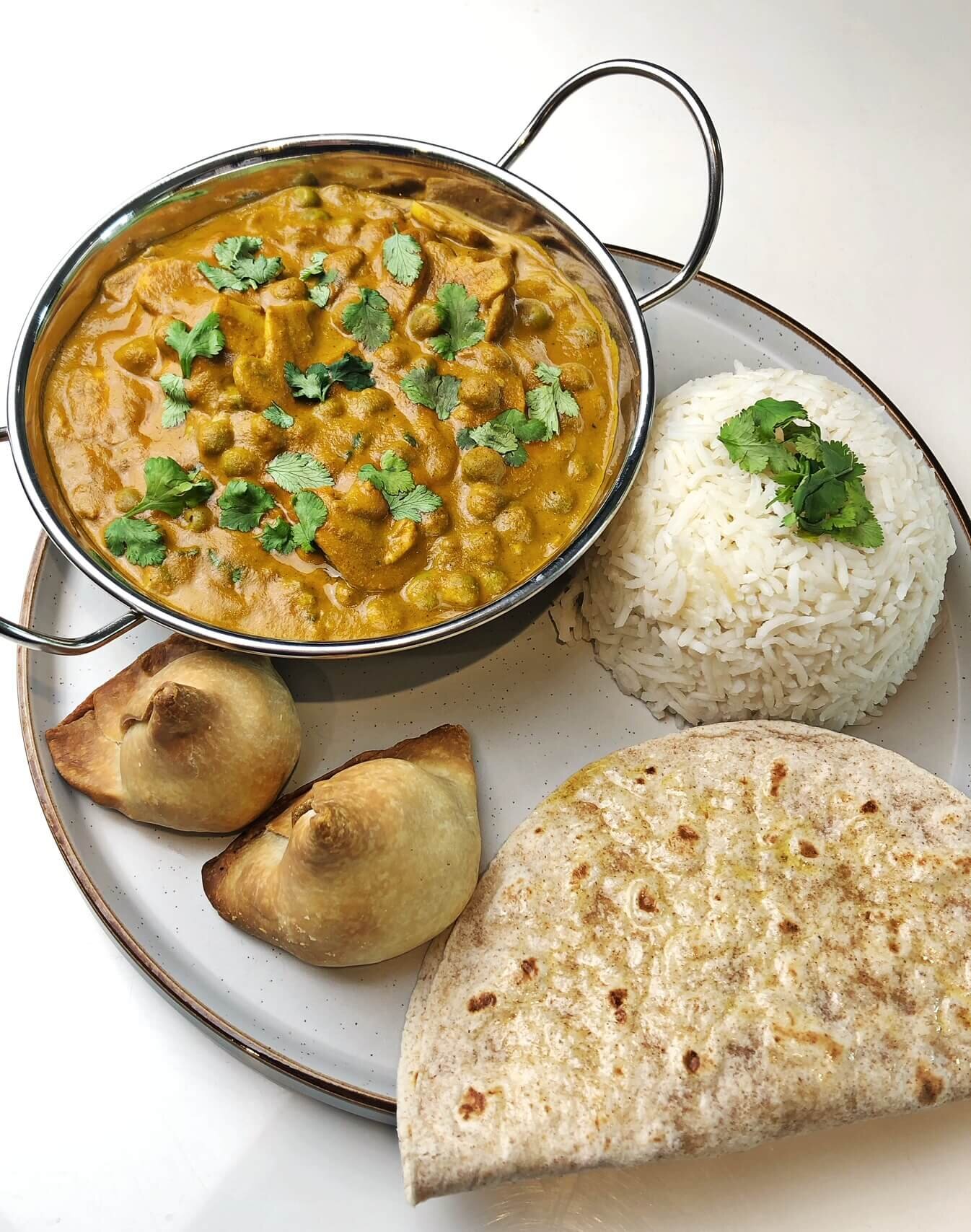 If you tried this vegan matar mushroom masala recipe and loved it as much as I did, please feel free to let me know by leaving a comment and a rating below. I also love seeing remakes of these recipes, so be sure to tag me @voach_thevegancoach and use the hashtag #voachrecipes if you post your creation on Instagram!
Never want to miss out on new amazing vegan recipes? Then be sure to follow me on Facebook, Instagram and Pinterest and sign up to my Newsletter so you are notified when the next delicious and nutritious vegan recipe is up!
@Voach. All images and content are protected by copyright law. Please do not use any images without prior permission. For any republishing of this recipe, please kindly link back to this post.
*This post may contain affiliate links that earn me a small commission, at no cost to you. You can find out more information here
---