A unique pasta recipe based on the traditional spaghetti aglio e olio. It's an easy vegan recipe that you can make in just 20 minutes on any night of the week. You only need a handful of ingredients and spices to make this amazingly distinctive and delicious vegan pasta dish for yourself!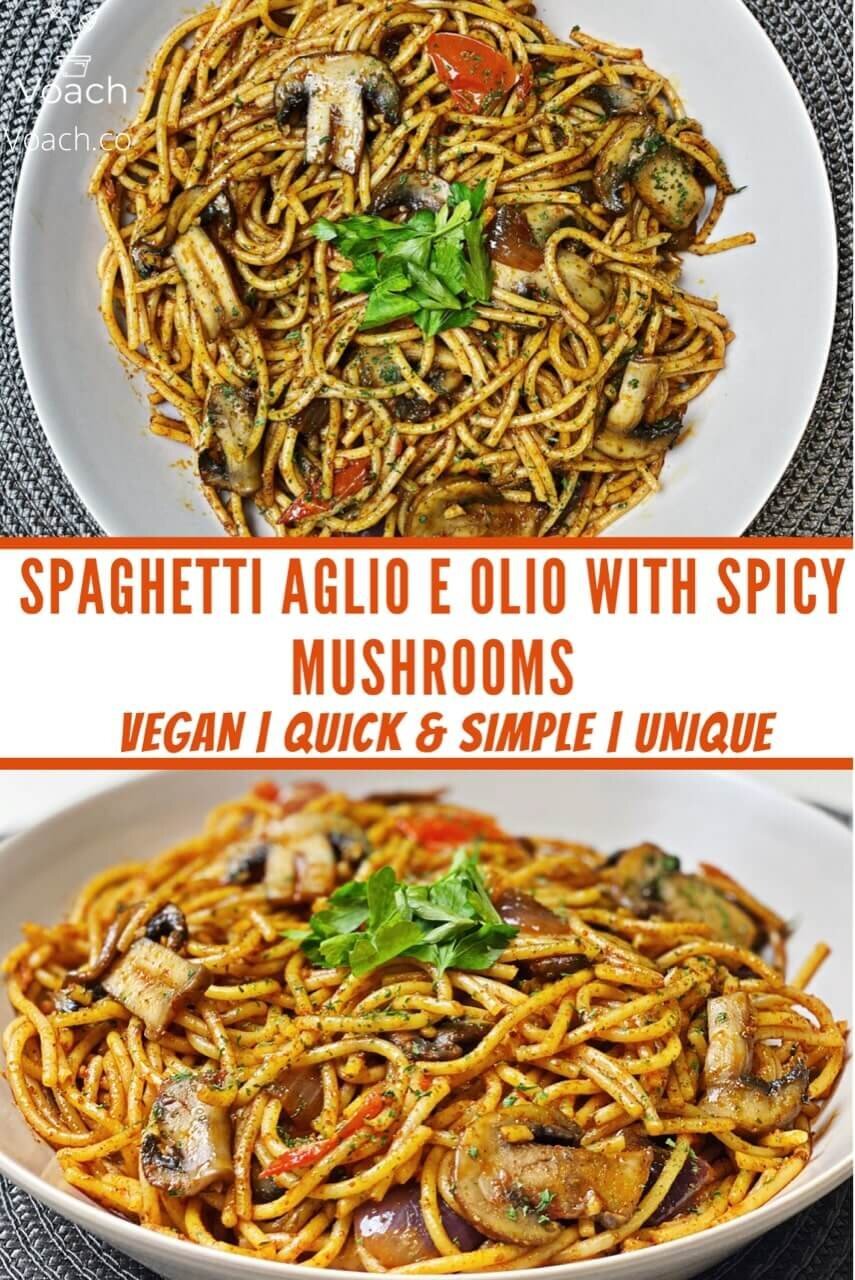 You may've asked yourself, "what does aglio olio mean?". Translated from Italian, it simply means garlic and olive oil. Italians love simplicity, and the traditional version of this pasta from Naples is just that. Pasta with sautéed garlic in olive oil and some red pepper flakes – that's it!.
So growing up in an Italian household, you can imagine just how many times I ate the traditional spaghetti aglio e olio recipe from my Nonna. Short answer: A lot.
Whilst I still enjoy the authentic version, I've always loved making alterations to this pasta recipe to make it more unique and distinctive. Naturally, I reached for the spices and mushrooms as my weapons of choice. How could I not? Their flavour fits together so perfectly with garlic and spaghetti.
Once I perfected this vegan pasta recipe, I found myself making it time and time again. Not only for myself, but also for family and friends at multiple occasions. It's one of those dishes that's so delicious that people don't even think about whether it's vegan or not!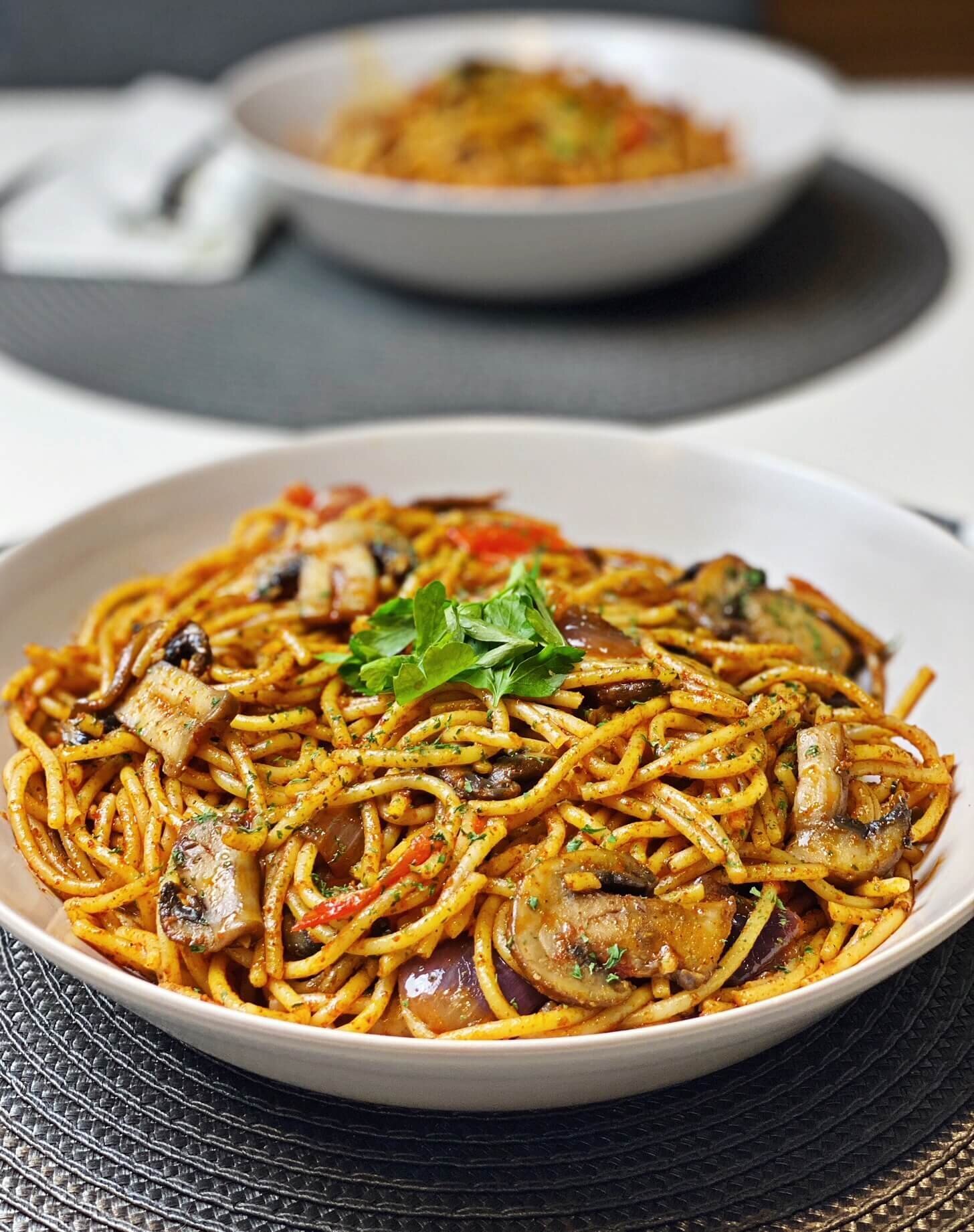 Spaghetti Aglio e Olio Recipe Ingredients
A great aspect of this easy spaghetti aglio e olio recipe is that it doesn't require a ton of ingredients so you can make this on any given night.
You'll need:
Spaghetti: If you don't have spaghetti on hand, don't stress. This dish works well with any type of pasta. I've made it multiple times with penne and farfalle and it's still as good as with spaghetti.
Extra virgin olive oil: I always use a high quality extra virgin olive oil for this dish as it provides a lovely grassy, peppery flavour whilst retaining its natural antioxidants and vitamins.
Onions and garlic: This would be blasphemous in certain parts of Italy. However, I like combining the onions together with the garlic to give this spaghetti aglio e olio recipe an intoxicating aromatic flavour.
Tomatoes: Who doesn't love some fresh tomatoes on pasta.
Brown mushrooms: The mature flavour and texture of brown mushrooms fits perfectly in this dish.
Mild chilli powder and paprika powder: My secret ingredients! Might sound strange to include in this type of pasta dish. But trust me. The spicy and sweet flavours delivered by these spices really do make this pasta recipe so unique and distinct.
Parsley: Provides the dish with a natural aromatic earthiness. For presentation, the green really does pop against the red tones of the dish.
I'll take some time here quickly to answer a question I've been asked a lot. "Is pasta vegan?".
Thankfully, most packaged pasta are in fact vegan! Sometimes "fresh" pasta, or pastas which are distinctively yellow in appearance, may contain eggs – so always be sure to check the label!
How to make Spaghetti Aglio e Olio?
Best part about this vegan pasta dish is that it is so easy and quick to make! Just grab the ingredients above and in 20 minutes you'll be done!
First step is to cook the pasta. Always remember to add salt to the boiling water and cook until it is al dente. Nothing worse than having mushy spaghetti ruining a pasta dish. Once you've drained the pasta, make sure to rinse with cold water or olive oil to prevent it from sticking!
Second step is to cook the vegetables once the pasta is on. You should sauté the onion before the garlic, otherwise the garlic will slightly burn as it has a shorter cooking time.
Third step is to cook the mushrooms with the onions and garlic. Be patient and wait for all the moisture to evaporate. You'll be left with slightly golden mushrooms which are a little crispy and have a dense texture. Then you only need to add in the tomatoes at the end so they are slightly warm.
Last step is to combine the pasta and the ingredients together with the spices and extra virgin olive oil. Toss together well with so the spices are spread evenly across the pasta. Season with salt, pepper and garnish with the parsley to finish it off!
It is much easier to toss together with a spaghetti server rather than other kitchen utensils. Take my word for it! In the event you don't have a spaghetti server, you could also use tongs or 2 forks (one in each hand) to toss the spaghetti together.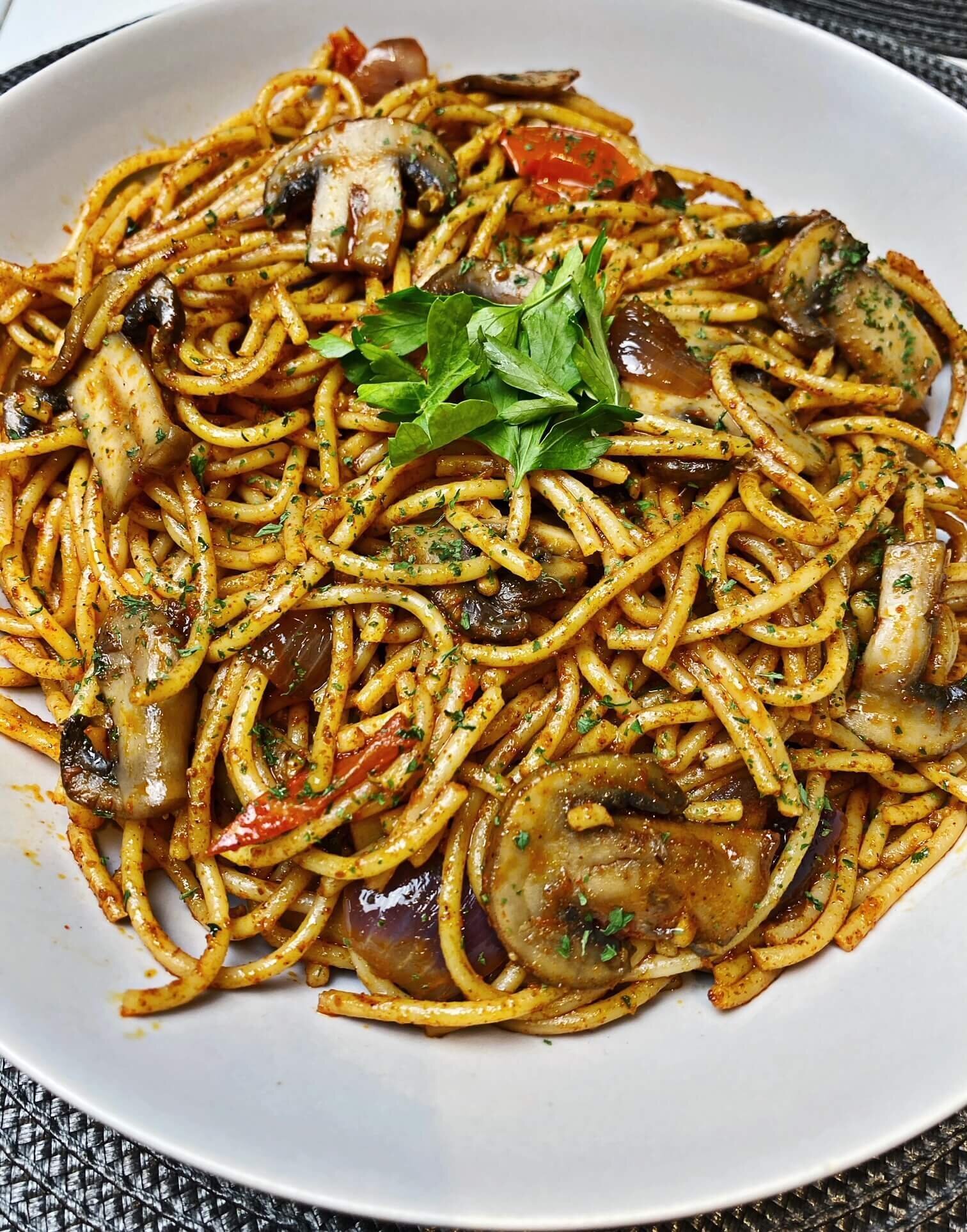 What goes well with Spaghetti Aglio e Olio?
I love serving vegan spaghetti aglio e olio with some fresh parsley and nutritional yeast. Yes, I know, authentic spaghetti aglio e olio is never served with cheese, let alone a vegan substitute like nutritional yeast!
Hear me out. Nutritional yeast has a remarkable cheesy and nutty flavour which, in my view, complements the spiciness of this pasta dish perfectly. And what about the health benefits? Well, adding just 2 tablespoons of nutritional yeast to this dish will provide approximately 133% DV for Vitamin B12, over 100% of the other B Vitamins (sans B5) and 9 grams of protein!
Keep an open mind and give it a try. Your taste buds and body will thank you for it!
What do you serve with Spaghetti Aglio e Olio?
As with any pasta, garlic bread always works. There are certain producers who make vegan garlic bread. Otherwise, you can easily make it from scratch at home with some bread, olive oil (or vegan butter) and a clove of garlic!
For a healthier alternative, you can also pair this vegan pasta dish with a simple Italian salad filled with leafy greens, olives, onion, tomato and Italian dressing!
And what wine goes with an aglio e olio? Glad you asked! I find both whites and reds fit together nicely with this dish. If you're a fan of white wines, I would opt for a dry white such as a Riesling or a Sauvignon Blanc. For red wines, I would opt for a wine such as a Zinfandel or Primitivo.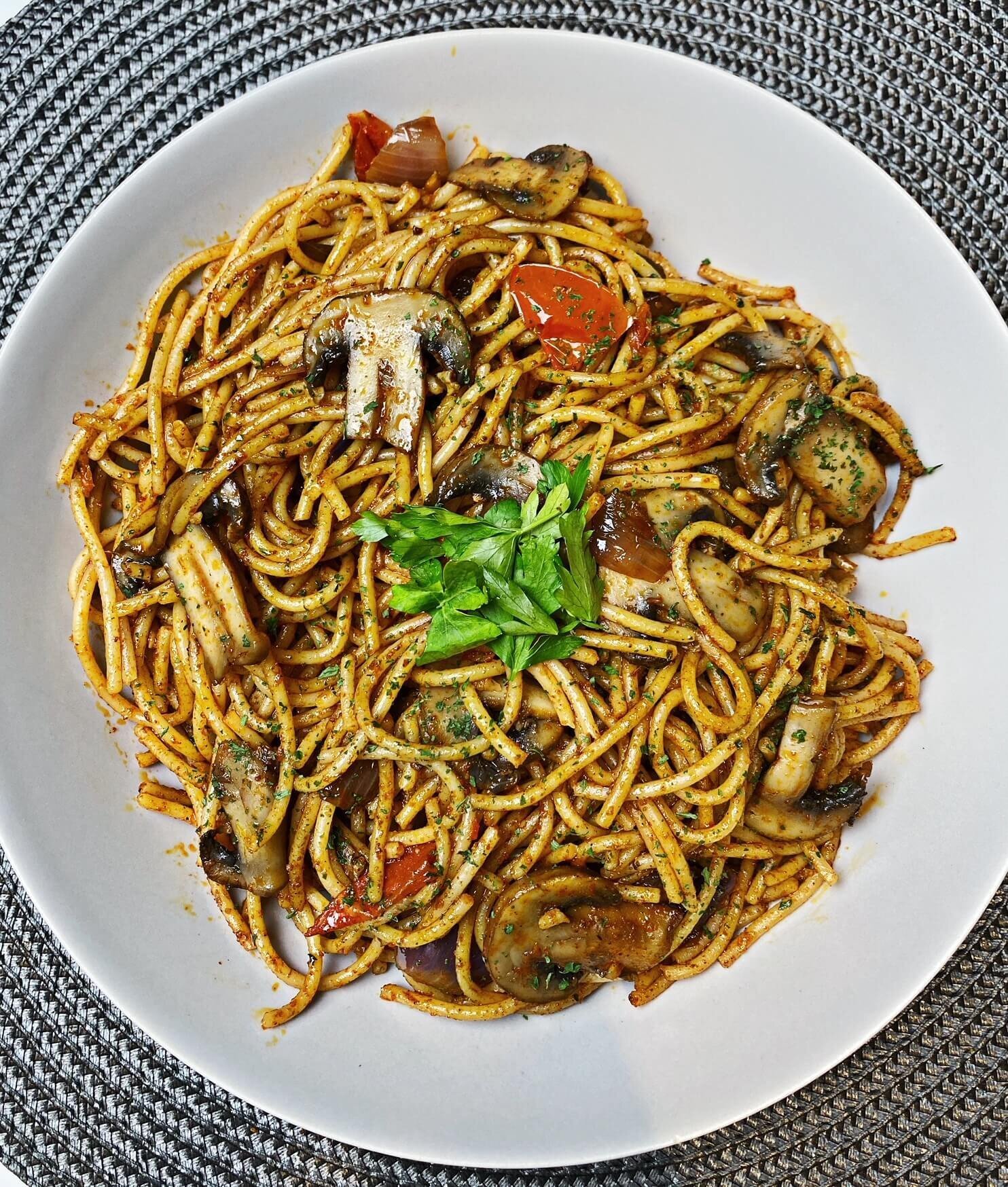 How to store Spaghetti Aglio e Olio
Leftovers can be refrigerated in an air-tight container in the fridge for up to 3-5 days. You can reheat this spaghetti aglio e olio with mushrooms in the microwave or in a pan with a splash of olive oil.
More healthy vegan recipes to try
If you like this spaghetti aglio e olio recipe, you might also like:
Please feel free to check out all my recipes here for more vegan inspiration in the kitchen!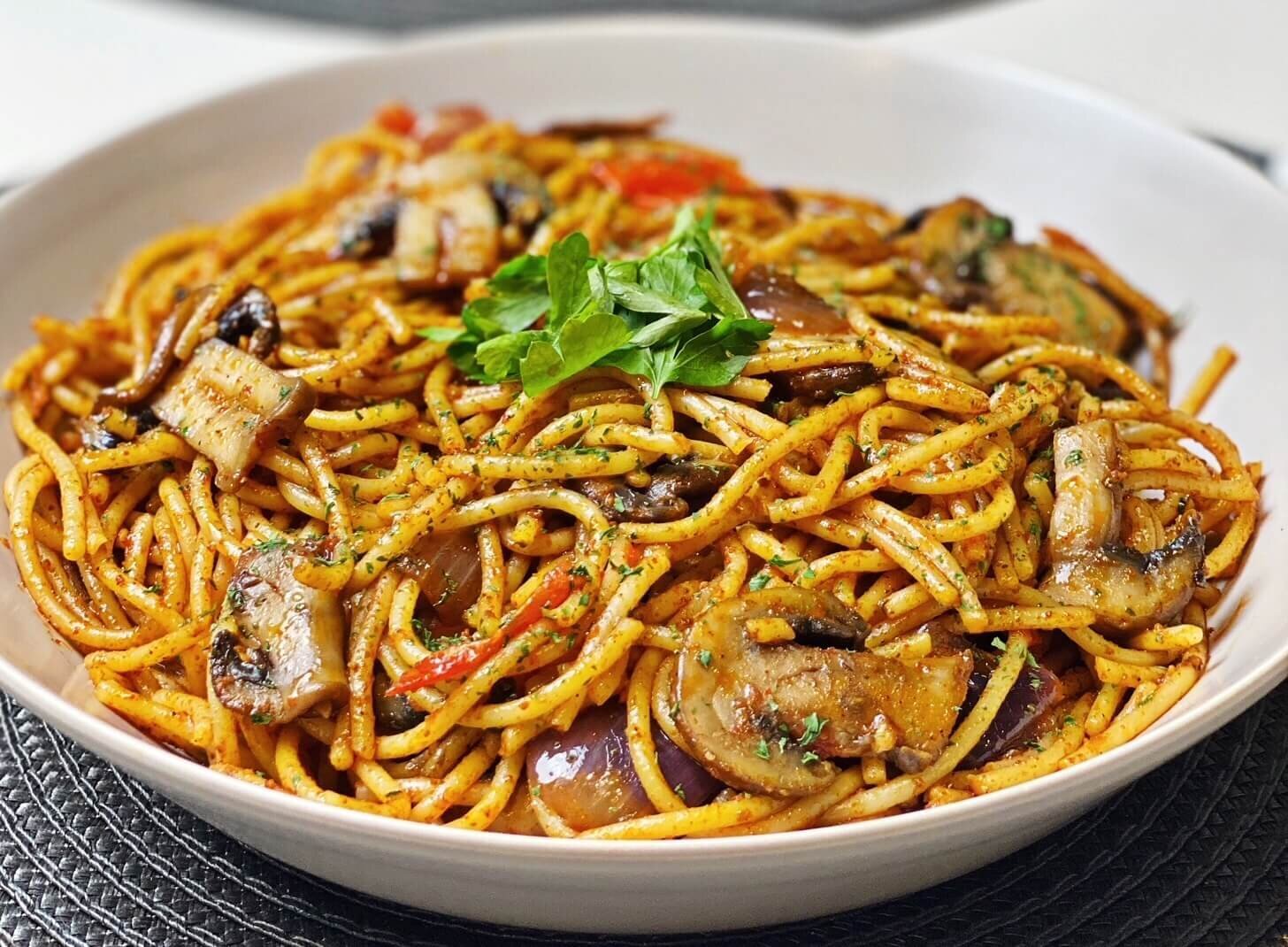 If you tried this vegan spaghetti aglio e olio recipe and loved it as much as I did, please feel free to let me know by leaving a comment and a rating below. I also love seeing remakes of these recipes, so be sure to tag me @voach_thevegancoach and use the hashtag #voachrecipes if you post your creation on Instagram!
Never want to miss out on new amazing vegan recipes? Then be sure to follow me on Facebook, Instagram and Pinterest and sign up to my Newsletter so you are notified when the next delicious and nutritious vegan recipe is up!
@Voach. All images and content are protected by copyright law. Please do not use any images without prior permission. For any republishing of this recipe, please kindly link back to this post.
*This post may contain affiliate links that earn me a small commission, at no cost to you. You can find out more information here
---