This simple vegan nacho cheese is an awesome vegan snack that you can make in under 10 minutes! There are so many ways to enjoy this insatiably versatile dip that you'll be making it time and time again. Perfect for any occasion as it's vegan, gluten free, soy free and oil free!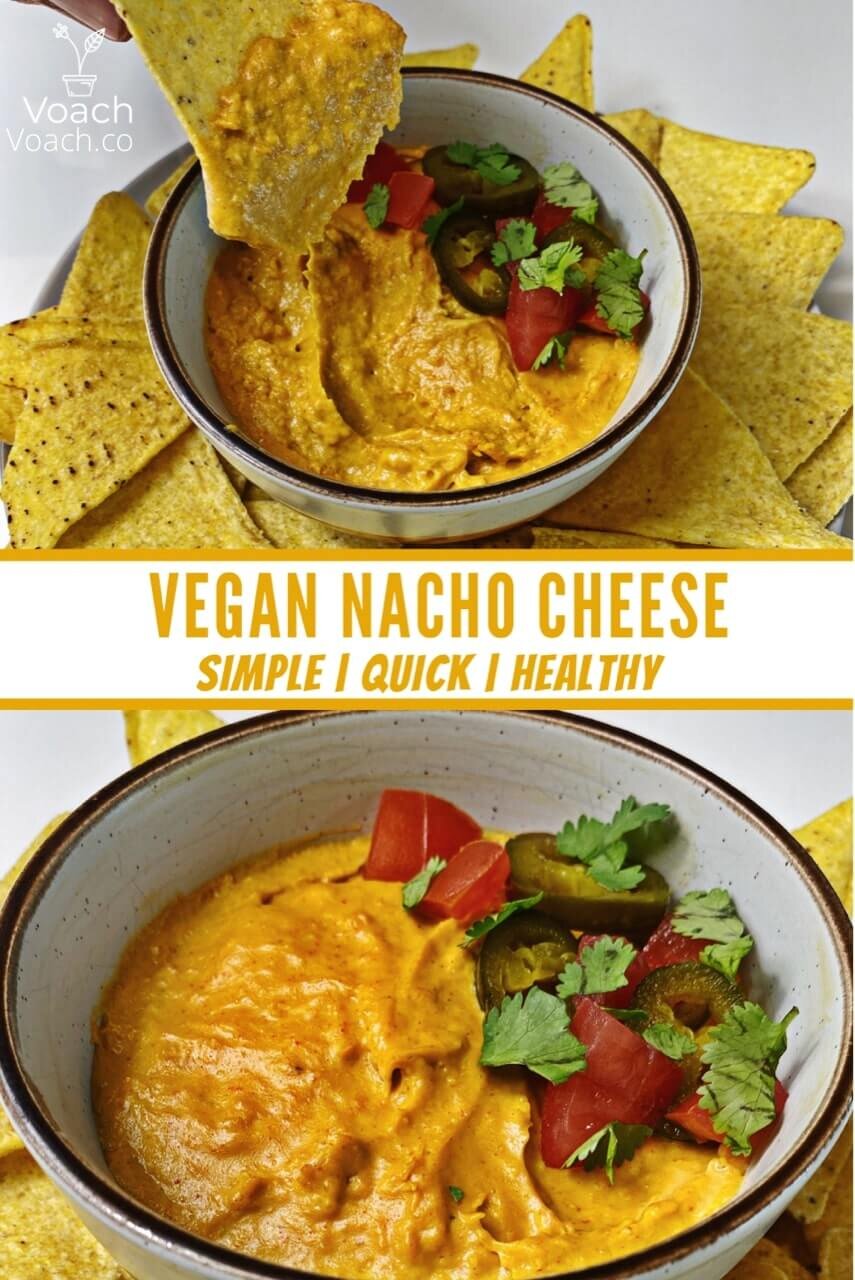 Making vegan nacho cheese
Just like every other kid, I always loved having nacho cheese. It was so rich, creamy and tasty and automatically made any dish better. So this was a hard one to give up when I went vegan ten years ago.
I had to experiment with so many different recipes at home to recapture the same taste and texture of regular nacho cheese that I had when I was a kid.
So I'm quite excited to share my vegan nacho cheese recipe with you now! It's become my most popular snack for guests as it's creamy, kid-friendly, easy, quick and so versatile.
Plus, it's always funny to see how shocked guests are when they taste it. Not just for how stretchy, tasty and creamy it is, but more so for the fact that something with this amazing taste and consistency is actually vegan! You should see the look on their faces when they find out 😉
So let's get into the ingredients you need for this vegan nacho cheese sauce…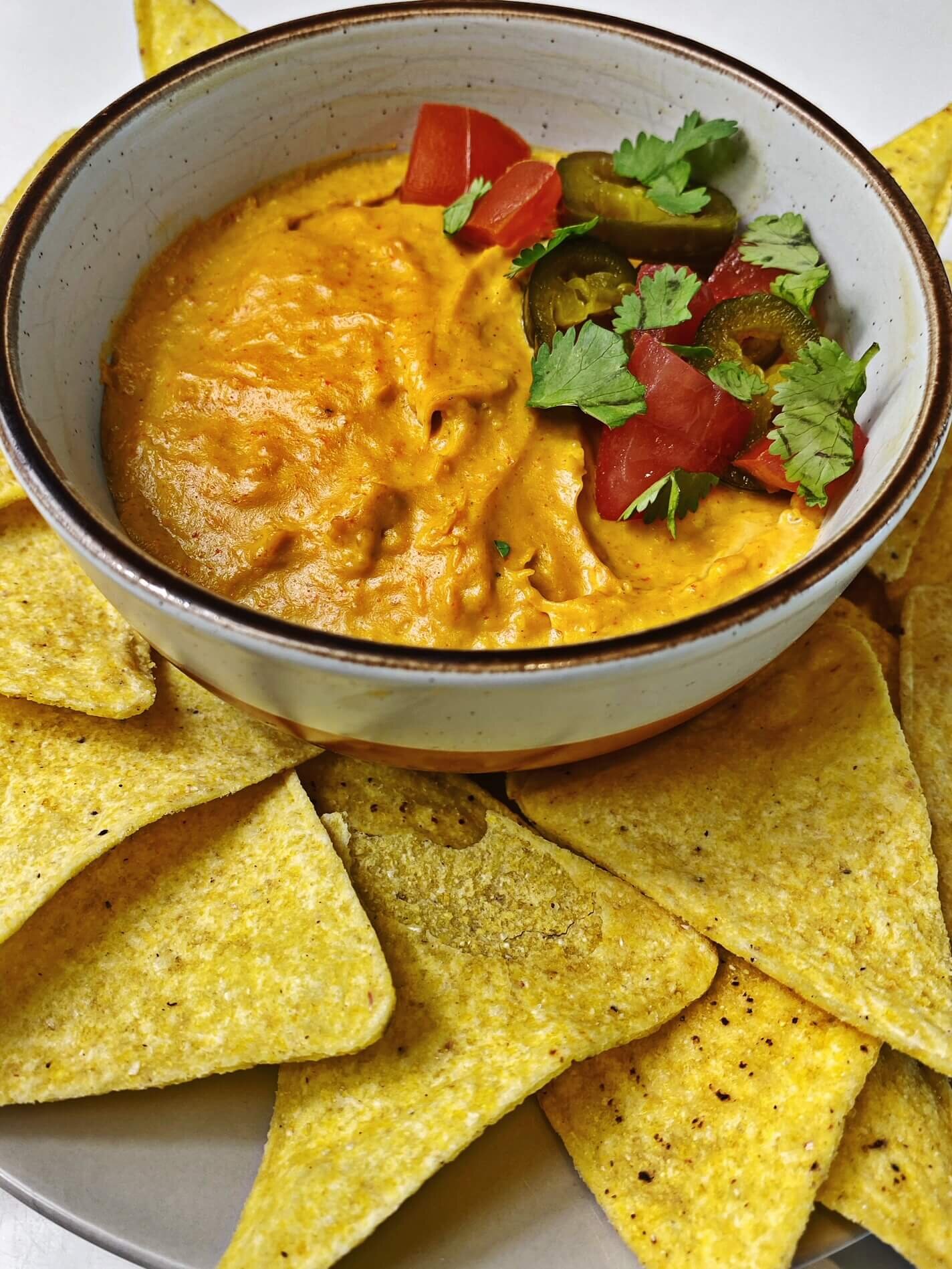 Vegan Nacho Cheese recipe ingredients
To make this homemade nacho cheese sauce, you'll need:
Raw cashews: Cashew cream is a fantastic substitute for any type of dairy cream, and this nacho cheese sauce is no different. It's also very easy to prepare – all you need to do is soak them for a few hours and then blend it up. That's it! Vegan nacho cheese cashews 🙂
Carrot: Gives a nice natural sweetness to the nacho cheese sauce and will also boost it's yellow/orange colour. Can use turmeric as a substitute.
Tapioca starch: If you want that stretchy gooey quality, you need to use Tapioca Starch (also called tapioca flour). You can use arrowroot powder, corn starch or other starches as a substitute if you simply want a simple thick sauce. If you can only find tapioca pearls and not starch (this happened to me), you can simply grind them up in a blender or grinder for a few minutes"
Nutritional yeast: What gives this sauce that deliciously cheesy and nutty flavour. And it's not just tasty, but also healthy, as it has a tremendous amount of protein content and vitamin B12!
Salt, paprika, onion powder and garlic powder: These are just a few of my favourite seasonings to mix in with this nacho cheese dip. However, this combination isn't strictly necessary. You can add or subtract seasonings to suit your taste preferences.
Jalapeño peppers: For those who like their nacho cheese sauce spicy!
White miso paste: Made from fermented soybeans, it has a very strong umami flavour. Salty, tangy and savory all at the same time. It also provides a nice smooth texture which suits the creaminess of the cashews well.
Lemon Juice: The lemon juice perfectly balances out the savoury flavours of the other ingredients and adds a lovely zesty kick to this sauce.
Water
In terms of equipment, all you'll need is a food processor or blender and a small saucepan (nothing too fancy!). I always use a NutriBullet as it's the smallest and most convenient device to use to make this healthy vegan dip.
Now that you know what you need, let's get into how to make the best vegan nacho cheese!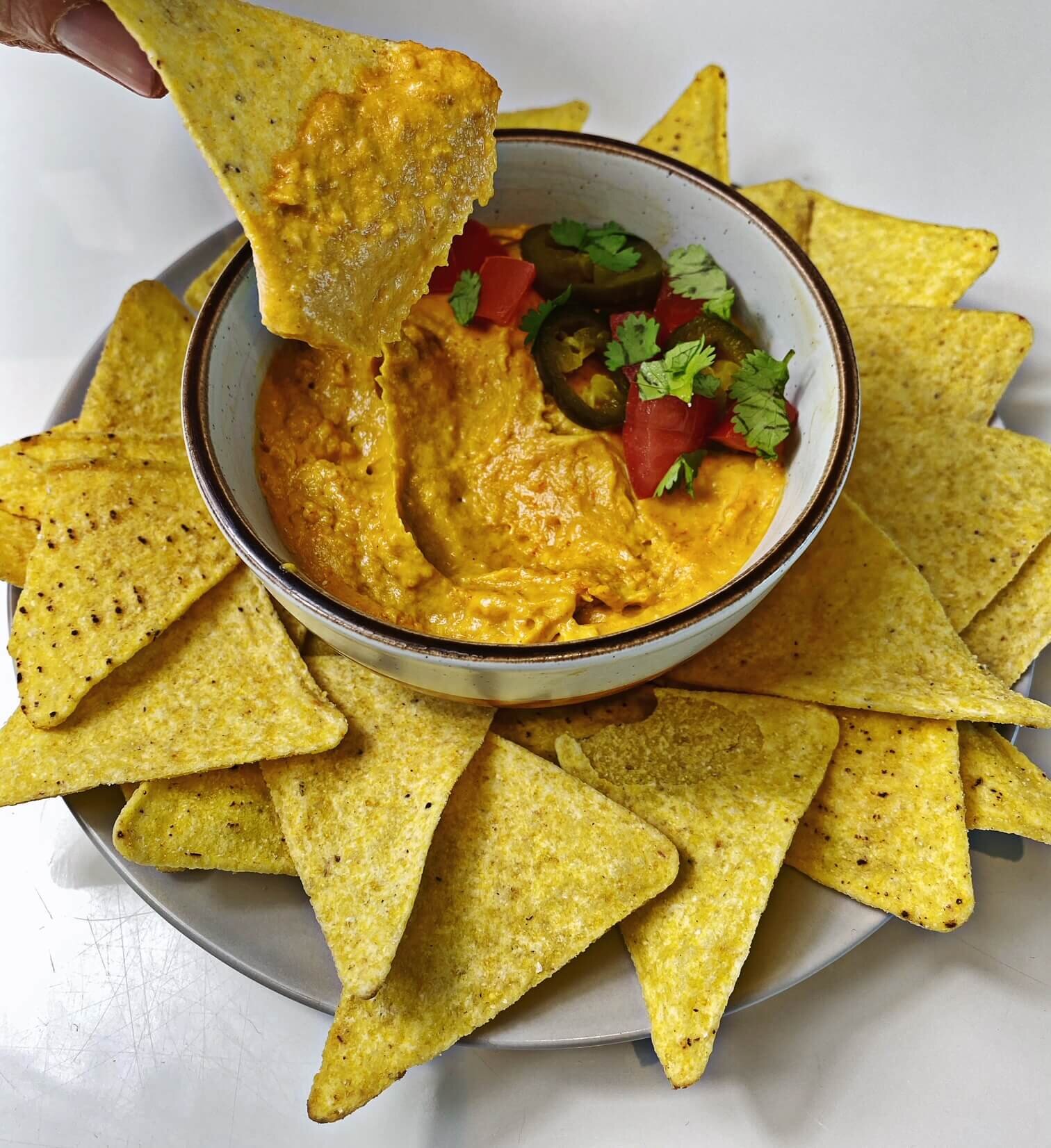 How to make Vegan Nacho Cheese
Could. Not. Be. Simpler!
All you need is 5 minutes, a blender and a small saucepan to make this simple vegan nacho cheese.
Yep. That's it. No complicated pre-cooking of any ingredients or high-tech kitchen equipment to make this healthy vegan snack!
To make this vegan nacho cheese sauce:
First step is to prepare the cashews. You can either soak the cashews for a few hours beforehand or boil the cashews for 10 minutes. Even if you don't want to do this level of prep, you don't need to! Whilst soaking the cashews will make the creamier, you can skip this step and the nacho cheese sauce will still taste great.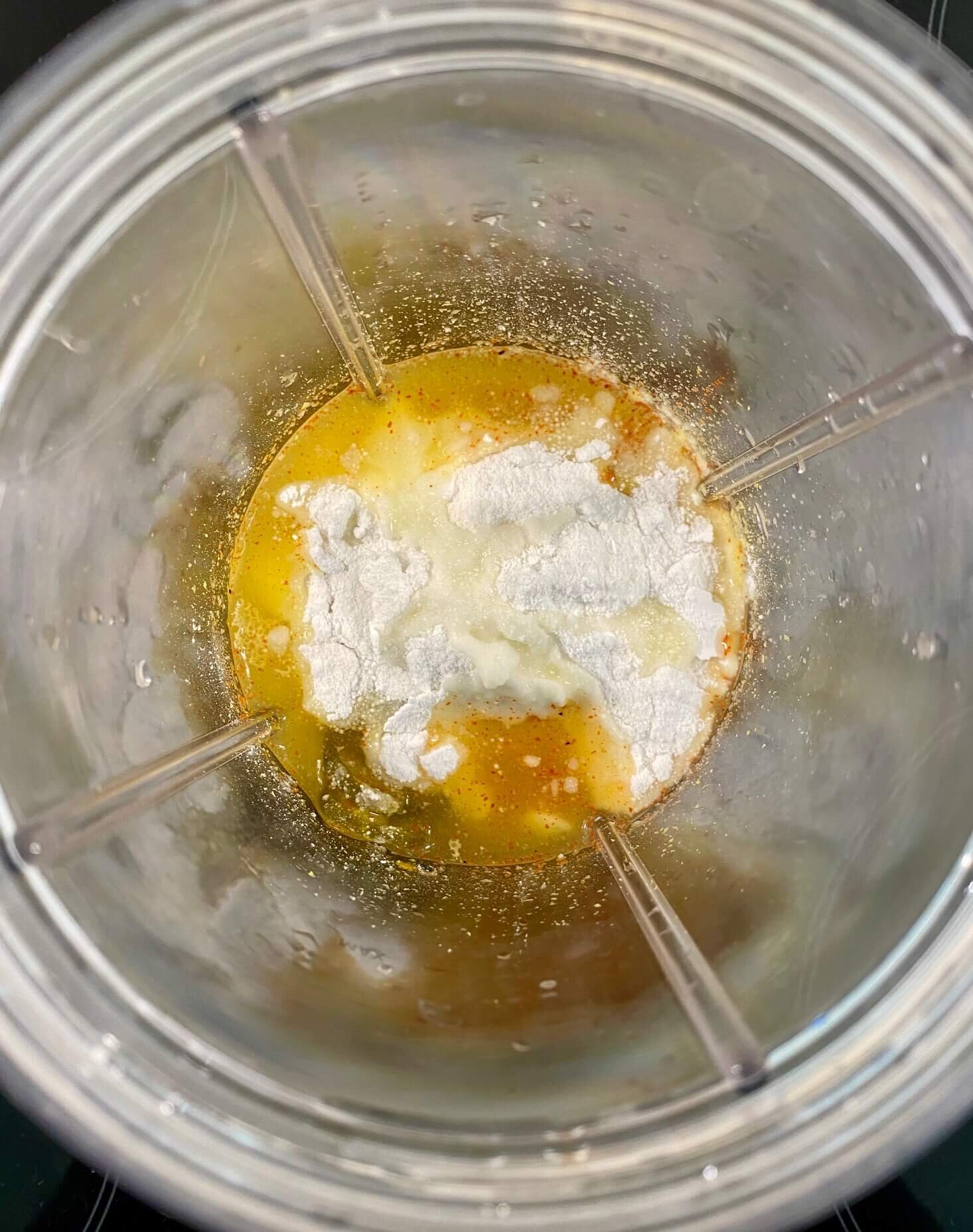 Next, you'll need to all the ingredients into the food processor or blender and let it rip until it's smooth, creamy and velvety.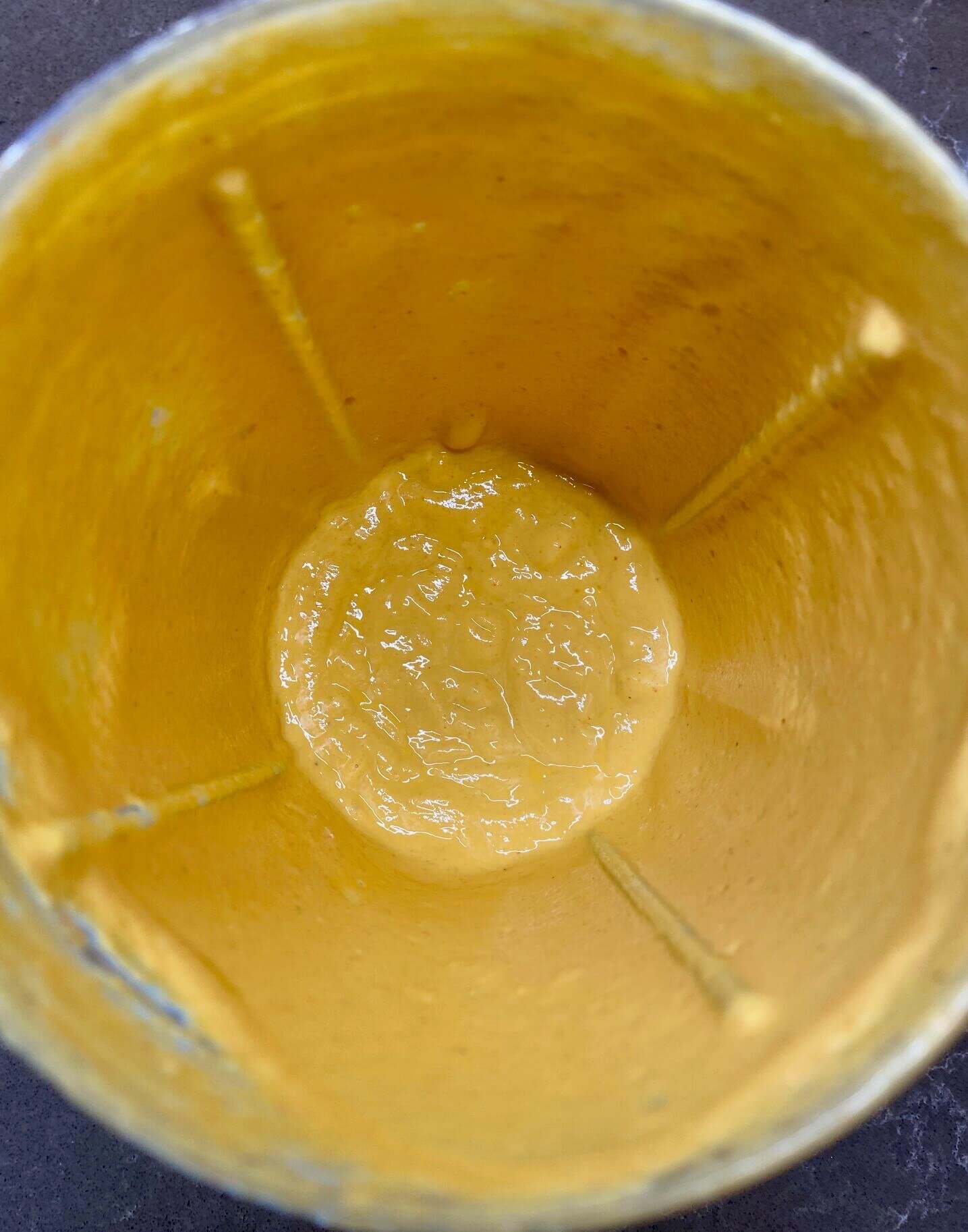 Once the nacho cheese smooth and creamy, transfer the vegan nacho cheese sauce into a small saucepan over medium heat. Stir/whisk it constantly until the sauce starts to bubble up and become thick and stretchy. This should take around 3 minutes. If it becomes too thick, add some extra water or plant-based milk until the consistency is right.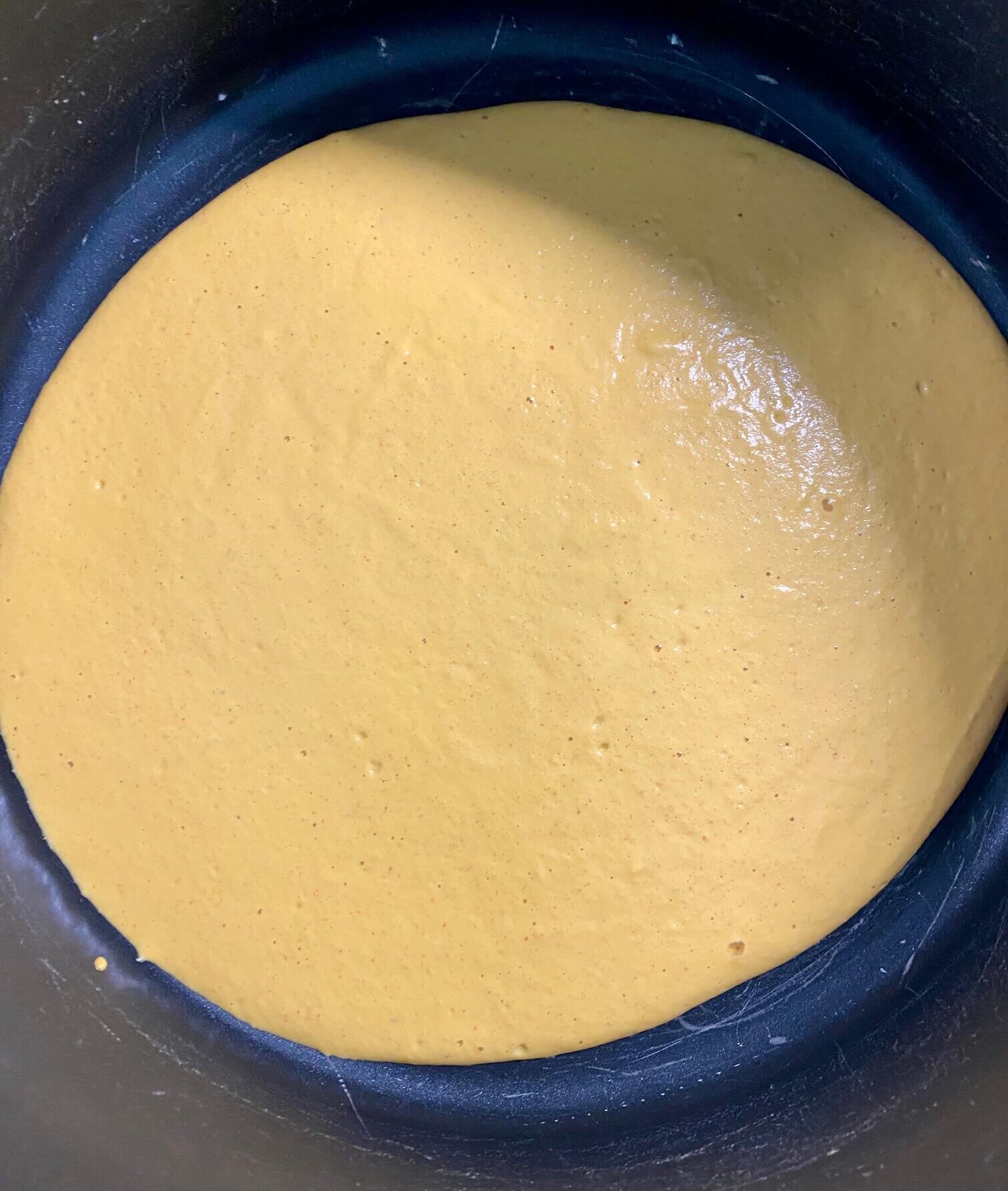 Now you've got your vegan nacho cheese! An easy vegan snack that's super healthy and ready in just 5 minutes! Perfect for any occasion: whether you need a vegan dip for parties, an easy vegan snack during the day for when you're getting hangry (no one wants that!), or need a cheesy sauce for your favourite meals. Check out some of my favourite ways to use this vegan nacho cheese recipe!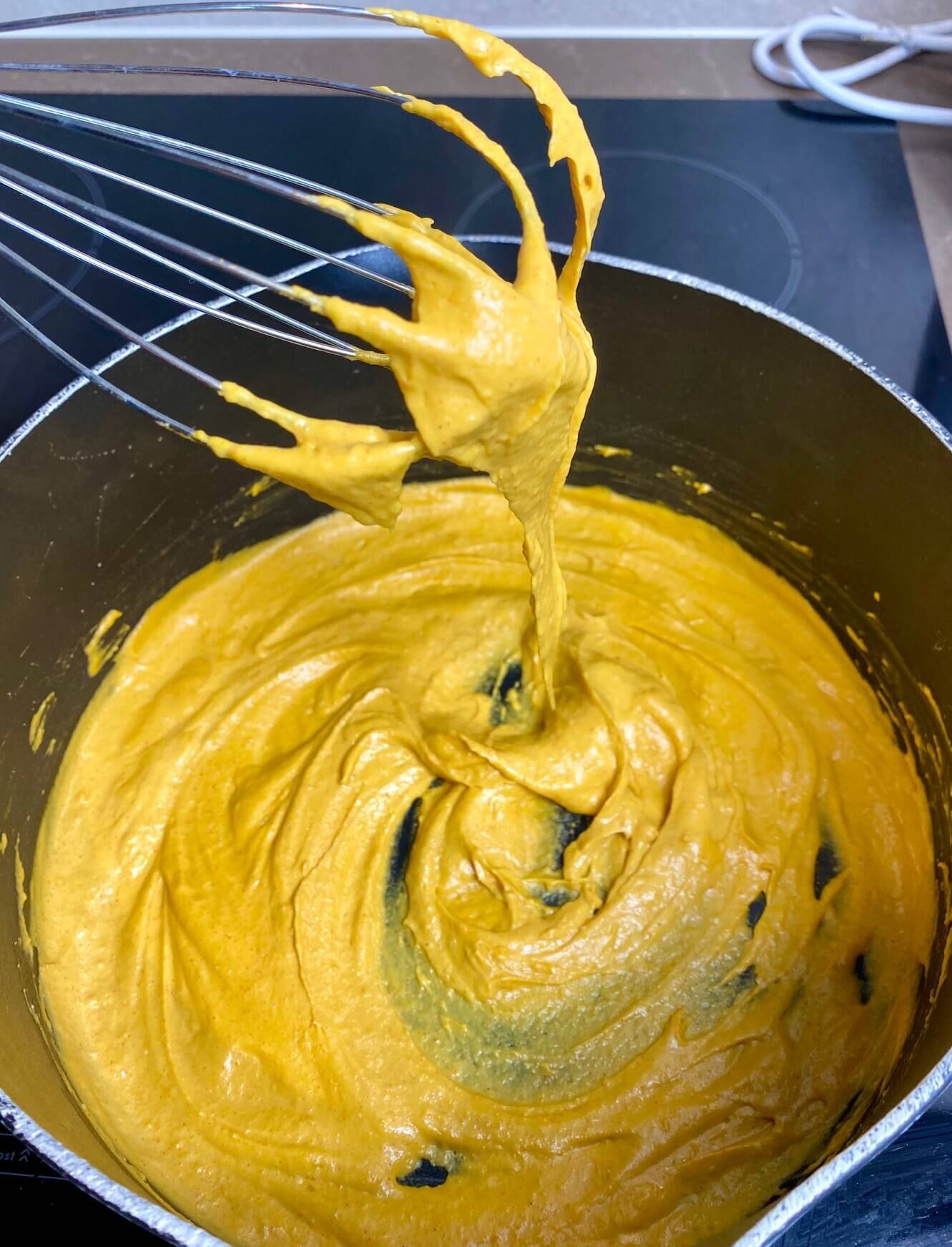 Best ways to use Vegan Nacho Cheese
The possibilities are endless with this vegan nacho cheese recipe. It can be used as a cheese substitute for countless Mexican dishes, burger night or as a tasty and healthy addition to your veggies.
Because there are so many ways to use it, I make this nacho cheese sauce multiple times a week. And no body ever complains that it's too much!
Some of my favourite ways to use this homemade nacho cheese sauce are:
as a vegan dip with tortilla chips or nachos;
tacos, enchiladas, burritos or quesadillas;
baked potatoes;
sandwiches;
steamed broccoli or cauliflower;
pasta bake;
veggie sticks;
burgers and loaded fries; and
mac & cheese (no surprise here..).
These are just a few ways in which I've diversified the way I've used this healthy nacho cheese sauce in the past. But the possibilities certainly do not end there. Get crazy. Be bold and creative in the kitchen! Try this out whenever you feel a recipe needs a tasty cheesy kick that's also healthy and hearty!
How to store Vegan Nacho Cheese
TO STORE: Once the nacho cheese has cooled, the leftovers can be stored in an air tight container in the fridge for 3-5 days.
TO FREEZE: You can also freeze the nacho cheese for up to 1 month in an airtight and freezer-safe container or freezer bag. I recommend letting it thaw out overnight in the fridge before reheating.
TO REHEAT: To reheat, place the vegan nacho cheese in a saucepan over medium-low heat and stir/whisk constantly until it has warmed through. As the sauce thickens when cooled, you will need to add a little water or plant based milk to get the right consistency. You can also microwave it for a minute or two.
More healthy vegan snacks & sides to try
If you like this vegan nacho cheese recipe, you might also like:
Be sure to check out all my recipes here for more vegan inspiration in the kitchen!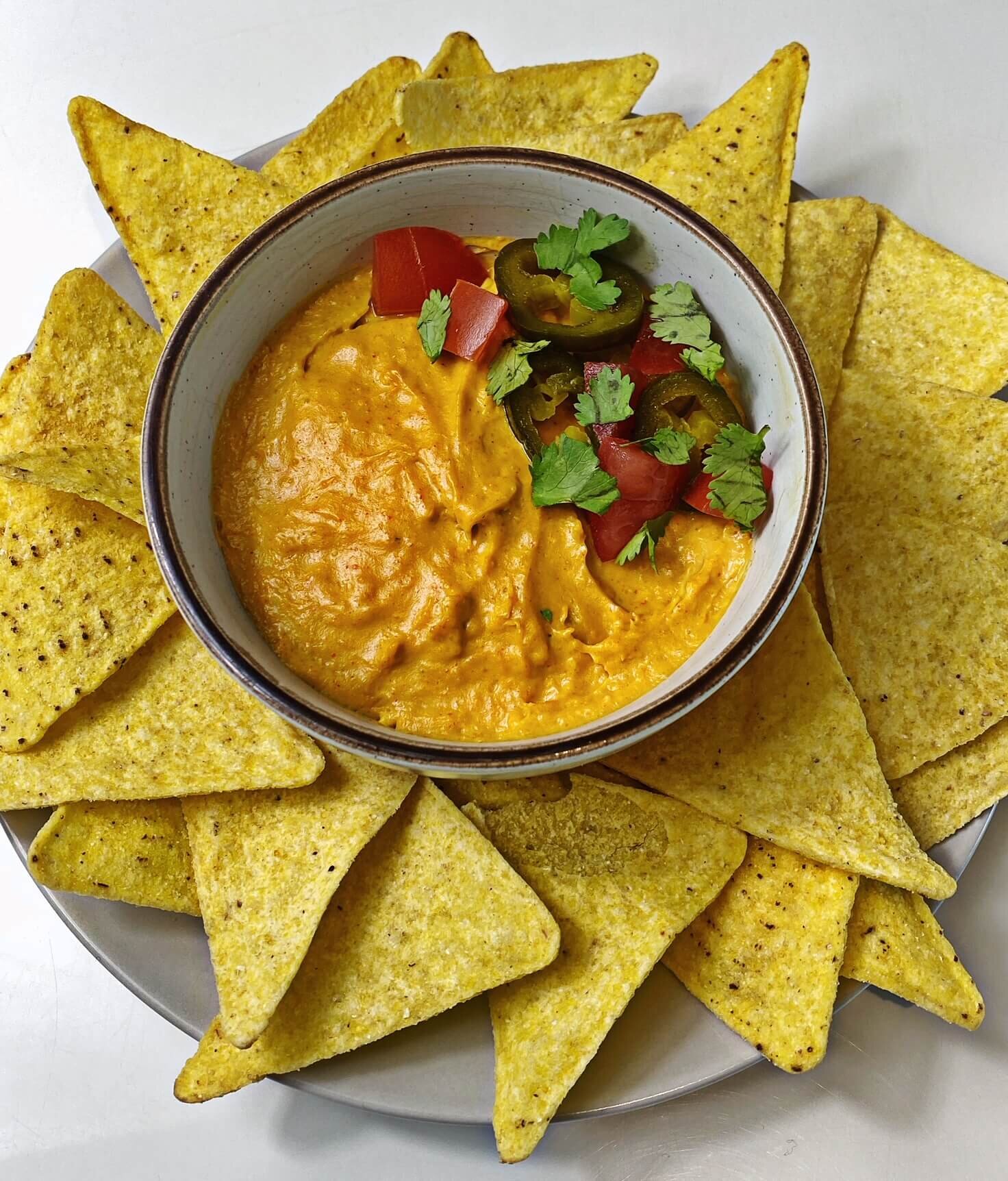 If you tried this simple vegan nacho cheese recipe and loved it as much as I did, please feel free to let me know by leaving a comment and a rating below. I also love seeing remakes of these recipes, so be sure to tag me @voach_thevegancoach and use the hashtag #voachrecipes if you post your creation on Instagram!
Never want to miss out on new amazing vegan recipes? Then be sure to follow me on Facebook, Instagram and Pinterest and sign up to my Newsletter so you are notified when the next delicious and nutritious vegan recipe is up!
@Voach. All images and content are protected by copyright law. Please do not use any images without prior permission. For any republishing of this recipe, please kindly link back to this post.
*This post may contain affiliate links that earn me a small commission, at no cost to you. You can find out more information here
---
Categories: Appetizer, Dip, Snack, Mexican
Tags: easy, gluten free, kid friendly, low calorie snack, low carb, oil free, soy free, vegan nacho cheese, vegan sauce, vegan snack