This sauteed garlic asparagus recipe is the best way to enjoy this nutritious vegetable. So tender, gourmet, fresh, and healthy. It's an easy recipe that takes only 10 minutes to make. Pairs perfectly with mains and is vegan, gluten free and soy free!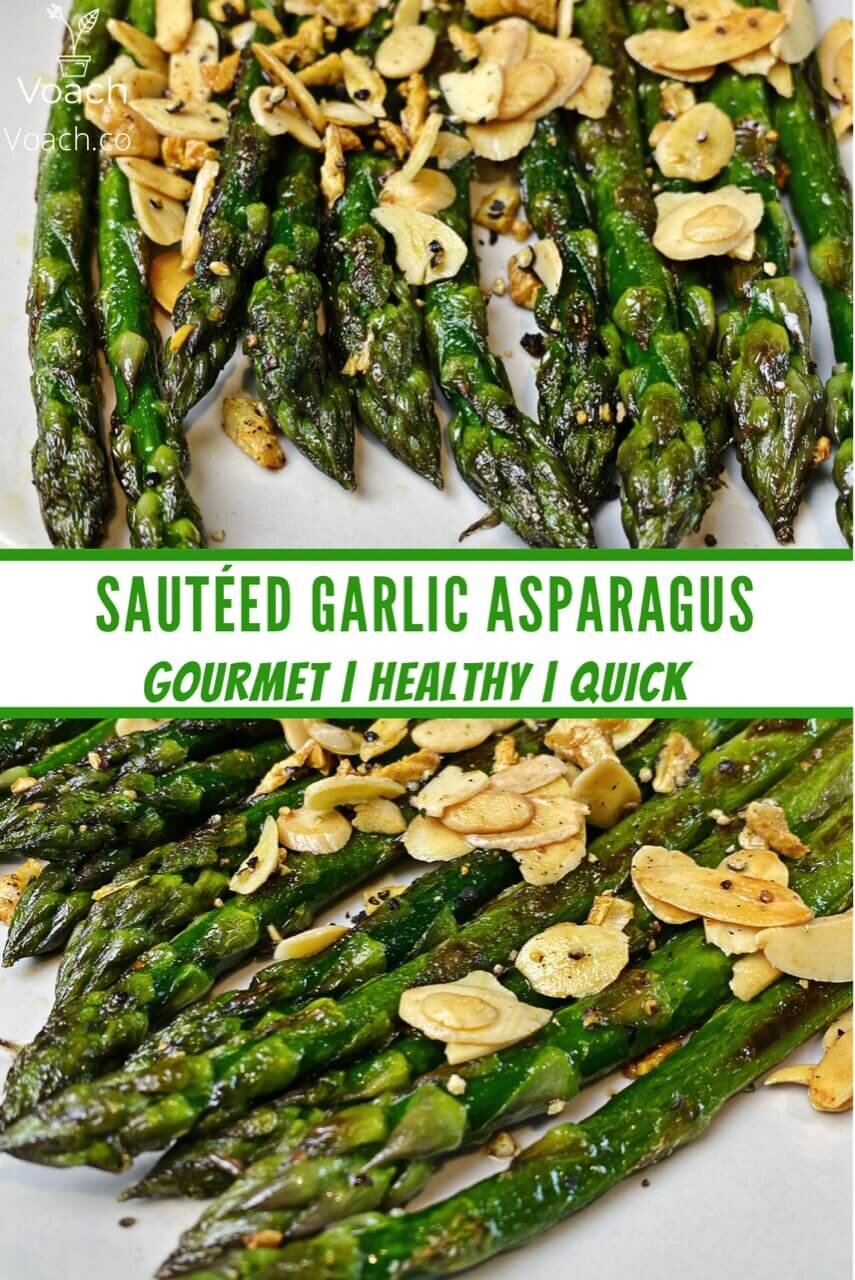 Bringing out the best in asparagus
Have you been looking for different ways to make asparagus taste gourmet? Well, you've come to the right place!
Now, I understand that some people may be skeptical of eating asparagus. Too bitter if grilled improperly, too soft and lifeless if boiled. This does asparagus a great disservice. Asparagus can be so tempting and appealing once you understand what its qualities are, and how best to utilize them.
With this simple asparagus recipe, you'll experience its strong and distinct taste, together with its nice earthy undertone and hearty texture.
Not to mention the tremendous nutritional value this versatile vegetable brings to the table (literally). Asparagus is low in calories, high in vitamins such as folate, vitamins A, C, E, and K, and a great source of source of fiber. What's not to love about that!
So do yourself a solid and give this vegan asparagus recipe a try and please do let me know what you think in the comments below!
Now let's get into the ingredients you need for this sautéed garlic asparagus recipe…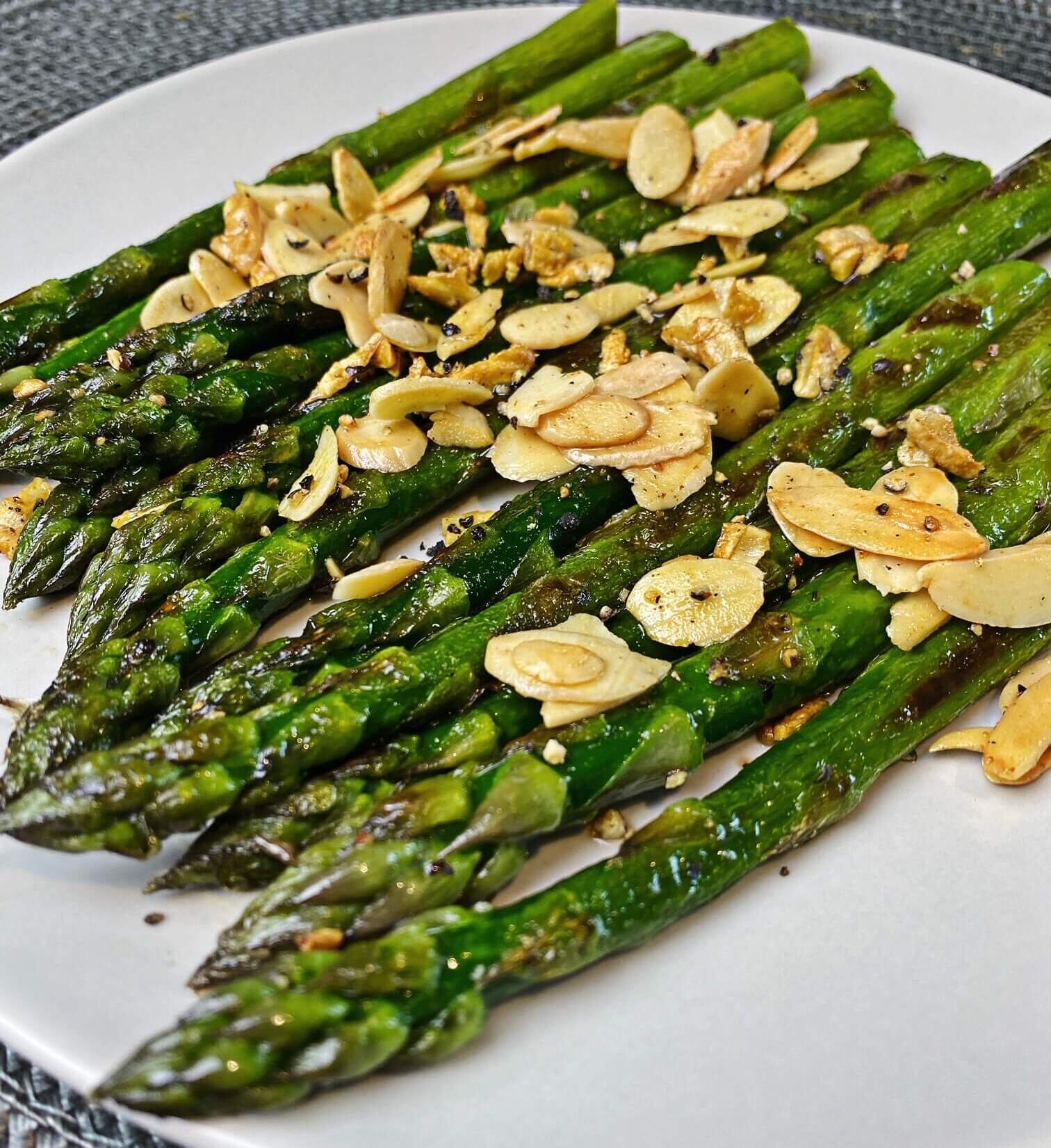 Sautéed garlic asparagus recipe ingredients
The great part about this vegan recipe is that you don't need many ingredients to make asparagus taste gourmet!
To make this sautéed garlic asparagus recipe, you'll need:
Asparagus: My favorite types for this recipe are the green or purple asparagus. Both have a fantastic tender texture and a tough outer skin that chars up nicely when sautéed. Whilst you can use white asparagus for this recipe (if you can get your hands on any in-season), it will have a softer and more fibrous texture.
Extra virgin olive oil: If you're after that glistening charred skin, then make sure to use high quality extra virgin olive oil. Other types of vegetable oil are also suitable for this asparagus recipe.
Vegan butter/margarine: Traditionally this type of sautéed asparagus recipe is made with a heaping of rich dairy butter. So why should vegans miss out? Using any type of vegan butter or margarine really enhances the flavour and finish of the dish and blends nicely with the garlic.
Garlic: You can't go wrong with garlic and asparagus – ever.
Almond flakes: These really make this dish gourmet and something you'd eye off in the restaurant. Provides a lovely crunchiness with every bite and a subtle creamy, nutty flavour to the asparagus.
Salt & pepper: You don't need a lot as this dish already has a ton of flavour. Just a couple of pinches will enhance the other flavours without being too overwhelming.
For equipment, all you'll need is a nice skillet and a pot for the blanching of the asparagus.
Now that you know what you need, let's get into how to make the best sautéed asparagus!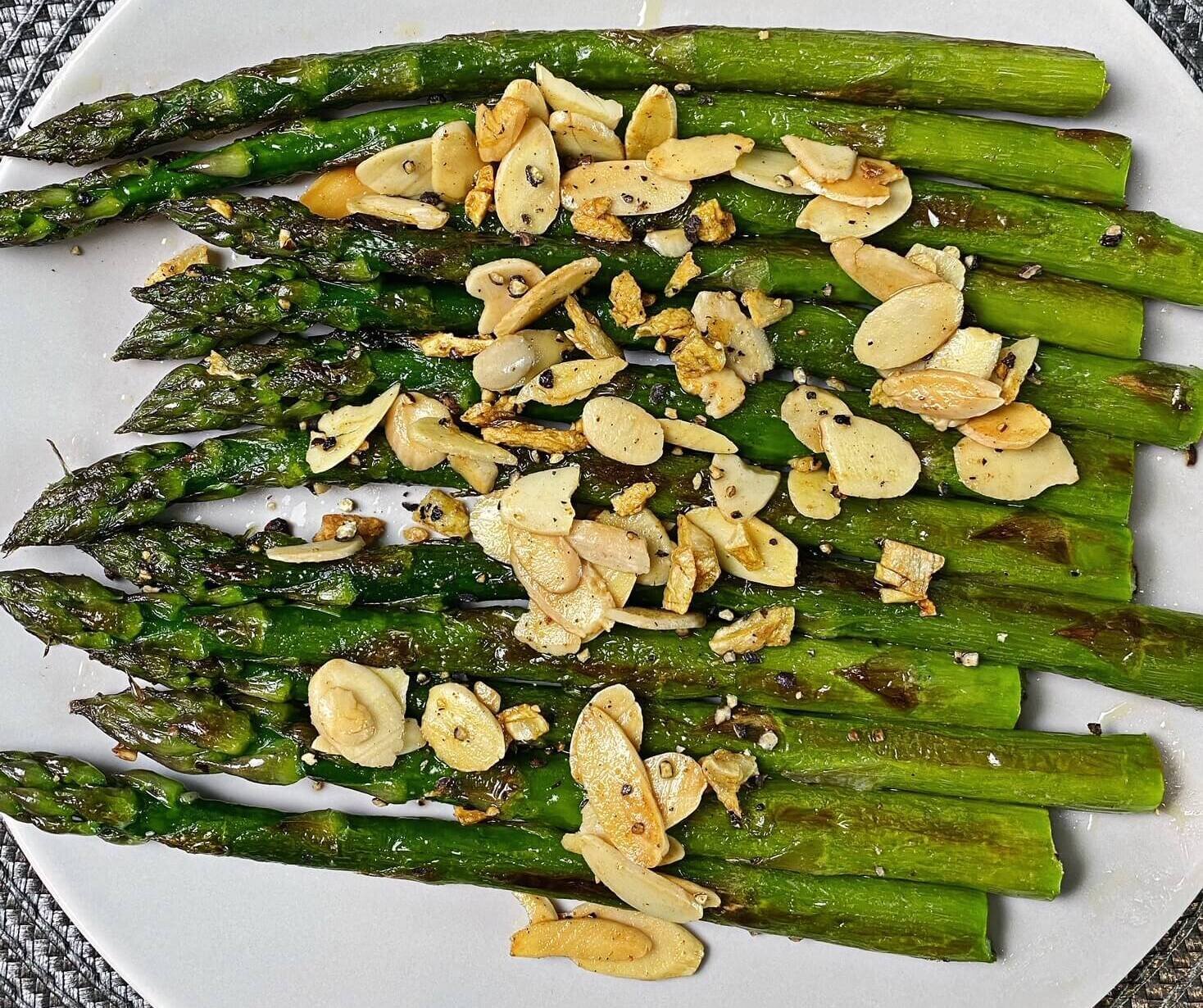 How to make sautéed garlic asparagus
If you want to find out how to sauté asparagus to perfection, you've come to the right place!
They make look time consuming, but you only need 10 minutes from the chopping board to the serving dish.
First step is to bring a pot of salted water to boil whilst you prep your asparagus spears. To do this, simply cut off the tough white ends of the asparagus stems – which is approx. 1 inch (see picture below as a guide). Keep reading to find my easy tip for cutting off the right amount every time!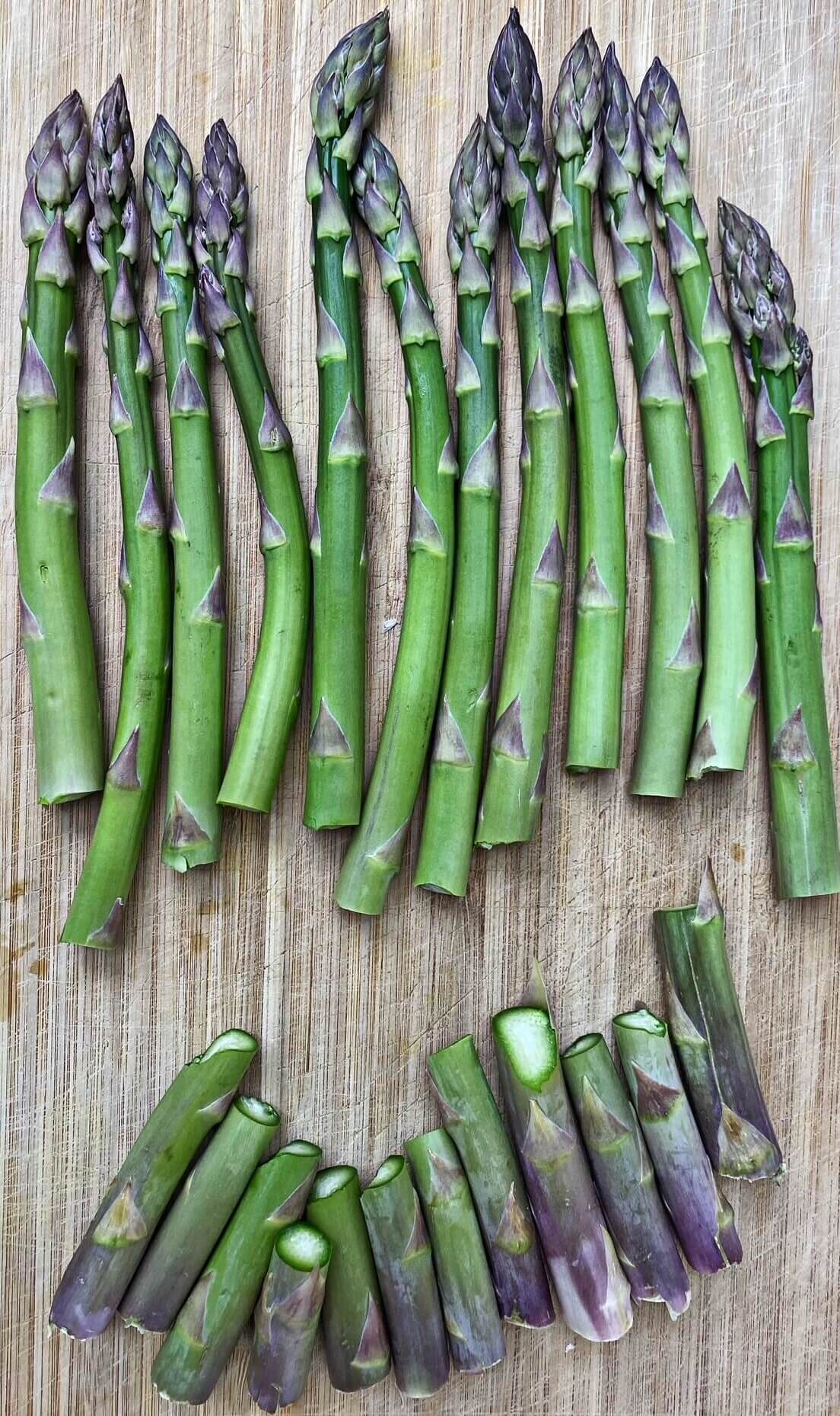 Then you will need to blanch your asparagus in boiling salt water for 1 minute. Then drain the asparagus in a colander and let them cool for a minute or two. Whilst the asparagus is cooling off, start to heat your skillet over medium-high heat.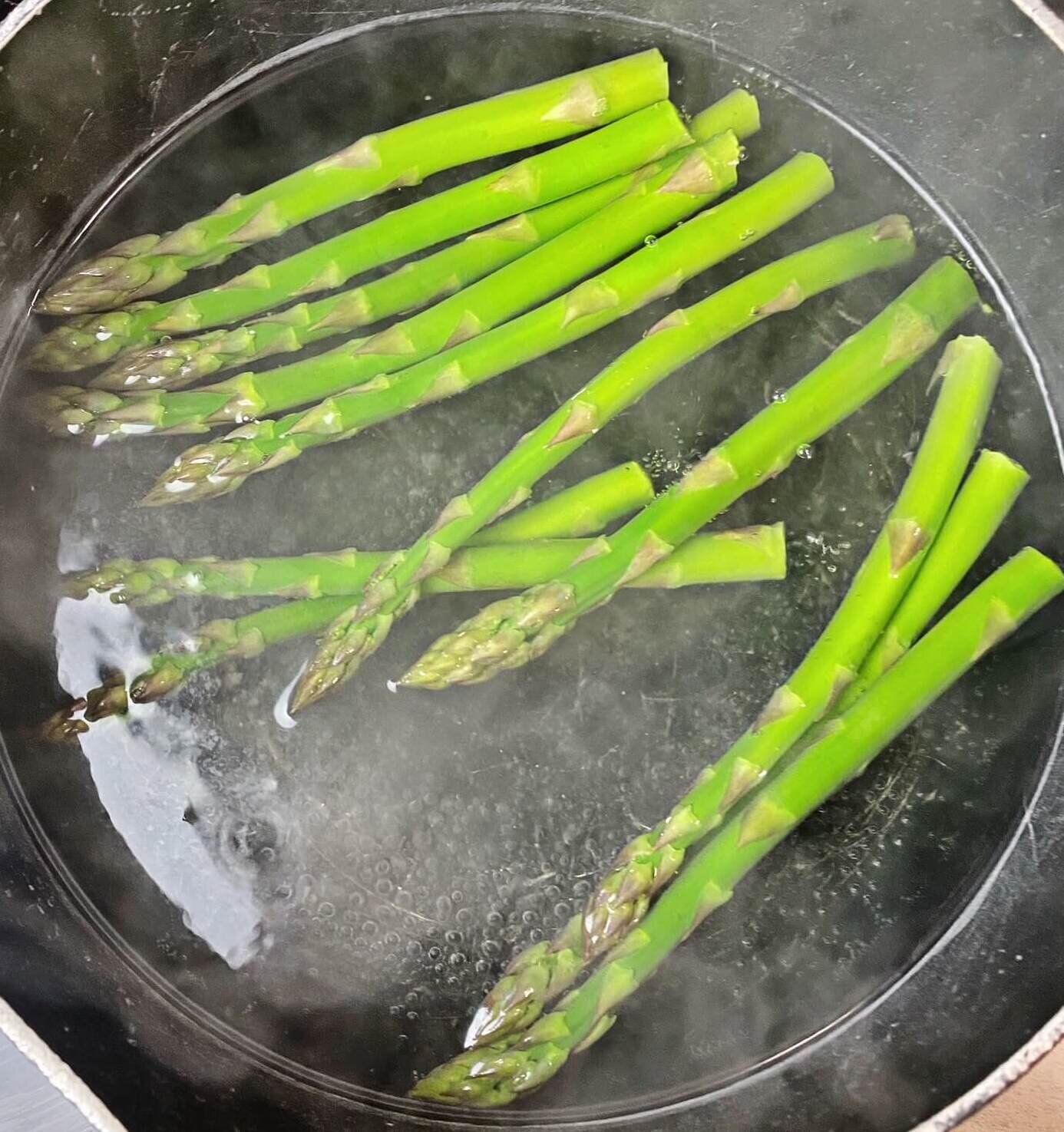 When the skillet is nice and hot, add only the asparagus to the skillet and cook on one side for approx. 3 minutes, or until the asparagus skin becomes slightly charred and brown. Then flip them over and cook the other side for 3 minutes.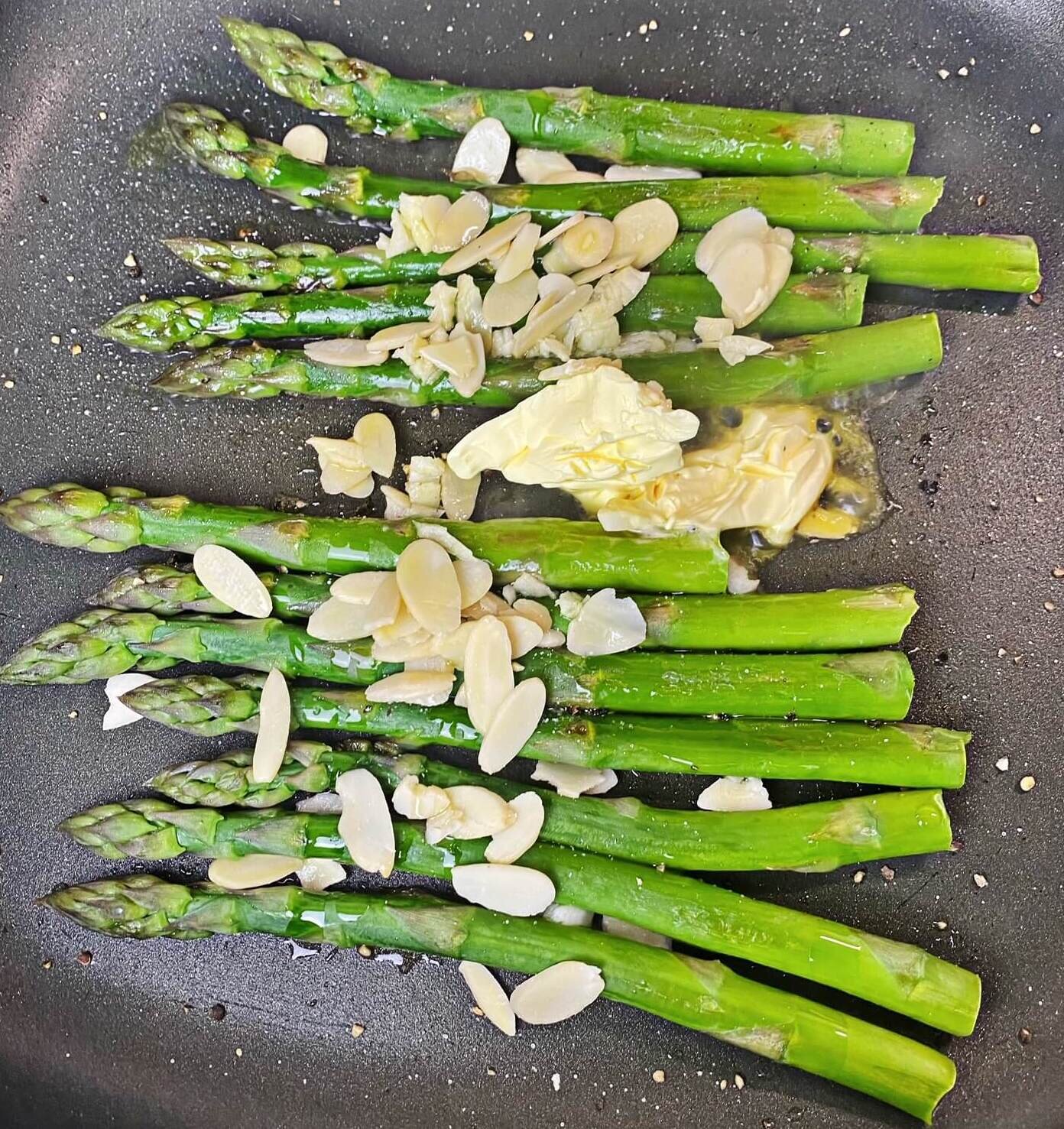 Once the asparagus skins are nicely charred, it's time to add the extra virgin olive oil, vegan butter, garlic, almond flakes and salt + pepper to the skillet. Continue to cook for an additional 2 minutes whilst continually tossing together so the asparagus is evenly coated.
Now you've got your restaurant-quality sautéed garlic asparagus! A tasty and healthy side that will impress any guests and ready in just 10 minutes! Pairs perfectly with many types of main dishes, probably some of your favourite meals already.
Check out some of the best pairings with asparagus below!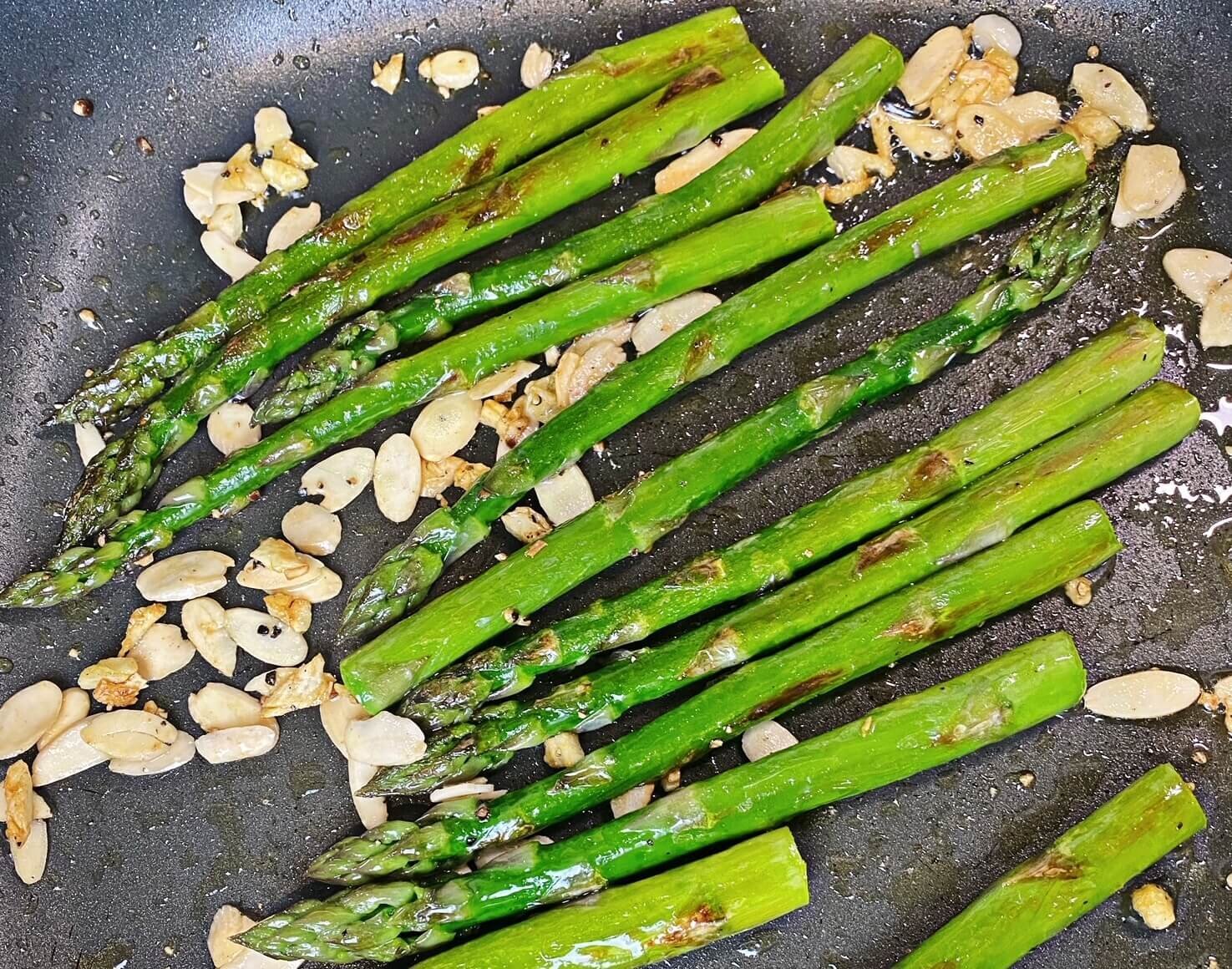 What to serve with asparagus
You may not realise it, but sautéed asparagus goes well with a number of delicious traditional dishes from across the world. Particularly if you know how to combine the flavours of this vegetable with the ingredients from your main dish.
Now some of the traditional dishes which people tend to pair with asparagus are meat or fish based. So you may be wondering whether there are great vegan mains that go perfectly with sautéed asparagus. The answer, of course, is yes!
Below are just a few delicious asparagus pairings that are sure to give you some inspiration in the kitchen.
Pasta: I find these sautéed asparagus compliment tomato-based or oil-based pastas really well. Give it a shot with a pasta like my Spaghetti Aglio E Olio with Spicy Mushrooms. You won't regret it 🙂
Gnocchi: The texture combination of soft and fluffy gnocchi together with firm and hearty asparagus is to die for. You could even serve this sautéed asparagus on top of gnocchi in a variety of recipes. Some that comes to mind are creamy mushroom, pesto or Pomodoro gnocchi!
Soup: A classic pairing. You can enjoy the asparagus on the side or even on top of your soup to give a nice hearty texture to a creamy smooth soup. Try these sautéed garlic asparagus with a creamy vegan cauliflower soup!
Salads: Turn this side into the feature of your next salad! My favourite is to add these charred garlicky asparagus in with a fresh green salad with some roasted walnuts.
Christmas spreads: You always need some sautéed vegetables plated on the Christmas dinner table. Even with a pairing like this authentic Vegan German Christmas Dinner it will work great!
These are just a few ways in which I enjoy having these sautéed garlic asparagus. However, there are countless possibilities given the flavours of this side dish. So please let me know in the comments below what types of mains you've enjoyed with sautéed asparagus!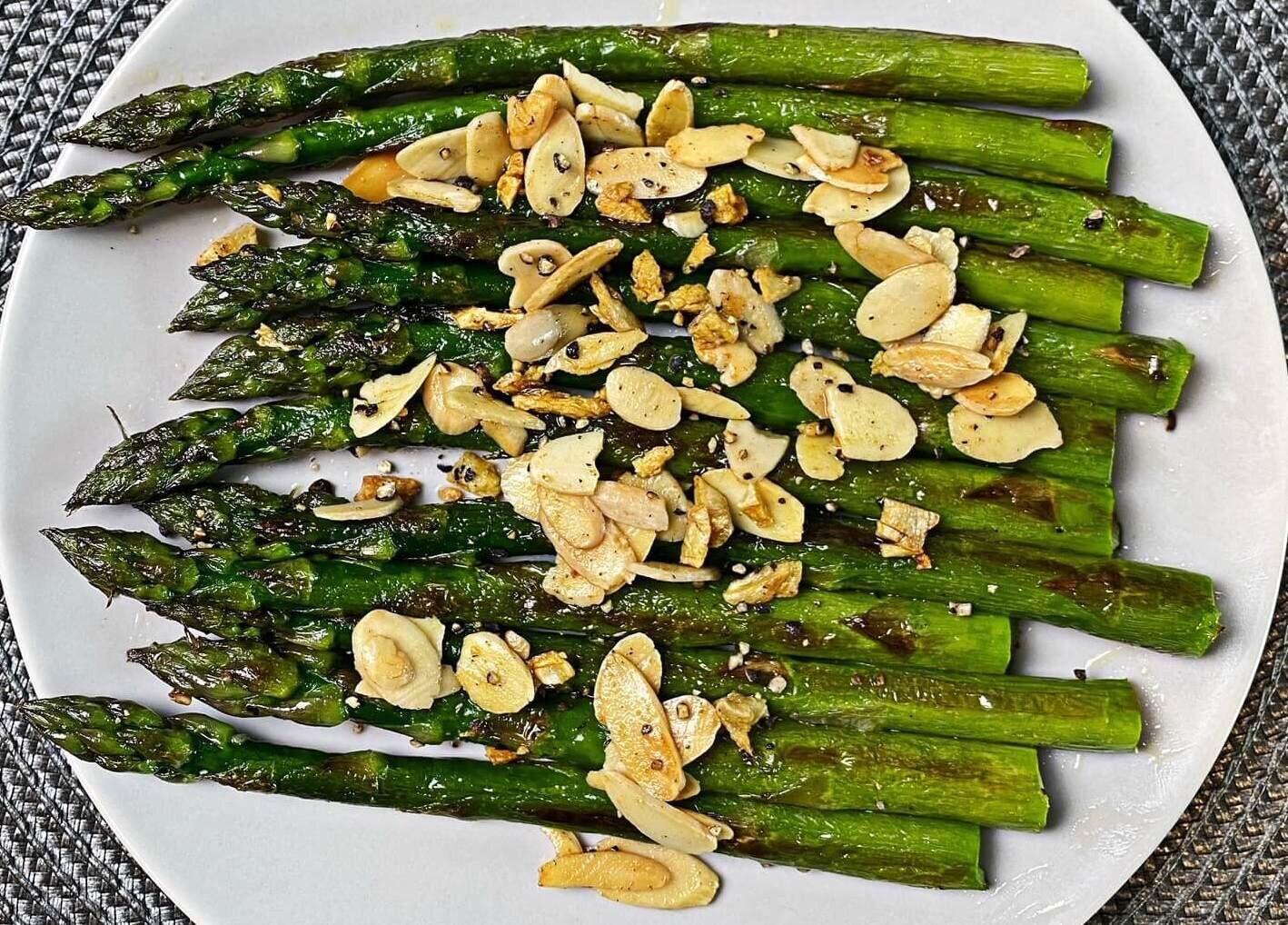 Pro tips for making the best sautéed garlic asparagus
I've tried many asparagus recipes over the journey. From this, I have learnt some good tips that you may find useful to make the best asparagus you've ever had!
Blanch your asparagus: I've always been an advocate for blanching my asparagus before sautéing as it removes the bitterness that people complain about and also partially cooks them from the inside. This means that, when you sauté your asparagus, they will develop a nicely charred skin whilst maintaining a tender and hearty center. Without blanching, asparagus can far too often become extremely bitter, tough and chewy.
Keep it short: A lot of people ask how long to cook asparagus. My answer: 10 minutes max. You don't want to overcook your asparagus to the point it loses all it's distinctive flavour and texture. By blanching the asparagus for only a minute, you are pre-cooking the inside of the asparagus spears – which means you only need a few minutes to sauté them on the skillet. Just enough to get that nice crispy outer skin without losing the tender texture.
Use your hands to remove the woody stem: A good tip for taking off only the woody, tough part of the asparagus stem (and not the tender part) is to bend the end of the asparagus until it snaps. This is the natural snap-off point between the tough and tender parts of the asparagus.
Start cooking your asparagus without any oil or butter: Might sound counter-intuitive for a sautéed asparagus recipe, but hear me out. By doing this, you will firstly dry out the skins, so that when you put in the olive oil and butter into the skillet, the asparagus blisters immediately. This will give your asparagus that lovely colour and insatiable texture you're looking for.
Add garlic at the end: Too often I see asparagus recipes that call for garlic being added at the start together with the asparagus. By doing this, you will burn the garlic and lose that intoxicating aroma that you're looking for. Make sure to add it in the last few minutes when you're finishing off your sautéing, so you don't lose any flavour.
How to store cooked asparagus
TO STORE: Once the sautéed asparagus has cooled off, the leftovers can be stored in an air tight container or wrapped in aluminum foil/plastic wrap in the fridge for 3-5 days. It is important to note that the asparagus will become softer the longer it's stored.
TO FREEZE: Can you freeze asparagus? Yes – it is also possible to freeze cooked asparagus. You can freeze it in an airtight and freezer-safe container, wrapped in aluminum foil or freezer bag for up to 10 months. You should let the frozen asparagus thaw out overnight in the fridge before reheating.
TO REHEAT: You can reheat your cooked asparagus in a skillet over medium-high heat until it has warmed through (this should take approx. 3-5 minutes). Another great option for reheating is to place the asparagus in the oven at 400°F for approx. 5-8 minutes. You can also microwave it for a minute or two, although the asparagus will have a softer texture than reheated in the pan/oven.
More healthy vegan side dishes to try
If you like this sautéed garlic asparagus recipe, you might also like:
Be sure to check out all my recipes here for more vegan inspiration in the kitchen!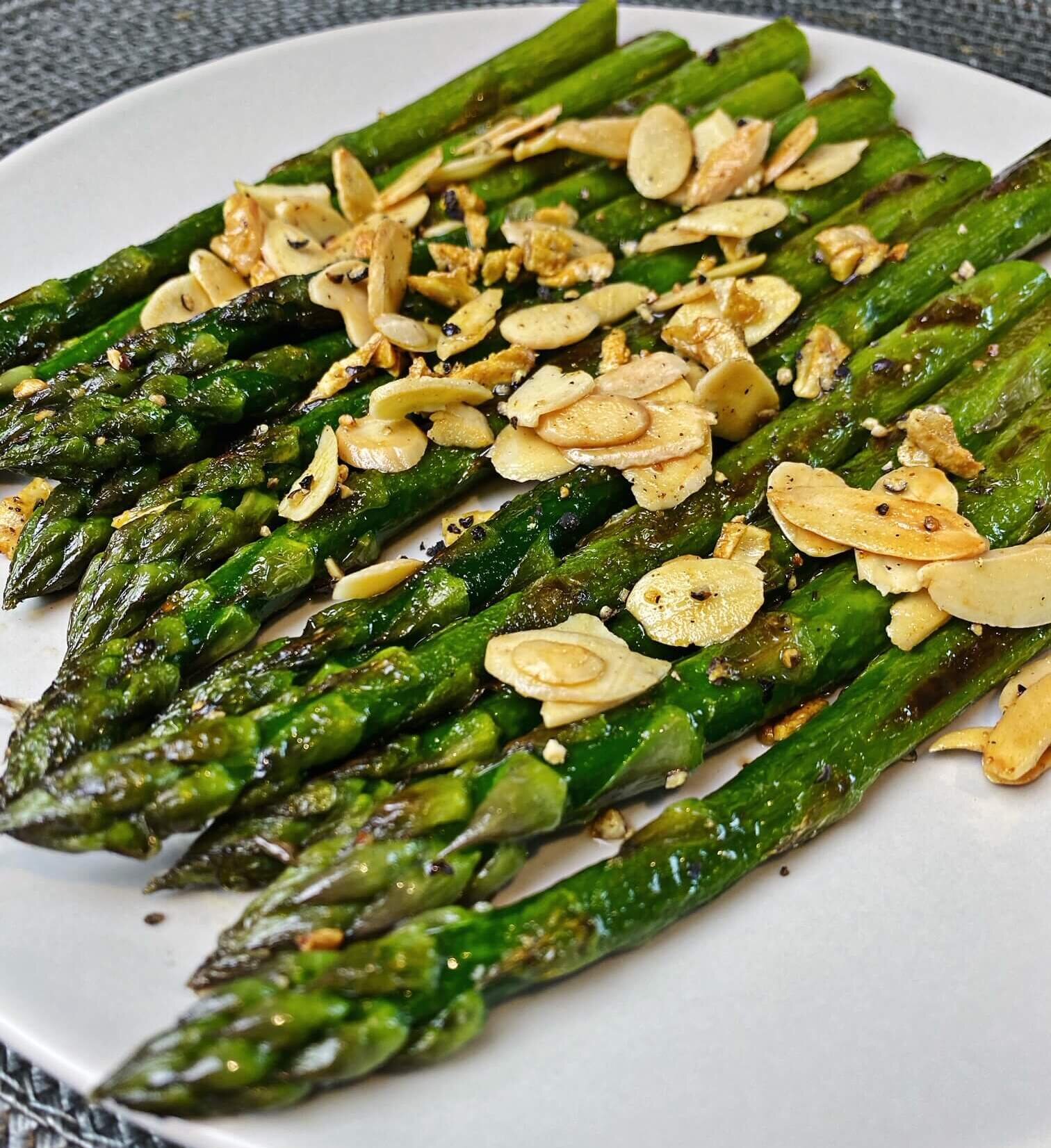 If you tried this vegan sauteed garlic asparagus recipe and loved it as much as I did, please feel free to let me know by leaving a comment and a rating below. I also love seeing remakes of these recipes, so be sure to tag me @voach_thevegancoach and use the hashtag #voachrecipes if you post your creation on Instagram!
Never want to miss out on new amazing vegan recipes? Then be sure to follow me on Facebook, Instagram and Pinterest and sign up to my Newsletter so you are notified when the next delicious and nutritious vegan recipe is up!
@Voach. All images and content are protected by copyright law. Please do not use any images without prior permission. For any republishing of this recipe, please kindly link back to this post.
*This post may contain affiliate links that earn me a small commission, at no cost to you. You can find out more information here
Categories: Appetizer, Entree, Sides
Tags: 5 ingredient, appetizer, asparagus, dairy free, easy, entree, fresh, gluten free, healthy, low calories, law carb, quick, sauteed asparagus, soy free