Looking for a unique way to enjoy Brussels sprouts? These Kung Pao Brussels Sprouts are bursting with delectable Asian-inspired flavours with an insatiable crunch and zing to them. An easy recipe and ready in only 20 minutes. Vegan, low carb and high in Omega 3's and essential vitamins & minerals.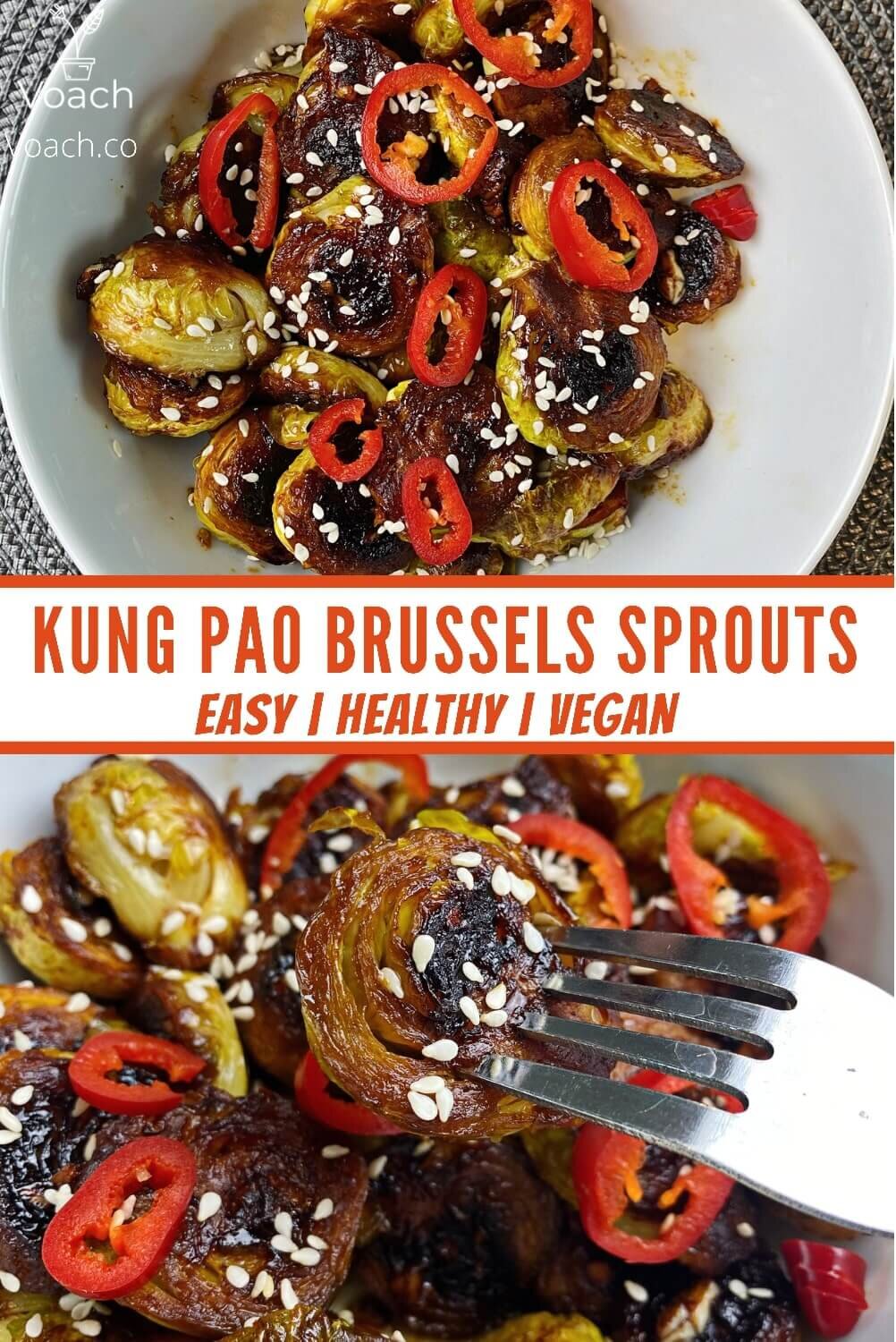 Vegan Kung Pao Brussels sprouts
When in season, I'll always make sure to have some Brussels sprouts in the fridge. Naturally, I've got some different and unique ways to enjoy them to keep my taste buds satisfied.
Enter my vegan Kung Pao Brussel sprouts. My spin on the beloved classic Chinese stir fry recipe. I enjoy them best fried on the pan so the Brussel sprouts soak up as much of the addictively spicy and salty Kung Pao sauce as possible. It's a crime to let any go to waste.
A perfect vegan side dish or appetizer for any occasion, but especially when enjoying some Asian main dishes. No need for any animal products to make your Brussel sprouts taste better than take-out!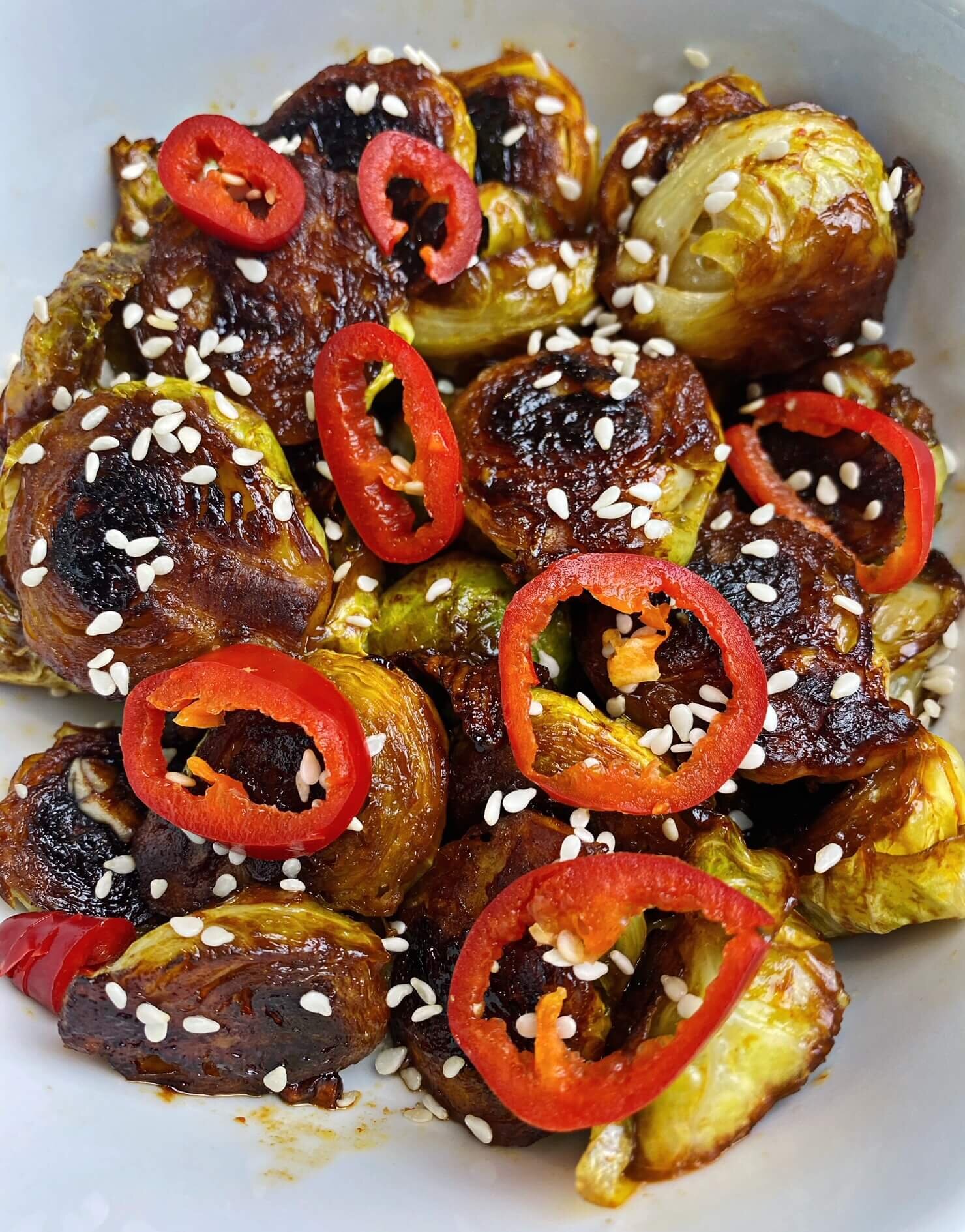 Kung Pao Brussels sprouts recipe ingredients
You won't need a host of ingredients to make these Kung Pao Brussels sprouts. Most of them you will probably have lying around your house at the moment. So this recipe is a great option when you've got a pack of Brussels sprouts that you need to cook up.
To make this vegan Kung Pao Brussels sprouts recipe, you'll need:
Brussel sprouts: Either frozen or fresh will work well in this recipe.
Garlic: The garlic gives the vegan Kung Pao sauce a strong and distinct flavour without being too overpowering.
Soy sauce: I opt for low-sodium sauce as it works well with the other flavours of the sauce and keeps your sodium intake in check for the day. If you're looking for a gluten free option, you can replace with Tamari sauce.
Rice vinegar: My preference is to use white rice vinegar rather than a brown rice vinegar.
Sriracha sauce: To give the Kung Pao sauce that spicy kick you're after.
Toasted sesame oil: You don't need much. Just a teaspoon will give the sauce a rich, nutty and toasty bite.
Fresh red peppers: These are optional for the spice lovers out there.
Sesame seeds: Not only do they give a nice healthy crunch to the dish, but they just enhance the appeal of the Brussels sprouts, don't they?
You will need a pot and colander to pre-blanch your Brussels sprouts and then a good non stick pan to fry them and soak up all that irresistible vegan Kung Pao sauce.
Now that you know what you need in the kitchen, let's get into how to prepare these vegan Kung Pao Brussels Sprouts!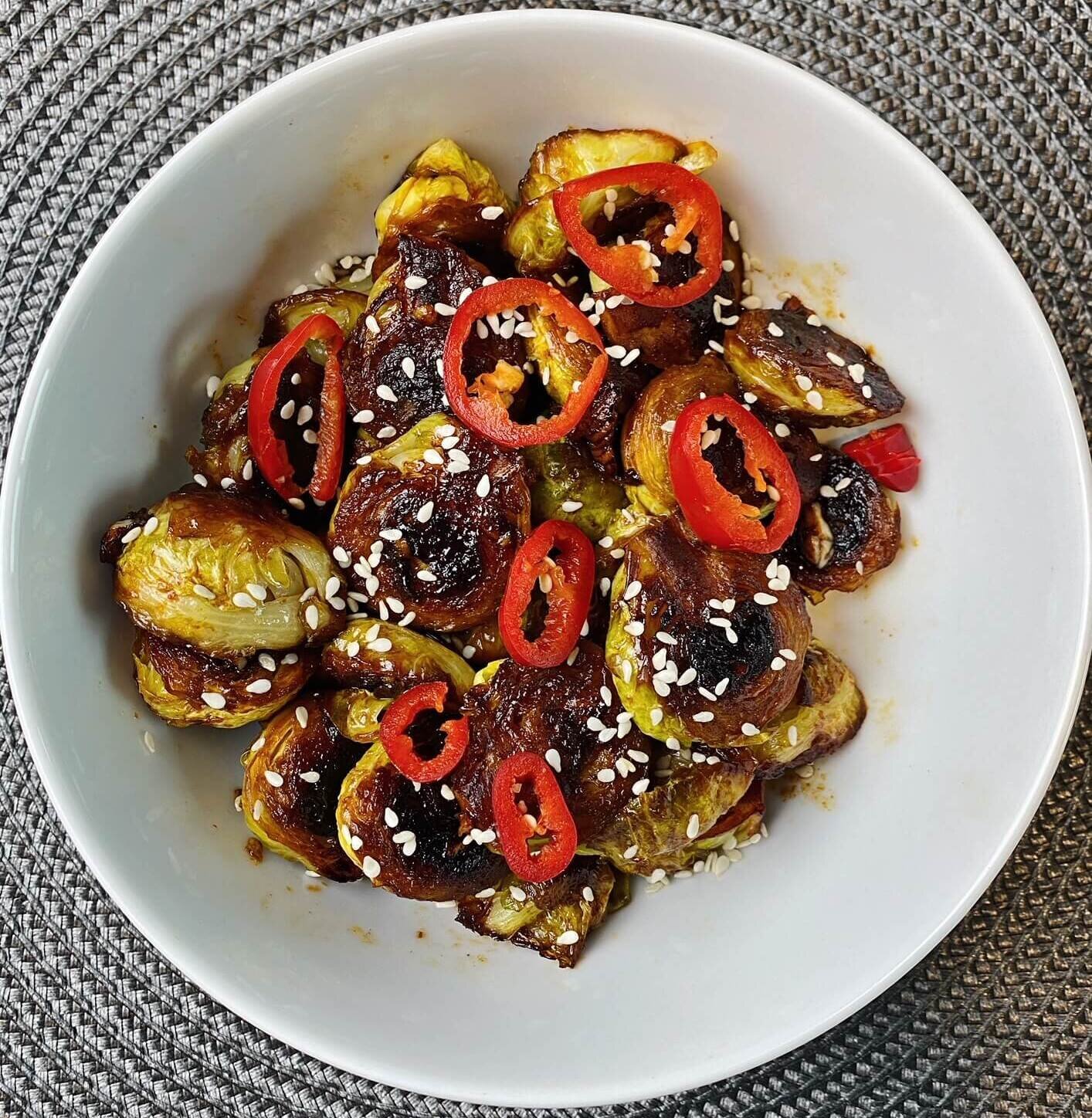 How to make Kung Pao Brussels sprouts
I enjoy having these Brussels sprouts stir-fried. It gives them a really crispy and tender texture that I can't get enough of. Particularly for this recipe, frying them really does make the Brussels sprouts soak up all the spicy and addictive Kung Pao sauce.
To do this..
First step is to bring a pot of salted water to boil whilst you prep the Brussels sprouts. To do this, simply cut off the stem of each Brussels sprout, slice in half (lengthwise) and remove the loose outer leaves with your fingers.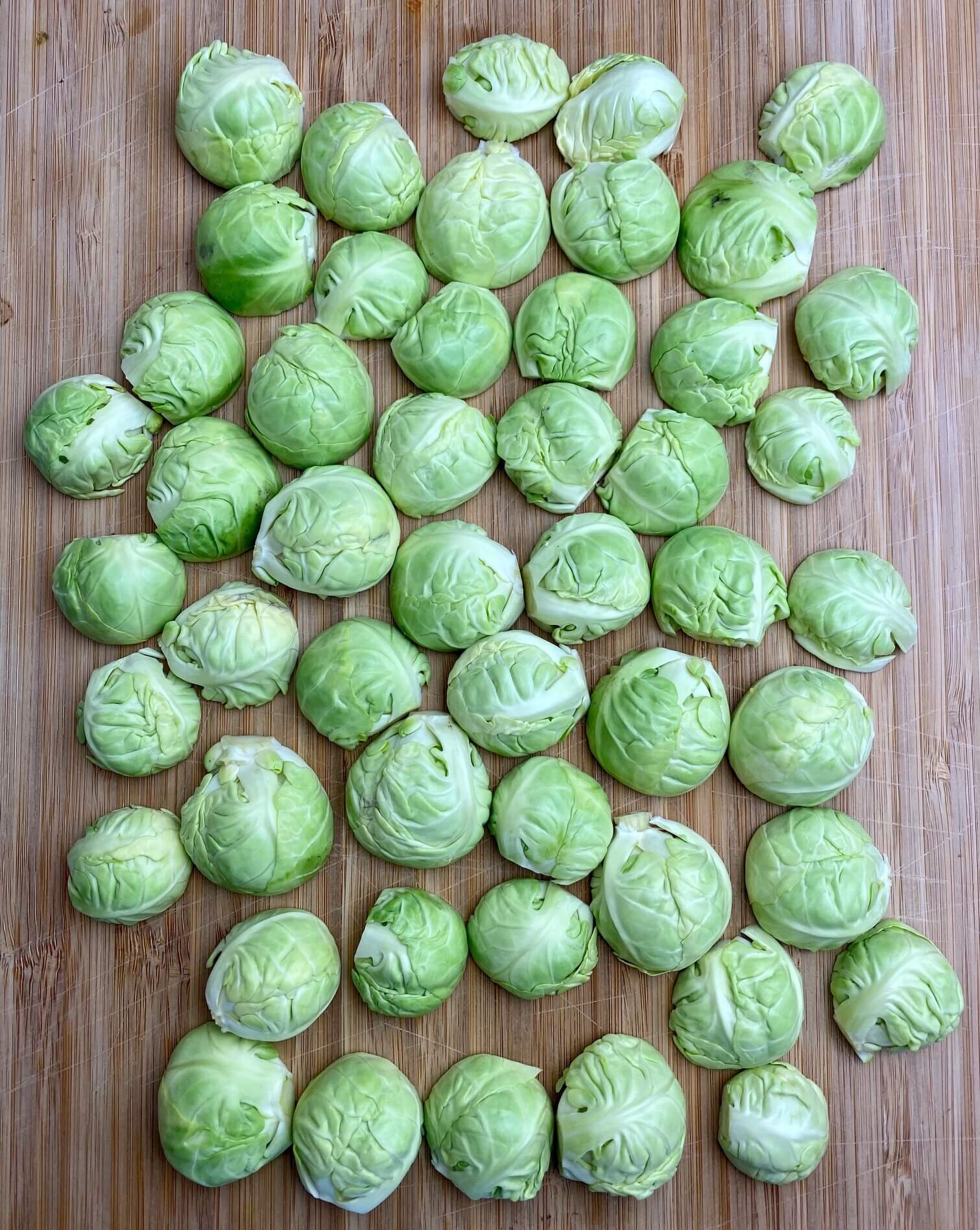 Then you will need to blanch your Brussels sprouts in boiling salt water for 2 minutes. Then drain the Brussels sprouts in a colander and let them cool for 3-5 minutes. At this time, start to heat your pan over medium-high heat.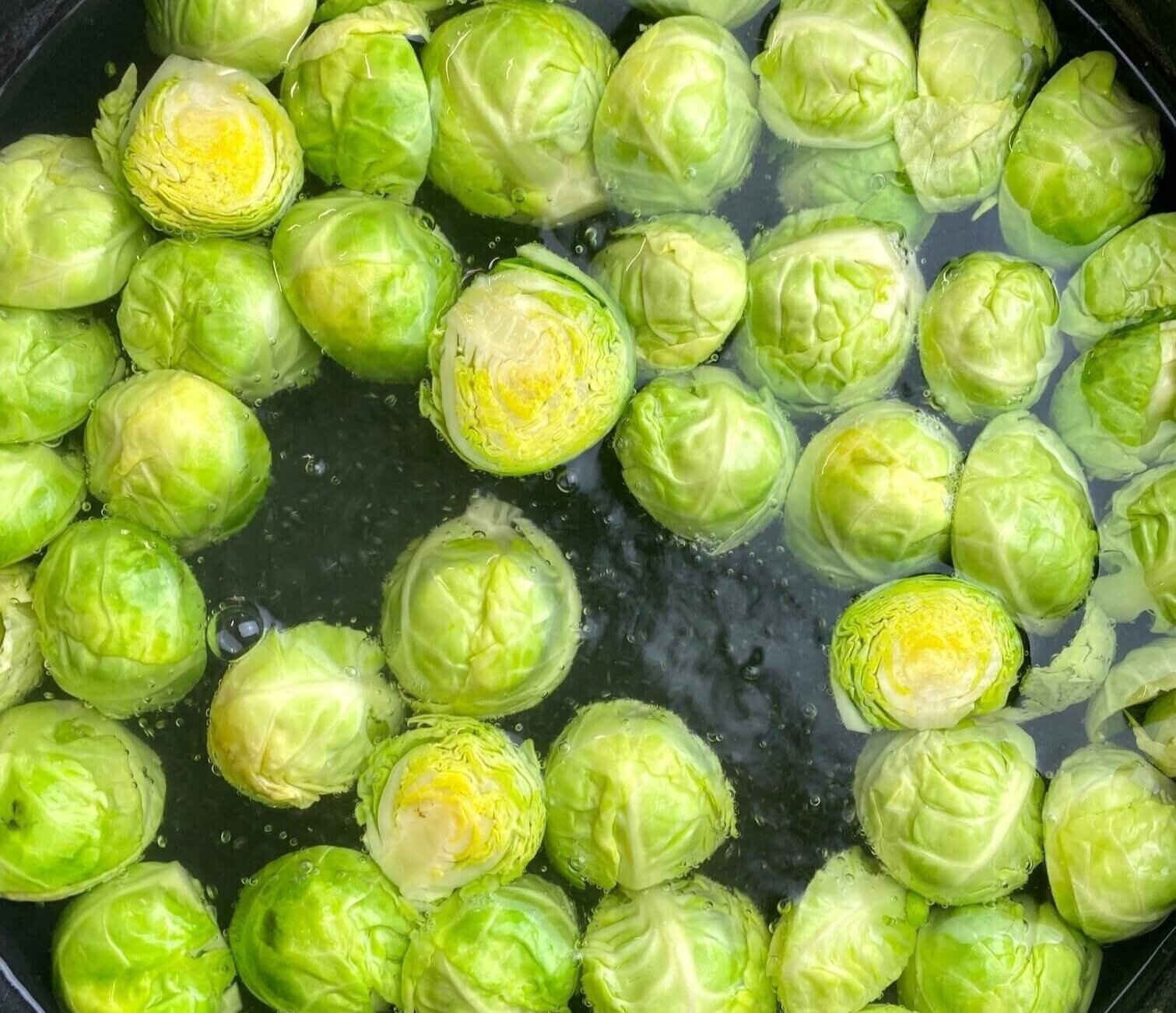 As the Brussels sprouts are cooling off, prepare the Kung Pao sauce by mixing together the soy sauce, rice vinegar, sriracha, sesame oil and garlic in a jar or small bowl.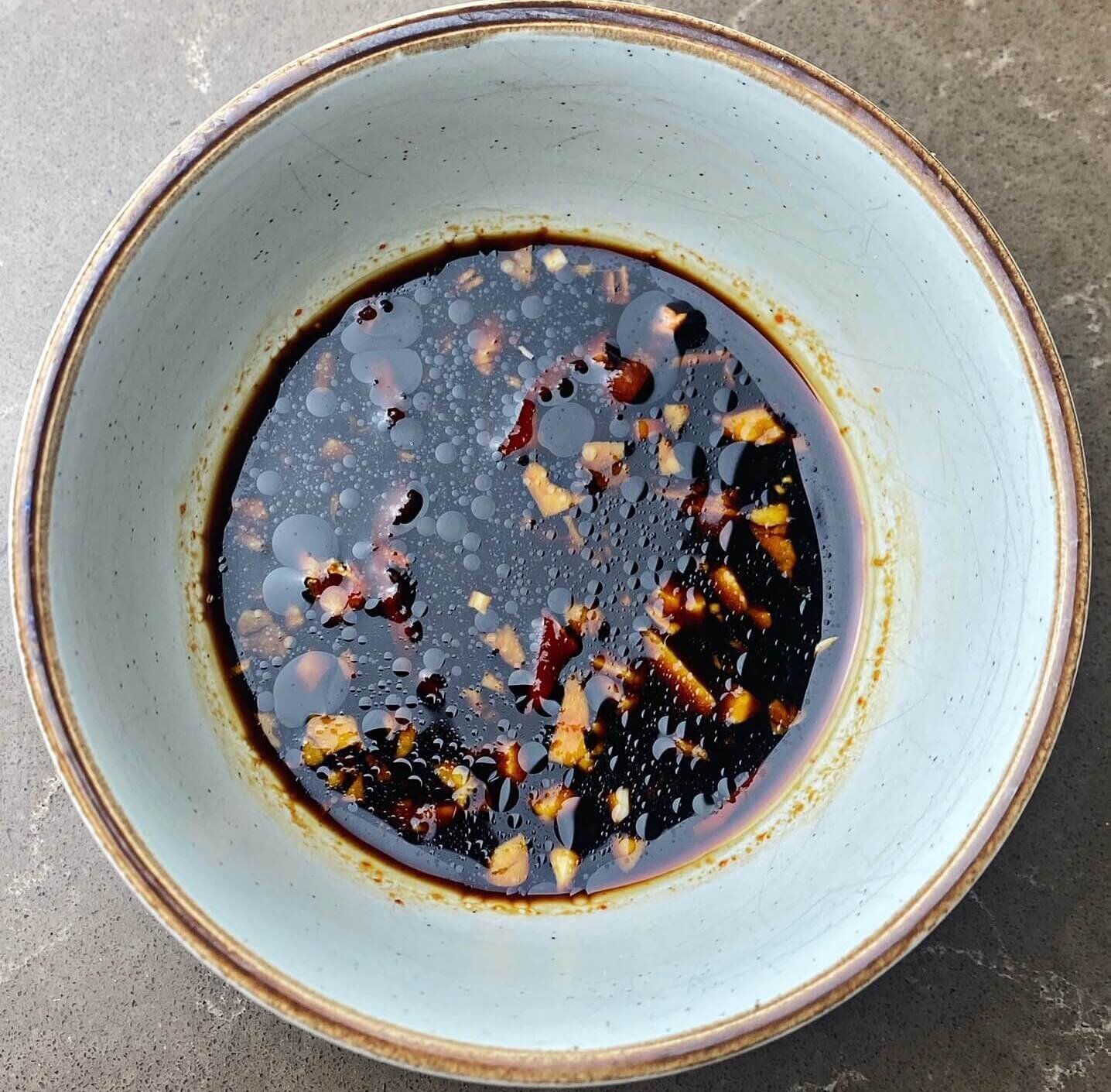 Once the pan has been heated, place the Brussels sprouts cut-side down in the pan. Let them cook until 50-75% of its surface area has charred and crisped up nicely (approx. 5 minutes). Then flip the Brussels sprouts over and let them cook until the outer leaves have also charred and crisped up (approx. 3 minutes).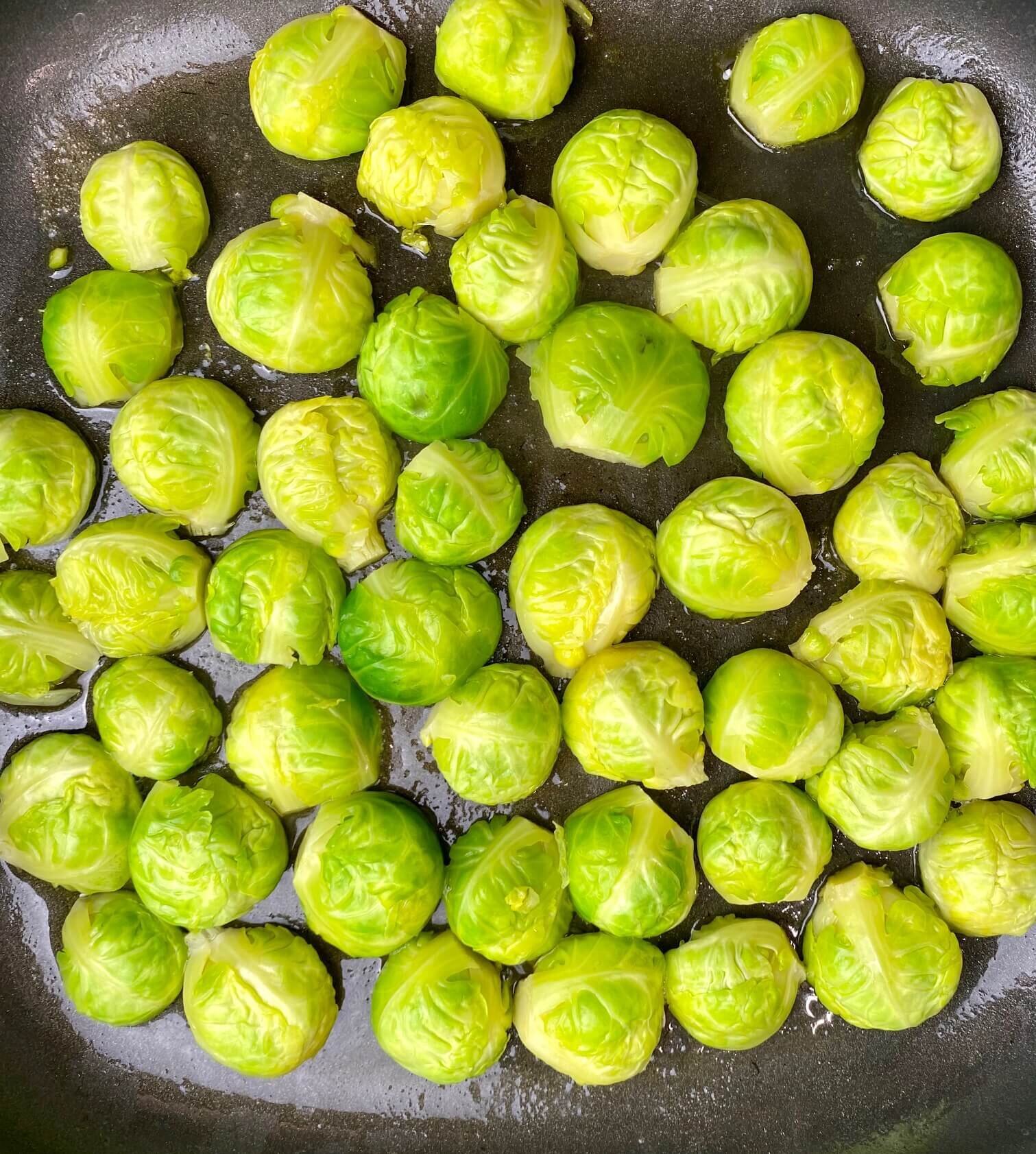 Now it's time to pour the Kung Pao sauce over the Brussels Sprouts and continue to cook for another 3 minutes. Occasionally shake the pan and toss the Brussels Sprouts around so they are evenly coated.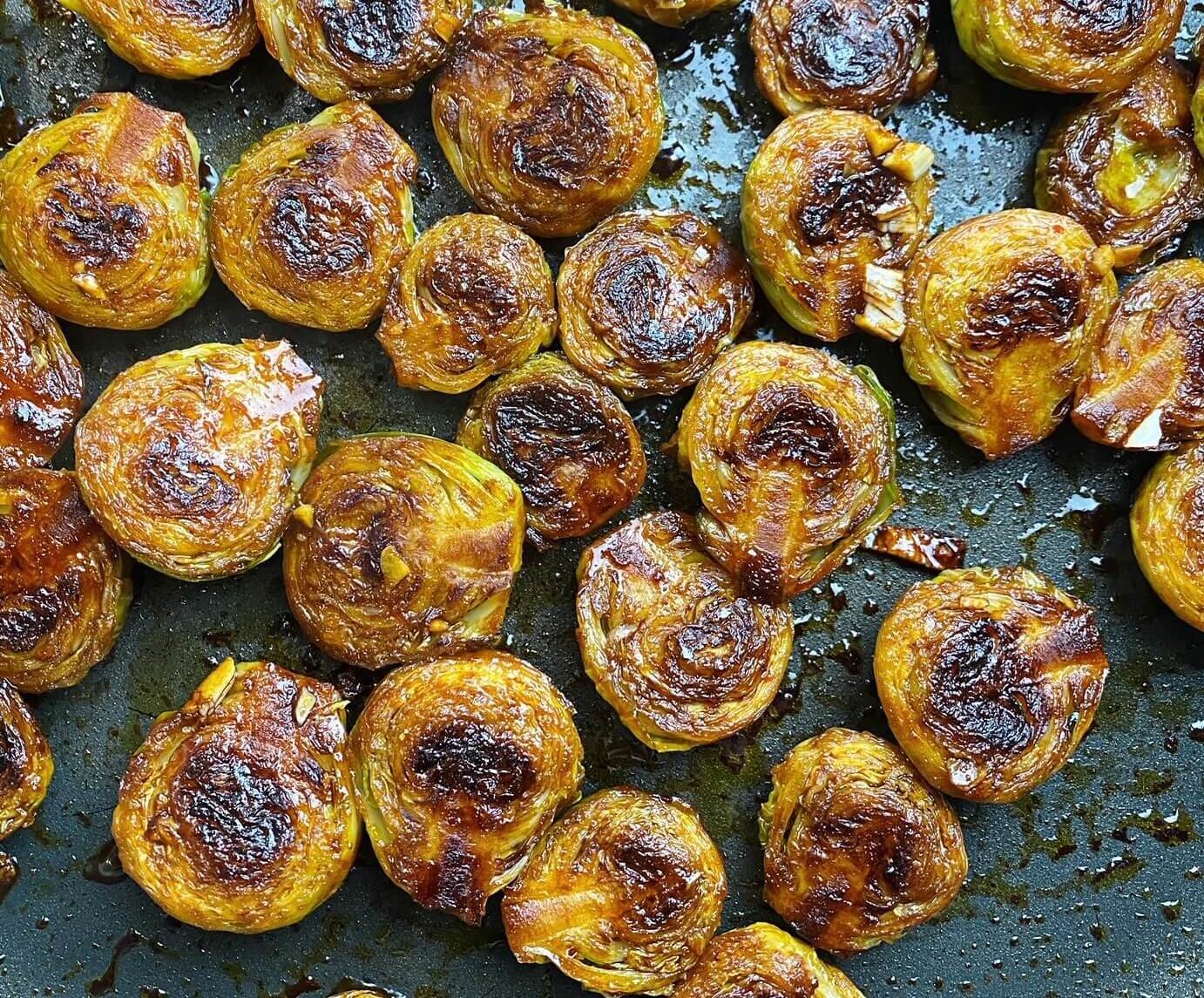 Last step is to transfer the Kung Pao Brussels sprouts to a serving dish and garnish with fresh red peppers and sesame seeds. Enjoy while it's hot!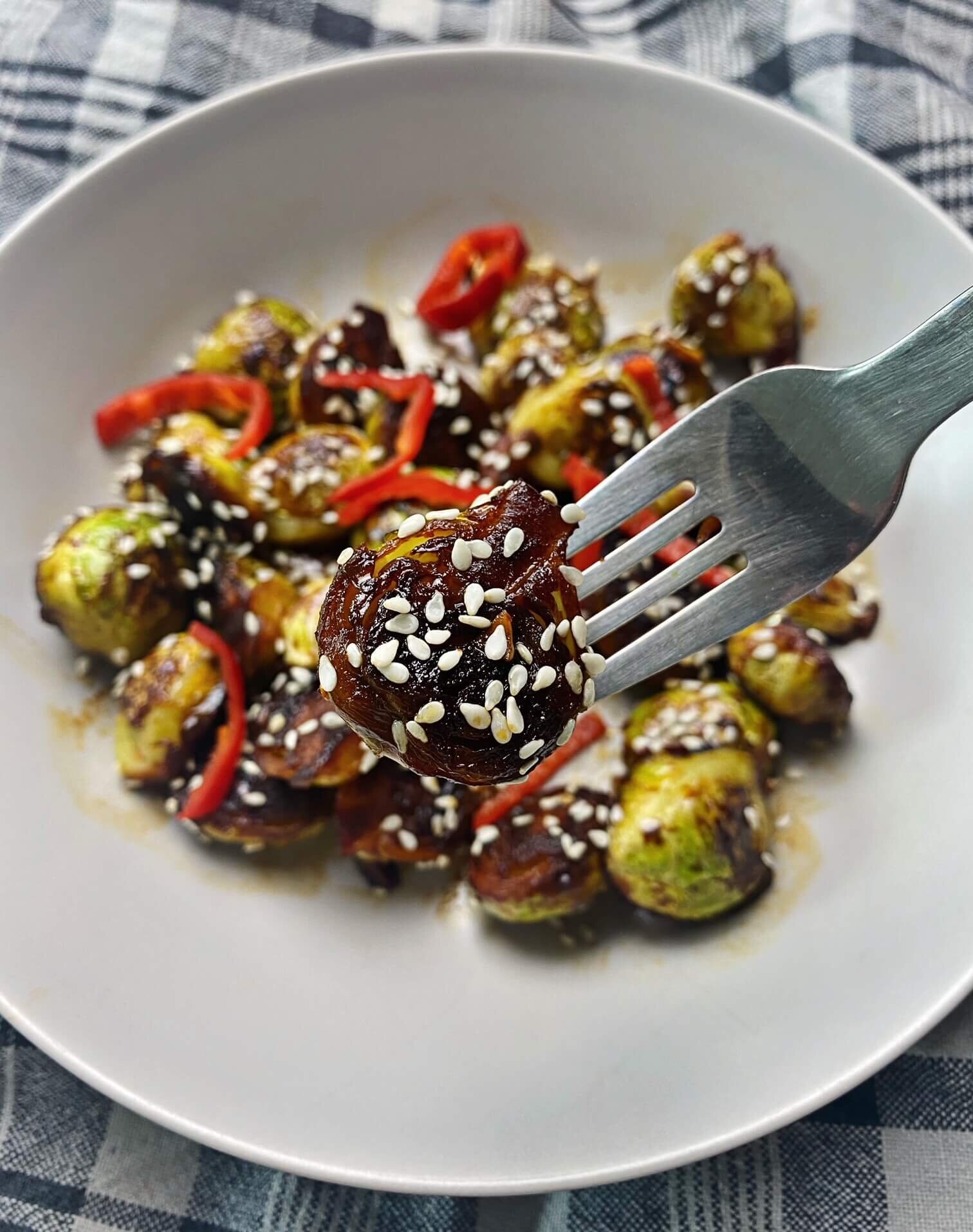 What to serve with Kung Pao Brussels sprouts
I can eat these vegan Kung Pao Brussels sprouts by themselves as an entire meal.
However, with the distinct and rangy flavours of this recipe, these Brussels sprouts pair well with Asian-inspired dishes – including the classics we all know and love.
Some of my favourite ways to serve Kung Pao Brussels sprouts are:
Stir Fried rice: With stir fried rice, these Brussels sprouts are a nice complement to have on the side to provide a nice and balanced array of textures and flavour on the dining table.
Noodles: Whether with spicy peanut noodles or a nice cold Asian noodle salad, these vegan Kung Pao Brussels sprouts complement any noodle dish perfectly.
Marinated Tofu: With some crispy marinated tofu on one side, and rice and Kung Pao Brussels sprouts on the other, you'll have a tasty meal that is nutritionally balanced and high in protein!
Buddha Bowl: I like adding these Kung Pao Brussels sprouts to give a nice tangy and spicy kick to the buddha bowl.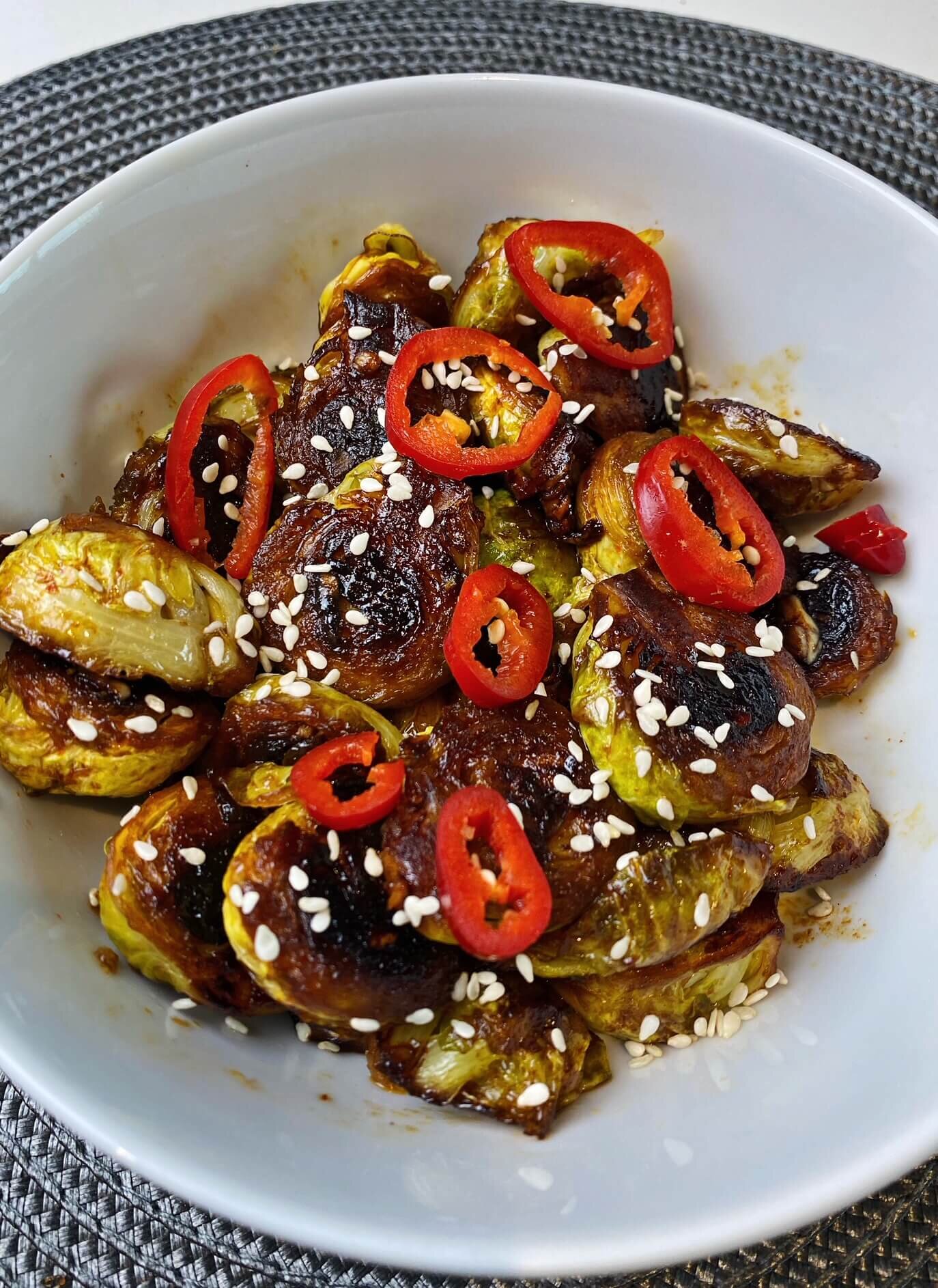 Pro tips for making the best Brussels sprouts
I've been cooking Brussels sprouts for some time now. Over this time, I have learnt (mainly from mistakes!) some helpful tips which you can use to really make your Brussels sprouts stand out.
Check out my recipe for Gourmet Sautéed Brussels Sprouts to find out my 7 best tips for cooking Brussels sprouts to perfection! The recipe itself is also great, so you should give it a try too if you love your Brussels sprouts 😉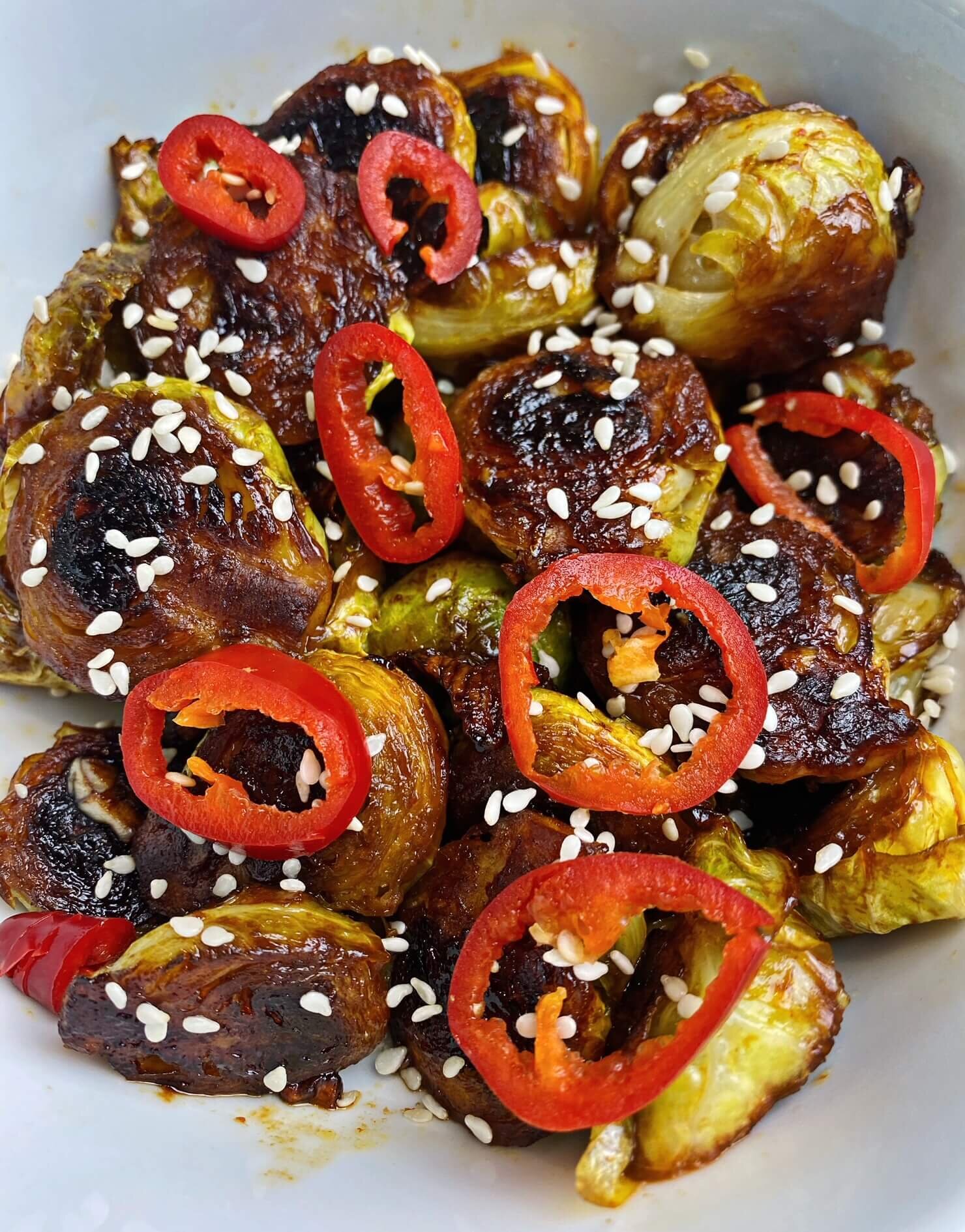 How to store Kung Pao Brussels sprouts
To store: It is always important to let the Brussels sprouts completely cool off before storing in the fridge. Once cooled, these Kung Pao Brussels sprouts can be stored in an air tight container in the fridge for up to 4 days. Note that the texture will become softer the longer they're refrigerated.
To freeze: Short answer is, yes. You can also freeze these Kung Pao Brussels sprouts for up to 2 months in an airtight and freezer-safe container. However, this is not my preferred method as the Brussels sprouts will have a soggier, less-tender texture as compared to refrigerated. Let them thaw overnight in the fridge before reheating.
To reheat: It is very easy and quick to reheat these Kung Pao Brussels sprouts. Simply place them in pan over medium heat with a drizzle of sesame oil until warmed through (approx. 3-5 minutes). These Brussels sprouts can also be microwaved, but will have a softer texture as compared to reheating on the pan.
More vegan appetizers & sides to try?
If you like this vegan Kung Pao Brussels sprouts recipe, you might also like:
Check out all my vegan recipes here for more inspiration in the kitchen!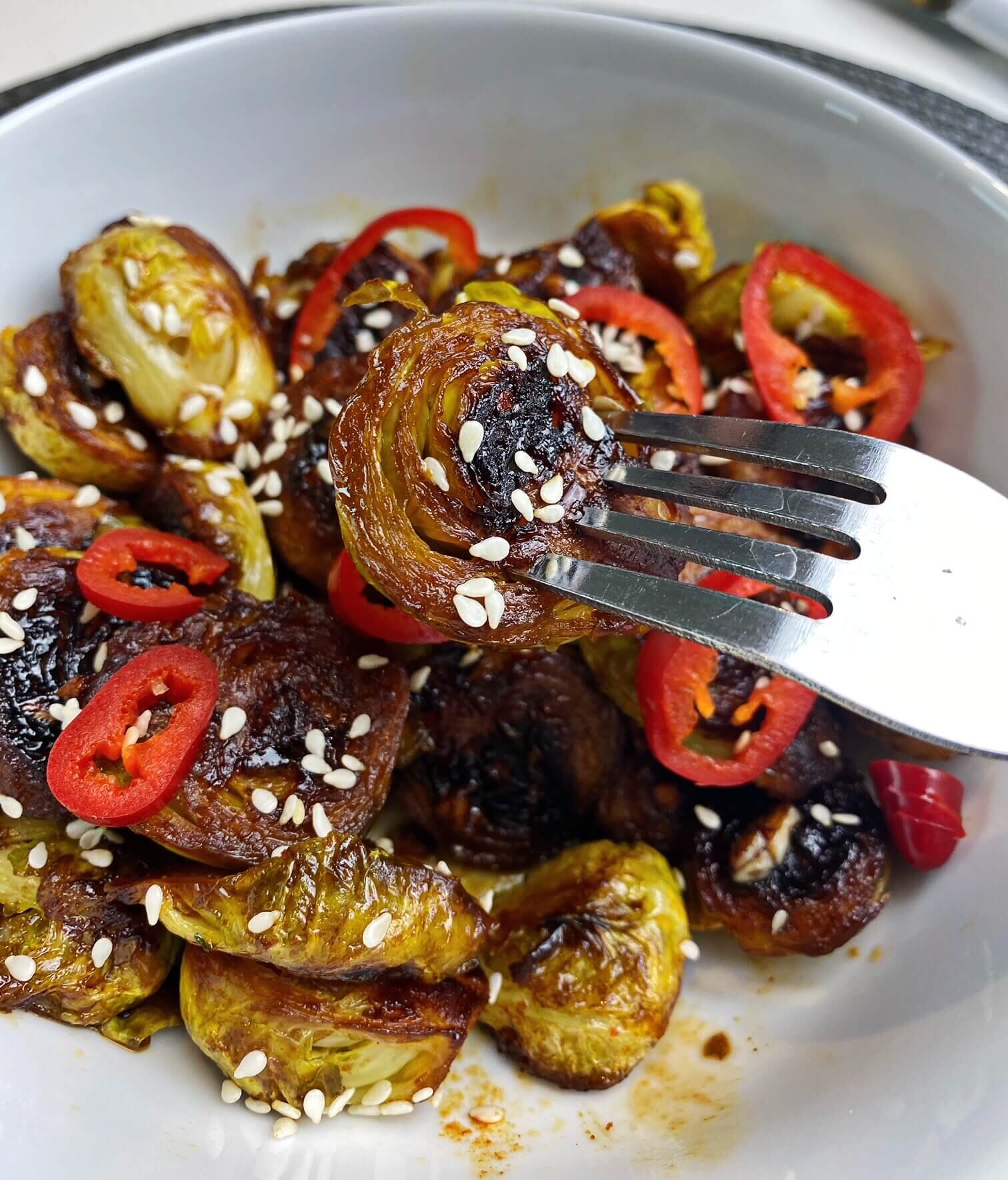 If you tried this vegan kung pao brussels sprouts recipe and loved it as much as I did, please feel free to let me know by leaving a comment and a rating below. I also love seeing remakes of these recipes, so be sure to tag me @voach_thevegancoach and use the hashtag #voachrecipes if you post your creation on Instagram!
Never want to miss out on new amazing vegan recipes? Then be sure to follow me on Facebook, Instagram and Pinterest and sign up to my Newsletter so you are notified when the next delicious and nutritious vegan recipe is up!
@Voach. All images and content are protected by copyright law. Please do not use any images without prior permission. For any republishing of this recipe, please kindly link back to this post.
*This post may contain affiliate links that earn me a small commission, at no cost to you. You can find out more information here
---