Are you looking for an insatiably creamy mushroom pasta with a kick of delicious truffle flavour? Then look no further! This incredible vegan pasta is indulgent, rich and satisfying. Better yet, it's super easy and quick to make! Start making your creamy vegan truffle mushroom pasta today!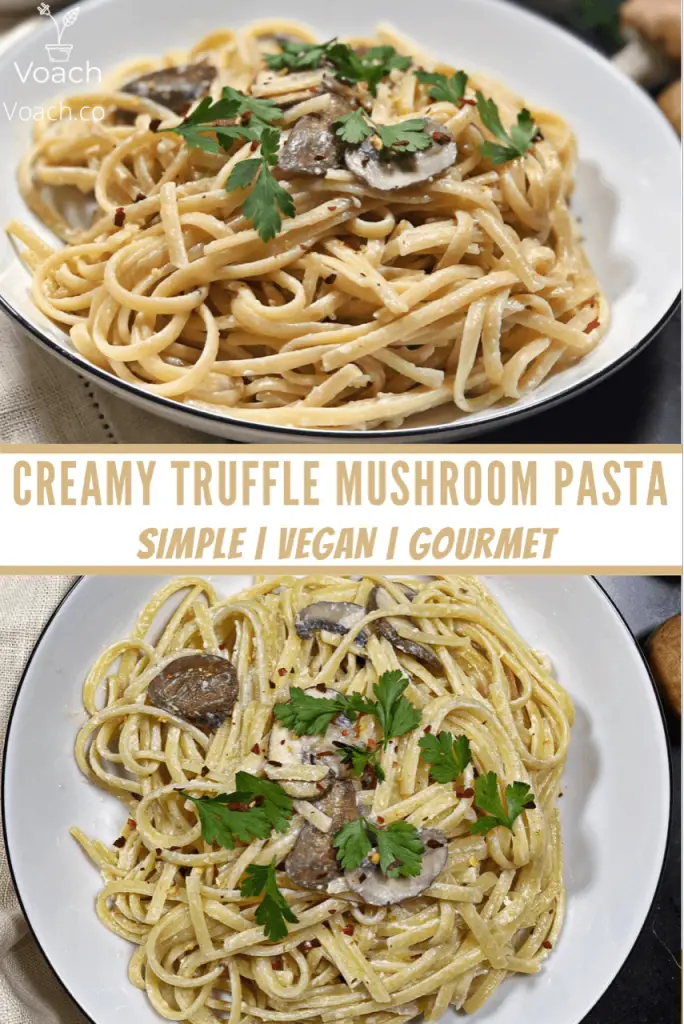 Creamy Truffle Mushroom Pasta
My love for truffles knows no bounds. The aroma is truly intoxicating and it´s ability to enhance other savory flavors around it, gives it superpower status.
However, since fresh truffles are so coveted, it can be very difficult to find (much less afford) them. Thankfully, there is an accessible way for truffle obsessed people to enjoy that exquisitely delicate flavor: White truffle oil!
Using even a little of this oil will provide an incredibly gorgeous and subtle punch of flavor to a dish. One of my favorite ways to enjoy this is my fail-proof creamy vegan truffle mushroom pasta recipe. Truffles and mushrooms go together perfectly, so it makes sense to combine those flavours in a creamy pasta sauce.
With this recipe, you can enjoy a gourmet culinary pasta right in the comfort of your own kitchen. So keep on reading to find out how you can make this spectacular vegan dish for yourself today!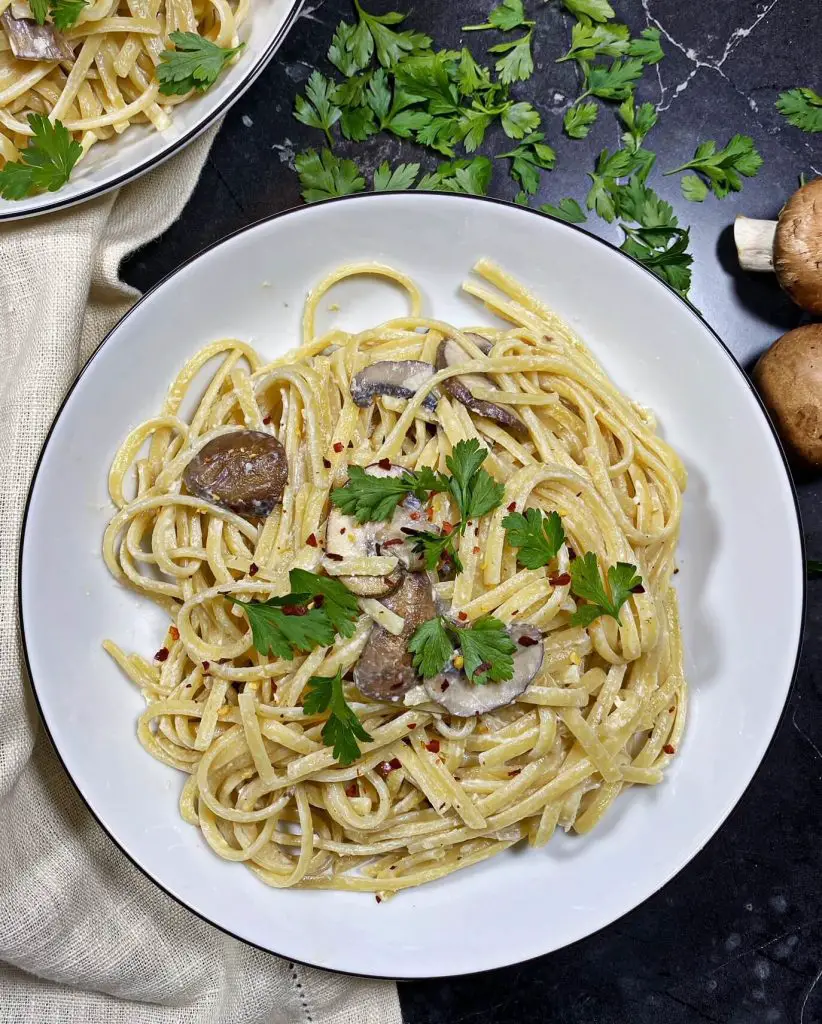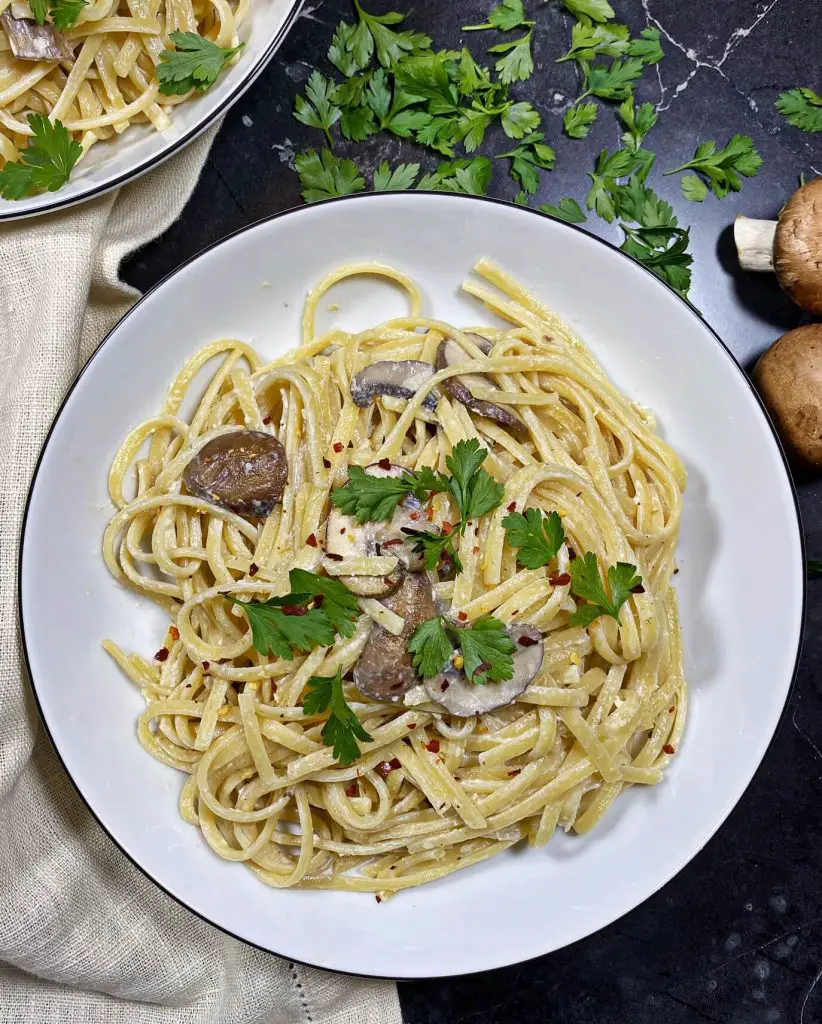 What Do I Need To Make Creamy Vegan Truffle Mushroom Pasta?
Luckily there are not a whole lot of ingredients you need to make this vegan truffle pasta, which makes this recipe an effortless option when you're in the mood for pasta!
To make this creamy vegan pasta recipe, you'll need:
Pasta: As mentioned in my Tips section of the recipe, long flat pasta noodles work best for this dish (i.e. spaghetti, fettuccini or angel hair).
Garlic: A necessity for any good pasta.
Mushrooms: The combination of flavours brought by mushrooms together with truffles is truly rousing.
Plant-based cream: I typically opt for oat or soy based heavy creams for a dish such as this. If you cannot find any, you can opt for full fat coconut milk as an alternative.
Plant-based milk: This helps balance out the heavy cream so you finish with a velvety smooth sauce.
White Truffle Oil: Try to find oil which is made only from white truffles, rather than oils which are blended or artificially flavored. The essence of truffle is the enticing draw to this dish, so it is worth spending a few extra dollars for it!
Olive Oil: You do not want to use the truffle oil when sautéing the garlic and mushrooms as its taste is altered when heating.
Pasta water: This will add some salty flavour to the dish and help bind the pasta and sauce together due to its starchiness.
As Garnish (Optional)
Fresh Parsley and Basil: The vibrant green colour against the white creamy backdrop of the pasta adds to the attractiveness of the dish – not to mention providing a nice herby punch.
Red Chilli Flakes: For those who love a spicy kick to their pasta.
Vegan Parmesan Cheese/Nutritional Yeast: Either blended in with the sauce, or as finishing garnish on top, some vegan parmesan or nutritional yeast complements the earthy umami flavours of the truffle oil and mushrooms perfectly.
For equipment, you will need a pan for frying the mushrooms and making the sauce in addition to a pot and colander for the pasta.
Now that you know what you need in the kitchen, let's jump into how to make this vegan truffle mushroom pasta!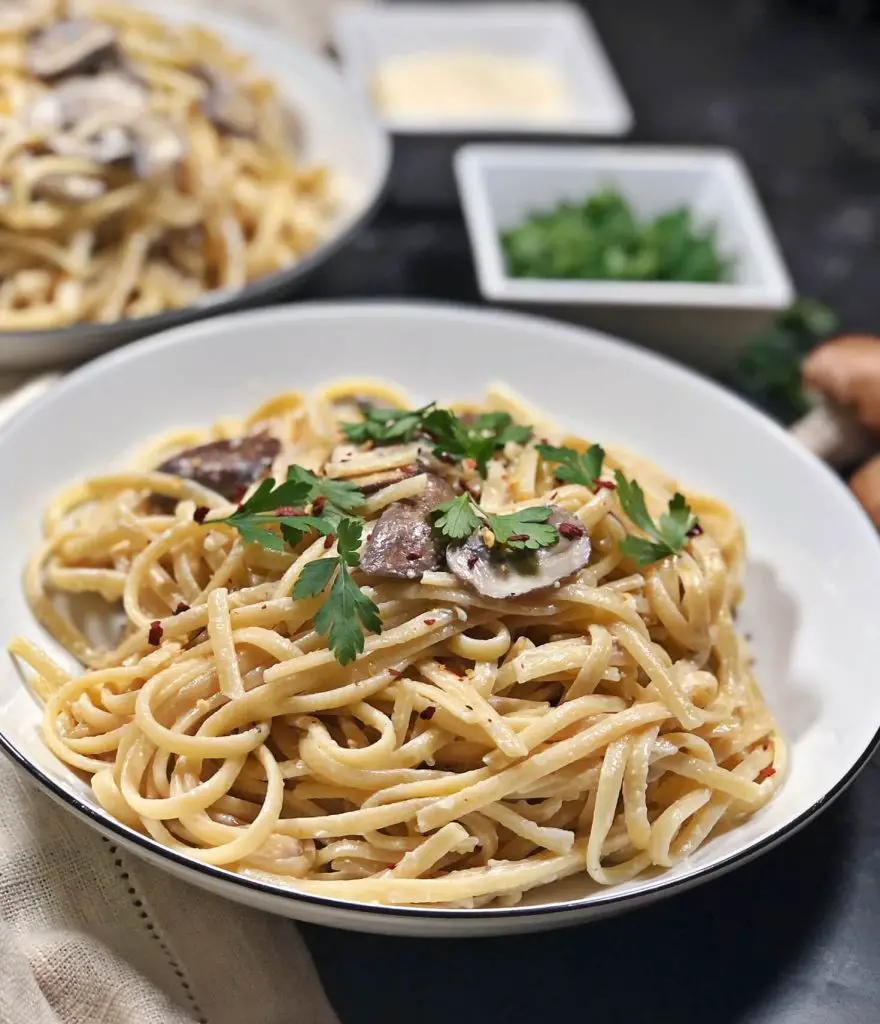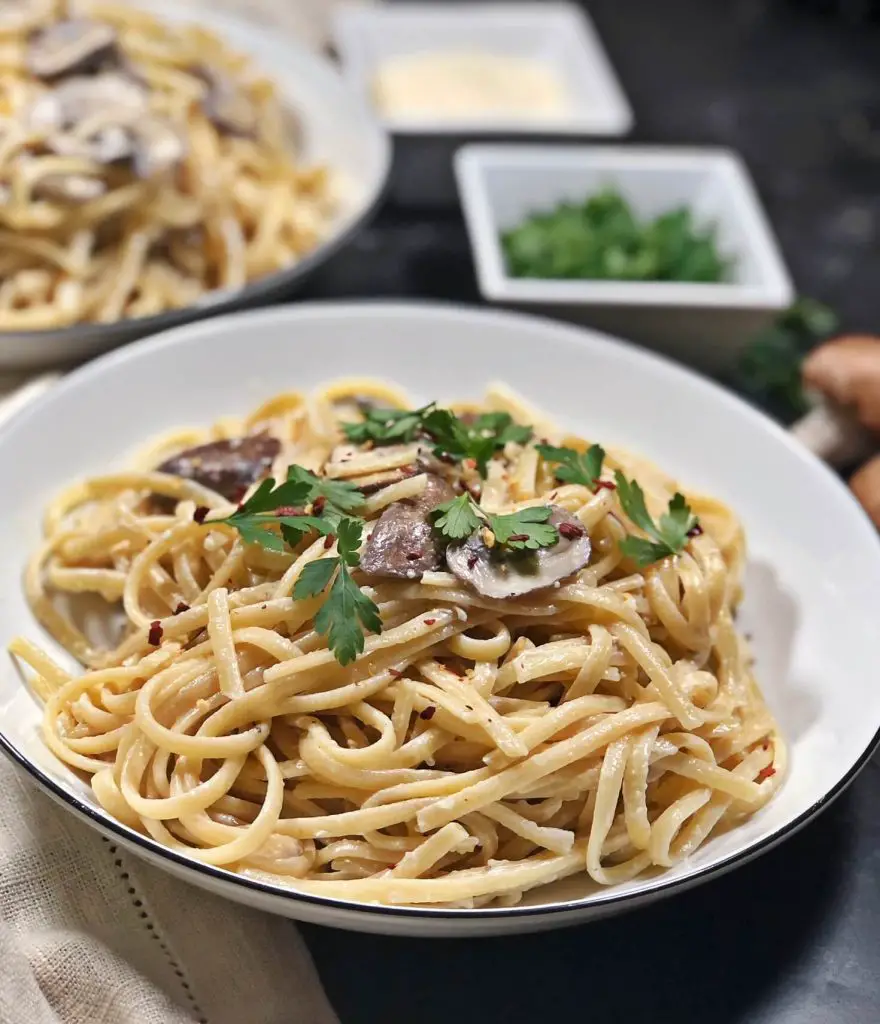 How to make Creamy Vegan Truffle Mushroom Pasta
Do not be fooled into thinking the look of this gourmet pasta dish means that it requires a ton of expertise or skills. The best thing about this creamy vegan truffle mushroom pasta recipe is that it is easy and quick for anyone to make. Everything you're looking for in a pasta recipe.
To make this truffle mushroom pasta for yourself:
First step is to cook your pasta noodles in a large pot of boiling salted water. Whilst the pasta is cooking, you can start to prepare the sauce by heating a tablespoon of extra virgin olive oil and sautéing the garlic for about a minute or two.
Add in your mushrooms and sauté for 8 minutes, or until nicely golden brown and crispy. Toss occasionally.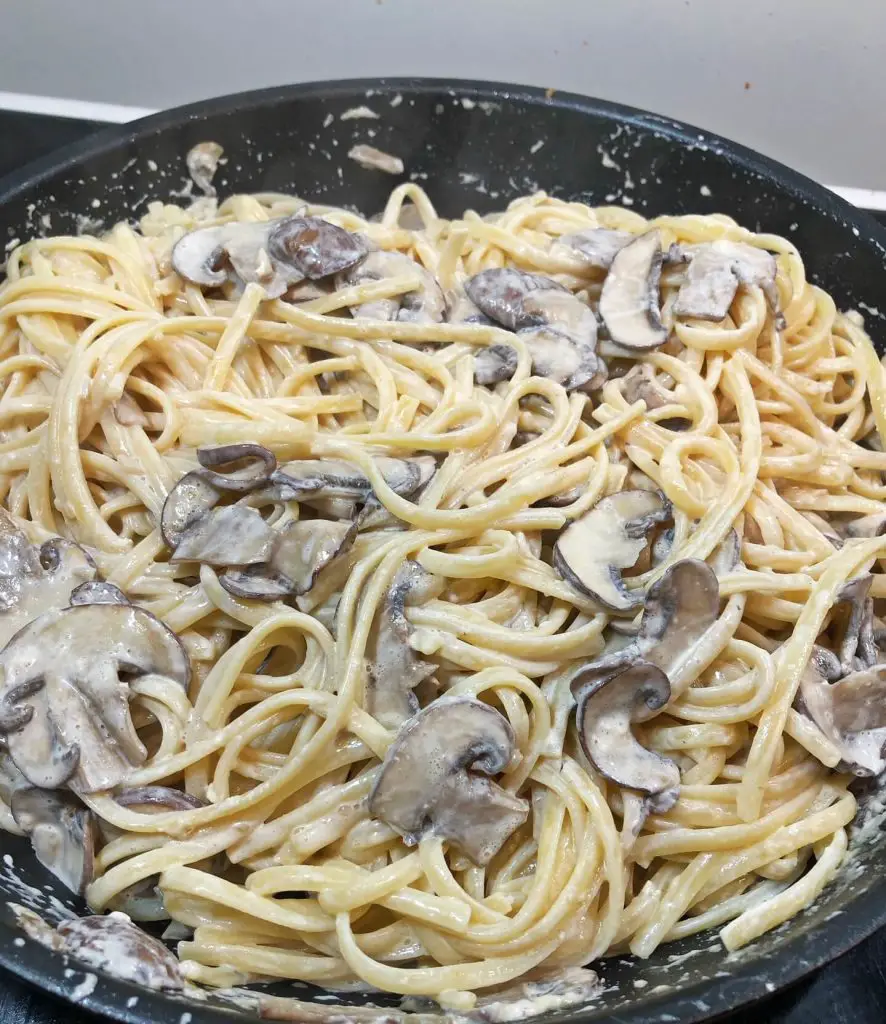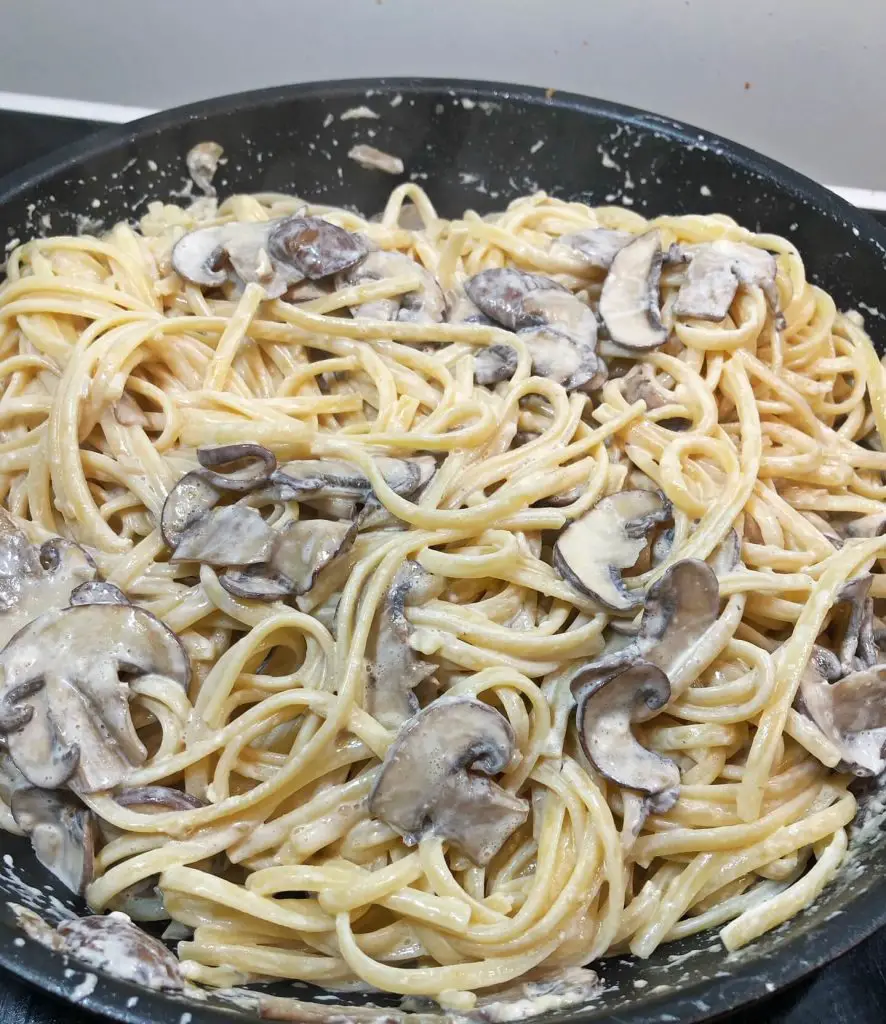 Next, add in the plant-based cream, plant-based milk, salt & pepper and mix together well. Continue to cook until the sauce starts to thicken – which occurs around 5 minutes. Remember to stir the sauce occassionally during this time.
Now that the pasta will be cooked, it's time to add it into the pan together with the reserved pasta water and white truffle oil and mix together until each and every single string of pasta is nicely coated in the velvety smooth creamy truffle sauce. At this time, you can add the herbs, vegan parmesan cheese/nutritional yeast and chilli flakes directly into the pasta whilst warm or garnish freshly on top for that restaurant quality look!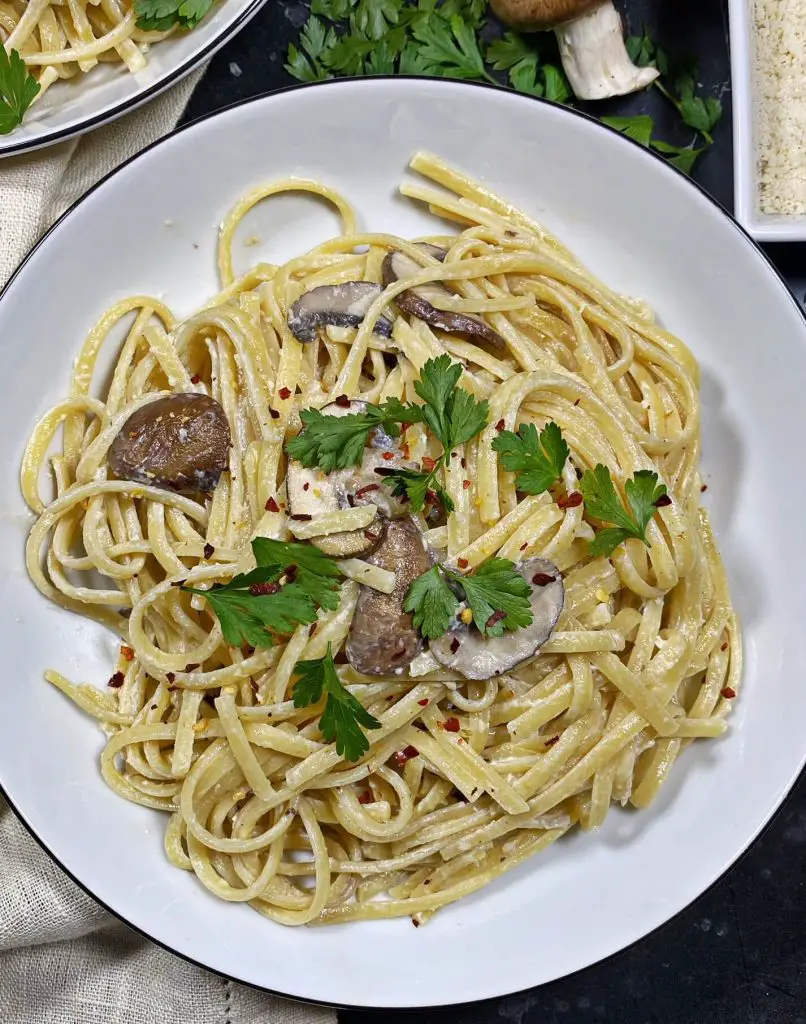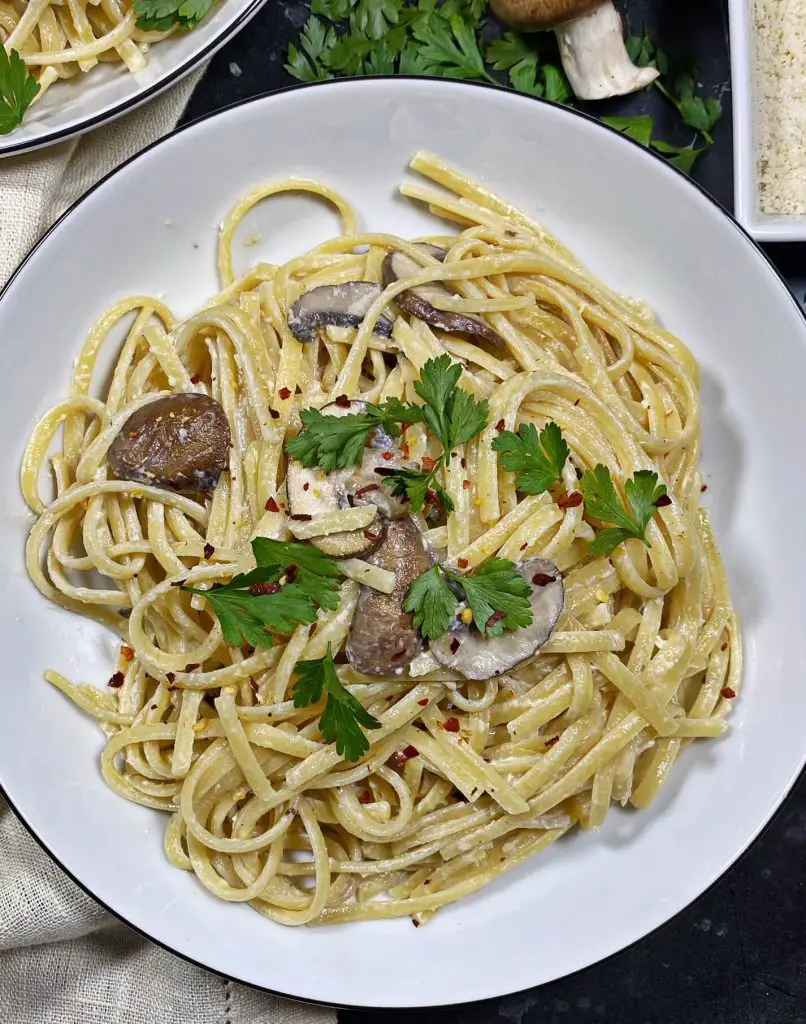 What to serve with Creamy Vegan Truffle Mushroom Pasta
I love enjoying this vegan mushroom pasta with some sides around it. It really adds to the quality and depth of the dish and makes the dining table pop with an array of intoxicating sights and smells.
There are many great sides that you can pair with this type of pasta dish. You can always opt for the classics, such as fresh bread with some olive oil and balsamic vinegar or a fresh green salad.
However, if you are really looking to creating a captivating dining experience, you can serve these sides together with this creamy pasta recipe:
Roasted Brussels Sprouts: Some deliciously tender and crispy Brussels sprouts really complement creamy pasta dishes. My gourmet sautéed Brussels sprouts recipe is just the one to choose for this type of pasta. Try it out together and let me know what your thoughts are in the comments!
Asparagus: The strong and distinctive taste of asparagus gets the taste buds jumping around when enjoyed with pasta. Simply sautéing asparagus with a good-quality olive oil, garlic and roasted almonds can create one of the most delicious vegetable sides you can have (here is a great recipe of mine that you can try).
Stir-Fried Greens: This can be a lovely low calorie vegan side to pair with this truffle pasta dish. However do not be tricked into thinking low calorie means low flavour. Like with my stir-fried chilli and garlic greens, you can enjoy a nutritious side that not only tastes great, but balances the flavour of the pasta perfectly.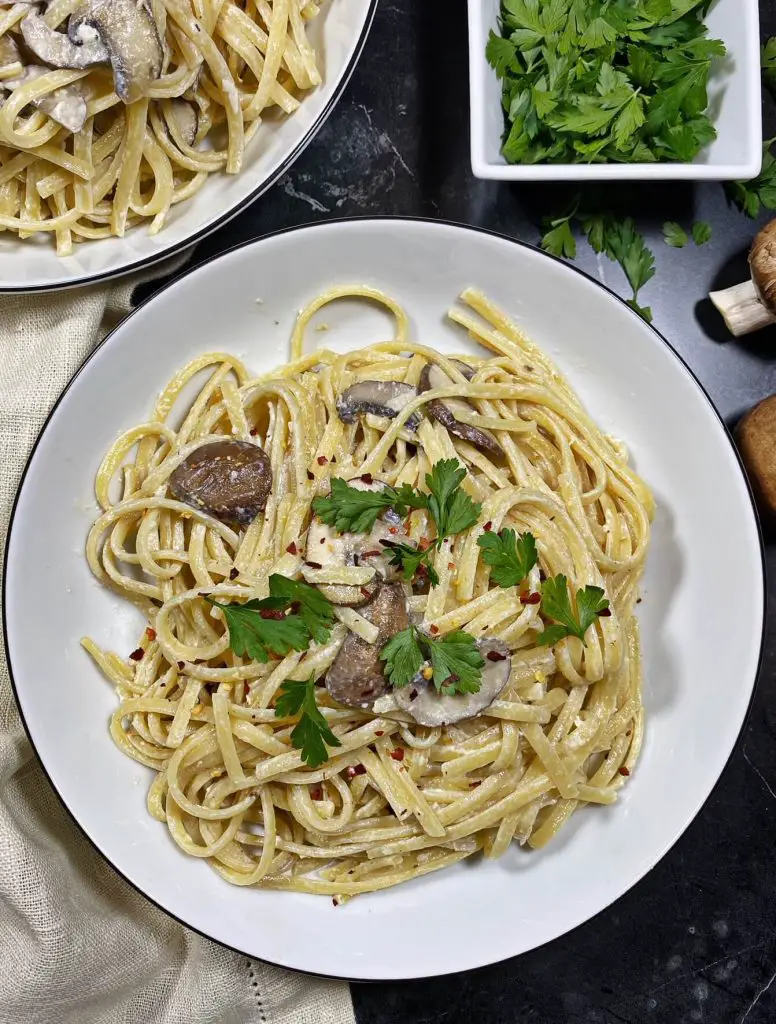 Tips for making Creamy Truffle Mushroom Pasta:
As I am simply addicted to the flavours of truffles and mushroom, I have cooked this dish many times before sharing it now with you. Over the journey, I have learnt some things which I hope can help you enjoy this creamy truffle mushroom pasta as much as I do!
Use flat long pasta noodles: Linguine, Spaghetti, Fettuccine and Angel Hair Pasta are the types of pasta that I use for this dish as they combine well with the creamy truffle pasta sauce.
Find truffle oil made from white truffles: There are some truffe oils which are either a blend of truffles or artificially flavored. It is worthwhile finding the real stuff here. One bottle can last for months as you only need a little to bring a burst of umami rich flavor to bring your pasta to the next level.
Carefully add pasta water to the dish: Just like with salting a dish, adding too much pasta water can denigrate the creaminess of the dish and also dilute the flavor. So be sure to add a little bit at a time to prevent this from happing and achieve the level of thickness that you desire.
Take out the pasta just before it is al dente: Given that you will be cooking the pasta for an additional minute or two when combining with the creamy truffle sauce, you should add the pasta just before it is al dente. Then, once the paste is combined well, the pasta will be perfectly cooked!
Add some olive oil to the boiling water: This will help prevent the pasta from sticking together and becoming clumpy. It will also give a nice consistency to the pasta water that you will reserve for later (see below).
Remember to save some pasta water: Trust me, I have made the mistake of draining the pasta in a colander before reserving some pasta water more times than I can count. To avoid this, I always reserve the pasta water at the mid-point of the cooking time. By then, the water is starchy enough to be used and prevents any last minute panic when you have to drain the pasta but also reserve the water.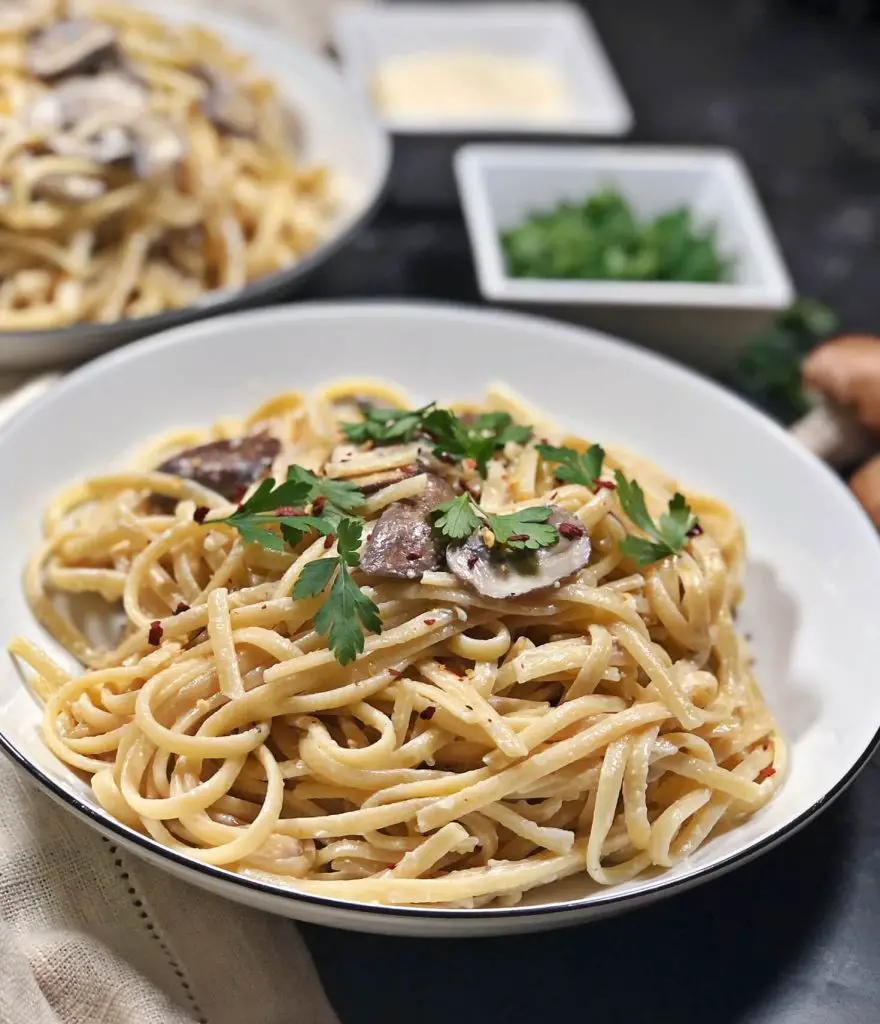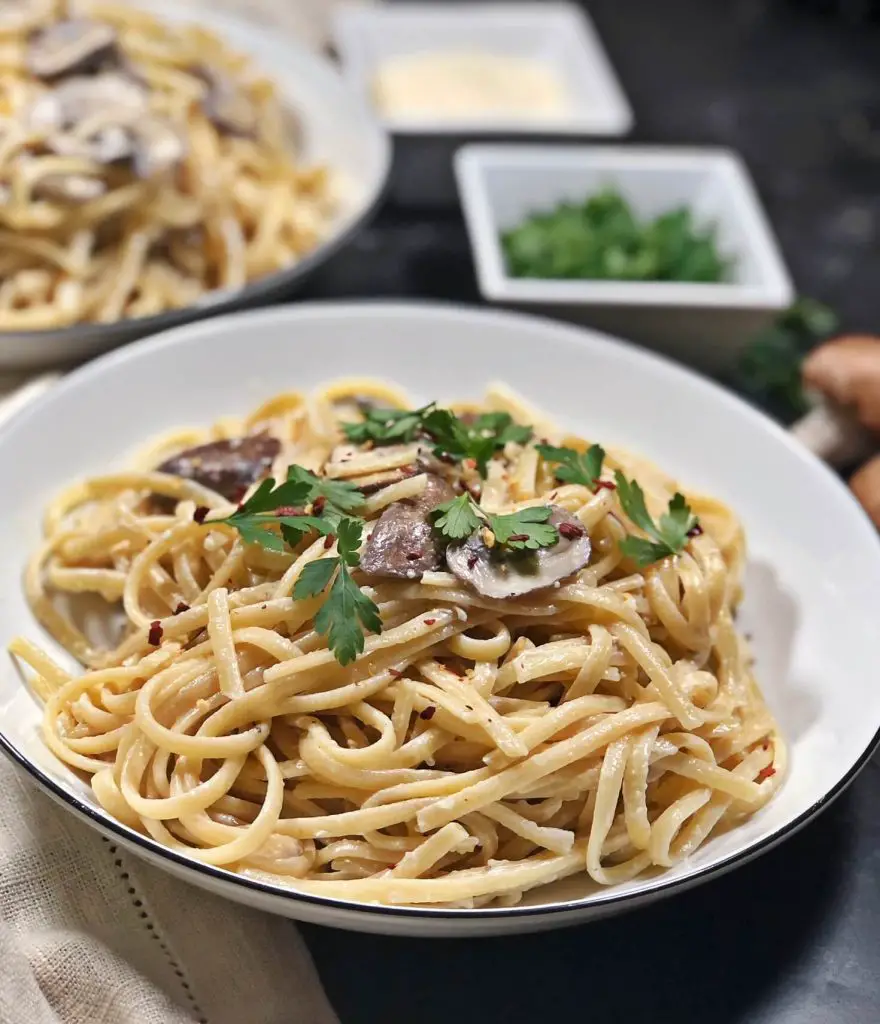 How to store Creamy Vegan Truffle Mushroom Pasta is:
To store: Be sure to let this dish completely cool off before storing in the fridge. Once cooled, this vegan truffle mushroom pasta should be stored in an air tight container in the fridge for up to 3 days.
To freeze: It is possible to freeze cooked pasta, but I wouldn't recommend it as it alters the texture too much for my liking. But fear not, you can freeze the pasta sauce! You can place it in an air tight container or freezer bag for up to 6 months. Let the creamy vegan sauce thaw overnight in the fridge before reheating.
To reheat: You can reheat this creamy vegan truffle mushroom pasta in pan over medium heat, with some olive oil or plant-based milk, until warmed through. This takes around 5 minutes in total. It is also easy to reheat this vegan pasta in a microwave for a minute or two.
This Creamy Vegan Truffle Mushroom Pasta is:
Gourmet
Vegan
Easy
Quick
Rich
Full of Flavour
More Vegan Mains to Try?
If you like this creamy vegan truffle mushroom pasta recipe, you might also like:
Check out all my vegan recipes here for more inspiration in the kitchen!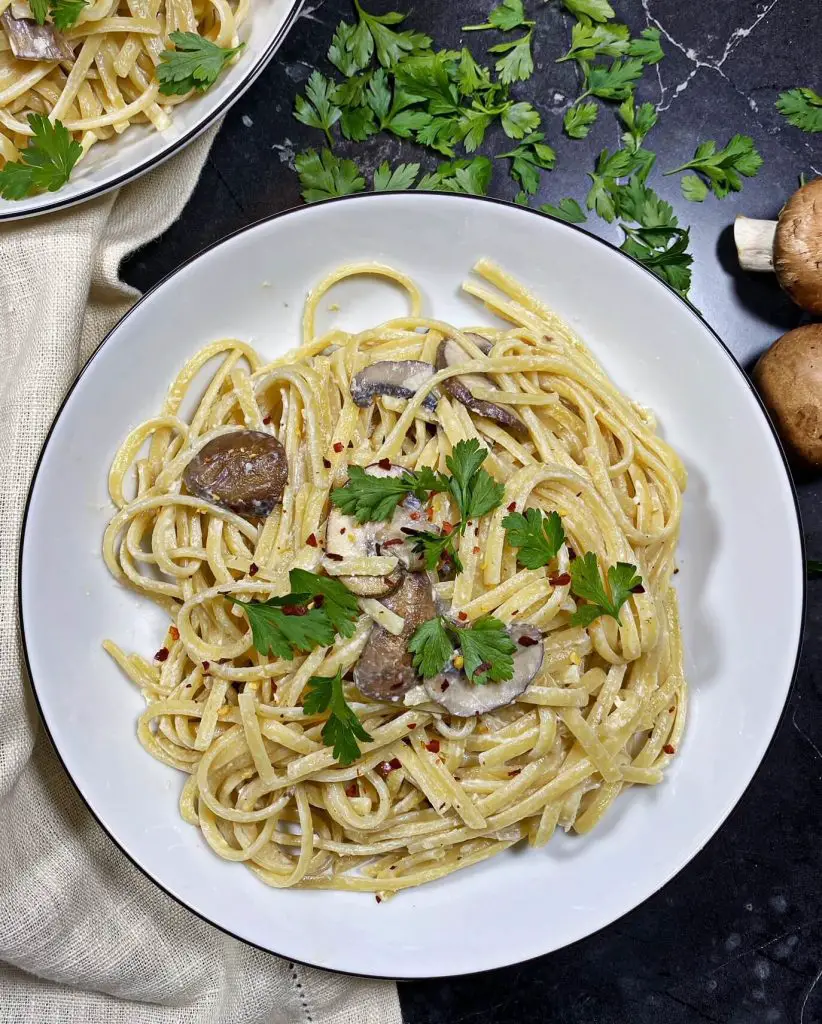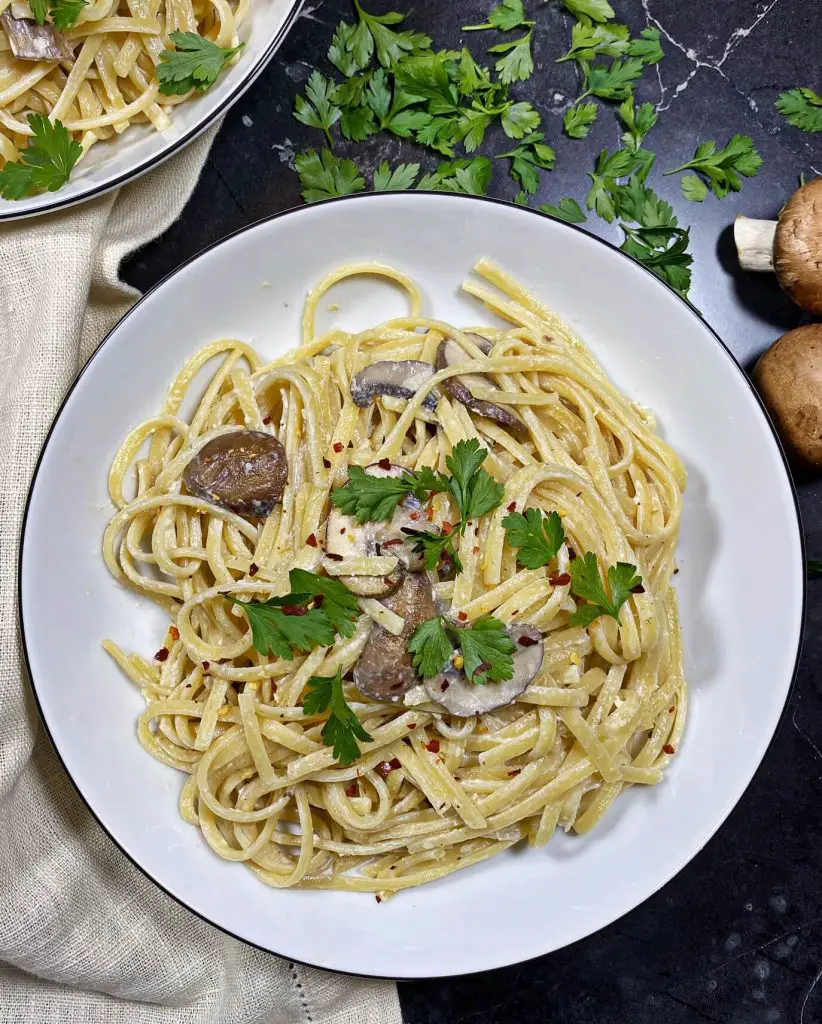 If you tried this creamy vegan truffle mushroom pasta recipe and loved it as much as I did, please feel free to let me know by leaving a comment and a rating below. I also love seeing remakes of these recipes, so be sure to tag me @voach_thevegancoach and use the hashtag #voachrecipes if you post your creation on Instagram!
Never want to miss out on new amazing vegan recipes? Then be sure to follow me on Facebook, Instagram and Pinterest and sign up to my Newsletter so you are notified when the next delicious and nutritious vegan recipe is up!
@Voach. All images and content are protected by copyright law. Please do not use any images without prior permission. For any republishing of this recipe, please kindly link back to this post.
*This post may contain affiliate links that earn me a small commission, at no cost to you. You can find out more information here
---