This Vegan Asian Cucumber Salad is a crisply refreshing salad that's guaranteed to impress! Bursting with flavor, super easy, low calories and takes only 5 minutes to prepare. Perfect addition to your next meal or BBQ! 30 second instructional video included 🙂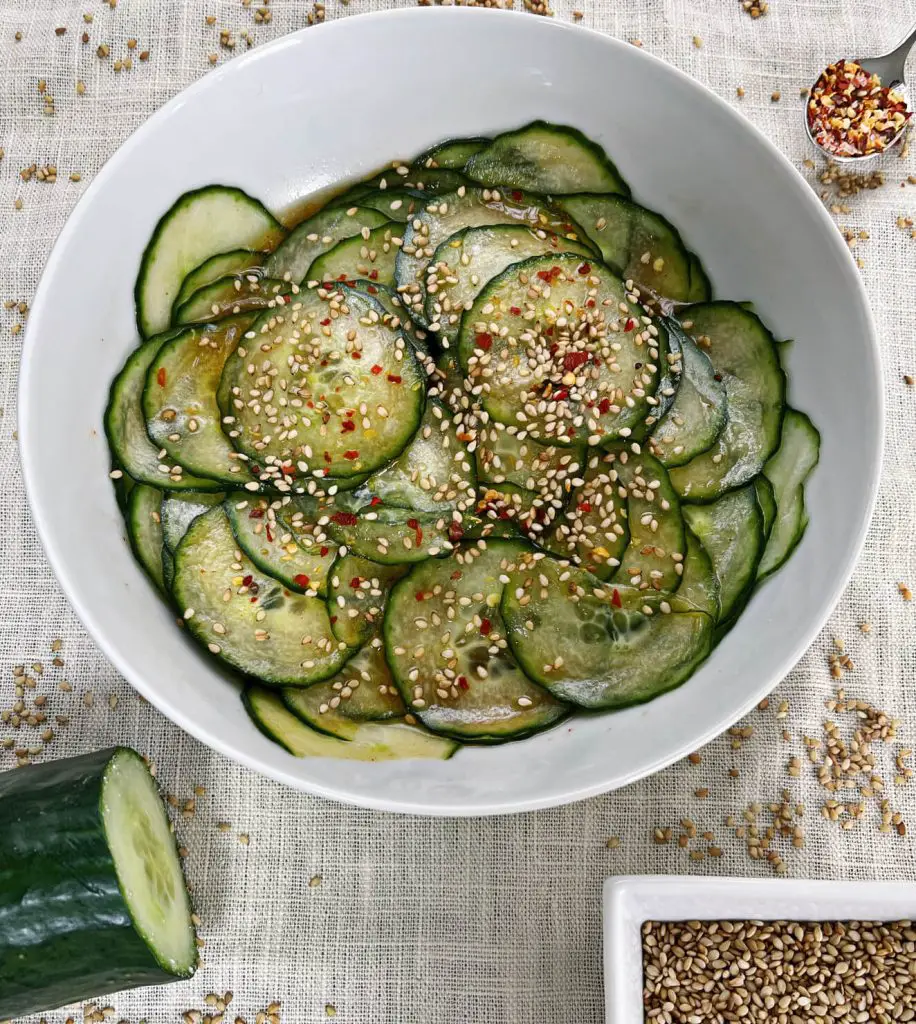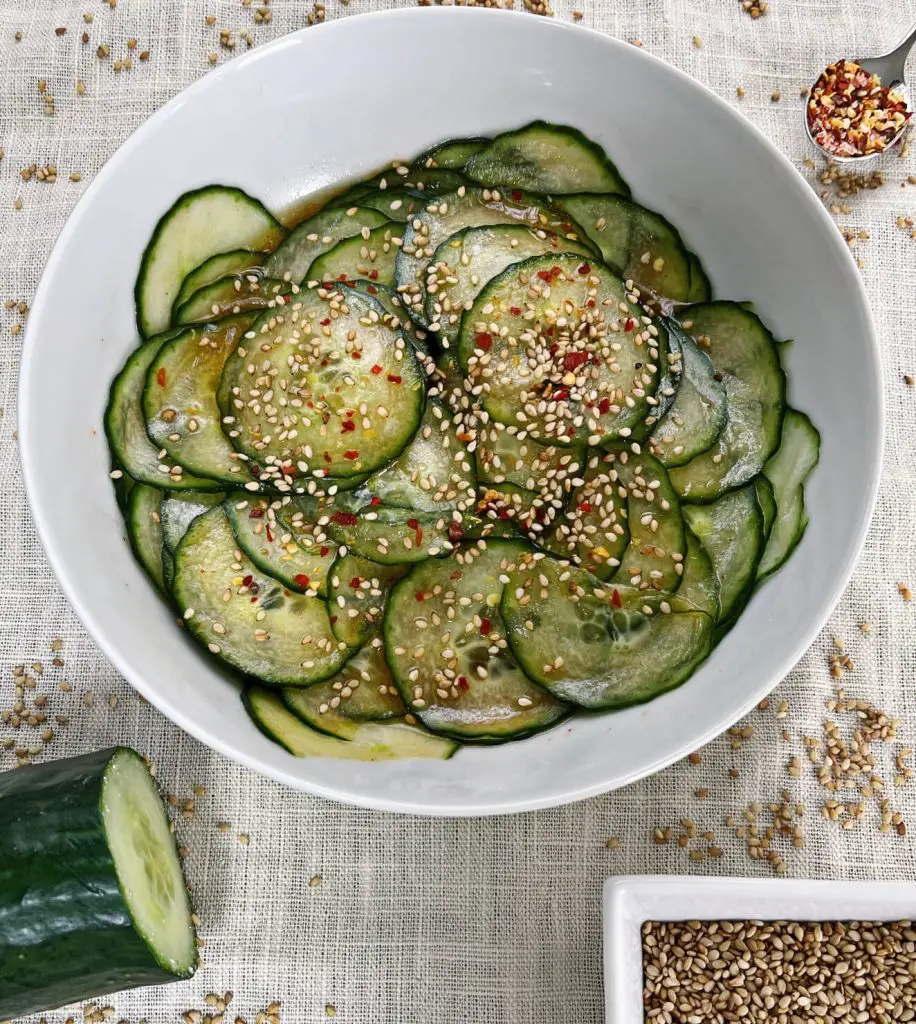 Inspiration for Asian Cucumber Salad
Whenever deciding on a salad, for me it needs to be quick, simple, light and tasty. And this is exactly what this Vegan Asian Cucumber Salad is! I simply love the crispy cool and refreshing cucumbers when combined with a dressing that really delivers a tangy flavor with a well-balanced spicy kick. Always on the cards when it's Summer time ☀️
This salad has the perfect combination of cool and spicy that easily complements a range of dishes. Naturally I like to pair this vegan cucumber salad with a range of Asian-inspired dishes, such as a Vegan Thai Red Curry. However don't be fooled by the title – this salad can be served with a range of different cuisines. This is why it will also go well at your friend's next BBQ if you need to bring something along and are running short of time!
The great thing about this cucumber salad is that it can be effortlessly adapted to suit your taste. It is also optimal for sharing with other guests as its vegan, dairy free and simply altered to be gluten free by swapping out soy sauce with tamari!
OK, now it's time to get into what you need to make this vegan Asian cucumber salad recipe for yourself…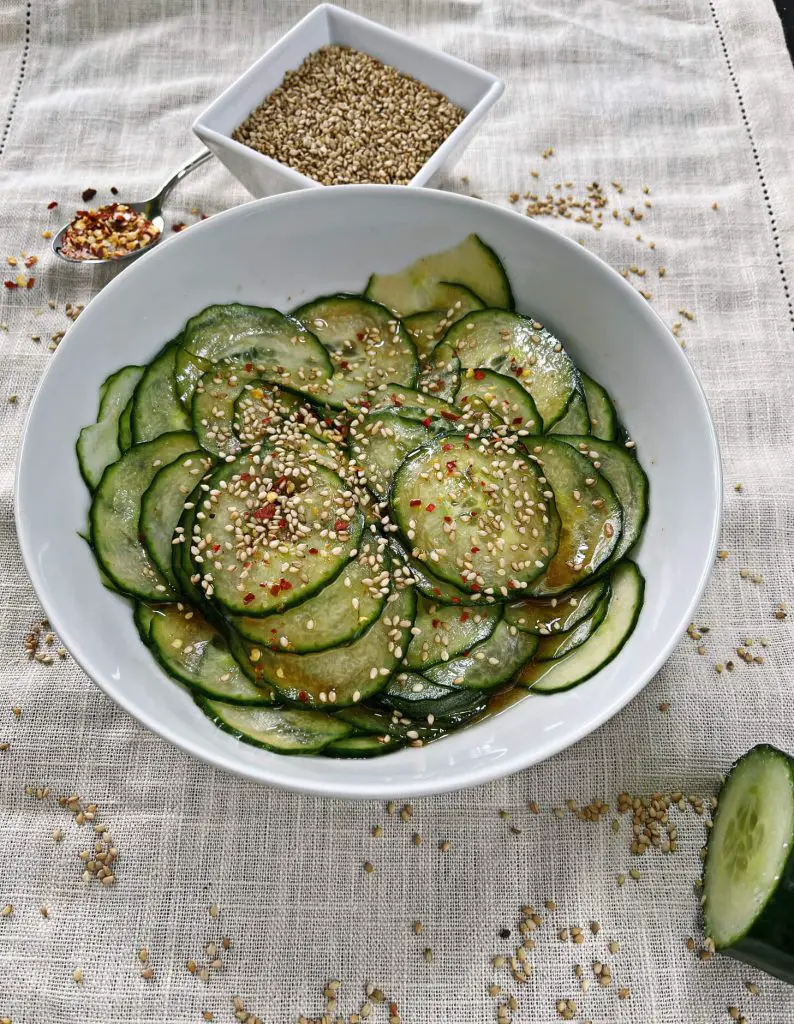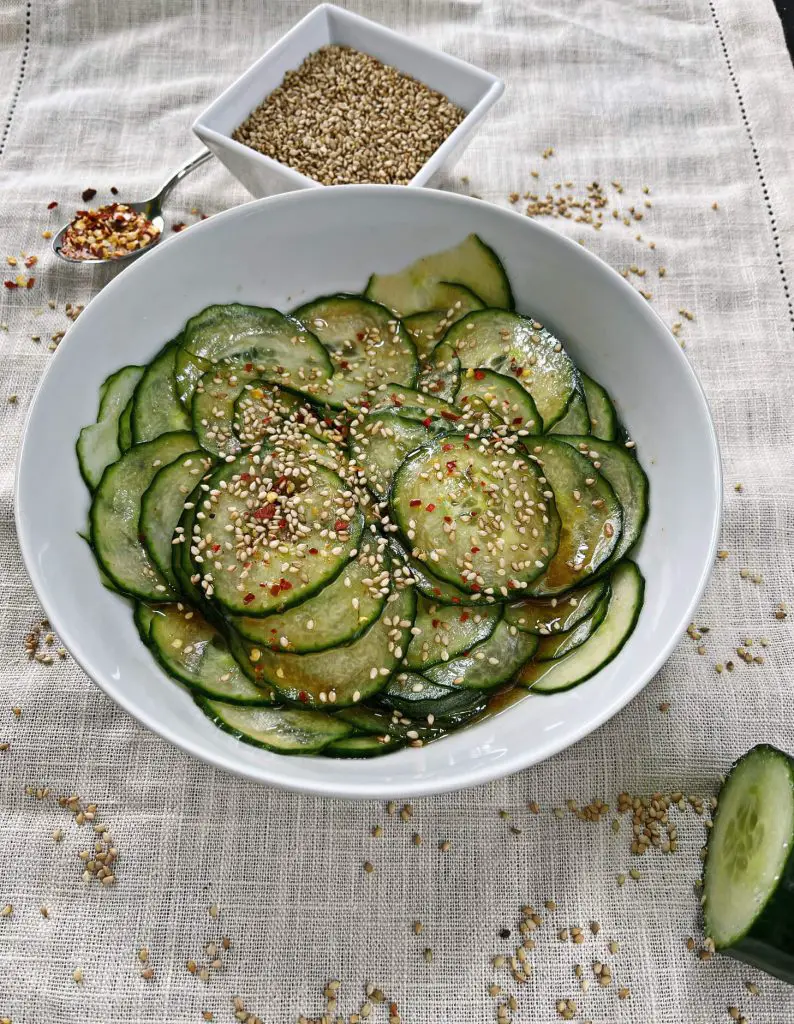 What Do I Need To Make Asian Cucumber Salad?
The great thing about this recipe is that it does not require anything fancy to make! You should be able to whip this Asian cucumber salad dressing in no time with only 5 ingredients you already have laying around.
To make this Asian cucumber salad recipe, you'll need:
Cucumbers: For best results, make sure to slice them very thin. A mandoline is the perfect kitchen utensil for this if you've got one handy.
Rice Vinegar: The backbone to this Asian cucumber salad dressing. Provides the dish with a sweet and acidic blend of flavour.
Sesame Oil: The sesame oil gives a rich nutty flavour that I can't get enough of.
Soy Sauce: For the umami factor. If you have a gluten intolerance, tamari also works great with this cucumber salad!
Sriracha Sauce: Adds a very sweet and tangy dimension to this Asian cucumber salad recipe. Use the recommended amount unless you love a lot of spice.
Salt: Just a pinch will do!
As Garnish (Optional)
Toasted Sesame Seeds: Provides that well needed crunch factor that's necessary for any salad.
Red Chili Flakes: Not only does it provide a lovely contrast in colour to the cucumber, but it gives just the right amount of spiciness to kick things up a notch!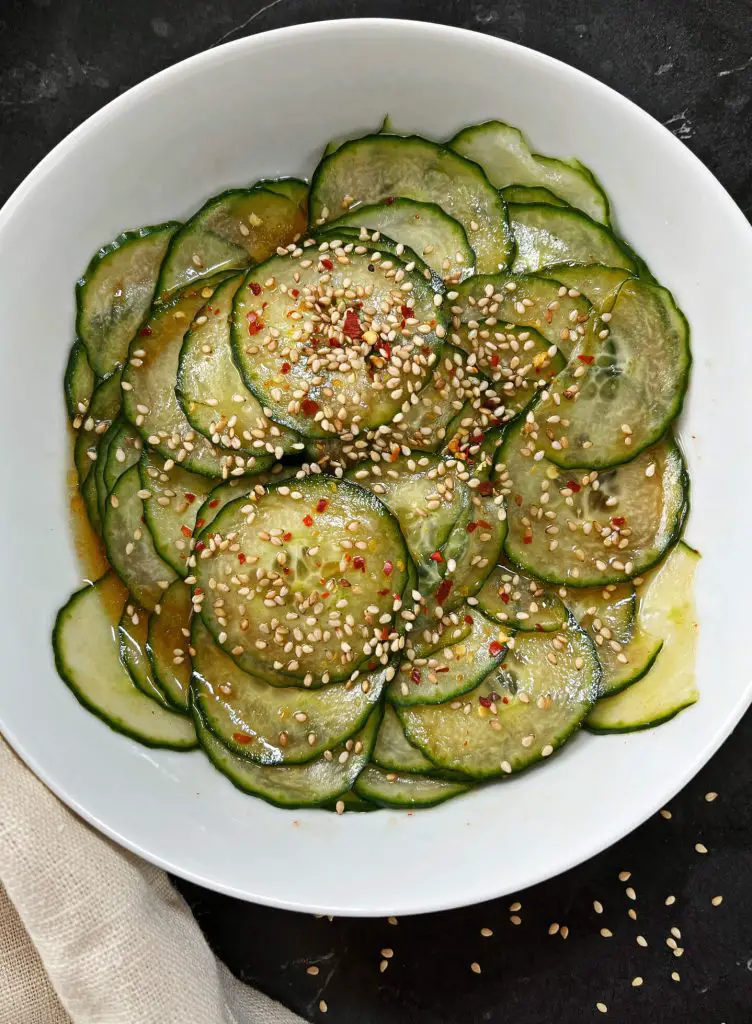 For equipment, you'll only need a bowl for the slices of cucumbers and either a jar or small bowl for mixing the salad dressing. That's it! How easy is that? 🙂
Now that you know what you need in the kitchen, let's jump into how to make Asian cucumber salad!
How to make Asian Cucumber Salad
The reason why I make this salad so often is because it really is so easy and quick to prepare. When you're spending time dedicated to your mains, it's effortless to whip this up on the side in just 5 minutes. Not to mention just how tangy and refreshing it is to enjoy before you dig into your mains!
To make this vegan Asian cucumber salad recipe for yourself:
First step is of course to slice your cucumber into very thin slices. Might sound shocking, but this really it the step that takes the most time at just a couple of minutes😅. See my secret tips below for more information on this step!
Now it's time to prepare that lovely and insatiable salad dressing. In a small jar or bowl, add in your rice vinegar, sesame oil, soy sauce, sriracha sauce plus salt and mix together well.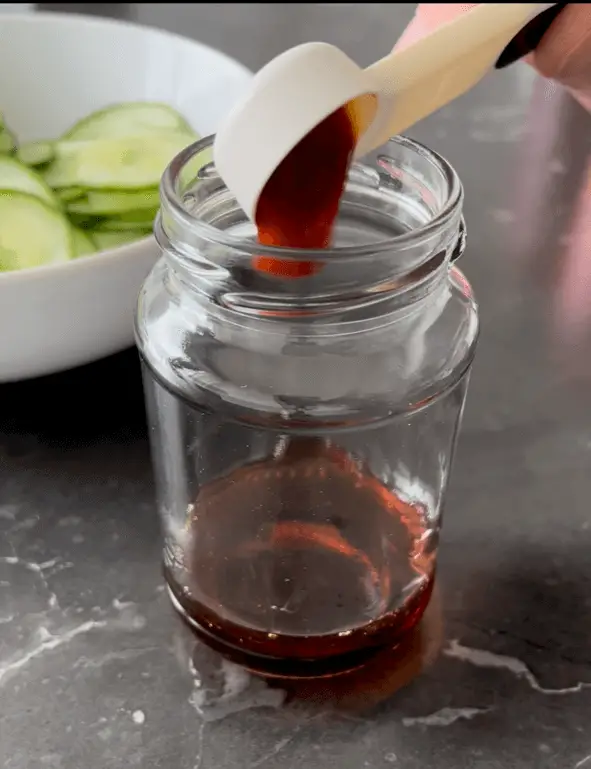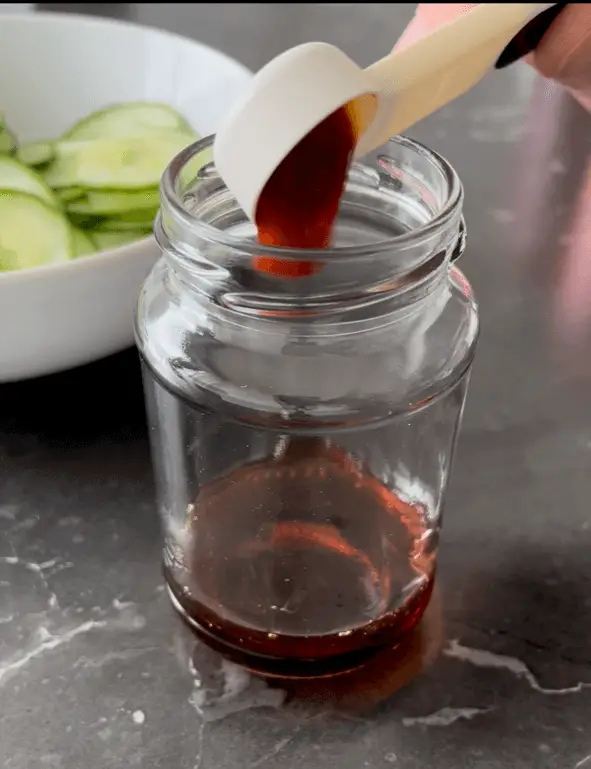 Next, pour the Asian cucumber salad dressing over bowl of cucumber slices and toss together to mix all ingredients well.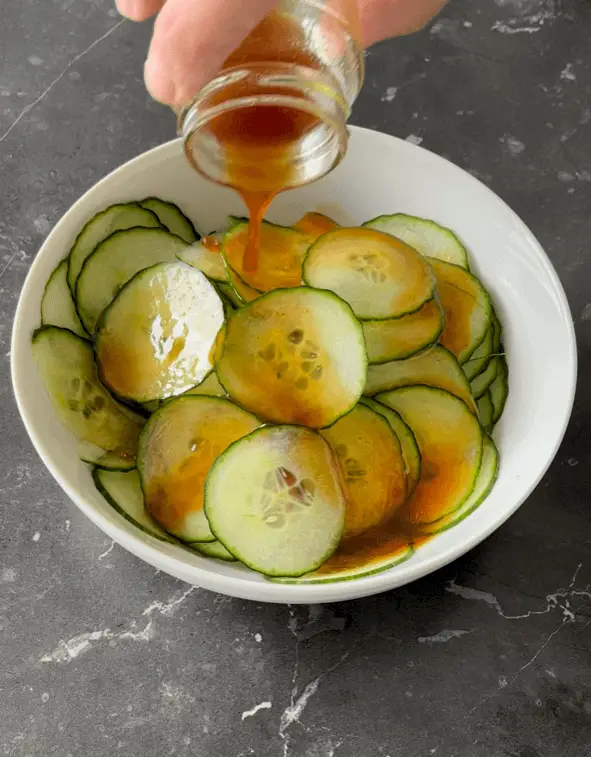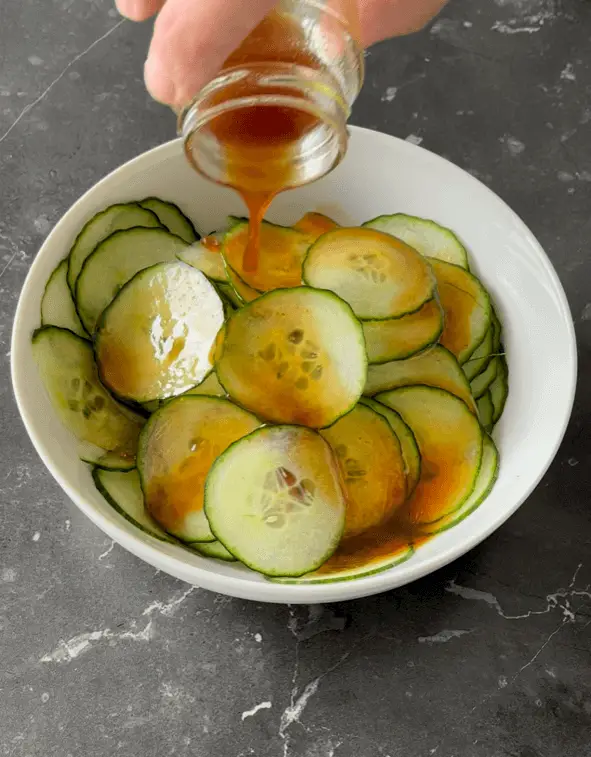 Last step isn't much of a step really. It's time to add any toppings to this salad that you like! For this type of cucumber salad, I tend to opt for toasted sesame seeds and chili flakes on top and then get stuck in and enjoy it 🙂
Check out my short 30 second instructional video below to see how I prepare this cucumber salad recipe.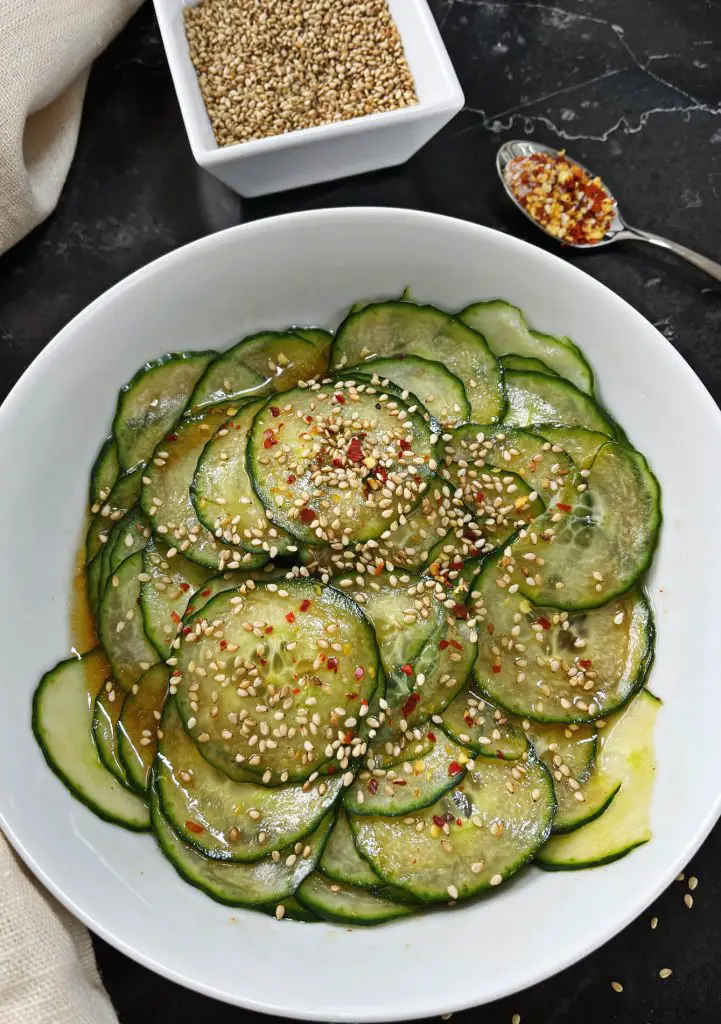 Tips for making Cucumber Salad
Given just how many times I end up making this vegan Asian cucumber salad, I've got some helpful tips for you when making it for yourself!
Slice your cucumbers very thinly: By thinly slicing the cucumbers, you will maximize the tangy spicy flavor of the vegan salad dressing. Personally I use a Mandoline when slicing my cucumbers as it gives consistency in the size of each slice and is much quicker and slicing by hand with a knife. Double win right there..
Don't peel the cucumber!: Of course you can choose to peel if you're really not a fan of the skins. However, don't forget how nutritious the skins of cucumbers are. Cucumber skins are very rich in fiber as well as maintaining important minerals such as potassium, magnesium and silica. You might be asking what silica is at this point. It is a vital element that keeps parts of your body like your bones, muscles and tendons strong and healthy. The skins are also what gives the salad an insatiable crispy crunch to every bite!
Take the time to select the right type of cucumber: Any type of cucumber for this salad will taste great. But I've found that cucumbers with a lighter and thin skin like Turkish or English cucumbers tend to be a little less bitter than other as well as really soak up the delectable dressing well.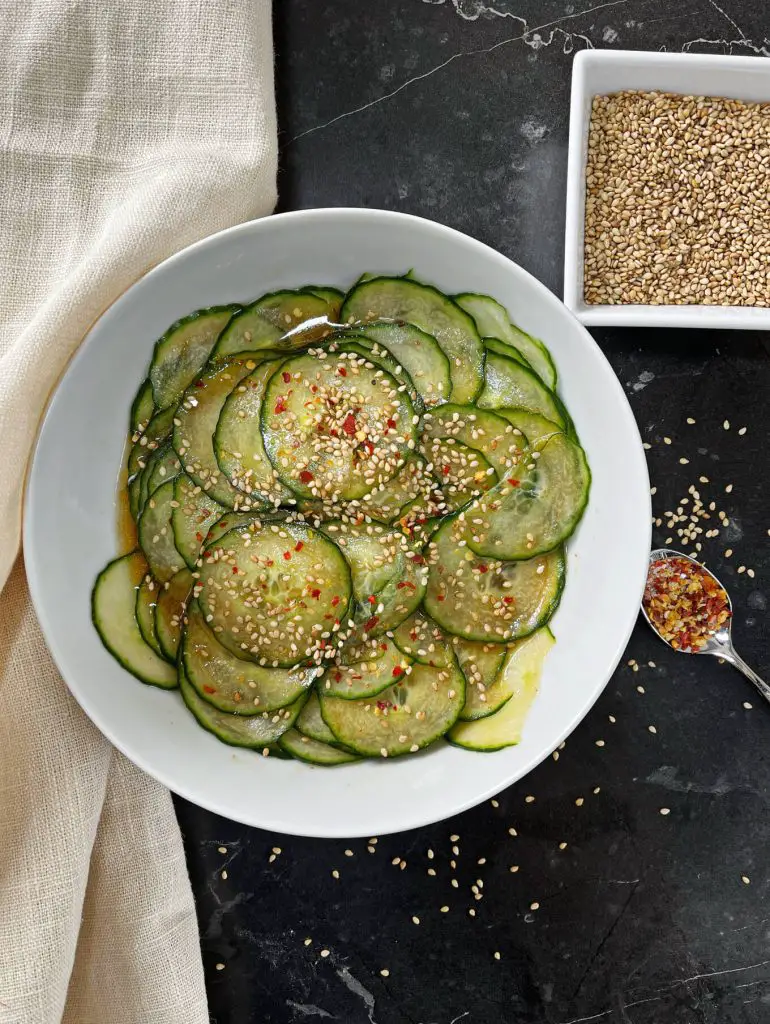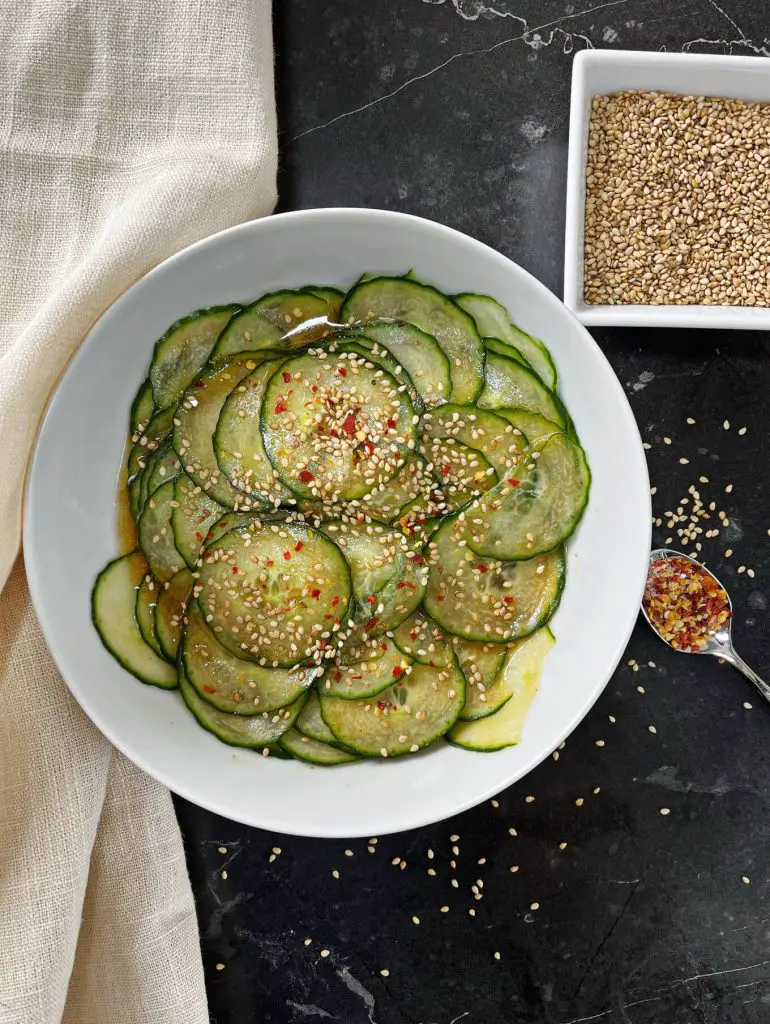 How to store Asian Cucumber Salad:
If you don't finish this salad in one go, the leftovers can be refrigerated with a cover for up to 3 days. You will find that the cucumbers have soaked up all the flavors of the vegan salad dressing during refrigeration! After about 3 days the crispiness of the cucumbers will subside.
This Vegan Asian Cucumber Salad is:
Easy
Vegan
Quick
Healthy
Low carb
Low calorie
Delicious!
Dishes to Try with Asian Cucumber Salad?
If you're looking for some inspiration for great Vegan Mains to pair with this Asian cucumber salad recipe:
Similar sides to Asian Cucumber Salad?
If you don't have any cucumbers around the house (which needs to be corrected asap), but still need side to go along with your Asian mains, you can also try out these recipes:
And if you have spare cucumbers on hand and feel like a beverage, be sure to try out my Cleansing Cucumber Pineapple Juice! It's my most popular recipe and for good reason – do your body a favor and try it out today 🙂
Check out all my vegan recipes here for more inspiration in the kitchen!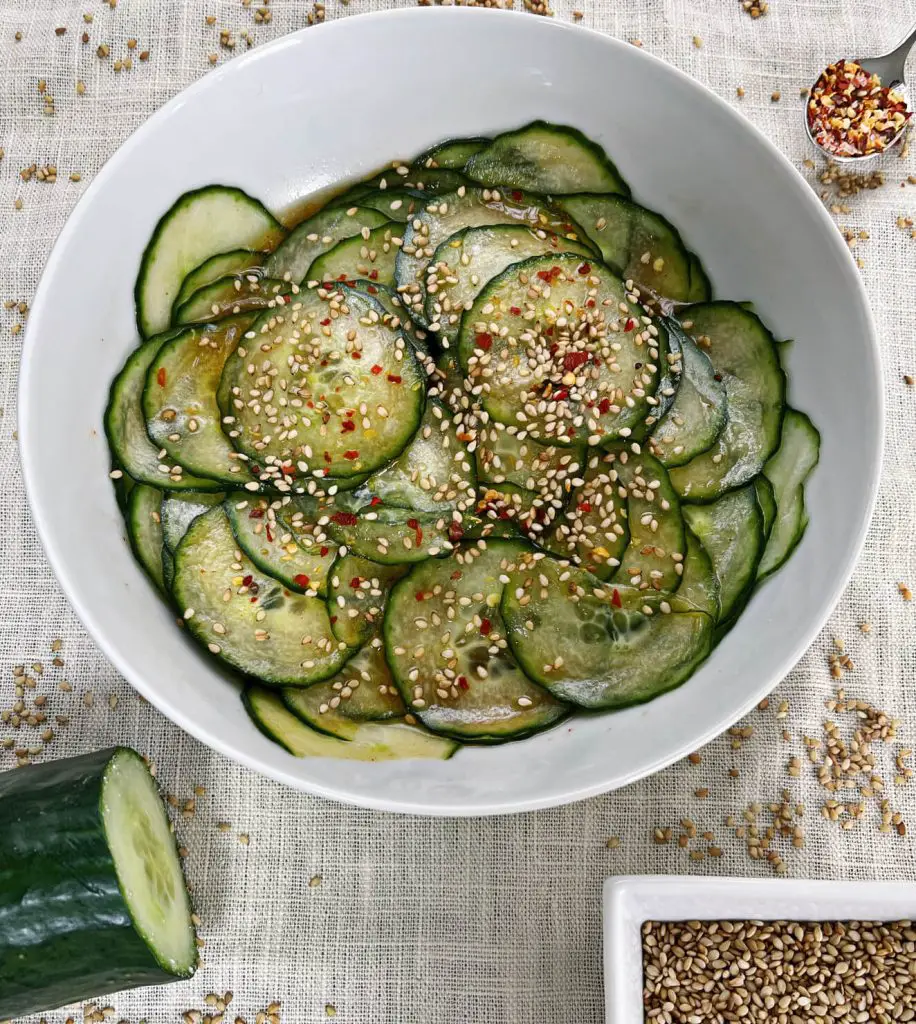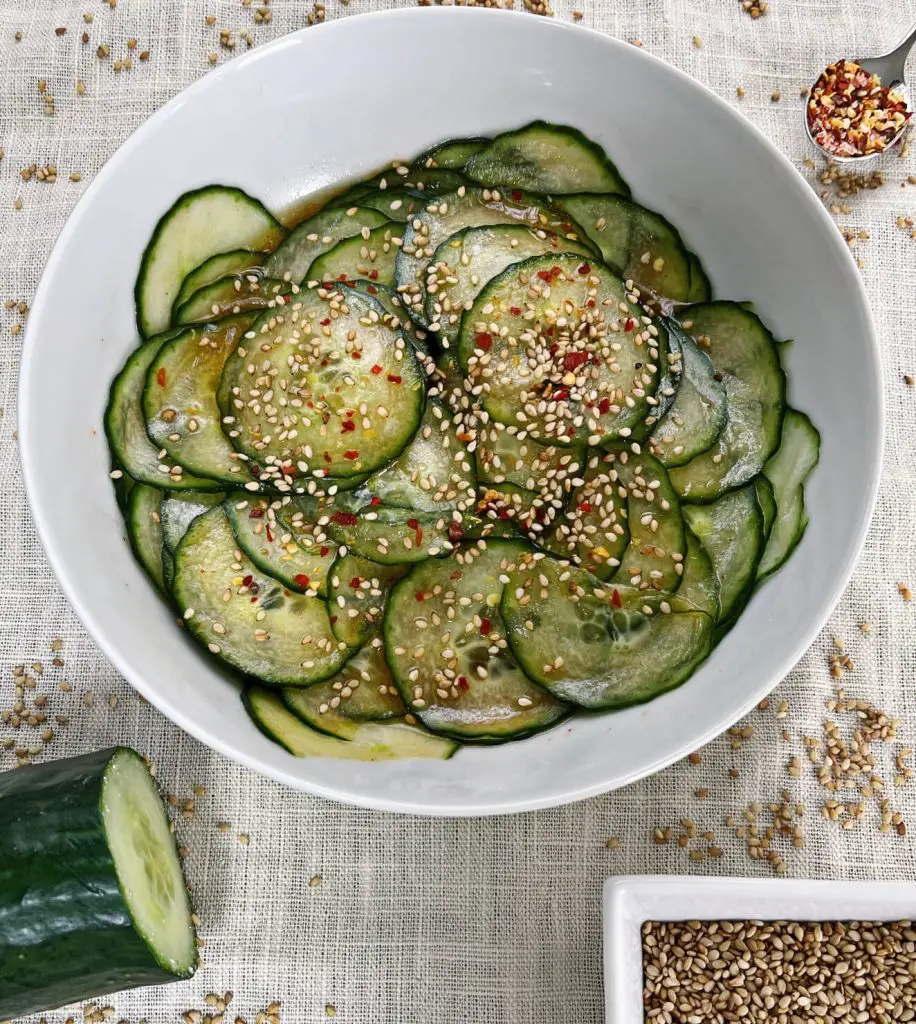 If you tried this vegan Asian cucumber salad recipe and loved it as much as I did, please feel free to let me know by leaving a comment and a rating below. I also love seeing remakes of these recipes, so be sure to tag me @voach_thevegancoach and use the hashtag #voachrecipes if you post your creation on Instagram!
Never want to miss out on new amazing vegan recipes? Then be sure to follow me on Facebook, Instagram and Pinterest and sign up to my Newsletter so you are notified when the next delicious and nutritious vegan recipe is up!
@Voach. All images and content are protected by copyright law. Please do not use any images without prior permission. For any republishing of this recipe, please kindly link back to this post.
*This post may contain affiliate links that earn me a small commission, at no cost to you. You can find out more information here
---