A vegan version of the Mexican classic you don't want to miss. It's bursting with flavour and packed with protein and essential micronutrients. Best of all: it's simple to make, plentiful, tremendously healthy and super cheap. With this recipe, you've got a home run that everyone will love!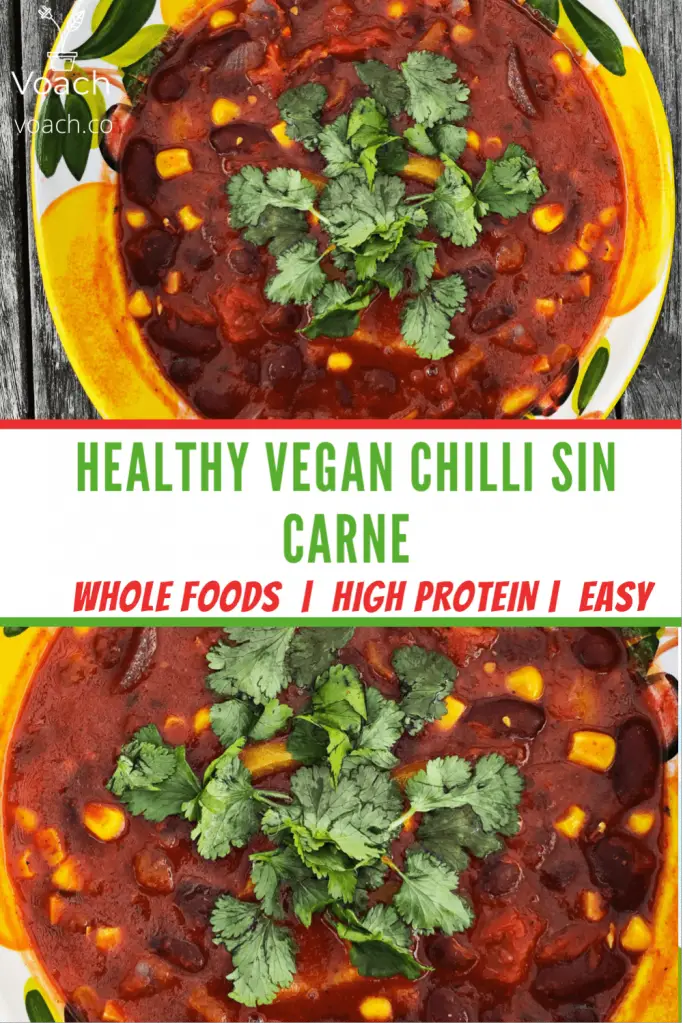 A great dinner for Vegan Gains
As you will see in the nutritional information below, this dish is very high in protein, and that isn't even taking into account if you add vegan mince to the chilli! Sometimes we prefer to keep the recipe as whole food, plant based, which is why we have listed the vegan mince as an option for those looking to add even more protein to the dish or closely imitate a chilli con carne.
For this dish, we wanted to provide you with a totally plant-based recipe which is simple to make, plentiful, tremendously healthy and super cheap. Wins all across the board right? So what are you waiting for. Let's get into it!
What ingredients make the best chilli sin carne 
One of the reasons this easy vegan chilli sin carne recipe is so popular is that it doesn't require any fancy ingredients. You could probably find all of these ingredients already in your kitchen without needing to make a trip to the shops!
Onions and Garlic: The staple for any good chilli sin carne. The combination of onion and garlic provides an intoxicating aromatic flavour to the dish, along with a host of health benefits.
Bell peppers: Provides a nice low-calorie crunch that complements the texture of the beans well. It is also one of the richest food sources of vitamin C.
Red kidney beans: I love using these beans in a vegan chilli as they have a fantastic texture and provide so much flavour to the dish. Pinto beans and black beans are also great alternatives as they have a deep, bold flavour and dense texture that really complements the base of the chilli.
Sweetcorn: Just wouldn't be an authentic chilli without sweetcorn.
Chopped tomatoes: I use cans purely for ease of convenience. You can also use fresh chopped tomatoes if you wish. Do not use crushed tomatoes as this makes the chilli too acidic.
Tomato & chilli (Arrabbiata) sauce: Might sound odd to add pasta sauce to a chilli. But trust me, it absolutely works. It provides a rich and spicy flavour to form base together with the diced tomatoes. 
Extra virgin olive oil: I always use a high quality extra virgin olive oil for this dish as it provides a lovely grassy, peppery flavour whilst retaining its natural antioxidants and vitamins.
Vegetable broth: Gives a rich and satisfying flavour to the chilli.
Chilli powder & cumin: Can't have a chilli sin carne without chilli powder, right? The cumin is absolutely essential. Not only for its warm and earthy flavor, but also its assistance with effective digestion of the beans in this chilli.
Vegan Mince: Adding vegan mince is a great way to veganize the traditional chilli con carne. It has a nice, chewy texture and absorbs the flavours of the chilli beautifully. It is also a great plant source of protein.
How to make the best Vegan chilli sin carne
It may look complicated, but this really is an easy chilli sin carne recipe.
First step is to sauté the onions and garlic in a large pot until translucent.
Then come in the chopped tomatoes, tomato & chilli sauce and vegetable broth for 30 minutes. If you want to have vegan mince, it can be added in this step.
Next come the spices! Add these into the pot, stir thoroughly and continue to cook for another 20 minutes.
Final step is to add the beans, sweetcorn and bell peppers. Once these ingredients are sufficiently cooked within the chilli (about 10 minutes), then you're done!
How easy does that sound! By following these steps and using the above ingredients, you'll have one great big giant bowl of vegan chilli that everyone is sure to enjoy 🙂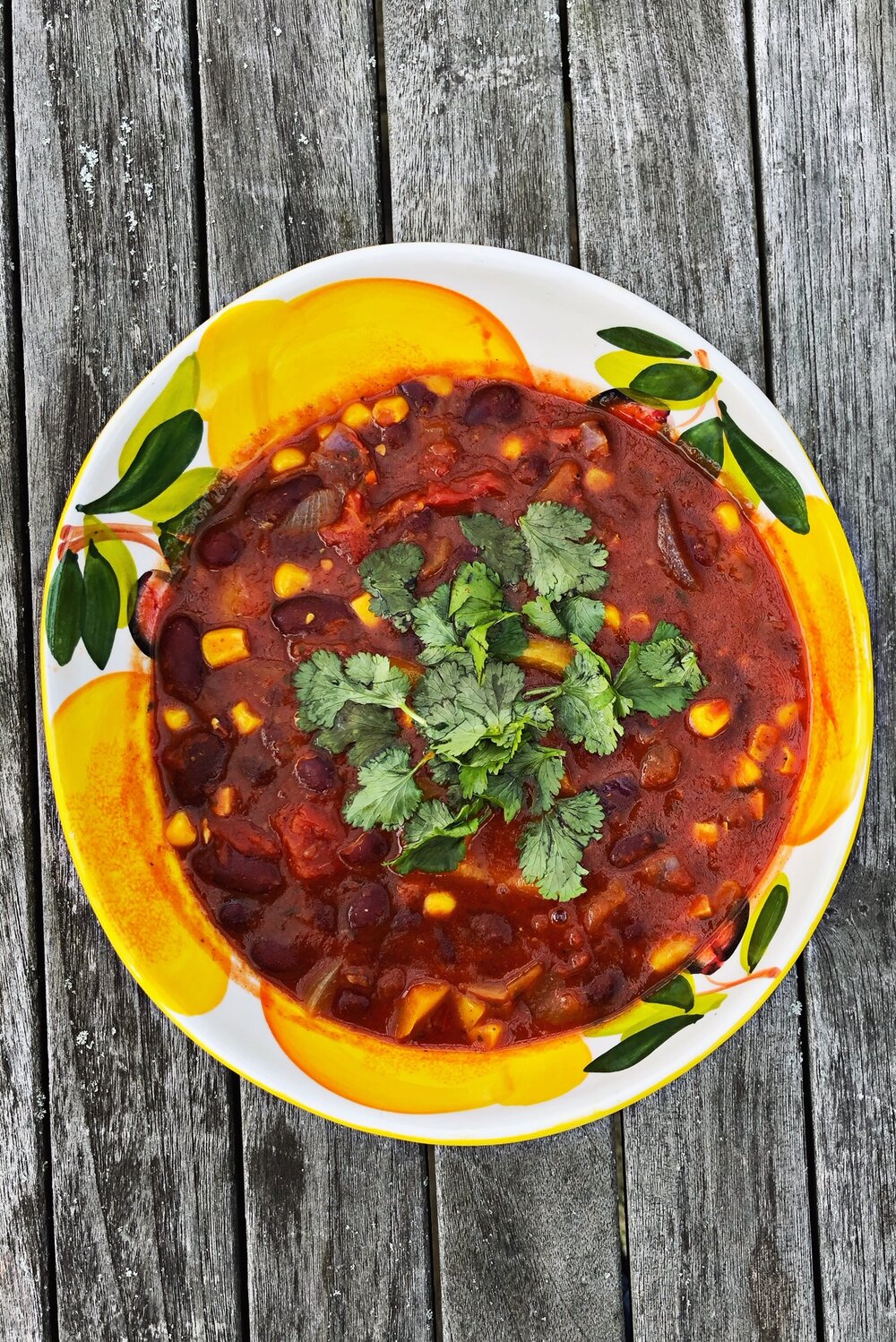 What goes well with chilli?
If I'm feeling fancy, I'll add some vegan grated cheese or vegan sour cream on top. 
I do enjoy this dish the traditional way. So I tend to serve this vegan chilli sin carne simply with some rice, potatoes or tortilla chips.
Some of the best sides to serve on chilli night are green/corn salads, vegan cornbread, sweet potatoes, guacamole, nachos or vegan quesadillas.
And the options don't stop there. This chilli is incredibly versatile and can be used in a variety of ways – some which you may not have considered before.
This Vegan Chilli Sin Carne is:
Easy to make
Healthy
Hearty
High Protein
Delicious
Great for meal prep!
Best ways to use chilli sin carne 
As you can make this chilli in such large quantities for the week, you need some different ways to use it and create new meals without much effort! Here are some of my favourite ways to use this chilli sin carne recipe:
As the filling for vegan enchiladas, empanadas or tacos
Over baked potatoes or fries
A loaded vegan chilli mac and cheese 
As a filling for enchiladas or empanadas
With stuffed bell peppers
Vegan shakshuka 
Wines to pair with chilli
I feel the best type of wines to have with a chilli sin carne are dry, full-bodied red wines. So I'd recommend grabbing a bottle of Cabernet Sauvignon, Zinfandel or a Malbec next time you're at the shops to enjoy on chilli night!
Another reason this easy vegan chilli sin carne recipe has been so popular is the fact that it's perfect for meal prep. Cook a big batch on the weekend and then reheat during the week. That's it! Perfect for when you've got a busy week ahead and need something quick, easy and healthy at dinner time. It's a bonus that it tastes so damn good too!
How to meal prep chilli sin carne
Before storing this chilli in the fridge or freezer, always allow it to completely cool off before storing. Ideally you'll want to store it within 3-4 hours of it being cooked in an airtight container to prevent contamination.
Leftovers can be stored in an airtight container for up to 4 days in the fridge. 
It can also be stored in the freezer for up to 3 months. Then, all you need to do is let the chilli defrost overnight in the fridge and then reheat in a saucepan or microwave until cooked throughout.
Looking for more healthy vegan dinner recipes?
If you like this Healthy Vegan Chilli Sin Carne recipe, you might also like:
Please feel free to check out all my recipes here for more vegan inspiration in the kitchen!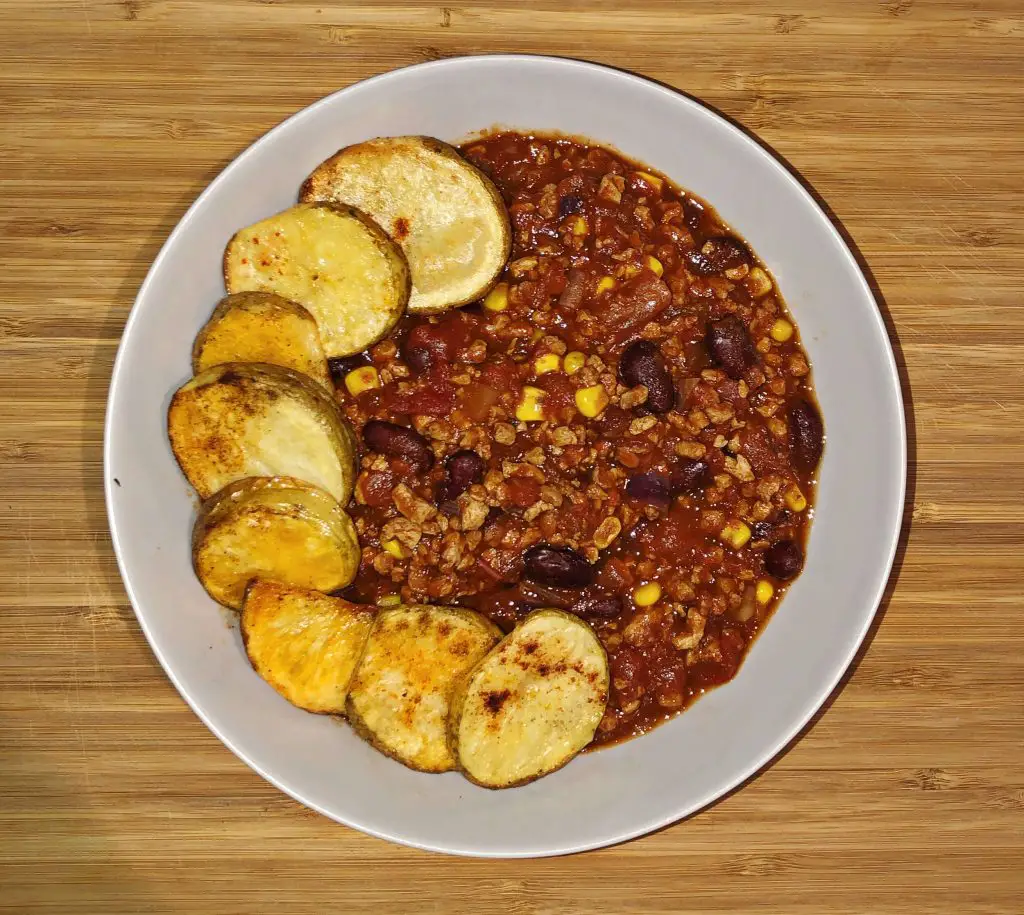 If you tried this vegan chilli sin carne recipe and loved it as much as I did, please feel free to let me know by leaving a comment and a rating below. I also love seeing remakes of these recipes, so be sure to tag me @voach_thevegancoach and use the hashtag #voachrecipes if you post your creation on Instagram!
Never want to miss out on new amazing vegan recipes? Then be sure to follow me on Facebook, Instagram and Pinterest and sign up to my Newsletter so you are notified when the next delicious and nutritious vegan recipe is up!
@Voach. All images and content are protected by copyright law. Please do not use any images without prior permission. For any republishing of this recipe, please kindly link back to this post.
*This post may contain affiliate links that earn me a small commission, at no cost to you. You can find out more information here.
---